This success story highlights a ShipperHQ merchant selling a wide array of items online including perishable goods and how they transitioned from using a custom shipping solution to become more efficient.
---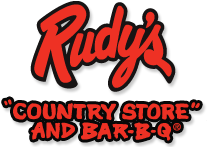 Rudy's BBQ and barbeque in general is known as a staple of Texas and many other states of the south. Rudy's began its journey as a gas station and general store near the University of Texas, shortly after opening they decided to expand and offer great homemade food for a modest price. They have since opened in multiple states throughout the South and even have an online menu so all their fans around the US can enjoy their meats, rubs and sauses.
The BBQ company expanded to the ecommerce market in 2001 only selling sauces and rubs. In order to handle their shipping needs, their developers built a custom shipping solution. In 2011, things got a bit trickier in the Rudy's BBQ shipping world as they decided to add meats to their online menu. When shipping meats they had to put specific rules in place that would only allow the meat to be in transit for a limited amount of time and to only be delivered to certain areas. With their custom shipping solution, they were able to implement the shipping options they wanted along with the rules they needed, but the build and maintenance was very time consuming and it wasn't the most accurate way to develop the shipping rates they showed at checkout.
After running a custom shopping cart for 9 years, the Rudy's team decided it was time to find a solution that would allow them to implement the rules they currently have set up, easily make updates when needed, and help them to accurately pack their products.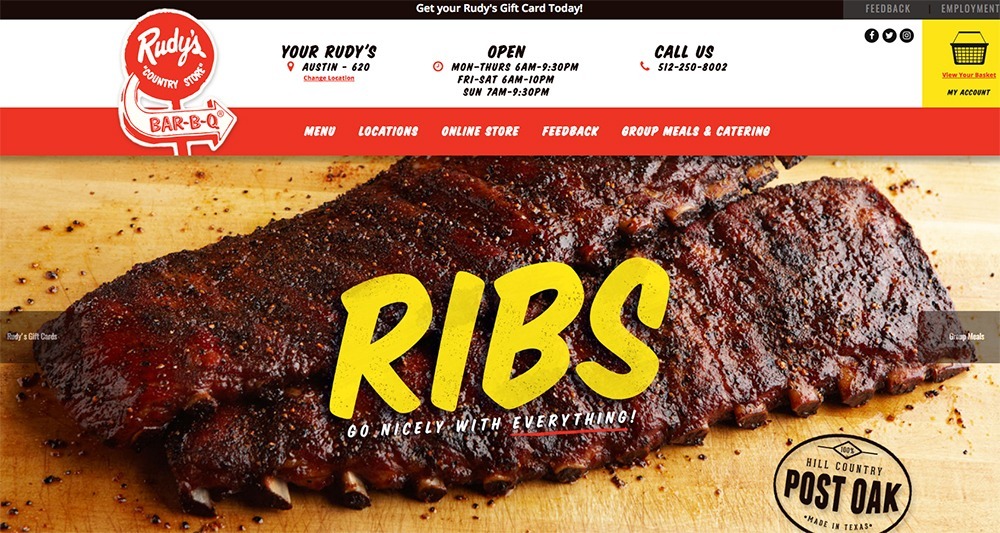 Less Time Shipping, More Time Selling
Prior to ShipperHQ, the addition of a new product or changes in restrictions would call for tons of manual work involving their team to update custom code. Just a simple change could cost the company a lot of time and money.
Creed Ford, owner of Pictoric Media, explains their initial shipping challenges:
Our team would build out rules and it was open source, so we could build any rules that we wanted, but it was extremely hard to support and update. It was a big capital expense and was even expensive to update.
Rudy's BBQ was introduced to ShipperHQ about a year ago and were happy to hear that they would no longer have to worry about their shipping! They decided to take advantage of the customization service which allowed our team to completely handle the ShipperHQ implementation and made for a quick and smooth transition. And now, the team can easily make changes to their configuration in minutes.
Creed on using ShipperHQ:
The shipping options we use now are very similar to what we had before since we had a custom shipping solution and had it where we wanted it. And, having the ability to create and use Shipping Rules has made ShipperHQ worth it. We no longer have to spend hours or days making changes to our code when we have a requirement change or add an item to the menu.
Improvements Their Team & Customers Can Enjoy
After further use of ShipperHQ, the team found that they are not only saving time with shipping, but they now have better access to the data they need and can produce more accurate shipping quotes.
Efficiency and savings was the number one metric and goal which was hit!
Creed on reaching their goals:
We have the ability to have data come through the systems and not have it go through code which was painful for our team. Having a system intelligent enough to pack product into correct boxes has also helped us to give more accurate shipping quotes.
By utilizing the Dimensional Shipping and Date & Time features they are able to charge their customers the correct amount for shipping. So, their customers aren't faced with higher than expected charges, and Rudy's can rest well knowing that their shipping costs are covered every time.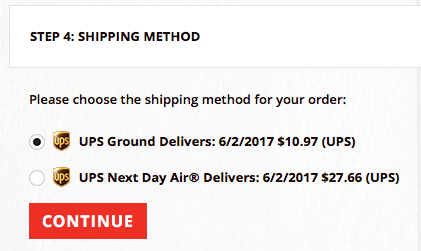 The Future is Looking Bright
Rudy's is still pretty early on in their transition from their custom shipping solution, but they are looking forward to a bright future with ShipperHQ. Now that the team can more efficiently ship what they sell online, they have even more time to focus on their company goal which is to provide great tasting, homestyle food at reasonable prices. With shipping in order they are able to hold their online store to that same standard, and remain extremely competitive in the BBQ industry. We are excited to see what is instore for Rudy's within the next year!