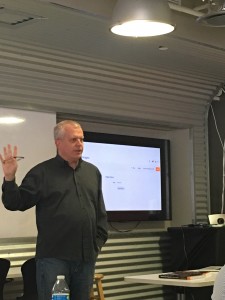 There has yet to come a time when I have left an ATX Magento Meetup without learning new and valuable information. Last Thursday's ATX Magento Meetup (held at Capital Factory in Austin, TX) included talks on both Magento 1 and Magento 2. Attendees were incredibly diverse and ranged from those just researching Magento's capabilities to long-time Magento experts. Within these events you will receive valuable information in a relaxed environment that allows the audience to fully interact with those who wish to present. 
Last week we discussed how Magento's features can save you time and money when taking on new projects, and how you can find success with Magento. Read on for a recap of what was discussed!
Save Money and Time with Magento 2
Bret Williams, author of "Mastering Magento 2" wowed all attendees with a talk on Magento 2 Static Blocks and Widgets. He explained how you can easily use Magento 2 to turn a lengthy and complicated processes into a 3 minute project. "Widgets are an underused, powerful tool," Bret explained, "it allows you to concentrate on the heavy lifting parts [your clients] really need you for."
In his talk, he shared an example where his client presented him with a project that required putting Javascript code on two pages. He walked through two solutions, one using Static Blocks and Widgets and another without. By utilizing Static Blocks and Widgets, he was able to turn a project that most would charge $1000 to complete into a $20 job. Within this short talk and demo, attendees learned how they can save time while saving their customers money. 
Success with Magento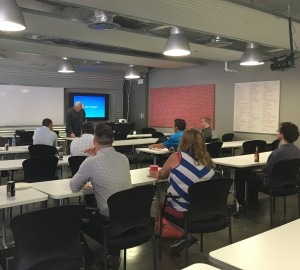 We also heard from David Sheeley, a Magento developer that shared his journey to Magento and a company's success story. The key take away from his talk was to do the research before committing to any platform. He walked the group through what statistics he found useful to not only understand why his site wasn't seeing the growth he wanted before switching to Magento, but also what to look for when researching potential platforms. As a B2B retailer, they sell products that were larger in size and had a large catalog of products. The look of the site and the ability for the platform to handle the complexity of his products were the most important components in his search.
He found that Magento was able to fit the product catalog and complexity of the products while giving the front end of the site a complete make over. He was able to use Magento and third party extensions to make the site more user friendly and in result has seen a measurable increase in traffic and sales on the site.
More to come
We host the ATX Magento Meetup every 6 weeks at Capital Factory. The ATX Magento Group covers discussions over eCommerce development and design strategies, SEO Marketing, and related topics.
We encourage all who are interested in learning about Magento and/or those who want to share what knowledge they have to come and mingle with the group. You can find Magento Meetups worldwide with a network of over 4,500 members. So even if you aren't in the Austin, TX area you may find one in your area or in a city you've always wanted to visit.
If you are interested in speaking at a future event in Austin contact us!