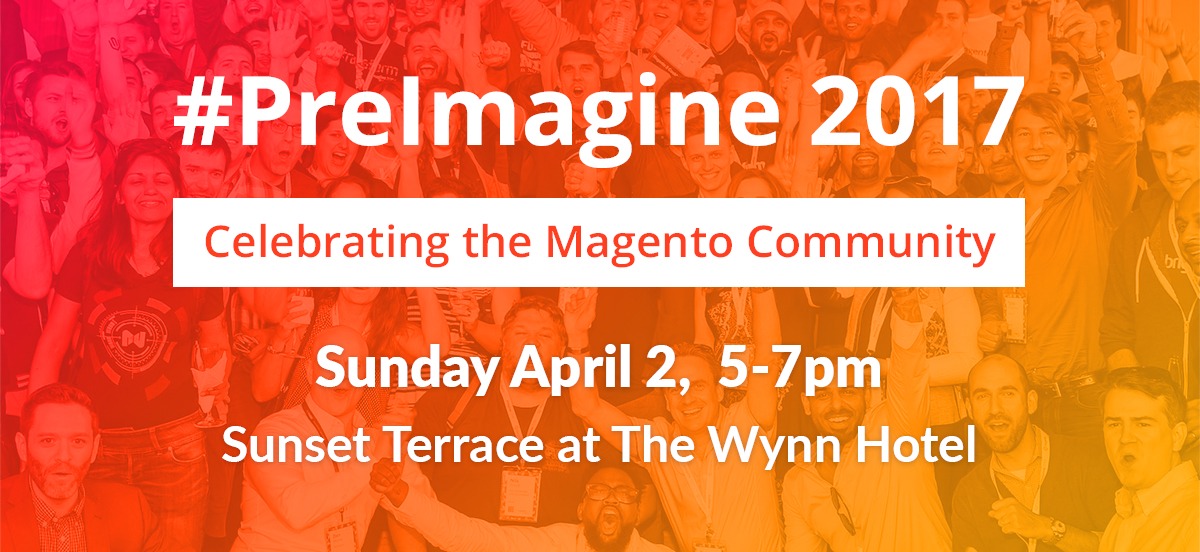 If you have attended Magento's Imagine conference in previous years, I'm sure you've heard stories or maybe even had a chance to experience the Magento community celebration, PreImagine. If not, I highly recommend you look for #PreImagine on Twitter to get a taste of the excitement around this event in the community and to see what's to come this year.
PreImagine is always held the day before Imagine and sets the mood for the conference by giving you the chance to mix and mingle with members of the Magento community in a fun and much more casual environment. While PreImagine has always been a chance for long-time Magento community members to reconnect, this is an open event so don't be shy about attending if you're a first-timer. Especially if you're new to the community, PreImagine gives you the chance to get to meet in real life the people you probably already have seen (and maybe even talked to) virtually on Twitter, in blog posts, or elsewhere on the internet. Even for the old-timers in the community, there are always people to connect with that maybe you just haven't had the chance to talk to yet. With the help of the many generous sponsors over the years, PreImagine is completely free so that finances aren't a barrier to connecting with the others in the community.
Our team has eagerly attended PreImagine since it began 6 years ago, and we are more than honored to be organizing the event this year! We're also proud to be sponsors again this year. Sponsors have always been key to making the event successful by keeping it free for attendees, collaborating with fellow PreImagine sponsors to get the word out, and to show support for the Magento Community that has always been critical to the success of the platform and the hundreds of thousands of retailers worldwide who use it.
Aside from PreImagine being amazing itself and serving as the pregame for the Imagine conference, it is located in Las Vegas. Magento obviously knows location is everything! You will find tons of fun things to do outside of the conference, so you may want to plan to come in a day or two early or leave a day or two later to have a chance to enjoy everything going on outside of the hotel walls. There are plenty of bars and restaurants around the hotel and, as you would expect, loads of casinos. Many Imagine attendees come in a bit early to take part in things like hackathons, MageRun, and, of course, PreImagine.
No matter the reason you decide to attend PreImagine: the great networking over complementary food and drinks, awesome swag, a fun time at a cool location, or to be involved as a sponsor, you will be more than pleased that you did. PreImagine is truly a party you don't want to miss!
If you will be in attendance this year, be sure to find the ShipperHQ team to connect and grab some swag. We are psyched to see everyone this year and would love to meet some new friends. 
PreImagine 2017 will be held at the Wynn Hotel, Sunday, April 2nd at 5PM. See you soon!