We have invited our partner, JH to discuss what an important role packaging plays in winning back current customers and how to complete your customers' ecommerce experience with shipping.
---
Not only does packaging protect your product, it's the first thing that your customer sees in person from your eCommerce business, and so it's absolutely crucial to get it right.
A massive part of building a sustainable brand is bringing customers back, time and time again. Often relatively ignored by marketers who're more usually focussed on gaining the attention of new customers, it's almost always less expensive and more powerful, to get a current customer to purchase again, than it is to go out and try and attract new ones.
In a survey from Dotcom Distribution they found that 52 percent of consumers are likely to make repeat purchases from an online retailers that deliver premium packaging experiences.
Customers as Brand Advocates
The report by Dotcom also found out that 39% of the respondents had shared a picture or a video of new purchases, most commonly using Facebook (84%), Twitter (32%), Instagram (31%), YouTube (28%) and Pinterest (20%).
Personalization in packaging adds a level of excitement that allows you to create a genuine relationship with customers, and people are hardwired to want to share great experiences, which is why social media is filled with people sharing their news. When your product features on your customer's news feed, you want to make sure it's for all the right reasons.
When customers receive a product with premium packaging and a personalised note thanking them for the purchase, the feeling of trust and satisfaction is amplified.  It turns customers into brand ambassadors – one of the strongest assets a company could have. They become advocates of your brand and they're the people that will create word of mouth, which is an age-old promotional tool businesses can't prosper without.
Packaging as a Marketing Channel
The sky's the limit on how unique and memorable you want your customer's experience to be. Though the use of packaging, you can create a unique experience that acts as a marketing channel in itself.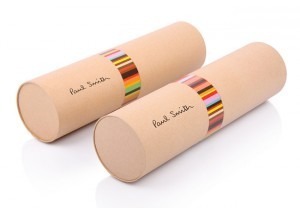 Paul Smith like to think outside the traditional box and use cylinders and other shapes to surprise and delight their eCommerce buyers, when they buy smaller items like ties and socks.
Thelma's make ice-cream cookie sandwiches (yep, how divine!) and they've become well known for their quirky and kitsch oven boxes. The packaging cleverly serves to remind the customer of their brand promise: "Our cookies are made fresh and delivered warm right out of the oven."
Our all time favourite though, is from bike manufacturers Vanmoof who realised they could use packaging to solve a problem. When bike sales moved online, manufacturers had to think of better ideas of making sure their products arrive safely with their customers.
What did Vanmoof do? Instead of putting a picture of a bike on the box they printed a picture of large flatscreen TV instead and saw instances of delivery damage drastically reduce.
What to Consider
When Amazon's boxes with their "grinning" A-Z logo show up, everyone knows their Amazon delivery is here. How can you make sure your packaging is just as recognisable to your customers, and creates the same sense of excitement? Here are the elements you'll need to think about.
Box – The first thing to consider is the main shipping box. And size matters due to shipping costs, so be strategic.
Tissue Paper – Wrapping your products in tissue paper adds a sense of premium around your product. Custom-printed tissue paper, even more so.
Filler – Traditional filler types included styrofoam packing peanuts, foam inserts, air pillows or bubble wrap. All protect your product, but also can add a sense of luxury when done right too.
Sticker – Branded stickers be used to fasten tissue paper – for their price they're a pretty inexpensive way to add a quality feel.
Custom Note – It may be difficult to scale, however, for smaller companies, a customised note – handwritten being the ultimate – will always be gratefully received.
Free Gift – A small gift can be a great way to surprise and delight customers as well as increase the overall experience.
Sample – Based on your customer segmentation data, you could also consider including a sample that is likely to cross-sell the customer by introducing them to new products.
Creating a memorable experience at this crucial part of the customer journey, can help to give your business the competitive edge, by seeing customers come back again soon for more of your products.
---
About the Author
Phoebe Haig is the Marketing Manager at JH. She blogs (link:www.wearejh.com/blog) regularly on tips and news for the world of eCommerce.