Shipping internationally via freight can get a little tricky, so we've invited our partner, Freightos, to share steps and tips on the end to end process of International Freight.
---
If importing had a Facebook relationship status, it would be "It's complicated." But that doesn't mean importing should be off the table.
Nutmeg is the proof. Seriously.
In the 15th century, you could buy 125 pounds of nutmeg in the Indian Ocean's Banda Islands for the equivalent of $3,000 dollars today. Back in Paris, it would sell for $2.1 million dollars (markup, baby!). International trade is all about supply, demand, sourcing costs and transportation. So when a seller can source cheaper overseas, why not?
And here's the good news. Importing has gotten easier since the 15th century. Here's the basics, brought to you by Freightos.
Avoid Product And Packaging Shipwrecks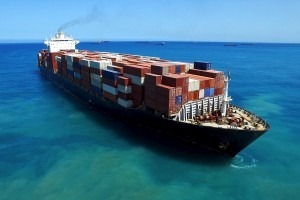 Not everything is import-perfect. Sourcing overseas literally opens a world of opportunity but don't forget to do your due diligence for each product:.
Make sure that Customs, the FDA and other agencies haven't imposed restrictions on the product. Even products like cosmetics, wood or aluminum can be a problem. Check out the product on an HS lookup table (basically a standardized global product lookup table) or with a simple Google search.
Make sure that your products aren't subject to hefty anti-dumping duties (colored pencils are!) or defined as hazardous for air or ocean shipping.
Intellectual property, copyright and trademark all impact importing matters. If the product is a big brand product (or uncannily similar to one), read up on it first.
Packaging is tricky – too little and your product arrives in pieces, too much and you literally pay the price, as overzealous packaging makes freight costs skyrocket. This is particularly true when shipping by air, where size and weight matters far more than ocean freight. Here's some more hints:
Get your supplier to use the smallest possible boxes and make sure they fit well on pallets.
If you have a say on product packaging, get creative product packaging ideas that look great but are the right size to minimise costs.
Try to only palletize goods after US customs clearance. Why pay to ship pallets around the world?
Double-box fragile products to add extra cushioning. Use bubble wrap in the first box, unless you are sure that your warehouse permits styrofoam peanuts. Head's up – Amazon doesn't!
Clearly mark carton count, gross weight, net weight, country of origin and tracking labels on every box and carton.
The Sales Agreement: Your Voyage Starts Here
Factor in freight costs from Day One of working with your supplier. International freight relies on eleven incoterms, categories that define freight responsibilities for your and your supplier. Like the tax law, they're important, complicated and boring. So, either read the regulations, follow this concise summary for beginner importers…or go safe and opt for FOB or EXW.
What do they mean? Free On Board (FOB) is when the supplier pays all costs to get the shipment loaded at port, including customs on their end, while you arrange everything else, including international transit.Ex Works (EXW) means you're arranging, paying and are liable for the entire shipment from their warehouse. Depending on the supplier's negotiated rates, this could vary so check out this freight rate calculator when deciding.

Let A Forwarder Be Your Navigator
As appealing as it may seem, never try to import alone – ship happens. A (good) freight forwarder that can arrange and troubleshoot international shipments is what you need. But finding the right one can be hard…and Yelp won't help. Typically, it's come down to a combo of relying on word of mouth and luck but new solutions, like Freightos online freight marketplace,help find the right forwarder for each individual shipment.
When you do find a forwarder, make sure you:
Have your supplier copies of the packing list and commercial invoice – you'll need them.
Decide if you're shipping by air or ocean. Air freight is quicker, and not necessarily more expensive for a smaller shipment.
Sending to a fulfillment center requires can require inspect and prepping – make sure you know if you need your forwarder to help with that.
Get cargo insurance – it's an absolute must, as default carrier insurance is pitfully low.
Calculate your total weight and total volume (this should be on the packing list).
Write down the precise product description from the commercial invoice or ask your supplier for the HS code.
Find your US company tax ID, which you'll need for customs records.
Navigation From End To End
There's roughly one trillion international freight documents which you'll discover along the way but you'll probably encounter the Bill of Lading (or airway bill of lading), commercial invoice and freight quote first (you can see a list of key documents here). More importantly, get ready to triple check the data on the forms you provide to your forwarder – even tiny discrepancies can lead to costly delays.
Here's a simplified process of what your forwarder will be arranging:
Trucking to pick up and deliver your shipment to a consolidation center.
Load consolidation (if you're shipping less than a container load, your shipment will get put in a container with other shipments)
Trucking to port.
Customs clearance.
Loading by port authority.
International transit (ship or air) …
the same steps in reverse in America.
Speaking of customs, you'll need a customs bond to import. Ask your forwarder whether you should get Continuous bond or Single Entry Bond (plus ISF bond for LCL ocean freight) – this will depend on how often you'll be importing. Also, if you are planning on importing regularly, set up your own Customs account. It's quicker and easier in the long run.
The Bottom Line
Just to make sure you were paying attention, here's the things to watch out for on a typical shipment:
Check import, carrier and IP restrictions when selecting a product.
Check out packaging restrictions (and opportunities) too.
Think incoterms when negotiating your sales agreement.
Gather information before requesting quotes.
Once you have a forwarder, get them to take you through the shipment process.
Double-check all documentation.
Make your shipment hassle-free for Customs, so that Customs is hassle free for you.
Leave delivery to your international forwarder.
And, of course, check out the Freightos Marketplace, which makes the process much easier, with a one-stop shop for comparing instant quotes from 30+ forwarders, online booking, shipment management and 24/7 support…hold the nutmeg.
---
About the Author
John Edmonds is a logistics expert who loves writing about freight (who doesn't) at Freightos. When he's not, he enjoys Miso soup, cats and cricket (the game, not the insect).