This post was written and contributed by Amanda Laviana of uShip.
For online furniture retailers, there's never been a more lucrative time to be in the business. More than ever, shoppers are confident enough to buy large items online, with full faith that their purchase will arrive in-time and in good shape.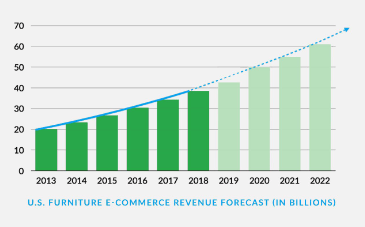 In fact, the $19.2 billion online furniture industry is one of online retail's fastest-growing segment, with eMarketer predicting a value of $42 billion this year. If you're one of the millions of furniture sellers looking to improve your in-home furniture delivery, we've got five tips you can deploy right now.
Of course, this leaves online furniture retailers with a massive challenge: shipping large products. It's a notoriously cumbersome sector of the logistics industry, but one that's being met with smart solutions every day that can make going online a reality for more retailers than ever.

1. Establish Your Shipping Price Strategy
This might seem obvious to the seasoned retailer, but it's a crucial step, no matter the size of your business. There are a few aspects to consider before deciding on your strategy:
Average Sale Price
Your customers' willingness to pay for shipping may depend on the amount they're spending on their purchase. A small item will not warrant the same shipping cost as a major piece of furniture.
Product Uniqueness
If your products are hard to find or one-of-a-kind high-end antiques, you might price shipping higher than if your product is mass produced and easily purchased elsewhere. The exclusivity or antique characteristics of an item may mean customers are willing to pay significantly more to put them inside their home.
Target Buyer
Who is your target demographic? Be sure to think about their general willingness and ability to pay for shipping. Although it may not actually affect the price they're paying, consider whether to roll in shipping costs to promote "free shipping," or offer paid shipping to the buyer of a high-value item, or something in between.
Business goals
Depending on how you approach delivery pricing, you may be able to move the needle on business performance indicators such as conversion and cart abandonment rates. Customers with transparent shipping prices at hand are more likely to convert.Almost half of consumers say they'll leave and look for an item elsewhere if shipping costs are too high. You've already gotten customers to the checkout phase – losing them to high shipping costs is an expensive and solvable mistake.

2. Display real-time shipping costs at checkout
Customers don't want to wait for or call to get shipping estimates. Forcing them to do so can cost you. Integrating a shipping pricing tool that instantly displays a shipping fee will make checkout faster, better streamlined, and more enticing.
3. Automate Furniture Shipping Rates via ShipperHQ
Want to take your solution even further? Using ShipperHQ's integration with uShip's pricing API, you can offer real-time furniture shipping rates, built right into your checkout process, no matter which e-commerce platform you use.
4. Expand with Nationwide Room-of-Choice Delivery
We talk to a lot of online furniture companies who operate a strong regional business using a couple of their own vans or trucks driven by employees. But those businesses also have a desire to expand nationally through e-commerce sales.
Naturally, one of the first friction points they encounter is logistics and getting deliveries to all of those new, out of area buyers. Fortunately, there are carrier networks that support these aspirations.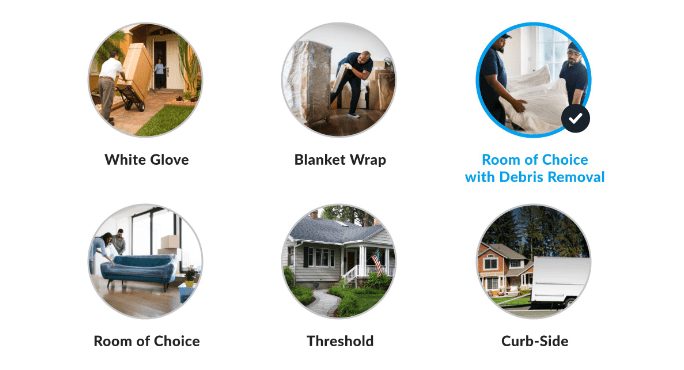 And when it comes to service levels of those deliveries, no one wants their brand new sofa left on the curb. That's the experience when those furniture sellers use a less-than-truckload service.
Adding full-service delivery to your offering is appealing to any consumer, and can be wrapped into your pricing strategy. Not only will room-of-choice delivery draw in exacting customers, knowing the debris removal and arrangement is taken care of will elevate your brand to the next level.
5. Embrace First-to-Final Mile vs. Final-Mile Delivery
Final-mile delivery tends to get all the headlines as delivery companies work to optimize the delivery experience for customers. But there's another way to get large items delivered, a method that dramatically reduces the number of times a piece of furniture changes hands in the delivery process. That's first-to-final mile delivery.
The driver that picks up your item is the same driver who delivers your item. This not only speeds up the delivery process, but it minimizes the number of times that furniture changes hands. From 6 to 8 touches to just 1 or 2. And this reduces claim rates as well.
While final-mile delivery is the talk of the industry, first-to-final mile delivery is the future, creating a more efficient satisfying experience, while cutting down damage claims and delays.
Every step toward improving your in-home furniture delivery has one thing in common: the uShip In-Home Furniture Delivery solution. With our fully managed network shipping solution for furniture, you'll have powerful pricing insights and tools, integrated checkout options, a network of thousands of transporters to choose from, and a more reliable delivery solution overall.
Ready to get started? Learn more about uShip.