Shoppers today want complete control over how, when, and where they receive online orders. Alternate delivery and pickup with FedEx Hold at Location can help do just that.
With the current COVID-19 environment, consumers expect delivery options that are not only fast, free, and convenient but ones that are safe and adhere to social distancing guidelines. This, coupled with retail closures and supply chain disruptions, have pushed retailers to explore solutions that fulfill these requirements. One such option is alternate delivery and pickup, such as FedEx Hold at Location.
With alternate delivery and pickup, customers receive packages at a secure location outside of their home. Instead of packages being delivered to their doorstep, they can drive somewhere nearby and pick them up wherever it's convenient to them (and at a time that fits their busy schedule).
While many customers are probably already familiar with options like BOPUS (buy online, pickup in store), which delivers a similar customer experience, alternate pickup really opens the door for greater flexibility for buyers who aren't near a retailer's brick and mortar location.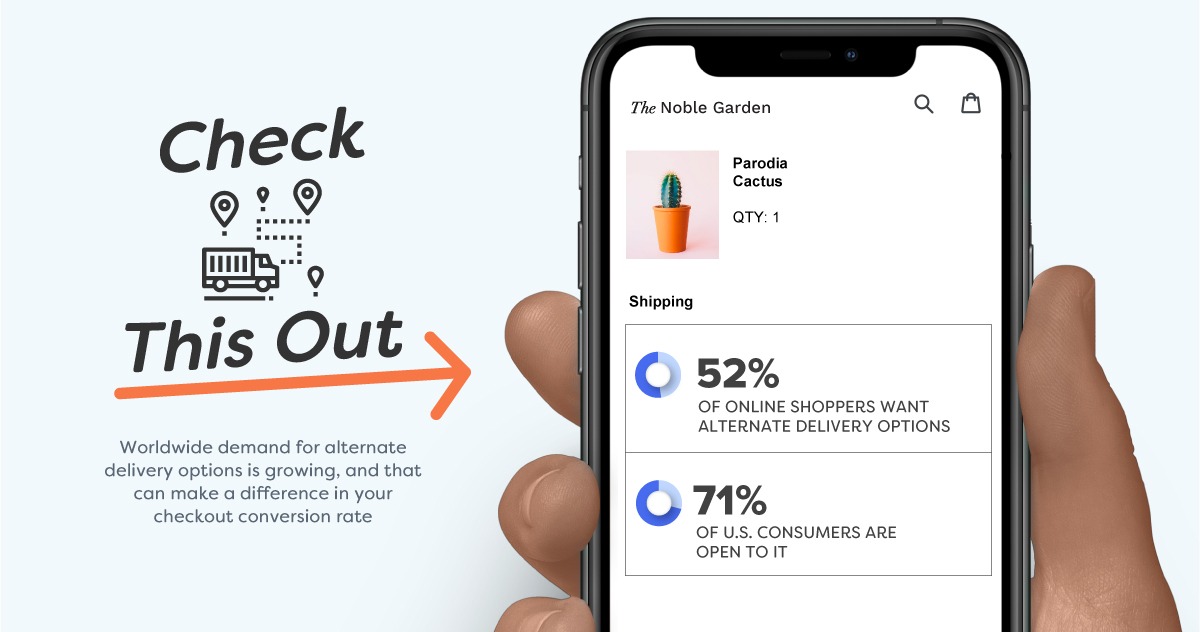 Demand for this option is also growing. In fact, according to a recent study, 52% of online shoppers want alternate delivery options. And 71% of U.S. consumers are open to it.
Knowing all of this, how can you set your store up for success using alternate delivery? That's where ShipperHQ's new integration with FedEx Hold at Location comes in.
Announcing ShipperHQ's Free Out-of-the-Box Support for FedEx Hold at Location Services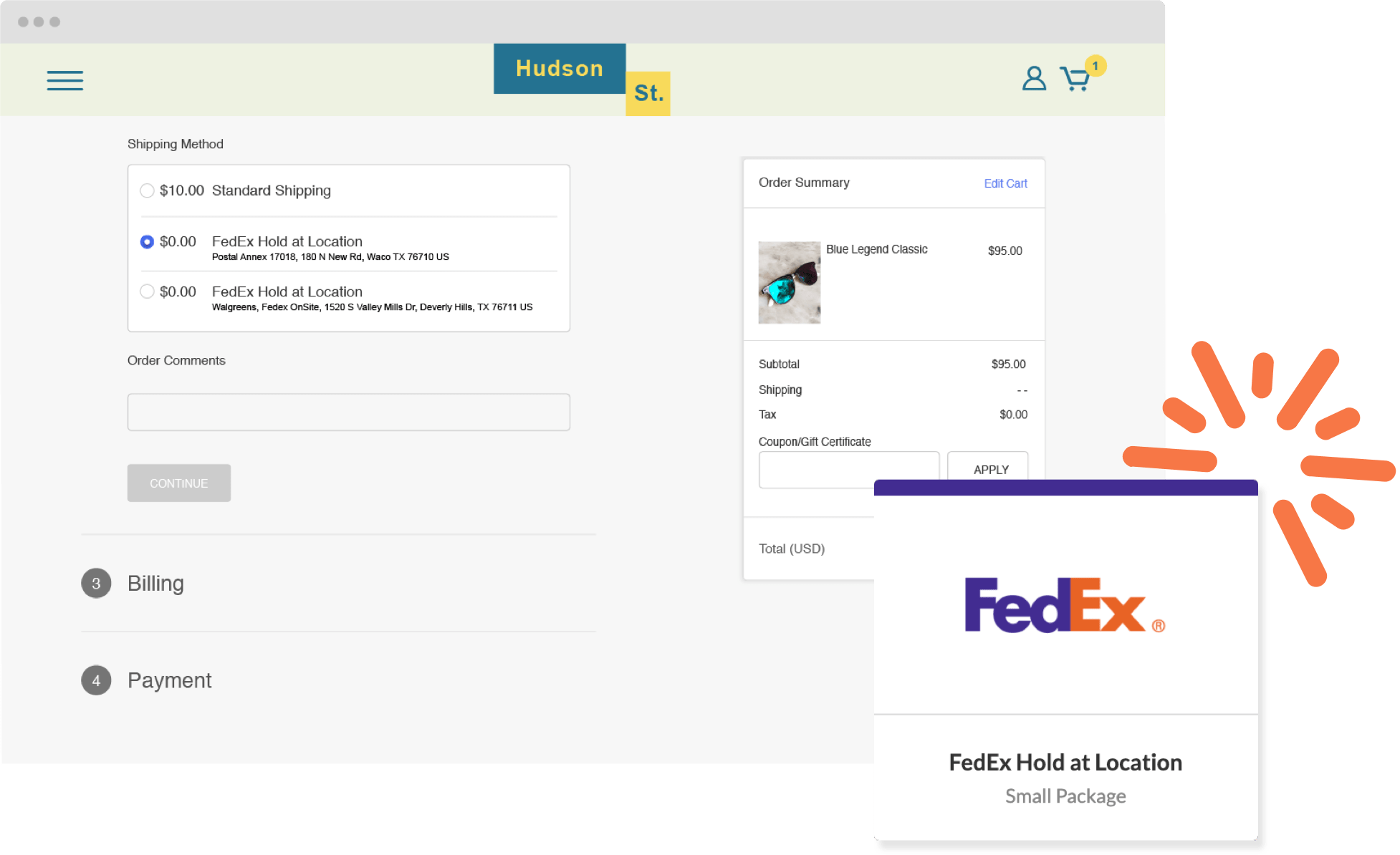 We're excited to announce that ShipperHQ is now fully integrated with FedEx Hold at Location. Through this collaboration, you can now offer alternate pickup to your customers via thousands of retail locations nationwide. Plus, offering this delivery option helps you save shipping costs that you can pass down to your customers.
Here's why you should step up and provide alternate pickup at checkout to the 52% of customers that want it (and the 71% that are open to it).
What are the benefits of adding FedEx Hold at Location and ShipperHQ to your checkout?
Offer convenient pickup locations
FedEx has over 14,000 convenient retail locations across the U.S. This includes FedEx Office and FedEx OnSite locations at thousands of Walgreens, Dollar General, and Kroger grocery stores. With 80% of Americans within 5 miles of a FedEx Hold at Location site, customers can easily pick up a package where and when they want (even while running errands).
Save on shipping costs
Because you are not delivering packages to a customer's house, you can avoid residential surcharges and provide signature proof at delivery at no charge. On top of this, there's no extra charge to offer FedEx Hold at Location as a delivery option at checkout.
Keep packages safe and sound
Since drivers don't come to a customer's home directly, they can provide contactless delivery as social distancing continues. With customers picking up packages at a separate location, you can also give them peace of mind that packages are safe from porch pirates or inclement weather.
Get more customer satisfaction
This delivery option also lets you enhance your online shopping experience by reducing return volume. Since customers have the flexibility to choose delivery that fits their routine, you'll have fewer failed delivery attempts and support calls. It's a win-win all around.
How Do FedEx Hold at Location and ShipperHQ work together?
ShipperHQ is a shipping software that allows merchants to manage and optimize their checkout experience. You get complete control over how shipping rates are calculated and the specific methods you offer customers online for any given scenario.
After signing up for a ShipperHQ account, you have access to a marketplace of carriers – including FedEx Hold at Location – to add to your checkout page. From there, you can customize this option further, including the maximum number of locations that appear at checkout and the maximum distance for pickup.
How Do I Add FedEx Hold at Location to My Checkout?
Merchants selling on BigCommerce, Shopify, Magento 1, Magento 2, WooCommerce, and Zoey that ship using FedEx® small package service can easily set up and integrate this delivery option within ShipperHQ.
How to Access Your FREE ShipperHQ Plan?
ShipperHQ is adding a free plan to allow sellers to easily sign up and incorporate FedEx Hold at Location into their shipping and delivery options at cart checkout. This free plan includes:
ShipperHQ connected to your store's website
One shipping origin and FedEx Hold at Location as your delivery method
Personalized shipping rules and restrictions for your FedEx Hold at Location carrier
Best-in-class support, both in-app and with our robust knowledge base
To sign-up for this promotion, simply fill out the form here and you can get started in no time.
Already Using ShipperHQ?
Retailers already using ShipperHQ can follow these setup instructions for step-by-step guidance on how to configure FedEx Hold at Location at checkout, including what FedEx credentials you need to validate your account.
Have Questions? Our Sales Team is Here to Help.
FedEx Hold at Location is a great option to have at checkout, whether your shipping needs are simple or complex. We can walk you through this integration or show you more of what's under the hood in ShipperHQ.