If your customers can't get an optimized shipping experience from your online store, they'll find another way to get the products they want.
In this day and age, it's simply a fact that your online shipping experience will play a big role in a customer's decision to shop with you.
Before COVID, millions of customers relied on Amazon as their go-to ecommerce shop for everything. In the wake of the pandemic, Amazon's fulfillment times and operations have been severely disrupted, leading consumers to seek out the products they need from smaller retailers. This change gives small and mid-sized merchants a significant opportunity to optimize their shipping.
In fact, 38% of consumers say that a negative shipping experience will prevent them from ever buying from a store again.
But navigating through all the different Shopify shipping apps can be time consuming. That's why we've researched what's out there and collected what we think are the top five Shopify shipping apps for online retailers in 2021.
5 Shopify Shipping Apps Worth Checking Out in 2021
From last-mile delivery tracking, to mitigating the damage if a delivery goes south, all of the following Shopify shipping apps will help you better compete with other merchants, especially the big retail giants.
1. AfterShip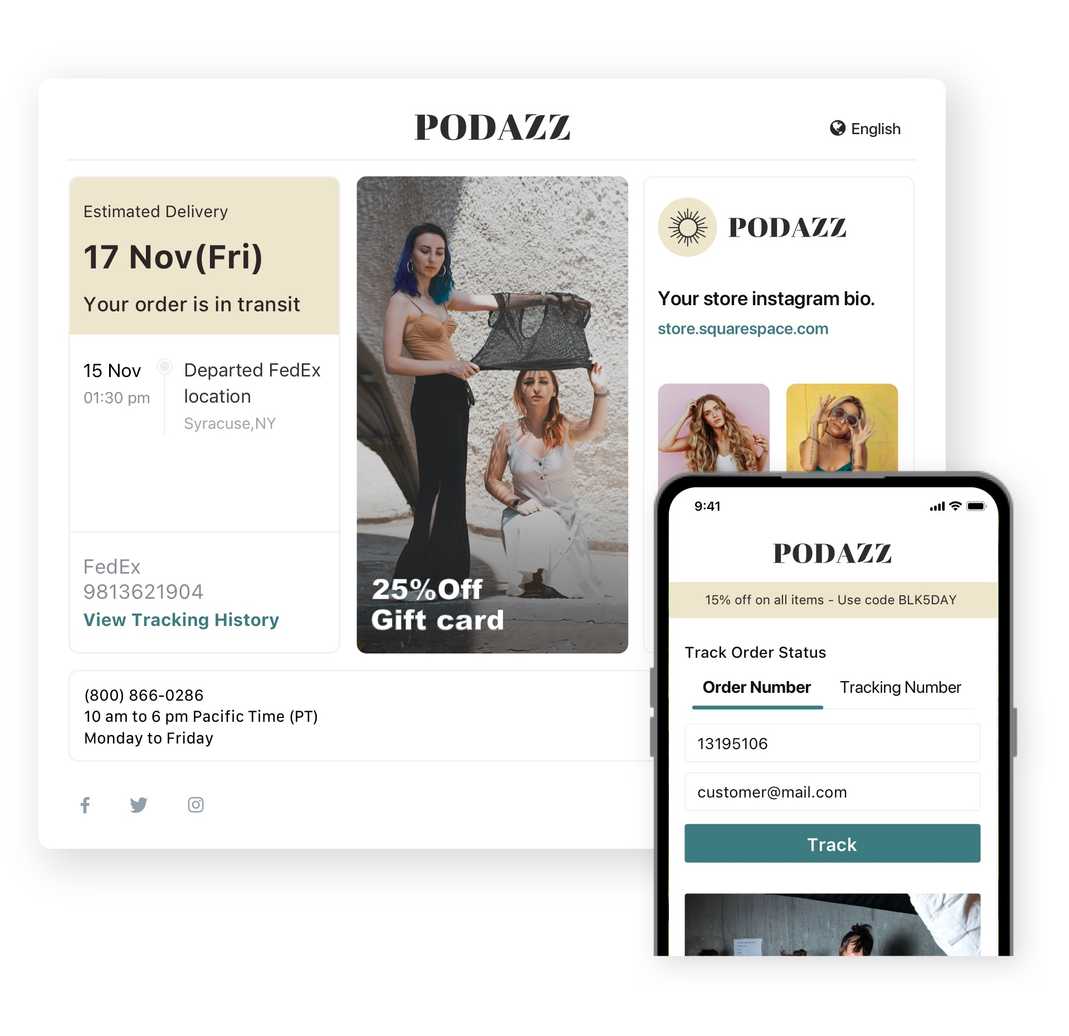 No customer wants to be in the dark when it comes to their package. At any point during the delivery process, they want to know exactly where their items are and how much longer it will be before they have them in their hands. For most of the delivery process, this is relatively simple.
However, there's the problem of the "last mile delivery." The last mile – when a package goes from a carrier distribution center to a customer's address – is typically when the most issues pop up. And most of them are completely uncontrollable.
However, companies like AfterShip put control in your hands with 683 (and counting) couriers around the world to ensure your packages end up on the right doorstep. This also allows your customers to track the delivery more accurately, letting them know where their items are at all times.
Used by major retailers like Wish and Etsy for proactive last-mile customer communication
Robust API supports a growing list of hundreds of carriers
Scalable solution with analytics to diagnose common failure points
Cost: After their 14-day free trial, AfterShip's monthly pricing ranges from $9 for 100 trackings/month to $999 for 25,000 trackings/month. They also offer forever free and custom Enterprise options for merchants who fall below or above these parameters.
Download AfterShip in the Shopify App Store
2. Auctane – ShipStation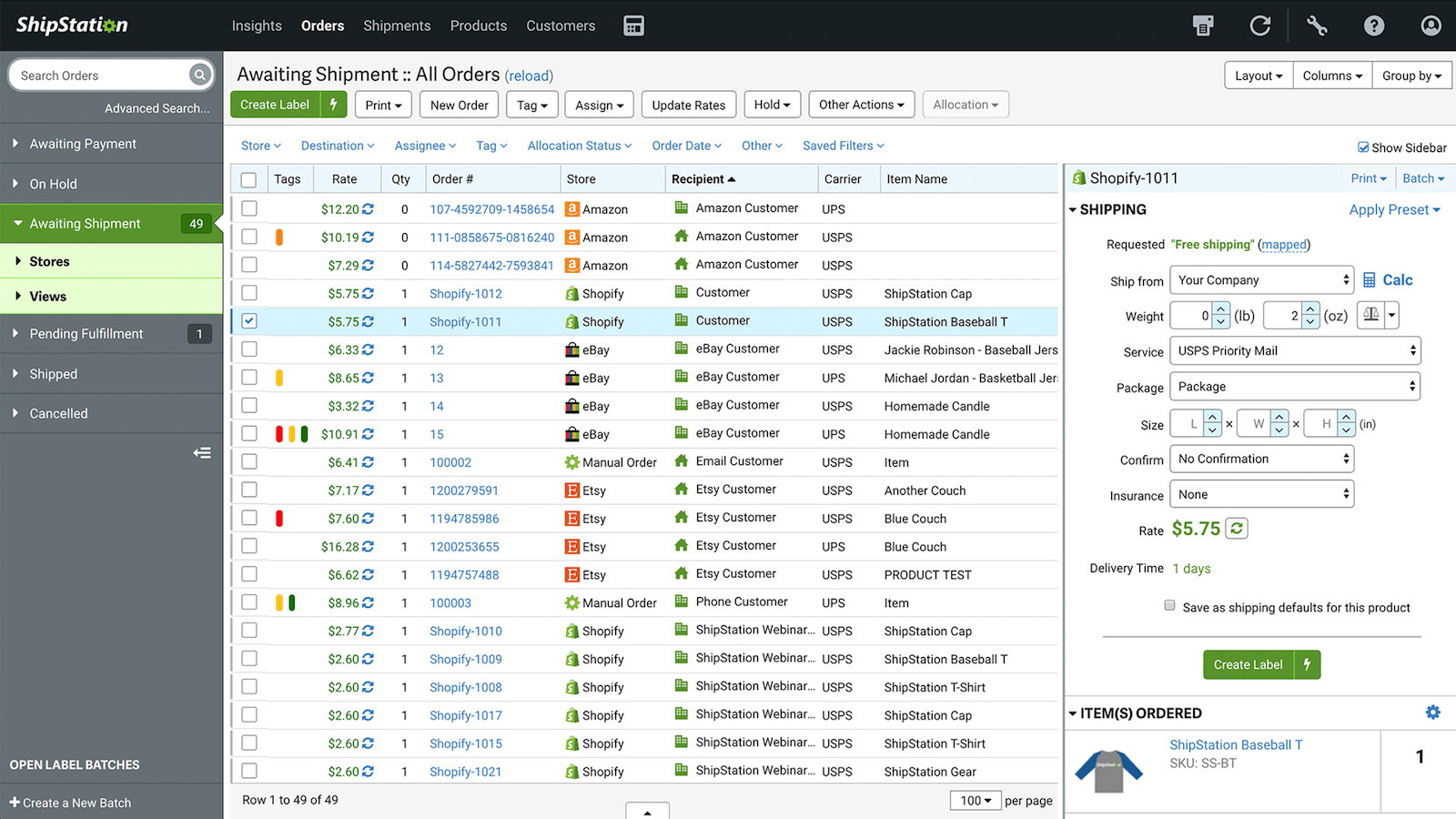 Auctane brand ShipStation streamlines shipping while lowering costs. By importing orders from more than 100 marketplaces, ShipStation allows you to consolidate all of your shipping and sync all your marketplaces onto one platform.
Shipping orders include a geo-tracking page and a self-service customer portal to make returns easy. Plus, inventory and detailed analytics help ensure you stay fully stocked, and powered up with real-time insights to make the best decisions for your business.
Marketplaces include eBay, Amazon, Shopify, Etsy, and Walmart
High volume shipping provides lower negotiated rates from carriers like FedEx, UPS and USPS.
Cost: After a 30-day free trial, pricing tiers range from $9 to $159 a month for 50 to 10,000 monthly shipments respectively and custom packages are available. Subscriptions include a free Stamps.com account and deep discounts with UPS and USPS.
Download ShipStation in the Shopify App Store

3. EasyShip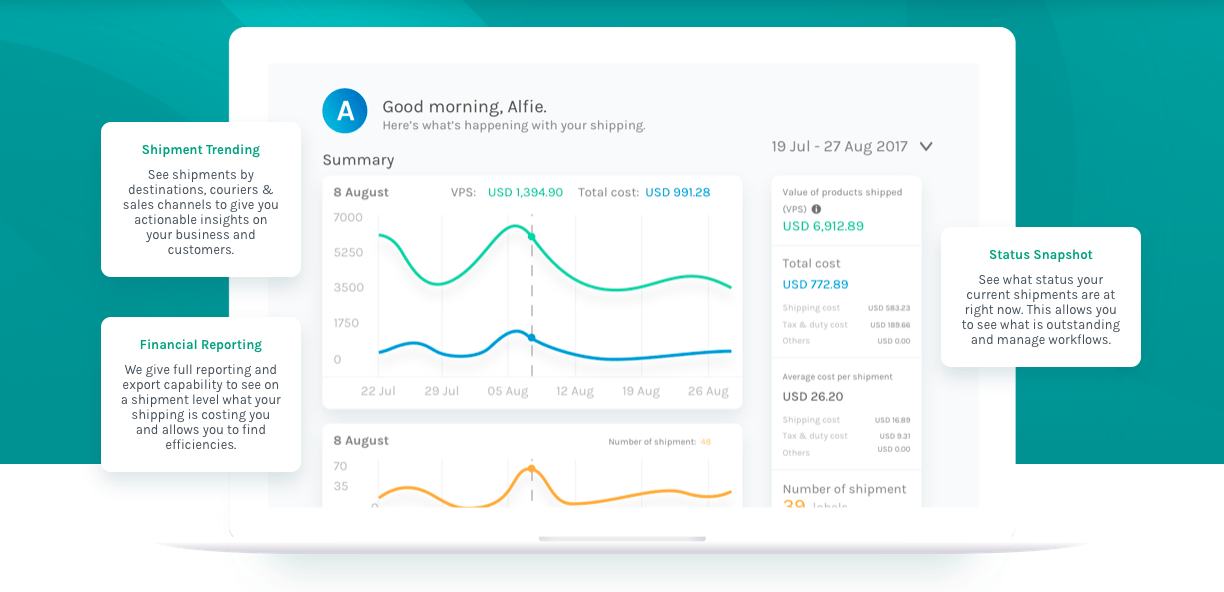 With EasyShip, ecommerce retailers can access pre-negotiated shipping rates from couriers around the world with just one account. They can also link their own courier accounts (including Fedex, UPS, DHL and more) to use their own negotiated rates.
Easyship's dynamic rates are based on actual items in your customers' carts, so your quotes are always accurate. Customers can choose between the fastest, cheapest, and best value courier services at checkout, with fully landed costs.
Merchants have the ability to manage their shipments from one dashboard. You compare courier rates, generate labels and pre-filled international paperwork and automate returns. Plus, create shipments without manual data entry, monitor tracking statuses, and analyze sales performance.
Access 250+ shipping solutions and rates of up to 70% off
See all required taxes, duties, and courier fees up front for every shipment
Share branded tracking pages and emails from purchase to delivery
Get complete Customs documentation to avoid shipping issues and delays
Cost: Free to install. Users simply pay for what they ship. Costs incurred are shipping costs and subscription fees for more established stores.
Download EasyShip in the Shopify App Store
4. Route – Shipping Insurance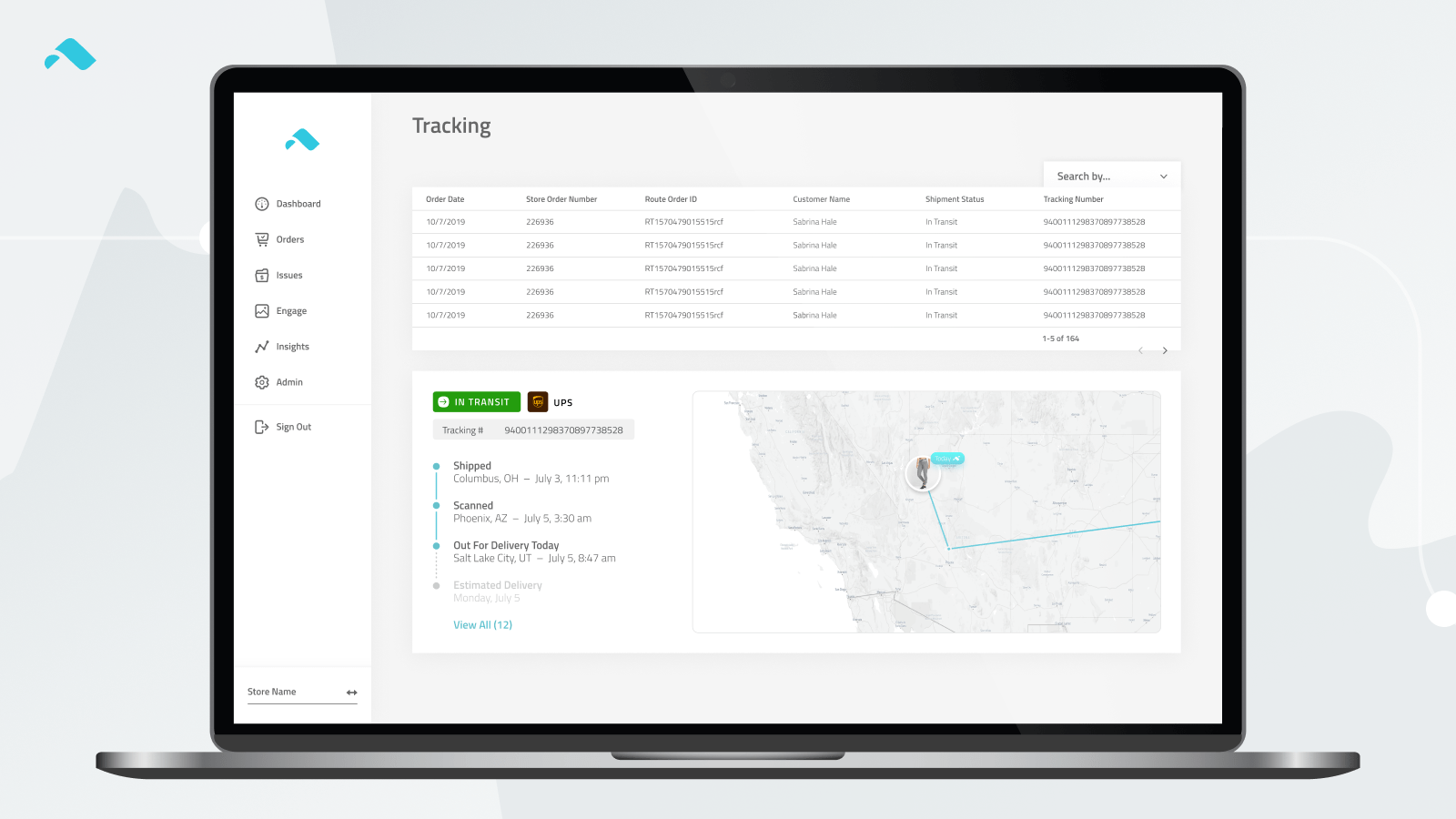 While predictability is boring in real life, it's coveted in the world of logistics. For those unfortunate times when a shipment goes awry, you want a shipping insurance partner you can rely on. When an item is lost, damaged or stolen, Route – Shipping Insurance can help keep customers with one-click shipping insurance. Not only are customers protected by this coverage, your expenses are also covered.
Route's shipping insurance is part of a larger Route ecosystem that "empowers brands to be intentional about their post-purchase experience with visual order tracking, package protection, effortless claim-filing, and the world's first universal order history." Focusing on the post-purchase customer journey, Route can automatically ship lost, damaged or stolen items by purchasing the item again and sending it directly to the customer.
At check-out, customers can opt into Route's insurance at no cost to you
When the product ships, the customer receives a link to file a claim if needed
Route aims for a 24-hour response window and 5-day payout turnaround
Offering the coverage does not contractually obligate you as a merchant – all costs are incurred by your customers
Cost: None for merchants, value-dependant for customers
Download Route in the Shopify App Store
5. Bold Subscriptions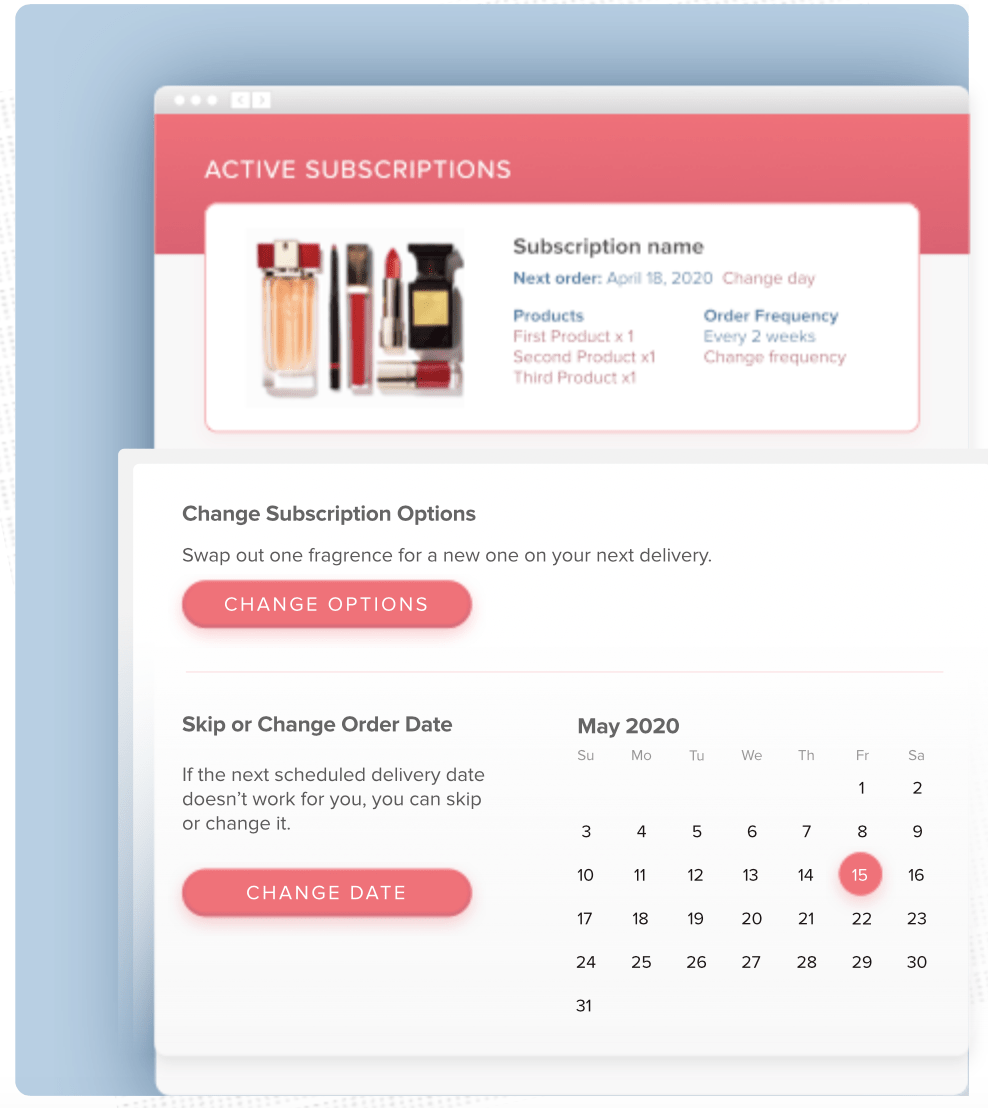 Bold helps subscription box merchants reduce churn and keep products fresh. The solution also automates subscription businesses by increasing options for customers, which include editing custom boxes, discounts for new/recurring customers, gift subscriptions and much more.
As the highest-rated subscription app in the Shopify app store, Bold can also help with inventory control, robust analytics and more.
Other options include "convertible" subscriptions that offer introductory products before converting to standard products
Features include dynamic discounting capability, buy button functionality on social media or blogs, and edit/pause/skip features allow customers flexibility in their subscription
Cost: Starting at $39.99 a month after a 60-day free trial
Download Bold in the Shopify App Store
6. ShipperHQ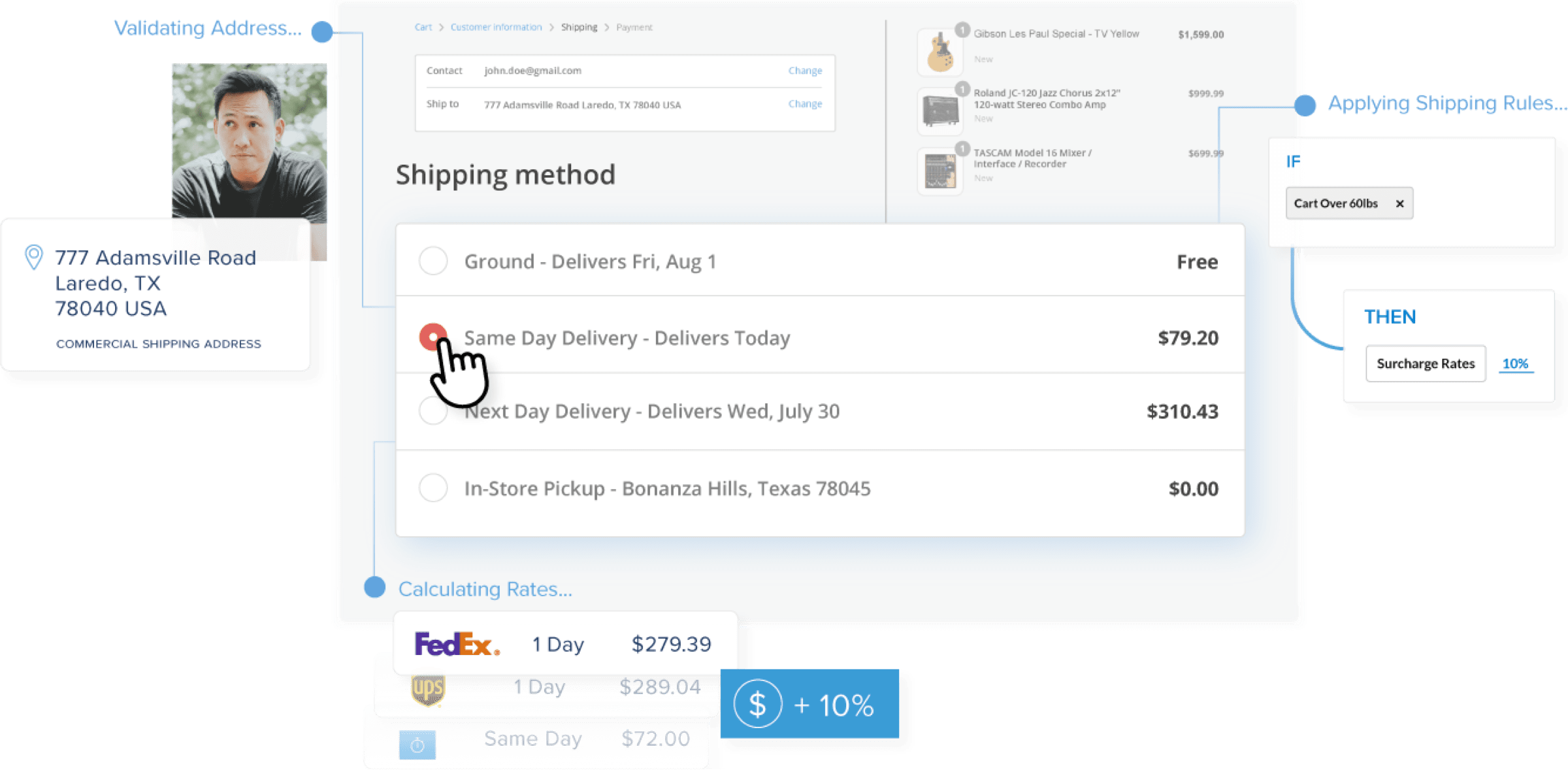 Well, we admit we may be a little biased, but this last tool is our favorite.
ShipperHQ is one of the most powerful Shopify shipping apps available in the App Store. With our powerful shipping rate management software, you're in total control over the shipping rates and delivery methods that appear on your checkout page.
You can create an Amazon-like checkout experience with shipping rates and options that make sense. Plus, convenient delivery options your customers will love.
Whether you've got crazy-shaped boxes, need to set up in-store pickup, or just want more accurate delivery dates and times, ShipperHQ's easy-to-use dashboard is full of useful shipping features for customizing your shipping strategy.

Providing customers with the freedom to choose a shipping method that works for their budget and schedule, plus the flexibility to decide where and how they will receive their packages. Shipping rules in the backend also ensure that you stay compliant with the law and get the most accurate rates possible.
Instantly pull delivery dates from carriers, calculate the most accurate rates possible, set up unique shipping rules and restrictions for any checkout scenario, apply dynamic shipping discounts and promotions, receive instant LTL freight quotes and much more.
Live rates from more than 50 carriers for the most accurate rating
Show details customers expect to see at checkout, such as delivery dates
Improve shipping margins by automating rates from multiple shipping origins
Determine how boxes are selected and how products are packed together
Save money by checking a customer's address type before shipping orders
Cost: Try ShipperHQ for 15 days for free and, if you like us, continue with packages that range from $50 to $300 a month. Enterprise options also are available, as we serve thousands of well-known brands including Tecovas, Zippo and Bulletproof.
Did you know? ShipperHQ is partnering up with Auctane, home to brands ShipStation and ShipEngine. Merchants who leverage both Shopify shipping apps will gain unprecedented control over their shipping strategy, from checkout all the way through delivery.