New PWA Powered Checkout for Magento 2
When we launched ShipperHQ in 2013, it was a huge leap forward in both functionality and flexibility for us. Particularly, when it comes to conquering some of the most challenging shipping requirements that we hear from merchants every day.
As we continue to push forward with innovative capabilities within our platform, we keep the merchant's needs at the heart of everything we do.
That's why we're excited to be taking the biggest step since ShipperHQ began in announcing our new Enhanced Checkout.
Why did we develop the Enhanced Checkout?
Our goal for the Enhanced Checkout was to make it possible for retailers to differentiate themselves from competitors. We also wanted to make it easier for them to take on eCommerce giants like Amazon, Walmart and Target.
In order to do this, we needed to give merchants a way to improve their checkout without custom development time and funds.
From the merchant's perspective, we have invested time and effort in improving the way our delivery options look and work out-of-the-box in your checkout.
We've also incorporated an easy way for you to access detailed shipment information instantaneously.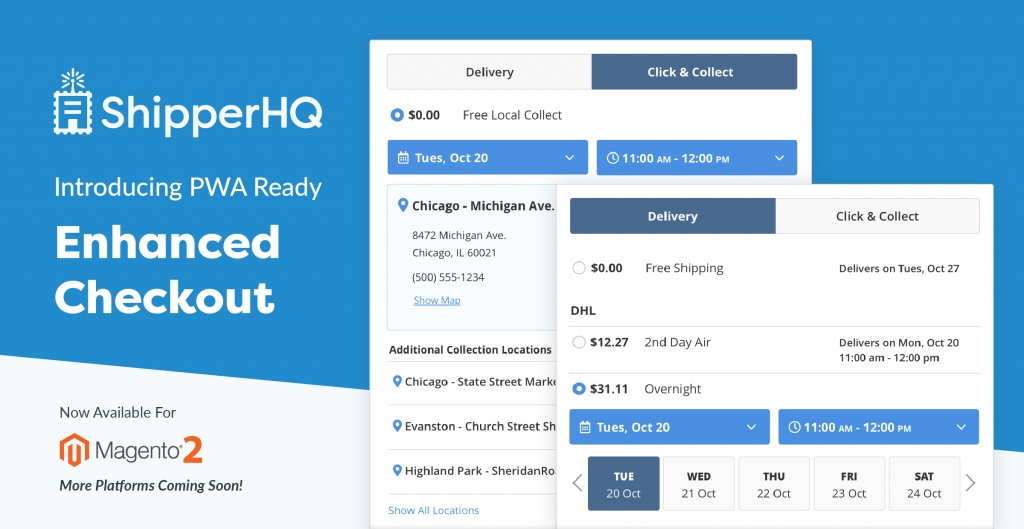 What is the ShipperHQ Enhanced Checkout?
Our Enhanced Checkout is a brand new customer checkout experience. It is driven by the ever-increasing demand for more detailed shipping information and convenient delivery options that cater to individual preferences.
Because of your customer's need for more details and options at checkout, you want to make sure what's shown is easy to understand and use so you exceed expecatations.
Amazon-style Checkout with Split Shipping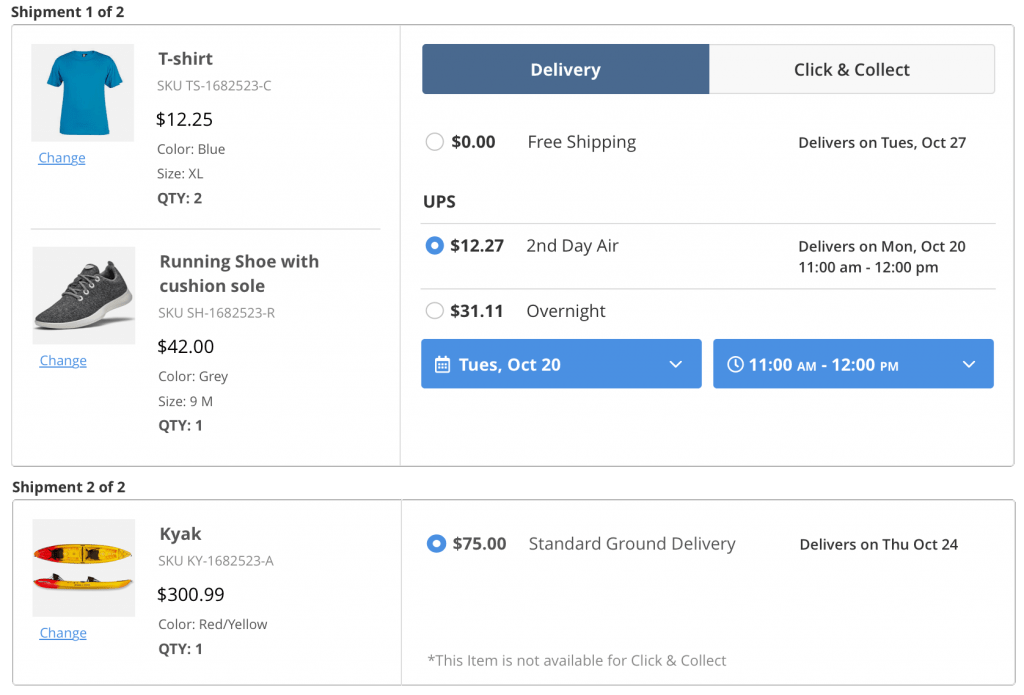 With the Enhanced Checkout, we now offer the only out-of-the-box split shipment checkout solution for eCommerce stores.
The flexibility of the divided checkout allows customers to choose individualized delivery choices for each shipment.
It also provides the detailed order information they desire.
Out-of-the-box Solution for Fast integration
The Enhanced Checkout leverages React JS components to provide an unparalleled customer experience at checkout, with the ease of a plug-and-play extension for Magento 2.
It's also PWA ready, making it compatible with leading technologies and best practices in modern UX and development.
Thanks to these technologies, you can quickly integrate within your own store to deliver a fully-responsive checkout experience with instant rate returns and minimal maintenance from your side.
Meaning, your checkout can be more flexible without added server load.
Improve Shipping Offerings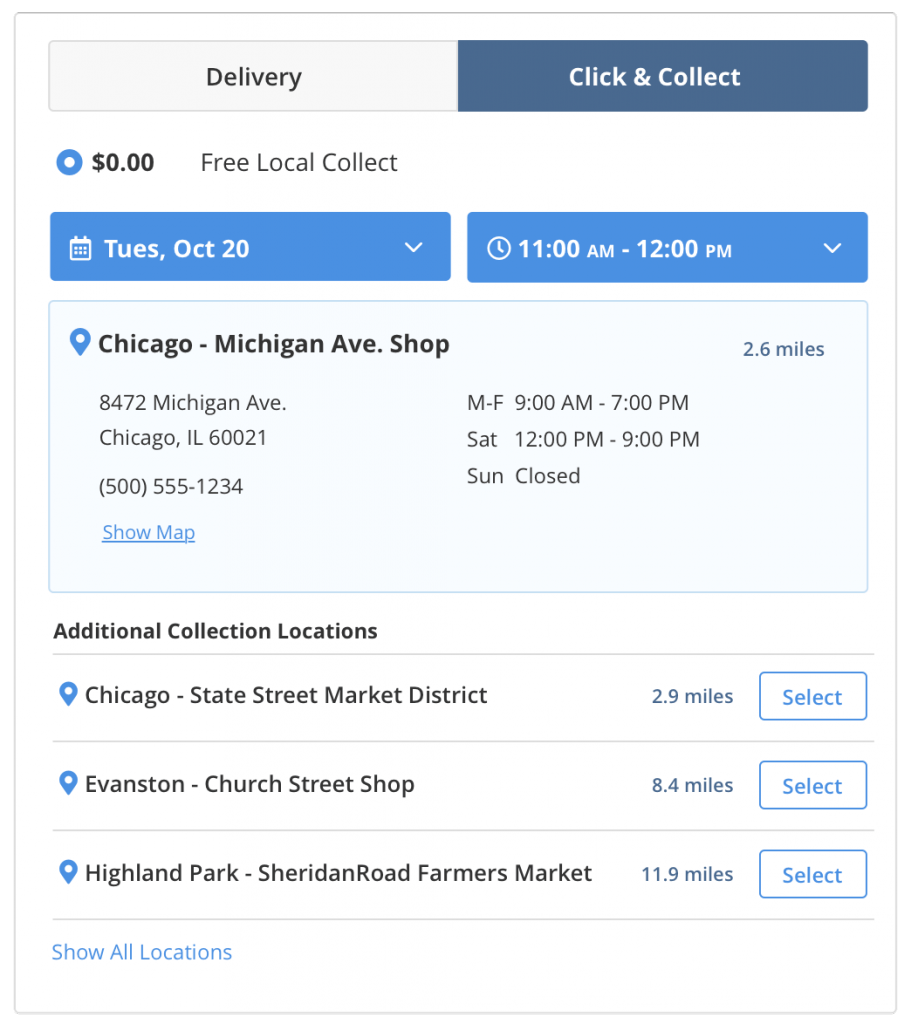 Beyond performance upgrades, Enhanced Checkout makes it possible to tailor some of ShipperHQ's most enticing and convenient features to your own preferences, including:
In-Store Pickup/Click & Collect
Alternate Delivery Options i.e. UPS Access Point
Delivery Calendar/ Guaranteed Delivery Dates
Pickup and Delivery Time-Slots
Plus, your customers will receive more detailed information in cart, like product images and specifications.
Speed Up Fulfillment and Boost Accuracy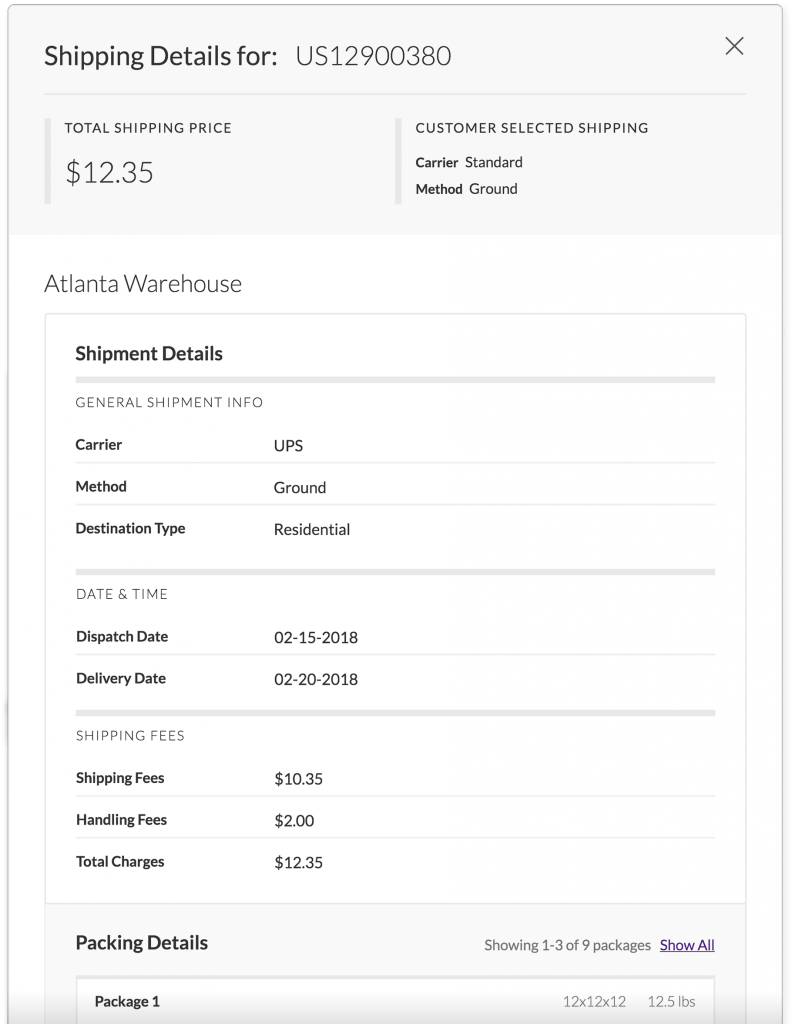 This checkout add-on also comes with a new Order View for merchants.
With Order View, it's easier for you to speed up pick and pack by giving you easy access to robust shipment information in your backend.
Now you can quickly view details, such as:
Packing and box specifications
Methods chosen at checkout
Dispatch and delivery date/time
Base carrier quotes
Shipping fees applied to customers
Armed with these additional order details, your fulfillment center can boost shipment accuracy and get packages out the door faster.
Why should I add Enhanced Checkout to my store?
Altogether, the Enhanced Checkout gives you unprecedented control and customization of your checkout without additional development time or cost.
If you're on another system, our Enhanced Checkout and Order View can also be integrated using our SDKs. And our GraphQL APIs can be called directly for more custom integrations.
With convenient delivery options, detailed shipment information and a simple integration process, you can delight customers with a checkout experience beyond their expectations in no time.
Now available on Magento 2
Support for more platforms, including BigCommerce and Shopify, is coming soon.