Creating your online product catalog is essential to moving to eCommerce, yet can be a time-consuming part of the process.
These tips will help you prepare your product catalog so you are ready to get online and start selling faster!
Why you need a product catalog
A product catalog is a list of all the items you sell, plus the information buyers need in order to make their purchases. It includes images of the products, descriptions, specifications, prices and whatever other details your shoppers would like to know.
Product catalogs also contain the inventory information you need on the backend to run operations, like SKU, delivery schedule, quantity levels and more. So as you can see, you can't run an eCommerce site without a complete product catalog.
Where to start
Before you dive into creating a product catalog, there are a few questions you will want to answer first:
What categories will you divide your products into?
How many products are you listing online? Your whole inventory or a select few?
What products have different variations (size, color, etc), and how many?
With answers to these questions, you will have a good foundation for preparing your product catalog.
What information your product catalog needs
To figure out what information is right for your catalog, consider what details your buyers care about, what will assist you in managing your inventory and what can be applied in a standardized way across items in the same group or category.
At the very least you should collect:
SKU
Product Name
Price
Images
Description
Dimensions (length, width, height and weight)
Product Keywords
Category or Group
While this list isn't completely exhaustive, here are many of the other details it can also be helpful to have in your catalog:
Specifications
Construction Material
Size
Available colors or variations
Brand Name
UPC
Manufacturer Part Number
Quantity Available
Cost and Price Information (for Customer's Pricing Tier)
MSRP
Minimum Advertised Price
Handling Cost or Fees
Store-specific ID
Customer reviews and ratings
Some of these will vary heavily depending on what you sell. You might not have sizes for a phone case, but you will need to say what models the case fits. Whereas if you sell jeans, you'll have extra specifications like cut, inseam, wash instructions and more.
For example, take a look at this lipstick set from our customer, Sigma Beauty. While they have the essentials (price, product name, description, images), they've added extra details buyers want to know, like the lipstick shades and finish. If you click the link, you can also see the include information on ingredients, reviews and more.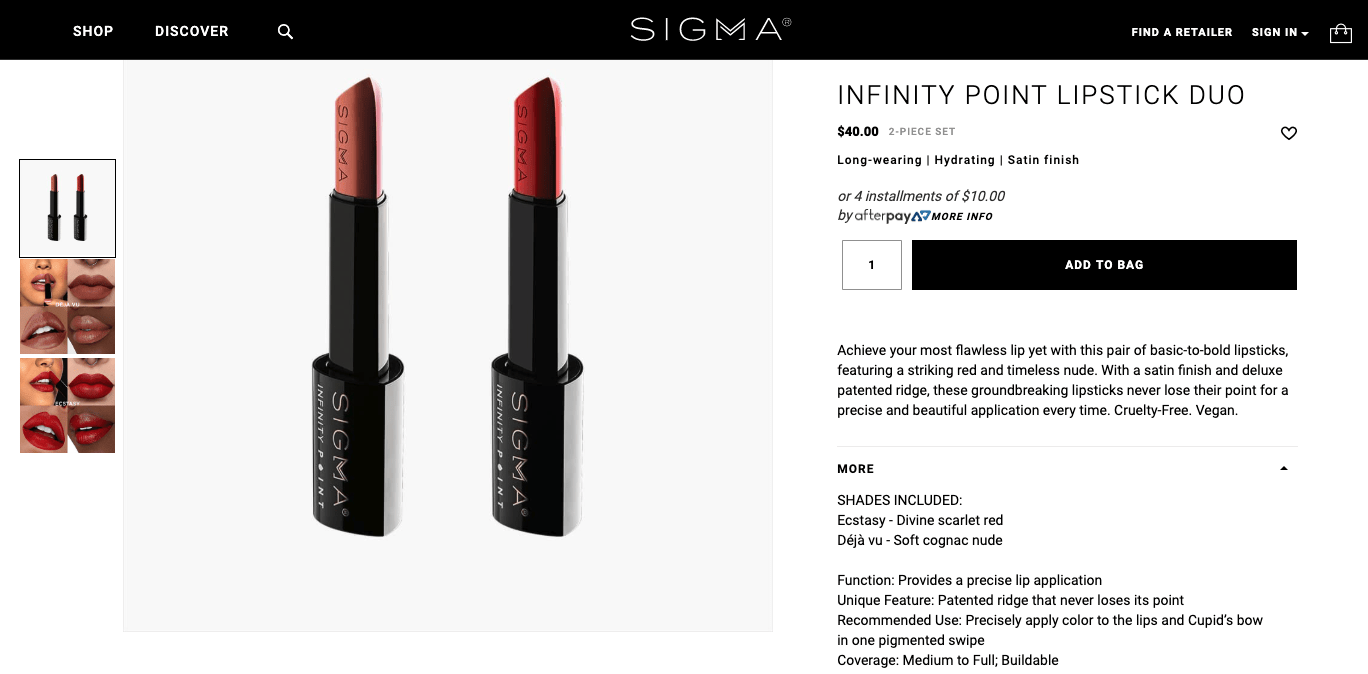 In general, your store-wide data will be vital for operating an eCommerce store. The more product-specific information may not be completely necessary to function online, but you want to think about what your buyers will be looking for. See what your online competitors are providing to get a better idea.
Also look to your supplier. If you source your items from dropshippers and wholesalers, they should be able to pass you the data you need automatically.
How to create a catalog structure
Next it's time to work through how you are going to arrange your catalog. Basically you need a flow chart of how shoppers will move from your main menu categories down through each level of subcategory and finally reach your products.
Here's an example of what this looks like for our customer, Cox and Cox.

One thing you want to keep in mind here is SEO. Your catalog structure should be driven by the actual search terms buyers will be using to find the relevant items.
Again, search around some of your competitors' websites and see what terms they are using. While research adds a little bit of time to the process, it will pay off in creating a better user experience for your shoppers.
Let's get building
Now it's finally time to start creating your product catalog. There are a number of resources you can use to help with this part, from a PIM to a good, old fashioned spreadsheet.
PIM
A PIM, or Product Information Management system will help you get all the information organized, and is good for maintaining your catalog in the long run. Keep in mind, different PIMs integrate with different eCommerce platforms, so double check before you choose.
eCommerce Store
You do have the ability to skip the data import and just build a catalog directly on your eCommerce store. This will also be a relatively easy option if you aren't super tech savvy.
Spreadsheet
Everyone knows how to fill out a spreadsheet. Check your eCommerce platform for any formatting requirements (as you'll have to import the CSV into your store) and you're ready to gather the data.
Time to go live
For those that are looking to get online fast, it's understandable if you need to trim down this process. Start by only collecting the essential data, and building a basic catalog structure. It's okay to go back and add more details once your store is live and you have some time to breath.
However, you do want to avoid making too many changes too often, as this will affect the shopping experience for your buyers. Try to separate catalog creation into two big phases, if you aren't able to launch it all the first time.
If you are currently looking for more resources to move your store online quickly, ShipperHQ is here to help. Our team of eCommerce and shipping experts have years of experience assisting merchants like yourself go through times of transition.
Reach out to us if you have any questions, or simply start a free 30-day trial of our software on your own.