Furniture retailers have been hit hard by the changing shopping habits of their customers in 2020. So how can technology help them bounce back? Strategic shipping, creative showcasing, and tailored customer experiences are a good place to start.
If you're like most shoppers, when it's time to buy furniture, you're eager to hop into a showroom and feel the goods with your own hands, to really understand the item you're considering bringing into your home. In the time of COVID, we're more concerned than ever about the look and feel of our homes, since many of us are spending more time in them than ever before. So while in-store shopping for furniture has taken a nose-dive in recent months, overall demand for furniture has not. For furniture retailers, it's an important moment to seize the opportunity to serve an online customer base which you may not have previously considered.
For independent retailers, one major hiccup in the journey to online selling, of course, is the shipping factor. Simply put, shipping a couch is more difficult, costly, and time-consuming than shipping, say, a toaster. Fortunately, selling and shipping furniture online is a lot easier than you might think.
Demand for Online Furniture Buying
Many retailers who make or sell furniture rely on the old-school line of thinking that suggests customers need an in-person shopping experience to make a sale. Industry data, however, suggests otherwise.
A 2019 Statista report shows online furniture buying has skyrocketed from a $20B industry in 2013, to a $40B one in 2019. While data for 2020 is not yet available, it would be safe to assume this trend has continued, if not spiked even more notably, in 2020.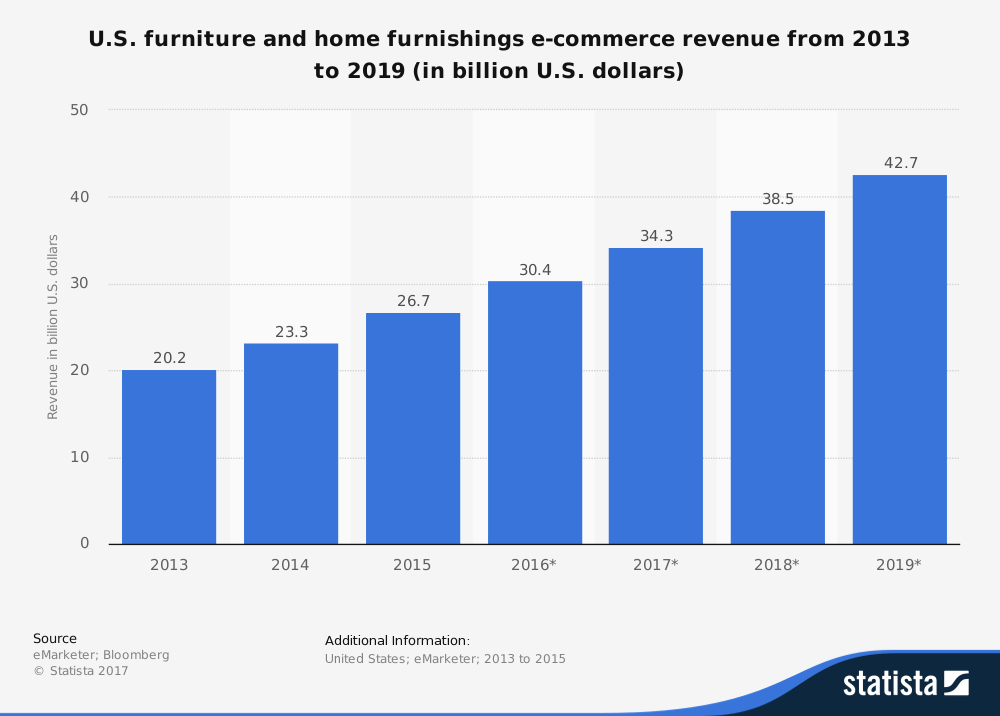 It's clear the demand and expectation for online furniture buying has grown in recent years. What's less clear for many retailers, is a path to joining competitors like Amazon and Wayfair in the fight for online furniture buyers' business. Without an established ecommerce store, how can they get started?
Using ShipperHQ's integration with uShip's pricing API, you can offer real-time furniture shipping rates, built right into your checkout process, no matter which e-commerce platform you use.
Step 1: Get Online
Needless to say, listing your items online is a crucial aspect of gaining an audience and customer base beyond your usual brick and mortar's footprint. A lesson in taking a business online would take much more time than we've got in this particular article. Fortunately, we've got a simple, step-by-step guide right here:
How to Quickly Create an eCommerce Website in 12 Steps
While this process is straightforward, it may seem intimidating. Taking it step by step and seeking the right help is key to a successful transition to online selling. In general, furniture retailers can benefit from having a smaller number of SKUs and inventory than most other retailers, especially stores that offer bespoke, antique or handmade items.
As a small retailer who specializes in creating custom woodwork furniture pieces, you might get started on a platform such as BigCommerce, Shopify or WooCommerce. Once you've launched your store, you can add product pages detailing your most popular requests. Adding customizable options within the checkout process, you can ensure every customer gets exactly what they want without confusion or delay.
Step 2: Integrate Useful Solutions
Once you've launched your ecommerce store, you'll need to integrate with the tools that will enable you to ship your goods in an efficient way, as traditional shipping options likely won't suffice.
Two key tools are available to help with this very challenge: uShip and ShipperHQ.
uShip provides is home to a nationwide network of in-home furniture delivery services through a program of carefully vetted carriers. When you connect your ShipperHQ account with uShip, you'll be able to display real-time rates for in-home furniture delivery, anywhere in the U.S.
uShip + ShipperHQ
uShip is home to a nationwide network of in-home furniture delivery services through a program of carefully vetted carriers. When you connect your ShipperHQ account with uShip, you'll be able to display real-time rates for in-home furniture delivery, anywhere in the U.S. Rates are based on the company's 15 years of shipping pricing data. Often, when retailers need to ship oversized items, they need to wait for a custom quote which is built using the item's dimensions, delivery speed, service level, origin and destination. WIth the uShip integration, you can add these real-time rates right into your checkout page, with the help of the other tool at hand: ShipperHQ.
ShipperHQ (that's us!) is an ecommerce shipping solution that can integrate tools like uShip into your checkout, enabling those smart shipping options and rates from uShip. When you pull a rate from uShip, you get the peace of mind relying on a network of vetted and experienced carriers who specialize in furniture. Without ShipperHQ in the mix, retailers would need to rely on custom development to add these features, which is time-consuming and expensive.
Check out this example checkout page that shows real-time rates, pulled right in a furniture retailer's checkout page: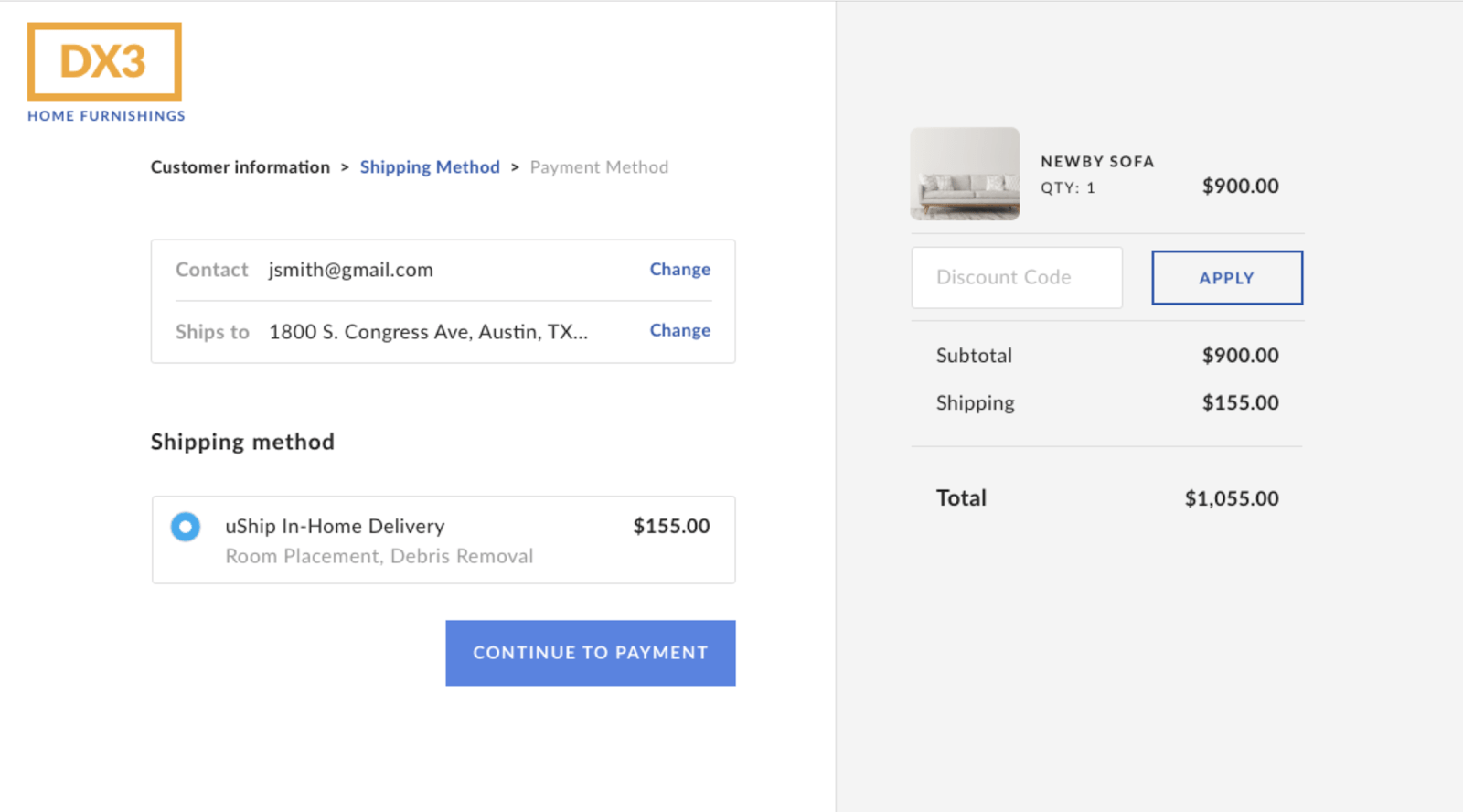 Source: uShip
Notice the rates are pulled seamlessly, invisibly, and immediately. This is paramount in providing positive customer experiences that won't feel overwhelming or unwelcoming.
With these tools working together, any retailer can add instant rates to their checkout. Even better? There's no need for custom development or long wait times for custom quotes.
That retailer specializing in woodwork could benefit from the dual integrations by adding dimensional info on the product at hand. Even if a customer chooses to customize an item, you can add these options to the product info. This means you can produce an instant shipping rate for every order, whether a footstool or a four-poster bed.
Step 3: Appeal to Online Buyers
So, now we know how to sell and ship furniture online. But how do we make it appeal to buyers who are used to choosing furniture in person?
Flexible reverse shipping options
Retailers like Wayfair have set the bar high for furniture buyers, offering almost universal free returns. Of course, this is extraordinarily unrealistic for the vast majority of retailers given the costs associated. However, offering a flexible option such as deeply discounted return shipping or giving the option of a charity donation for a tax writeoff. These solutions depend heavily on the specifics of your products.
Our wood furniture retailer might choose to offer a partial refund if a customer is unhappy with a footstool. Return shipping on this item would be less significant than oversized furniture shipping, so it may still be viable. On the other hand, that four-poster bed would be much less viable to send back. Because of this, a retailer may offer a partial refund for the specific aspect the customer is unhappy with, or provide repair or upgrade options from afar if needed.
Attractive and informative product pages
The key to mastering return shipping on large items is to minimize the chance of it being necessary in the first place. Provide complete clarity on item details, send photos before shipping, and practice open communication to ensure every customer is satisfied the first time around. This is the kind of individual care a small retailer can provide, with which a company like Wayfair simply can't compete.
Before shipping out that four-poster bed, our woodworker may want to add a step to the buying process of quality control. Depending on the volume of orders, the retailer may opt to arrange a pre-shipping call with the customer to review details and expectations before it ships out.
Customer reviews
By now, most retailers know of the vitality of customer reviews and their unparalleled power to convert. Never is that more applicable than when it comes to high-value purchases like furniture. And never more, still, in a situation where a buyer can't physically touch the furniture before purchasing.
Consider adding customer reviews to individual product pages, even if your products are customizable. Having context from other real buyers about impressions and quirks of your product will help everyone stay on the same page with expectations, creating a far superior customer experience.
Feeling a little more energized to get selling online? We're here to help every step of the way. If you're a furniture retailer ready to get started, we invite you to connect with one of our shipping experts to discuss how to get started and what to expect.
You can also see uShip in action with a free demo: