Whether it's a toothbrush head or that pair of long-coveted shoes, making an online purchase comes with a unique rush: the tracking phase. But when delivery goes awry, the excitement quickly turns into frustration, and worse: resentment.
Read on to see how address validation for shipping can help retailers keep deliveries smooth and on-track, no matter what's inside.
Address validation for shipping ecommerce orders might seem like a dry topic amidst the sea of "sexy" and exciting new features flooding the market, but it's indeed one of the most impactful. When a customer is ready to purchase from you, correct address input is among the most vital pieces of data you'll receive. Beyond simply getting the package to the right place, Address Validation can sidestep delivery issues to create more satisfied customers, lower rates, and faster service.
1. The Dollar Factor – More accurate delivery rates
Use address validation to pull the right rates in real-time. Without correct addresses, rates can contain errors, and may result in you over or underpaying for shipping.
If a customer intends to add their home as their shipping address but accidentally makes a mistake, the result could be a rate that doesn't account for a residential surcharge. When the package is ultimately delivered to a residential address, you'll be stuck paying the redelivery fee as well.
On the other hand, if a customer intends to add a business address that shows up as a residential one, they'll unnecessarily pay the residential surcharge, making for a less than stellar customer experience.
Think these surcharges don't matter? Think again. They can add up quickly and may cost more than you'd think:
FedEx
Rerouting Charge
$17*
Residential Address Surcharge
$4.60*
Address Correction Fee
$17*
UPS
Residential Address Surcharge
$3.40*
Address Correction Fee
$13.40*
*Actual surcharges vary
2. The Timing Factor – Fewer missed or delayed deliveries
With the holiday season approaching, delivery dates are more crucial than ever. Customers are already concerned about delayed or missed deliveries, and carriers say their fears are well founded, with big delays on last mile delivery expected.
Getting a shipping address right the first time can help mitigate unnecessary delays in an already complicated shipping ecosystem.
When shipping addresses are incorrect – whether with incorrect or missing numbers, suite numbers, invalid zip codes, or any other complication – packages are held until they can be rerouted. Rerouting and address correction both carry fees with most carriers, and they don't come cheap. These changes take time and can mean the difference between making a crucial delivery deadline or missing it.
Address verification for shipping packages through FedEx or UPS includes correction of common errors including:
Completion of incomplete addresses
Correction of invalid addresses
Residential or commercial address type verification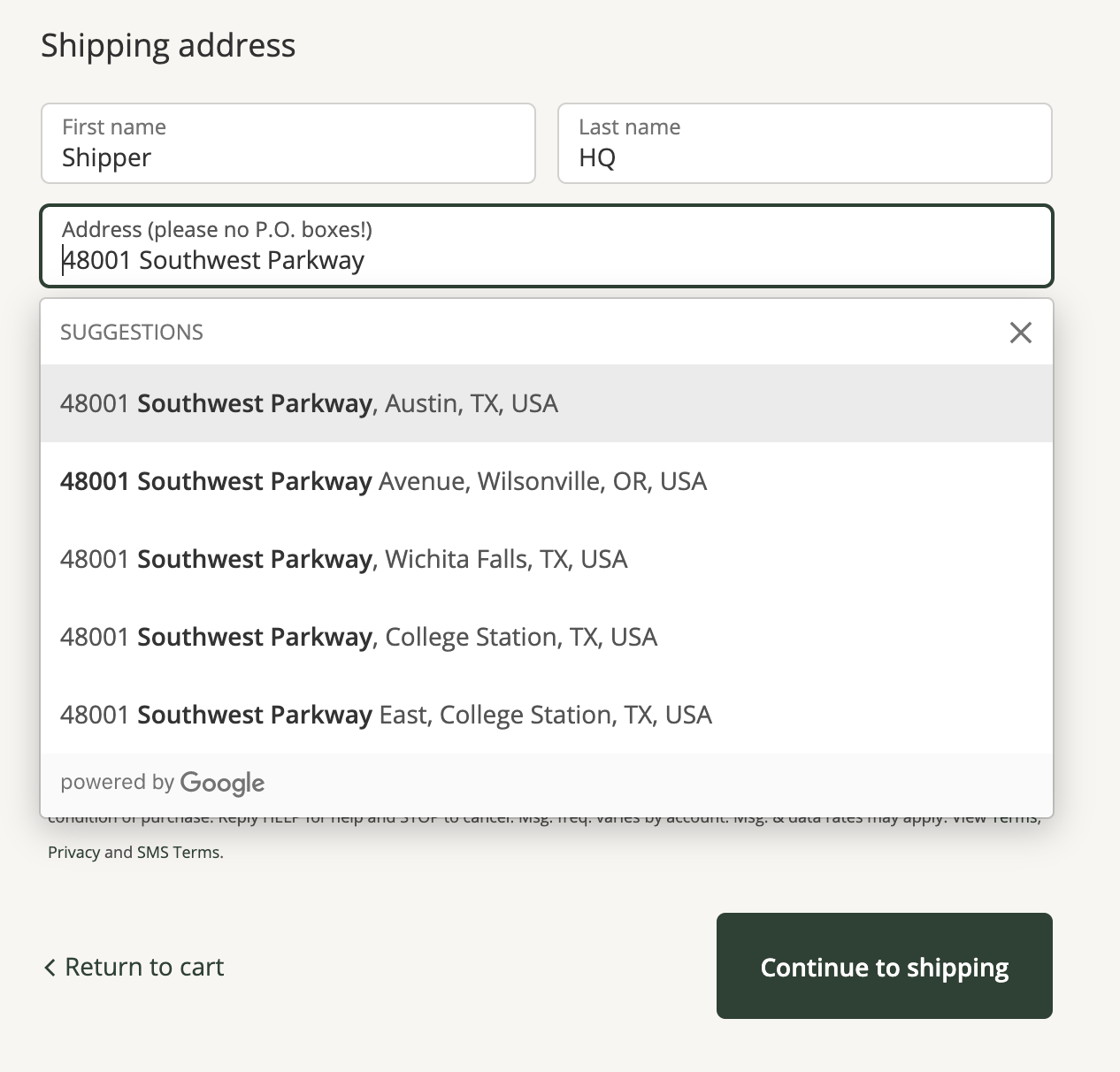 These services contain a massive address database of company listings to improve results, which are updated monthly. They also verify whether streets exist in a given area, and validate address numbers within streets. If no useful alternative address can be found, the service will inform the customer and require a corrected entry.
The best part? It's all done smoothly and seamlessly behind the scenes. All your customer sees is a clean interface that seems to know their address better than they do.
3. The Happiness Factor – More satisfied customers
So what's this all getting at? The one thing that matters most in ecommerce: your customers.
When customers have a positive delivery experience, they'll be significantly more likely to return to shop with you again.
Consider the shoppers who made simple mistakes in section 1: someone who accidentally enters their residential address as a commercial one. While you as the retailer will ultimately be on the hook for paying any rerouting, address correction, and residential surcharge fees, it's the customer who will really suffer.
For many commercial addresses, carriers don't deliver outside business hours. So that shipment your customer was expecting at 6pm on a Friday night may not show up until Monday morning.

On the other hand, a customer who's shipped to a business address will pay twofold: once when they cover the residential address surcharge in their shipping cost, and again when a delivery attempt is made outside of business hours.
Delays like these are entirely preventable, but they make a big impact on your customers.
With solutions like ShipperHQ's Address Validation for shipping ecommerce goods, it's less a question of why, and more a question of why not. Our Address Validation technology verifies address type instantly, saving you money on shipping and delivering happier customers and better margins. With so many benefits wrapped into a single automated feature, you can't afford to keep missing out.
Try Address Validation by signing up for a free 15-day trial today.