For ecommerce retailers and consumers alike, 2020 has been a year of transformation, both for better and worse. See how consumers have changed their habits, and how long those changes will last.
2020 shopping habits have evolved at a dizzying rate. Many shoppers who used to be opposed to online shopping are now open to it. Others still have switched exclusively to online shopping. For ecommerce retailers, it's a crucial moment to adapt strategies and offerings or risk floundering in an energized market.
The New Habits
More people are shopping online than ever before.
After COVID restrictions were enacted around the world, ecommerce as a whole saw a major spike in activity. Retailers across industries saw gains in traffic and order volume. The changes are thanks to evolving consumer sentiments surrounding online shopping .
31% of people who identify as existing online shoppers say they're shopping online more than they did before March 2020.
An additional 35% of people say they're more open to shopping online than before.
"Boomers," or those 56 and over, have been responsible for an especially large leap, with 40% of them more open to shopping online than before.
Those increases are here to stay.
The increases in ecommerce reliance aren't a temporary fix to the challenge of shopping in-store during a pandemic. Most consumers plan to continue shopping online and using alternate pickup options after restrictions are lifted. This is promising for retailers, but draws a line in the sand for retailers who have not yet adapted to consumer expectations.
When restrictions lift, 74% of online shoppers under 40 will continue to use solutions like alternate pickup locations, or curbside or in-store pickup.
Large groups of online shoppers have switched exclusively to online shopping, a trend that's expected to stay the course. In fact, 22% of 40-55-year-olds have switched entirely to online shopping.
Some categories are seeing more online success than others.
The most common categories of goods people have recently begun buying online include food and alcohol, clothing, electronics, beauty and self care products, and home improvement items including cleaning supplies.
The percent of people saying they're newly purchasing these items online include:
Food/perishables at 13%
Clothing at 15%
Electronics at 10%
Beauty and personal care at 12%
Cleaning supplies at 10%

Consumer Concerns
While 2020 shopping is up across the board, it doesn't come without a healthy dose of concern from the consumers moving the needle. Shoppers are weary about inventory, package security, delivery information, and the safety of shopping in-store.
Availability – Consumers are worried about low stock and product availability. So much so that 76% of shoppers plan to buy gifts earlier this year.
Security – More than half of consumers have experienced package theft, a growing problem in many locations.
Convenience – Shoppers want options that work with their life. Nearly half prefer to pick up orders themselves, while 41% prefer to have them shipped to their home.
Delivery Clarity – Customers are hungry for information on shipping. Nearly half of shoppers say they'd even pay more for their order if it meant getting a clear delivery date upon placing an order.
Speed – Major retailers have set a tough precedent by offering overnight shipping. 55% of shoppers have opted for it at least once this year.
One important factor we can't ignore is carrier capacity. With the major US carriers predicting shortages of up to 5% from November through January, an expected 7 million packages are expected to face delays or missed deliveries.
The Solutions
While the list of consumer expectations seems to be ever growing, the good news is that there are reliable steps that retailers can take to ensure success this holiday season.
Modernize your ecommerce offering right now.
Never in the history of retail has it been more vital to provide a user-friendly online shopping experience. If your offering falls short, it's time to get to work. Retailers already at their A-game need to take time to audit their experience and improve checkout speed, mobile compatibility and see if they can streamline their shipping options.

Merchants with brick-and-mortar stores have a unique opportunity and have a leg up over giants like Amazon because they have omnichannel shopping capabilities. Take advantage of it by offering in-store pickup, hyper-targeted marketing, local specials and personalized customer service.

Keep in mind: You don't have to improve everything overnight. Every change, no matter how minimal, will contribute to an improved experience, which gives you a chance for higher margins and more sales. Your customers' expectations and habits have already changed. Has your store changed with them? The retailers that will find the most success coming out of 2020 are those who can strategically merge these new habits with old, reliable in-store experiences.
1. Provide clarity during every step of the transaction.
With concerns about gifts not arriving in time and delivery delays, customers want a clear idea of what they'll get from you, when they'll get it and how. This sentiment is always present during the holiday season, but with a lack of options for in-store shopping, the concerns are heavier and more founded than ever before.
Keep in mind: If you aren't providing product availability and shipping information to your customers, they'll happily shop elsewhere. Be upfront and honest about stock levels and delivery dates. Customers are far more willing to compromise on the front-end of a transaction than they are to be won back after a bad experience or delay.
2. Build your strategy around your customers' needs – not your own.
The opportunity in front of us is significant and valuable. But it means nothing without the buy-in of your customers. With every step you take and update you make, keep your customers in mind. Flashy website upgrades will never get you as far as a simplified checkout. Free shipping will never be satisfactory if it takes weeks longer than expected. Your updates are only effective if they work in your customers' favor.
Keep in mind: You'll find the most success if you listen to your customers by reaping the valuable data already built-in to your website, to understand what they're searching for, what they're buying, when they're abandoning, and how you can keep them.
3. Don't Let Shipping Be the Elephant in the Room
Your customers are concerned about low inventory and delayed deliveries. You're concerned about stock levels and carrier capacity. Carriers are concerned about an impending "Shipageddon." Keeping quiet about these concerns will benefit no one.

Keep in mind: Your customers value your honesty. Slow delivery is already top of mind, so don't let it go unspoken. Proactive communications like cutoff dates, delivery dates and announcements of delays will be crucial.
A few solutions to consider include:
Offer buy-online-pick-up-in-store (BOPIS), which gives you an advantage on both channels and offers an experience online-only stores can't provide.
Enable guest checkout, which cuts down on input needed to make a purchase. Providing paid overnight shipping, which meets the expectations of the most eager customers.
Stay up-to-date on stock information, so customers are in the loop about when products will be available.
Give customers a clear delivery date (Sat. Dec 12th) instead of a range (Ships in 3-4 business days) to make deliveries more secure, and let buyers know when time-sensitive items like gifts will arrive.
Offer specials like product bundles, subscription services or free gifts with purchase, which can help you stay ahead, plus drive customer loyalty and long-term value.
Update product pages with improved photography, descriptions or quick-shop functionality. The more information and the fewer clicks to buy, the more customer-friendly your site is.
Provide accurate cutoff dates and times, especially for in-demand products. Let customers know exactly how long they have to purchase an item before it arrives past their desired arrival date.
While this list isn't exhaustive, it's a smart way to evaluate your existing strategy and find weak spots in the experience you provide.
Keep in mind, customers have already changed their habits and expectations. If your store hasn't changed with them, you may soon be left behind.
---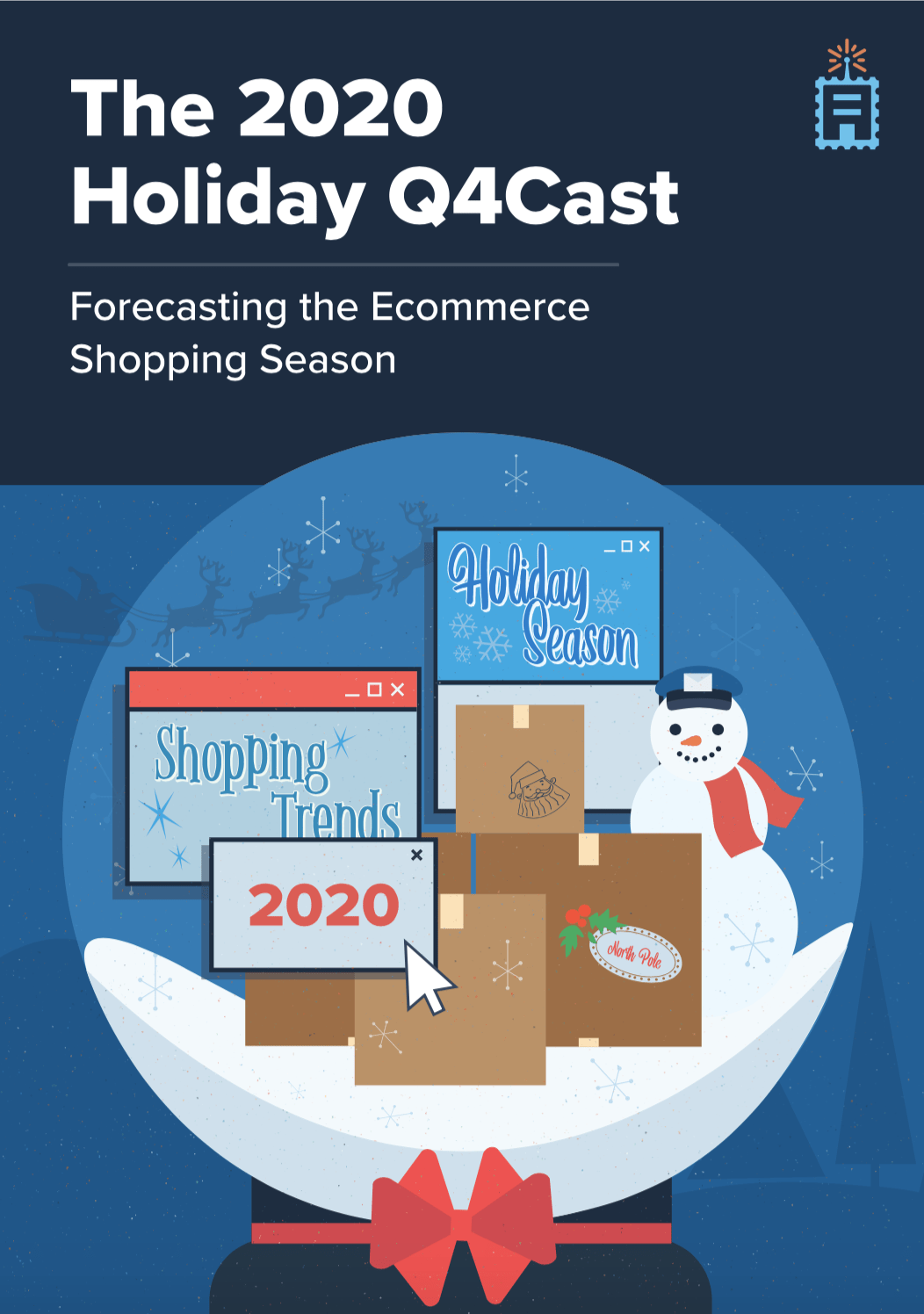 It's no secret that 2020 has brought upon a new era for online shopping.
But will the last few months of enthusiastic spending have a significant impact on holiday sales this year?
We decided to find out and surveyed 1,500+ consumers about their online buying behavior, expectations and sentiments for the 2020 holiday shopping season. Armed with these stats and retailer tips, you can pivot and plan your ecommerce holiday strategy accordingly.