Holiday shopping has arrived in full force, and with it came many exceptional trends and results to learn from. Keep reading to see our most important takeaways, and see which categories of merchants showed the most growth during the biggest selling week of the year.
Cyber Week 2020 was a bigger success than many in the industry expected, our team included. So what happened to turn it into a raving success, and how did retailers take on the added stress of issues like Shipageddon? Here's a quick review of what we saw.
ShipperHQ's Cyber Week Winners
First, let's take a look at how our merchants performed overall.
Shipping Rate Requests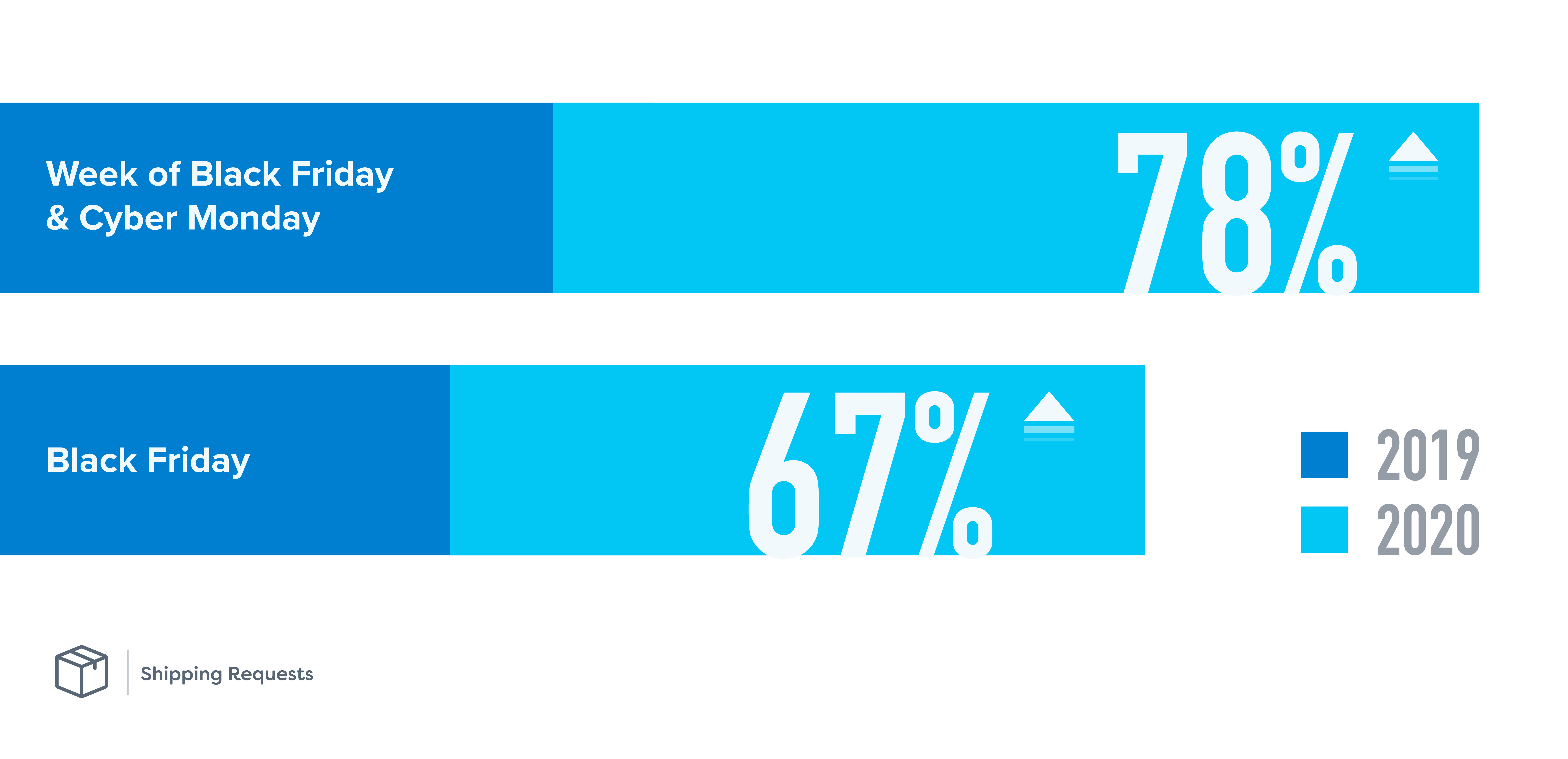 In ShipperHQ, one metric we look at to evaluate performance is shipping rate requests. These requests occur once a customer reaches the checkout funnel of an online store's page and generates a shipping rate calculation.
During Black Friday, we saw 66.84% more shipping requests than during Black Friday 2019
During Cyber Week (including Black Friday), we saw 78.35% more shipping requests than during the same week in 2019
Website Traffic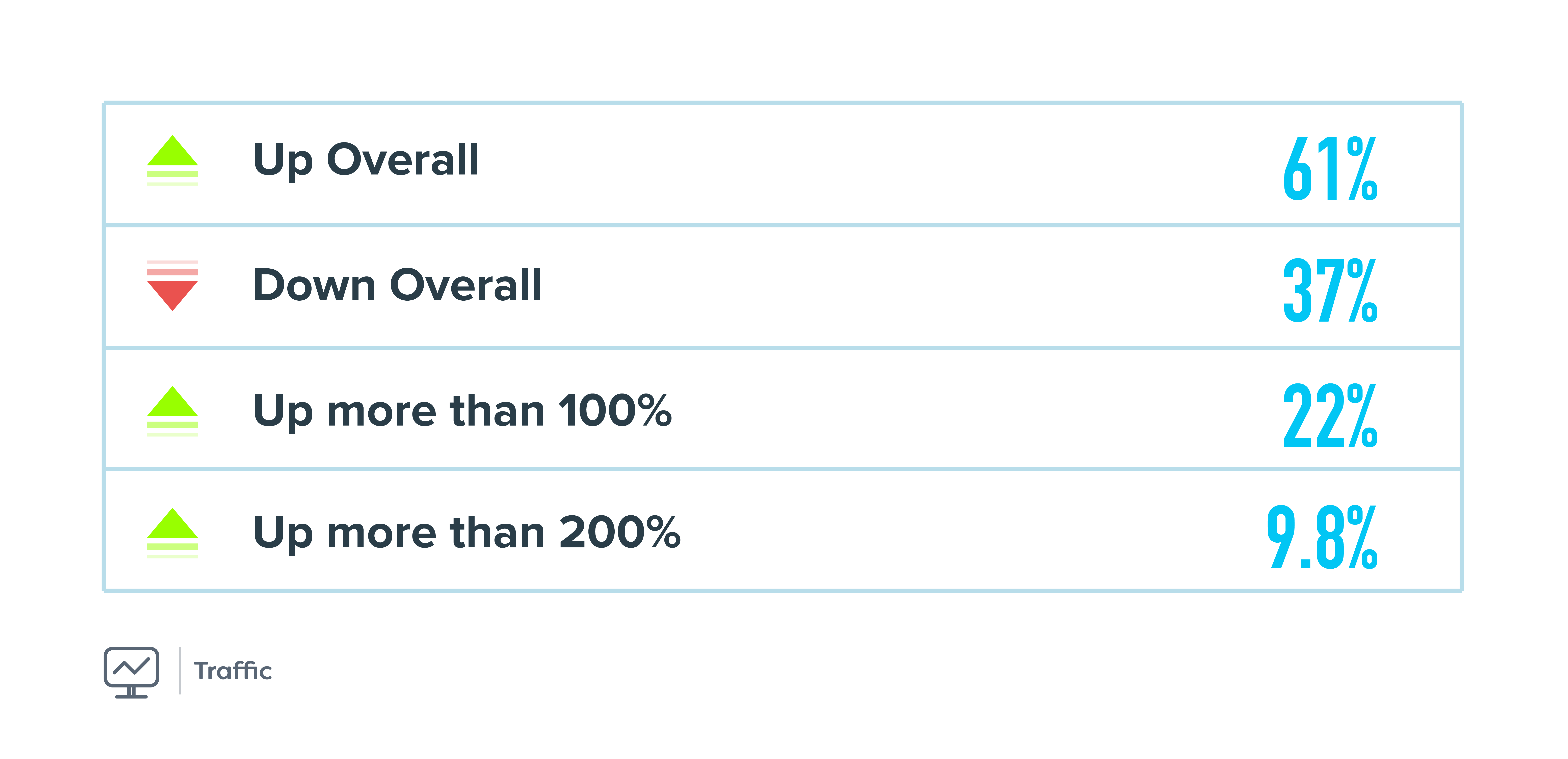 Now, let's see how much website traffic our merchants themselves got during the period. To get these percentages, we compared traffic on our merchants' sites during the period of November 23 through December 6 to the traffic they received from October 19 through November 1. This comparison shows us how much of a jump ShipperHQ retailers experienced from their normal 2020 traffic to Black Friday and Cyber Week.
SHQ Merchants traffic WoW:
61% were up overall
37% were down overall
22% were up more than 100%
9.8% were up more than 200%
THE BIG WINNERS
Next, let's see which ShipperHQ merchant types saw the most significant spikes in website traffic and shipping rate requests between November 23 and December 6, 2020. For these numbers, we compared traffic during these two weeks to traffic from October 19 to November 1.
The verticals that were up more than 100%, include: beauty, cosmetics, food and nutrition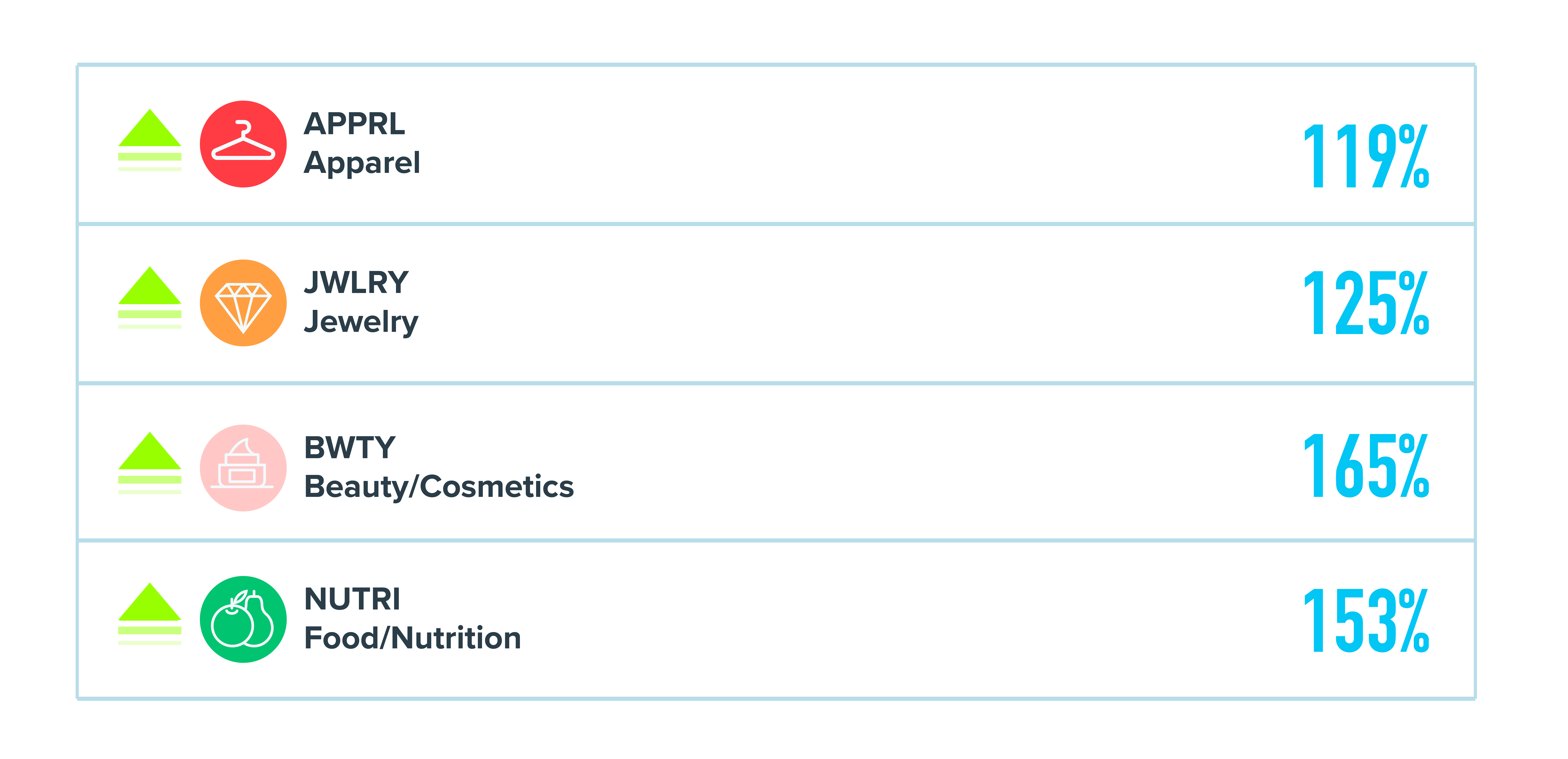 These verticals were up more than 75%, include: fitness, home products, music and books

Digging Into Verticals in More Depth
It's no secret that sales in certain categories of ecommerce goods have skyrocketed this year. Thanks to both the increased adoption of ecommerce, and of course, the need to have items delivered to home to avoid going out.
Beauty and cosmetics: Despite quarantine restrictions keeping people at home, the beauty industry has thrived in 2020, and Cyber Week was no exception. It's a somewhat surprising turnout, but this is the category that won it all among ShipperHQ merchants this year.
Food and nutrition: 2020 overall was a groundbreaking year for both online grocers and specialty retailers selling gourmet and specialty foods. It makes that these sellers saw 153% growth during the period as folks stock up on holiday meal necessities and gifts alike.
Apparel and jewelry: Two of the most gift-able verticals saw incredible performance this year. These increases are typical for Black Friday sales in these categories, but 2020 showed even more promising spikes than expected. Additionally, where these categories were struggling early on in the pandemic, they have largely recovered, thanks in part to holiday surges. While online jewelry sales thrived, in-person sales saw one of the sharpest declines of all, down 50%.
Gym and fitness: Throughout the year, fitness retailers have seen unheard of sales numbers thanks to an increase in customers exercising at home. And while supply chain and fulfillment issues have been rampant, nine months into the pandemic, many retailers have caught up. And this is just in time for a remarkably successful holiday sales season.
Home furnishings: If you can get the stock in hardware and home improvement right now, you WILL be able to sell it. It's a hot area across the board. People are stuck indoors so they are fixing up their homes.
CBD & Tobacco: CBD sales have been continuously on the up and up, and 2020 kept true to that trajectory. Shipping CBD can be tricky with differing laws between states and countries. But despite obstacles, this sought after substance saw massive order volume spikes during Cyber Week.
What Else Was Trending?
Huge Year Over Year Growth
Despite 2020 being a year of widespread challenges, it seemed nothing could keep shoppers from indulging this holiday season. American consumers spent $34.4 billion during Cyber Week 2020, a 20% increase over 2019. All in all, consumers spent a record $10.8 billion buying online, a 15% year over year increase. The retail industry reached the milestone of a $100 billion season-to-date spending number a full nine days ahead of last year.
Platforms have shared their retailers' successes too, with Shopify sharing results of its merchants' massive Black Friday growth, up 75% year over year. Bigcommerce's merchants saw a similar spike, with a 74% YoY increase, including a 17% increase in average order volume. The average Black Friday discount remained steady at a 26% discount.
Mobile and Desktop Buying See Growth
While retailers and platforms push for mobile buying, desktop still reigns supreme. In 2020, 53% of Cyber Week sales came from desktop, a 78% leap year over year. However, smartphone buying certainly didn't suffer: Bigcommerce also saw a 77% increase in mobile sales from its merchants as well. Industry-wide, smartphones made up 41% of Cyber Week revenue, up 7.4% from 2019.
Alternate Delivery Options
With the holidays fast approaching, 45% of shoppers chose one-day shipping (up 52% YoY), while 37% went with Curbside Pickup, (up 30% YoY) signaling a desire for consumers to get their orders faster than ever. Even further, retailers who offered curbside pickup saw higher sales numbers, delivering a 31% higher conversion rate over those who didn't offer it.
We're proud to have played a part in enabling such monumental growth for our retailers. With Christmas around the corner, our retailers continue to work hard to exceed their customers' expectations, as do we.
Want to learn more about consumer spending during the holiday shopping season? Check out our full Holiday Q4Cast Report.
Ready to apply your learnings to your checkout? Try ShipperHQ's leading pre-purchase shipping experience solution for free.