At the end of each year, ecommerce experts from across the industry release their expectations for retail and consumer behavior in the next year. Normally, many of these predictions are well-founded and end up being true. However, 2020 was completely unprecedented, so many of the predictions from 2019 didn't pan out as expected.
Let's take a look at some ecommerce expectations for 2020 that were just a little off.
Expectation: Ecommerce sales will increase by 18% in 2020.
Reality: The pandemic has accelerated ecommerce growth exponentially, with online sales reaching a level not previously expected until 2022. US ecommerce sales will reach $794.50 billion this year, up 32.4% year-over-year.
Takeaway: More consumers could be adopting ecommerce due to wariness about in-person shopping and increased convenience of shopping online.
Expectation: Black Friday and Cyber Monday will be smaller this year.
Reality: Consumers spent $9 billion online during Black Friday, up 21.6% from last year. This is the second largest online spending day in U.S. history, coming in behind Cyber Monday 2020, during which consumers spent around $10.8 billion.
Takeaway: Increase in Prime Day sales and earlier holiday shopping do not mean less traffic or fewer sales during Cyberweek.
Expectation: Mobile commerce will reach 45% of the total U.S. e-commerce market, by the end of 2020.
Reality: By the end of November, U.S. mobile commerce sales already made up 49.2% of total ecommerce sales. During Cyber Week, mobile comprised 71% of total traffic and 55% of all orders.
Takeaway: With the rise of Progressive Web Apps (PWAs) and social media shopping, adoption of mobile ecommerce is growing just as quickly as adoption of ecommerce as a whole.
Expectation: 25% of shoppers will have tried curbside pickup before the end of 2020.
Reality: By August 2020, BOPIS and curbside sales had jumped 259%. 67% of US shoppers have used the service in the last six months, and they won't be stopping anytime soon.
Takeaway: Customers enjoy the convenience of picking up items when and where they choose, without having to wait for shipping or worry about being home to receive packages.
The Completely Unpredictable
Some trends the industry experienced this year were so unprecedented, there were no attempts to predict them in 2019 at all.
Consumer Response to Black Lives Matter
Despite 40% of small businesses closing during the first three months of the pandemic, the Black Lives Matter movement had a significant positive effect on consumer transition to small, independent, and local businesses owned by people of color.
75% of Black small businesses have seen an uptick in customers since June, and mobile searches for Black-owned businesses have increased by 300%. Additionally, from our recent consumer research, 78% of consumers say they have shopped with small businesses this year. This suggests people are more eager to support local economies and businesses that align with their personal values.
Small retailers now have an advantage. They have the flexibility to pivot to new consumer expectations while making shoppers feel good and proud of where they've spent their money.
"Shipageddon"
This year's unexpected surge in online holiday shopping resulted in the serious capacity crunch – dubbed "Shipageddon" and "Shipathon"– currently faced by major carriers USPS, FedEx, and UPS. These shipping capacity concerns will be an unparalleled challenge for the ecommerce industry, as the shortage is expected to impact up to 7 million packages every day, from now until January 2021.
FedEx and UPS have hired 170,000 new and seasonal employees to cope with this unexpected influx of orders, but on Cyber Monday, UPS imposed shipping restrictions on large retailers Gap, Nike, Macy's, LL Bean, Hot Topic, and Newegg. The carrier notified drivers across the U.S. on Cyber Monday to stop picking up packages at these 6 retailers that week. This is a sign that despite the extra hands on deck, delivery networks are still stretched to their limits.
Shift in What Consumers Are Buying Online
Due to the pandemic, people are buying more household essentials online than ever.
Electronics buying has increased 10%
Food/perishables buying has increased 13%
Cleaning supplies buying has increased 10%
Apparel buying has increased 15%
Personal hygiene buying has increased 12%
Consumer expectations for what they can buy online have changed drastically. Successful retailers understood what their customers wanted to buy from them and used that understanding to drive sales. Our advice? Put these products at the top of the site so customers can immediately see what they want to buy.
So, What Are Our Ecommerce Expectations for 2021?
There are still many unforeseen factors that could impact the industry significantly in the new year, but we know these major trends will hold true:
High consumer expectations for convenience – Consumers value convenience above all, which is why BOPIS and curbside pickup dominated 2020. So, 2021 will be the year of curbside returns because consumers will soon demand high levels of convenience for returns too.
Hyper-personalization in online shopping experience – Hyper-personalization is redefining ecommerce, and in 2021 relevant experiences will drive most customer purchases.
Growth in mobile commerce and adoption of Progressive Web Apps – PWAs are websites that behave like apps but are accessed directly through mobile browsers. These web apps develop higher engagement than responsive websites and higher adoption than native apps.
Although a lot is still up in the air, our team is dedicated to helping everyone stay agile! ShipperHQ's powerful shipping experience management platform helps merchants quickly adapt to changing trends and expectations by allowing full customization of checkout and shipping strategies. Get prepared now.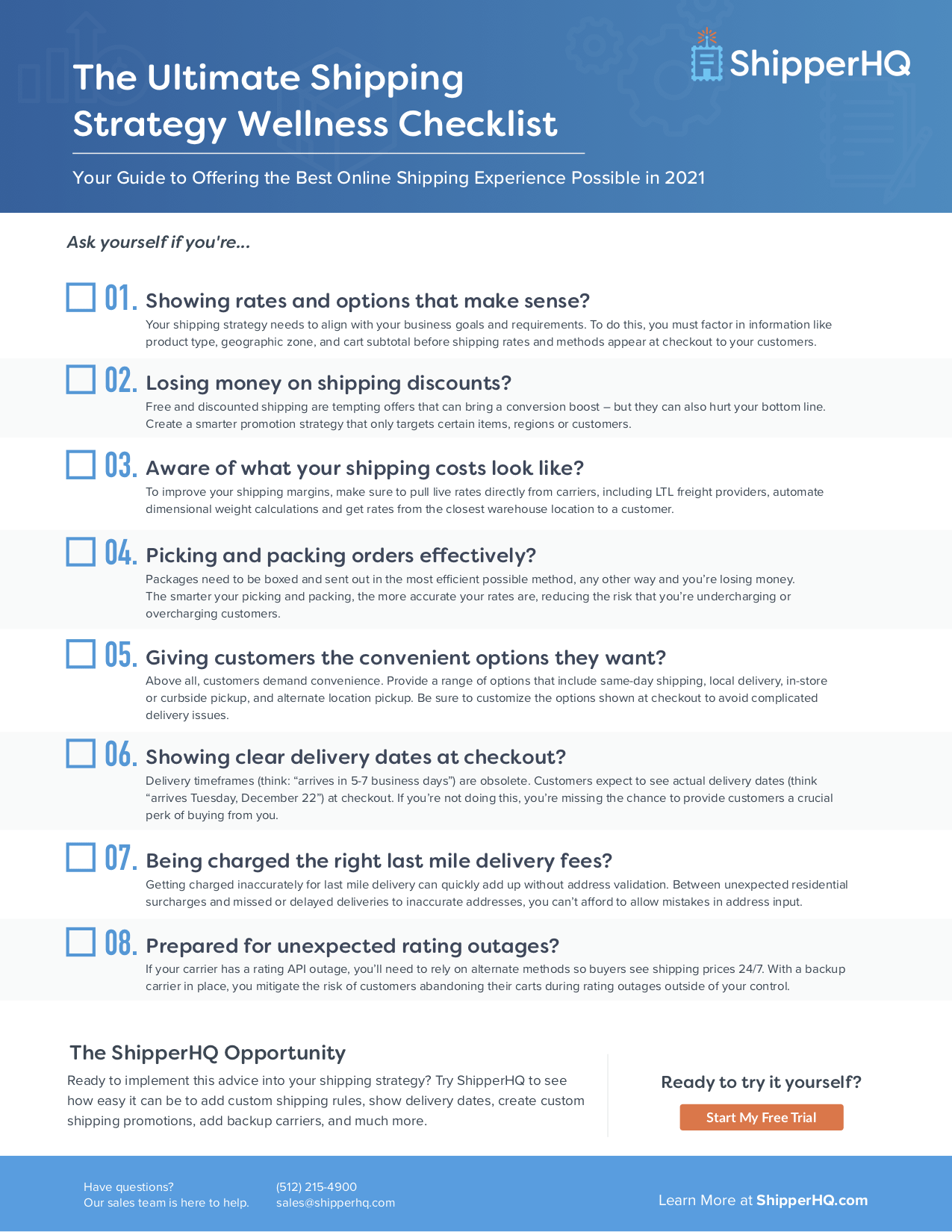 Right now, ecommerce stores are stretched tighter than ever.
Retailers must evaluate every move they make. And find new ways in 2021 to balance exciting growth trajectories with increasing customer demands around shipping. 
If you're feeling the pressure of high order volumes, complex shipping needs, and high standards for customer satisfaction, we're here to help with our Ultimate 2021 Shipping Wellness Checklist.