In 2020, free shipping is the number one incentive for shoppers to order online. Next Monday marks the official "Free Shipping Day" holiday, with thousands of retailers expected to take part. Here's what to expect, and how you can take free shipping to the next level with ShipperHQ using a free shipping model.
Free shipping day is fast approaching, coming up on Monday, December 14th. The promotional holiday was launched in 2008. Its longevity proves that one trend holds true across ecommerce stores, despite rapid evolutions: free shipping is king.
In fact, 90% of consumers say free shipping is their number one incentive to shop online. Further, 61% say they're somewhat likely to cancel an order if free shipping isn't on the table. Pair these expectations with the fact that more than half of orders from the largest 30 ecommerce sellers ship free, and it's plain to see: retailers can't afford to ignore the demand for free shipping.
Free Shipping Day Background
Free shipping day was established in 2008 by the founders of Coupon Sherpa.
After noticing a stark drop in ecommerce sales after December 10th for several years in a row, ecommerce entrepreneur Luke Knowles decided to take action to change the trend. That year, he and a single partner launched the event, with participants like Target and JCPenney joining in.
A roaring success, the retailers involved earned $764 million in online sales, marking it as one of the top 10 highest-earning days in ecommerce history.
Since then, Free Shipping Day has grown into a full-fledged tradition. In a typical year, more than 1,000 retailers officially participate and countless others join in on the action.
Retailers can choose to participate in the official event and enjoy features and promotions on the event website, but many opt to offer free shipping on their own.
The goal of the holiday is twofold. Not only is it a simple, irresistible promotion for consumers, but reassurance to consumers that they can still order Christmas items well into December. And expect on-time delivery. For retailers, of course, a late-holiday season boost never hurts.
Although, for the 2020 season, things might look different.
With Shipageddon in full stride, some retailers (and consumers) fear late or missed deliveries will be rampant. However, with effective fulfillment strategies and lead times, many retailers have worked hard well in advance to mitigate these issues despite the chance of more delays happening this year.
Free Shipping Tactics
Almost all retailers would like to be able to offer free shipping on everything. After all, just imagine the impact this strategy could have on conversion! However, most assume it to be untenable for a variety of reasons.
Far and away, the most common objection retailers have to offering free shipping is that they feel they can't afford the loss it would cause. However, with smart pricing strategies, you can easily roll in the cost of shipping into your products.
Free Shipping Options with ShipperHQ
There are several options for configuring a free shipping strategy through your ShipperHQ dashboard. Popular methods for offering free shipping sustainably include
Making Free Shipping Work for Your Store
As you begin setting up your free shipping strategy, there are a few key factors that could make or break the model. Here are our most important free shipping tips:
Bake shipping costs into product prices
This method is classic, and for some, controversial. However, psychology tells us that it's a smart method that will actually "hurt" our customers less while still driving sales.

"Pain tax: As humans, we have a tendency to segregate gains and take pleasure individually in each positive benefit, but when it comes to dealing with a loss — in our case paying an extra amount for shipping — we'd rather take it in one lump sum," says Barbara Kuhn, a marketing professor at Berman and Wharton.
"This means when the shipping cost is charged separately, customers perceive it as a loss on the whole, neglecting the benefits of the product they wanted to purchase, and they end up abandoning their carts."
When customers see the cost of a product, they decide then and there whether the "pain" of paying for the item is worth it. When the cost of shipping is added on later in the process, it's more likely to result in an abandoned cart because the actual cost is calculated so late in the game.
Determine Acceptable Levels of Loss
Some products may not be able to have shipping costs included.
For example, if you're selling hardware, the vast majority of orders could include shipping costs and still remain competitively priced. A retailer could easily price items like a hacksaw, doorbell kit, or step ladder, to cover their shipping. A set of tiny doorknob screws, however, can't suddenly triple in price without you taking a hit.

When determining how much to increase prices on your items, be sure to take into account these smaller orders that can't realistically subsidize themselves in the way larger ones can.
More Free Shipping Tips
Take Advantage of Dimensional Weight
Are you still calculating shipping rates by dead weight? Are you selecting boxes by hand for every order? If so, tools like ShipperHQ's Dimensional Packing feature can help save you significantly in shipping costs.
This feature measures the dimensional weight of your package – which factors in both weight and dimensions, giving you more accurate, often lower, rates.
Additionally, the feature helps you determine which boxes to pack orders in, and how orders should be packed together most efficiently, so you can streamline your fulfillment processes.
Negotiate Carrier Rates
If you're paying published rates on national carriers, you may be able to cut your losses by establishing a direct relationship with one or more provider. High frequency shippers are eligible for contract rates with most carriers, and these rates can often come at significant savings for retailers.
Contact your preferred carrier for a quote on contract rates, and be sure to shop around to find the most competitive choices. Remember, you don't have to rely on just a single carrier.
ShipperHQ's Backup Carrier feature even help mitigate cart abandonment by enabling a secondary free shipping carrier automatically when an unexpected rating API outage occurs from a carrier.
Limit Shipping Areas
If you're still stuck on free shipping's cost, you can always limit the option to a certain geographic area.
For example, a store selling Texas merch might limit its free shipping options to Texas addresses only, since the vast majority of its business comes from within the state.
Meanwhile, buyers outside the state can pay whatever rates for shipping you've set up. This method won't work for all merchants, but it could hit the sweet spot for select sellers.
---
Reevaluating your shipping promotions strategy? Download our 2021 Shipping Checklist for helpful tips and tricks.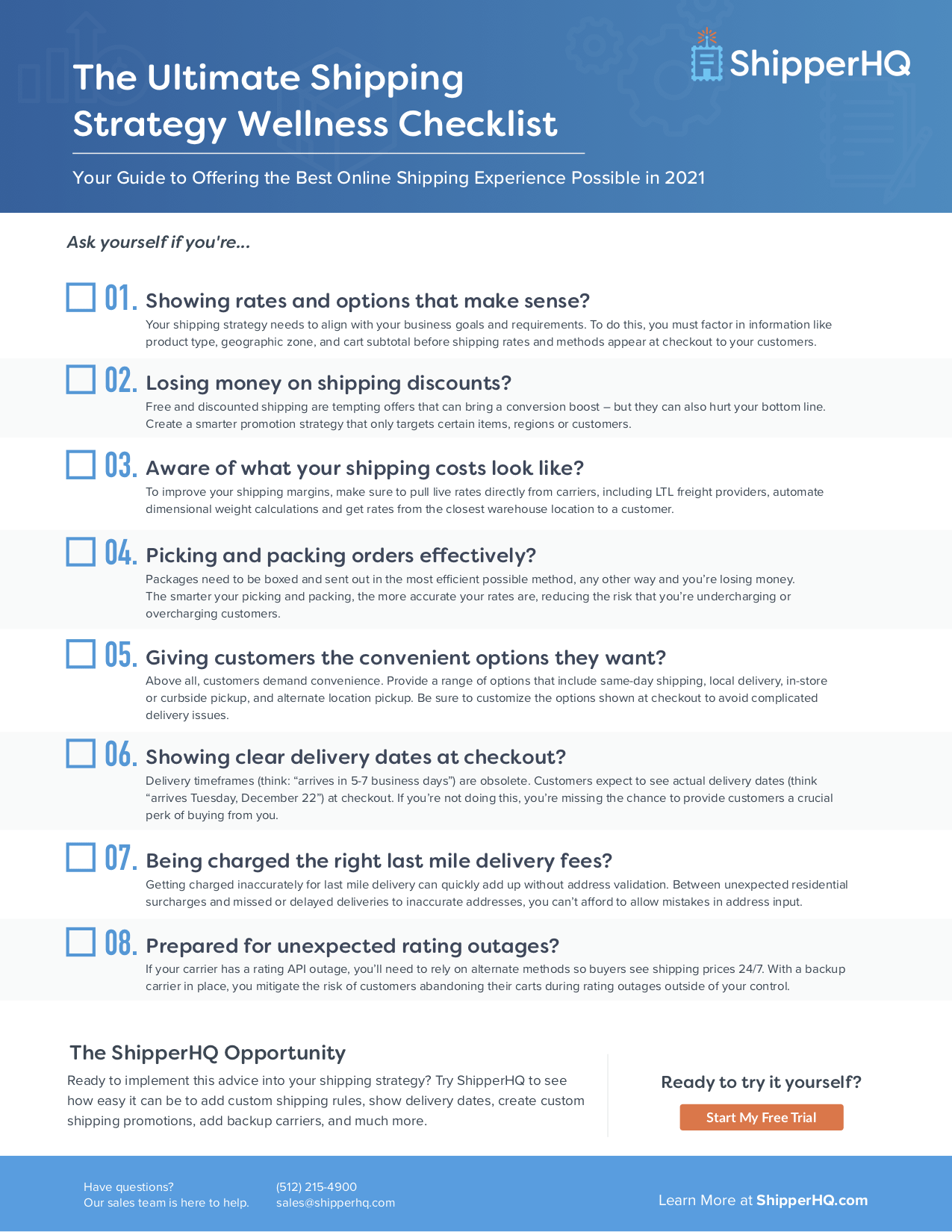 Right now, ecommerce stores are stretched tighter than ever.
Retailers must evaluate every move they make. And find new ways in 2021 to balance exciting growth trajectories with increasing customer demands around shipping.
If you're feeling the pressure of high order volumes, complex shipping needs, and high standards for customer satisfaction, we're here to help with our Ultimate 2021 Shipping Wellness Checklist.