During the past decade, hundreds of direct-to-consumer companies have taken off, catapulting themselves right into the mainstream retail environment. What are these companies' business models based on, and how do they deal with shipping their own goods at high volume?
DTC (direct-to-consumer) companies are brands that produce and sell their own goods. Most often, acting as direct-to-consumer ecommerce sellers.
While traditional retail companies buy products at wholesale and then resell to their own customers, these DTC ecommerce brands cut out the middleman. By creating a straightforward buying experience, this model welcomes a bevy of benefits for both customers and retailers alike.

The number of D2C (another common acronym for direct-to-consumer) brands is increasing every day. But there were a few notable companies that blazed the trail early on for others.
DTC Ecommerce Innovators
Dollar Shave Club
You'll likely remember the viral video ads that made this brand famous back in the early 2010s. As one of the first competitors to traditional grocery store-brand shaving supplies, Dollar Shave Club made a huge splash in the ecommerce industry with its subscription-based model. Until its launch, consumers had no choice but to pay for painfully expensive razors and refills of questionable quality. But by focusing on simplicity, quality and value, Dollar Shave Club ended up acquired in 2016 by Unilever for $1 billion. Not bad for a five-year-old brand!
Casper
This popular mattress company was one of the first to kick off the "bed-in-a-box" craze that's still going strong. The brand positioned its low-cost mattresses as true competitors to products that cost thousands more, and offered a 100-night guarantee. Casper found great success with its DTC model and was valued at $1.1 billion before going public in 2020.
Away
Trendy luggage retailer Away was founded in 2015 as a DTC brand and has since expanded its footprint with dozens of brick-and-mortar stores and a dramatically expanded product line. With modern, attractive products, Away successfully positioned its brand as the one to be seen for wealthy jetsetters across the globe. In 2019, the brand was valued at $1.9 billion.
DTC Success + Challenges
There are a multitude of reasons that DTC models create successful ecommerce brands. The key factor, however, is the lack of a middleman, which can complicate even simple transactions.
Cheaper prices
With no middleman to consider, prices require less markup. Plus, brands have the freedom to increase and decrease prices as needed. There are no caps to meet wholesale or retail pricing requirements. DTC retailers can apply promotions with flexibility, making it easy to pivot within their markets.
Customer-centricity
In the same vein as flexible pricing comes the ability to put customer satisfaction above all. When issues crop up, such as delivery delays or price changes, the team behind the brand has the ability to solve problems and ensure customer satisfaction at every turn. This creates both brand affinity and loyalty, both of which are crucial for long-term success.
Product quality and standards
Because there is no middleman, brands don't have to worry about quality problems or a lack of transparency. Product details and specifications are always on hand, which can help resolve logistical issues as well.
Better customer engagement
Because DTC brands are typically niche companies, their customer base often becomes highly engaged and loyal. With the ability to drill down on customer specifics, DTC brands enjoy better social targeting capabilities and have the freedom to tell their brand's story as they choose.
The Self-Fulfillment Prophecy:
Since many D2C brands develop their own processes, they often operate their logistics arm by self-fulfilling orders.
Self-fulfillment simply means that the retailer does the picking, packing, and shipping processes in-house. While a good model at first, this type of fulfillment is bound to become more complicated as a business scales.

With order volumes increasing, returns requiring processing, and unforeseen issues aplenty, self-fulfillment can quickly become challenging. Meanwhile, consumer shipping expectations are ever-increasing, underscoring the need for smaller retailers to offer solutions that measure up.
The good news? With a bit of planning, even small DTC retailers can overcome these common pain points.
6 Common Shipping Process Challenges of DTC Ecommerce
The issues DTC retailers face depend heavily on the industry, products, and environment in which they are selling. Still, many of the most common challenges affect DTC retailers of all types. One solution is to bring in a 3PL (third-party logistics) on board to manage retail order fulfillment. Consider the following factors when deciding whether a 3PL is a worthwhile investment.
1. Keeping Up with Order Volume
As businesses scale, orders can quickly become too frequent or numerous to manage manually. From keeping track of stock levels to picking and packing, the fulfillment process brings more challenges as business grows. Managing and maintaining a fulfillment center or warehouse is one of the most pressing factors.
To successfully grow a DTC business, retailers should clearly understand and maintain minimum stock levels, maximum stock levels, and manage warehouse organization. Beyond this, retailers need transparency into their stock to be able to make business decisions in the warehouse, such as whether to use tactics like cycle counts and First In First Out (FIFO) rules. Ultimately, inventory management is a crucial requirement that retailers rely on for accurate product forecasting, including shrinkage rates.

One of the most common and useful solutions is to use a warehouse management system (WMS). A WMS is a software that retailers use to track and maintain inventory, and to automate packing and fulfillment processes within a warehouse.

2. Accessing Freight Quotes
Beyond transparency and control of inventory, an uptick in orders can be a challenge for retailers who rely on manual LTL freight quotes. When order volume is low, calling around for freight quotes may be sustainable, but having to source many quotes every day can become impossible.

To combat this, many retailers use a shipping rate management platform like ShipperHQ to pull in live freight quotes at checkout.

3. Access to Robust Fulfillment Information
As order frequency surges, it becomes more vital to have seamless access to detailed product and order information. With this information, you can create a shipping strategy that accounts for unique product packing rules. And, find the best fit box for an order. Both can help you improve warehouse and fulfillment efficiency.
To take this a step further, you can enable a comprehensive point of purchase tool like ShipperHQ's Enhanced Checkout for Magento 2, which gives you access to full order details at a glance, including packing specifications, shipping rates and methods, and dispatch date.
4. Warehouse Complexity
Even with a successful WMS in place, some retailers still struggle with the fulfillment portion of their business. Especially, when multiple shipping locations are involved.

When a retailer ships out of more than one location (be it a warehouse, drop shipper or fulfillment center), they typically need to enable smart multi-origin rating. This allows a retailer to pull rates from the appropriate fulfillment location, usually the one closest to the customer's address.

During significant growth, many retailers weigh the benefits of self-fulfillment vs. dropshipping. With dropshipping, retailers never touch their own stock. A third-party manages, stores, and ships inventory from a separate location.

Neither is the "right" answer, but there are solutions that can help determine which is more efficient, such as an ERP software.
Enterprise resource planning (ERP) software helps organizations streamline their order processes. Key types of data, such as shipping, tracking, product and inventory information, are all linked into one system. This is particularly useful when planning out a multi-warehouse fulfillment strategy since it can automatically tell you where inventory is stored. With this information on hand, you can decide whether leveraging a dropshipping partner is a sound strategic move.
5. Getting Accurate Rates
Many retailers initially set up their own shipping rates because it allows them to offer promotions. However, promotions such as "$5.99 shipping anywhere in the U.S," while appealing to value-conscious customers, can end up being too costly.
To master the shipping angle, retailers need to account for shipping rules and regulations from the ground up.
With a Shipping Rate Management Platform like ShipperHQ, retailers can create a set of rules that define shipping rates for individual orders. These rules can minimize losses on shipping with steps like address type verification, which determines whether residential delivery fees need to be applied.

Another thing to consider when managing your rates is risk mitigation. With just one carrier integration, a retailer is at risk for losing out on a sale if a carrier is experiencing an outage. To minimize this risk, retailers can set up backup carriers within their systems to ensure that even if one carrier is unavailable, another is available to continue quoting.
6. Delivery Transparency at Checkout
As a retailer's customer base grows, the expectations placed on them also increase. To remain competitive, retailers should consider adding options to checkout that make shipping more transparent and appealing.

One of the most straightforward and customer-centric details to show are delivery dates. More than 80% of customers expect to see delivery dates at checkout, but only 40% of retailers actually show them.
Better yet, customers also prefer to be able to select their delivery date from a calendar, or choose time slot delivery for even more clarity. Beyond timely home delivery, many customers prefer more convenient options. In fact, 45% of online shoppers prefer the option to pick up orders themselves.

ShipperHQ can help retailers keep up with these growing expectations. Features of our platform include delivery date and time, in-store or curbside pickup, alternate location pickup, and many others. Retailers can use as many or as few features as they need to create a shipping experience that keeps customers in the loop.
Successful Scaling: Tecovas
A Texas take on DTC, Tecovas is a groundbreaking brand of handcrafted cowboy boots. As the business grew, they recognized a need to provide more granular shipping rates and details within their Shopify Plus checkout.
At first, Tecovas displayed a range of shipping options from standard to two-day, but this information was unclear to customers. They listed delivery dates in ranges, but products would often arrive sooner than the range suggested, hurting conversion rates. After integrating with ShipperHQ, Tecovas can now show exact delivery dates and display accurate shipping rates for any order.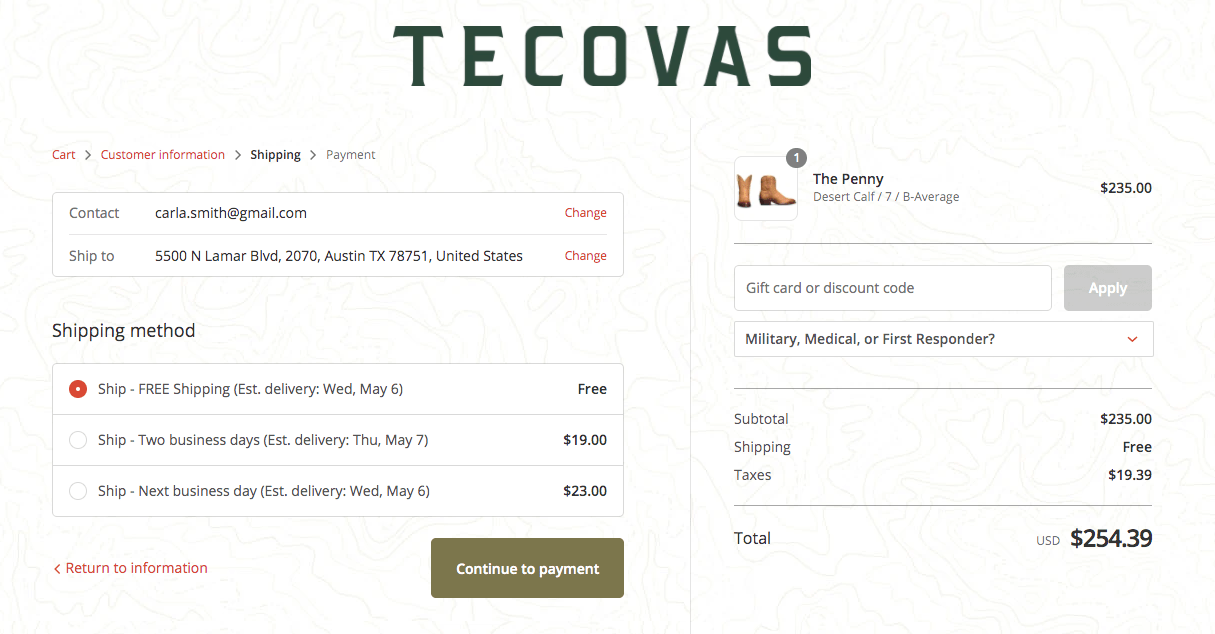 On top of that, the clarity delivered by ShipperHQ lets the Tecovas warehouse team know exactly when to pack and ship orders to meet delivery dates. With ShipperHQ, they also enabled address type validation to minimize unexpected residential delivery fees. By utilizing these two key features, Tecovas is able to deliver a shipping experience that's widely appreciated by their customers.
"It's not just about shipping price anymore. Our customers want to choose what's most convenient to them and know precisely when their order will arrive without any guessing involved. With ShipperHQ, that's exactly the type of checkout experience a customer receives.

Noah Solomon, Digital Director at Tecovas.
Shipping Success for DTC Brands
As a businesses scales, the tools and processes behind them must scale with them. The most powerful tool you can have on hand is simple: automation.

The less you have to manage manually, the more time you'll have to focus on growing your business.

When it comes to shipping automation, ShipperHQ delivers a powerful solution that can handle even the most complex shipping challenges. With shipping rules tailored to your products, business model, locations and more, the control is in your hands.
Deliver on customer expectations with features like delivery date and time and alternate pickup locations. Plus, reduce surprise fees with live LTL freight quoting and address type validation.
Ready to get started? Start a free trial today– no credit card required.