When it comes to your ecommerce shipping strategy, every detail matters. With Dimensional Packing Rules from ShipperHQ, retailers can save time, money, and valuable space. Keep reading to see how Dimensional Packing Rules work, and how they could transform your shipping offering.
Dimensional Packing and Packing Rules are ShipperHQ tools that help you calculate more accurate shipping rates. Leveraging both, users can create Dimensional Packing Rules, to customize box attributes.

Dimensional Packing works by calculating the dimensional weight of packages, then finding the smallest possible shipping box via our Best Fit Algorithm. –
To begin, the algorithm gathers the SKUs of all products in an order. From there, the algorithm finds the SKU with the longest length and picks the smallest box that can accommodate it. The resulting package may contain multiple SKUs, or it may determine that it's more cost-efficient to pack SKUs separately to allow for smaller boxes to be used.
Why Do Retailers Need Packing Rules?
While Dimensional Packing is relatively straightforward, the Best Fit Algorithm isn't always the best solution for companies with complex business needs. While the algorithm is sufficient for finding the most cost-efficient packing scenario, some retailers still need further packing customization. That's where Packing Rules come in. Together, they create Dimensional Packing Rules, which utilize functionality from both features. Let's explore how and why retailers would need these rules. 

Pack According to Box Rules
You can assign rules to specific boxes to ensure certain product groups are always packed into them. 

One easy example of a business that would need specific Box Rules would be an ice cream retailer. The retailer could assign all ice creams to a product group, then require that the product group be packed into specific boxes or box types – in this case, insulated boxes, fit for shipping perishables. 

Box Rules allow you to specify which boxes a group of items can be packed into. After the application of that rule, the system will apply the Best-Fit Algorithm to find the right box.

In addition, retailers who sell third-party brands may need to use this rule to automatically pack those products into the correct branded packaging. 

Even retailers who sell items that don't have traditional physical dimensions can use Box Rules. For example, a vinyl retailer might sell 10 square feet of vinyl on a 10' tall roll. But if a customer orders a 20' x 10' sheet of vinyl, it's still packaged and shipped on that 10' roll. Despite the order being twice as much vinyl, the dimensions of the product don't really change. With Box Rules, you can assign specific boxes to these products without requiring dimensions.
Pack Separately
Some items always need to be packed and shipped separately. Most often, these items are fragile, hazardous, oversized, or oddly shaped. This rule ensures that items marked as Pack Separately always ship in their own box. You can pre-select the box, (typically the best for odd-shaped or dangerous items) or simply pull in the Best-Fit Algorithm.
Pre-boxed items are also a great way to use Pack Separately rules. For resellers or dropshippers, this is especially handy, as these products require no packing at all – they simply need a label.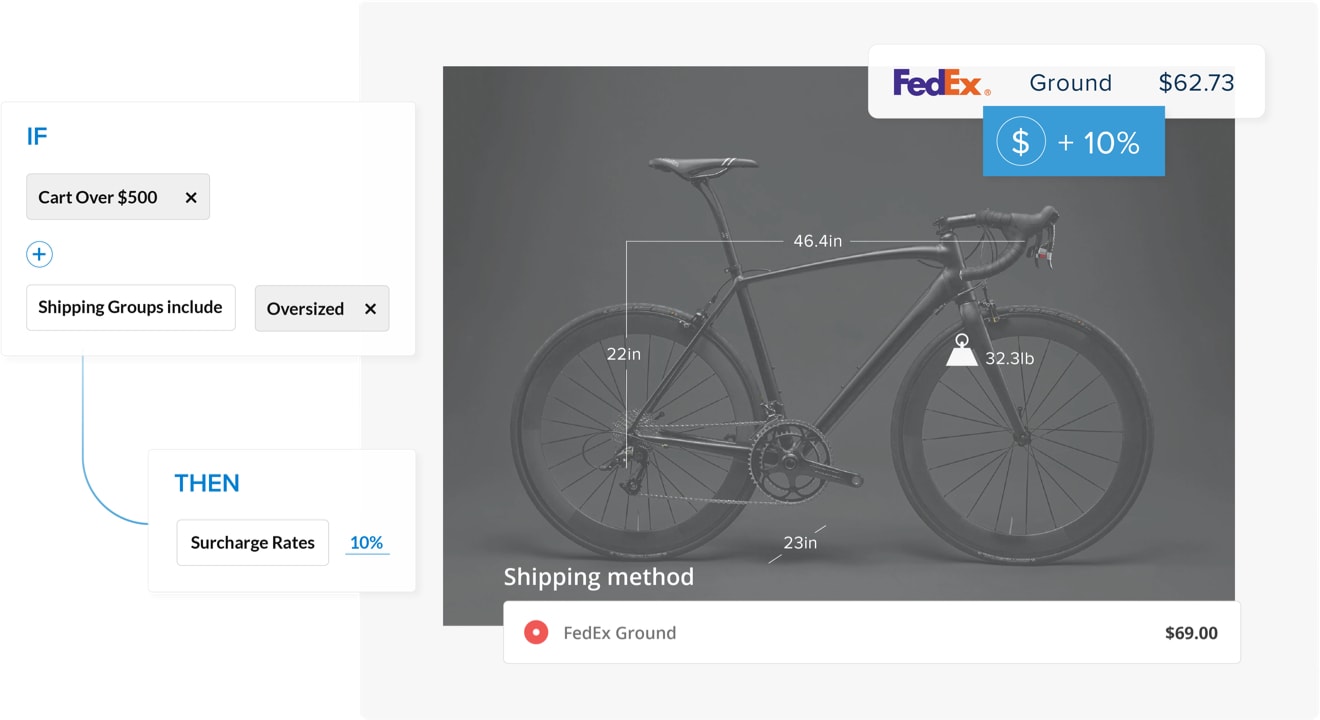 Pack in Multiple Fixed Boxes
In a scenario where one SKU includes multiple packages, this type of rule can ensure each item is packed into the right box. Currently, there's no way to assign multiple dimensions to a single item in any ecommerce platform. Because of this, products that ship in pieces need specific directions for how they should be packaged. With the Pack in Multiple Fixed Boxes rule, retailers can automate the process.

Furniture and home goods retailers often use these rules, especially retailers who sell flat-packed furniture. A furniture retailer selling a flat-packed desk, for example, might automate their rules to ensure the desk surface and the base are shipped separately, in boxes specifically made to carry them. For kits and bundles, retailers must list each piece of the kit or set under a single SKU.

These automated packing rules present a major merchandising opportunity for retailers. Most ecommerce platforms enable retailers to sell kits and bundles of their products, and ShipperHQ makes it easy for them to ship efficiently. Offering sets of products together can drive up AOV, creating a valuable revenue opportunity.
Having a system intelligent enough to pack product into correct boxes has also helped us to give more accurate shipping quotes.

–Creed Ford, Owner, Rudy's BBQ
Advanced Feature and Box Settings
Packing products into the right boxes is crucial, but so are the boxes themselves. Here's how retailers can configure boxes for optimal cost efficiency.
Master Packing Boxes
For retailers who frequently sell multiples of the same item – e.g. wine – Master Packing Boxes can be a key to getting accurate rates.
With Master Packing Boxes set up, the retailer could ship 12 similar-sized bottles in the same box. However, if a customer adds 14 bottles to their order, they'll receive 12 bottles in a Master Packing Box and the other two will ship separately. These boxes are typically most useful for wholesalers and B2B ecommerce stores who sell full-case quantities of items for better cost efficiency.
Padding and Tolerance
In some cases, retailers need to account for the size and weight of contents inside the box, usually including padding or temperature control materials. Dimensional Tolerance lets you reserve a certain percentage of extra space in a box, while Dimensional Padding allows you to reserve a set amount of extra space in a box.

For oddly-shaped items or ones that need their own packaging materials, Dimensional Tolerance is used. When Dimensional Tolerance is enabled, the volume of each item inside a box is increased by a specific percentage. The percentage varies by circumstance, but a good starting place is between 10-20%.

Dimensional Padding, on the other hand, lets you predefine how much extra space is required inside or outside the box to account for padding and packaging. For example, you could require each box to allow for two extra inches of length, width, and height.
Keep in mind, Dimensional Tolerance and Dimensional Padding work in different ways, so you'll need to use one or the other. If you enable one, you won't see the other.
Settings on Individual Boxes
If you need even further customization, you can manually add unique settings to boxes. This can be helpful for retailers who want to set a maximum weight for their packages to avoid a surcharge from a carrier. It's also useful if you need to account for other products in the box, such as marketing materials or add-ons.

Retailers who use carrier-specific flat-rate boxes can also set up unique rules that assign products to those boxes
Another way to use this feature is to add a surcharge for higher-cost packaging. Most commonly, retailers put a surcharge on insulated or perishable-friendly boxes. Because they do carry a significant cost, the surcharge can make a big impact on your bottom line. Of course, retailers should be strategic about the surcharge and limit it to an amount that will have minimal impact on conversion rates.
Using Dimensional Packing Rules in the Real World
To understand how Packing Rules can work for retailers, let's go back to our example ice cream retailer. Selling both perishables and non-perishables, the company needs Dimensional Packing Rules that account for both types of products.
To make this happen, the retailer creates Box Rules to ensure frozen items are shipped in insulated boxes. To keep costs low, they add a small surcharge on those boxes. They add Dimensional Padding to insulated boxes to account for the space and weight of the cooling gels they use.
Getting a little more creative, the ice cream retailer offers an incentive for customers to buy more tubs per order. They've got Master Packing Boxes that fit 12 tubs in one box. To encourage these larger purchases, they slash shipping costs when a customer reaches the 12-tub threshold. If a customer orders 14 tubs, they get the discounted shipping for the Master Packing Box and pay typical rates for the extra tubs.
The customer gets more ice cream while paying less for shipping, while the retailer drives more sales, and receives accurate rates. It's a rare, true, win/win. 
Wrapping Up
Ultimately, the best box packing strategy is the one that works with your warehouse's functionality. Whether you simply need to make sure rates match your fulfillment costs, or want to get creative with shipping discounts on multiples of certain products via Master Packing Boxes, the ShipperHQ platform can make it happen. 

The flexibility and sophistication of Packing Rules mean retailers can get more accurate rates. The Best Fit Algorithm, paired with the virtually limitless options for custom rules, also means every package will ship correctly and cost-efficiently with no manual intervention.
Chat with a shipping expert today to learn how packing rules can take your shipping strategy up a notch.
---
Want more shipping strategy tips? Download our free Shipping Strategy Checklist: