When ecommerce sellers expand past a single fulfillment location, shipping can get complicated. However, the right tools can make all the difference in creating strategic, efficient processes that make shipping from multiple warehouses smooth and automated.
Multi-origin shipping – it sounds a bit complicated, but in reality, it's simple. It's the practice of fulfilling shipments from more than one location.
When a retailer stores their inventory across multiple locations, the most efficient way to fulfill orders is to ship them from the location closest to the customer. In addition, some orders may include items that are stored at different warehouses, meaning products from the same order may be better off shipping separately. However, there may be scenarios in which it's more efficient to ship all items from the same warehouse, even if it's not the one closest to the customer.
Of course, creating shipments from multiple warehouses, determining where stock is located, and nitty-gritty details can get complicated. For a rapidly scaling business, the manual labor involved in directing shipments from several locations would be a serious time-suck.
The good news? ShipperHQ's Multi-Origin Shipping tool was designed specifically for this purpose. It allows retailers to create a set of custom shipping rules that dictate where items ship from, how multiple shipments are handled, and more.
What's Multi-Origin Shipping Used For?
Any retailer that has multiple fulfillment locations can benefit from this ShipperHQ feature. Most often, fulfillment locations are simply warehouses where inventory lives. But sometimes, they can be brick-and-mortar retail stores across the country.
Retailers who use dropshipping can also benefit from Multi-Origin Shipping. The tool aggregates shipping rates from multiple drop-ship locations into one simple rate. Retailers who use drop shippers never handle or see any inventory. Everything is stored at a dropshipping location, which ships items directly to customers as they're ordered. Some merchants use dropshipping exclusively, while others use dropshipping to supplement their catalog without having to handle the extra merchandise.
What Are the Benefits of Multi-Origin Shipping?
The key reason people use Multi-Origin Shipping is to save money. When merchants fulfill out of multiple warehouses, they often need to send different parts of an order from different locations. Because of this, they end up paying for multiple shipments, while the customer only pays for one.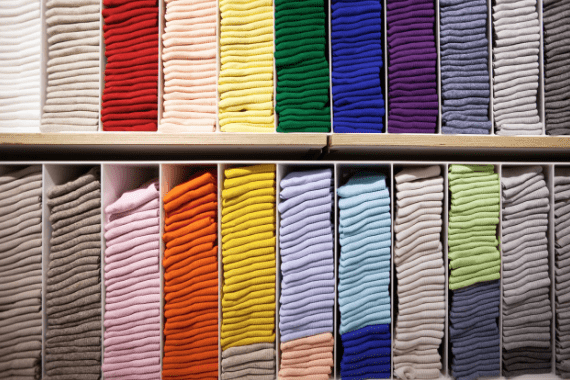 Let's take a look at an example: Sarah's Sock Company has several fulfillment locations. However, its core location in Austin, Texas holds the entire inventory of socks. Another location in L.A. holds all the company's masks. A third location, a drop shipper, ships shoes out of Chicago. While the warehouses may share some inventory, socks typically ship from Austin, and masks from L.A. Because the company does not hold any inventory for the shoes they have, those products must always be shipped from Chicago.
If a customer were to place an order including a pack of socks, shoes, and a mask, Sarah's Sock Company would need to pay to have all three items shipped to the customer separately. Meanwhile, the customer would have only paid a portion of the shipping cost. Some companies are able to subsidize shipments in this way, but most cannot afford to.
With Multi-Origin Shipping configured, Sarah's Socks would be able to charge the customer a single rate that includes shipping costs for all three items.
Retailers who sell on a dropshipping model, whether partially or exclusively, can benefit from the tool as well. Because many companies use dropshipping for only some items, it can be tricky to calculate shipping rates that include the costs of shipping from these locations. However, the Multi-Origin Shipping feature allows retailers to ship orders that include products from a warehouse and a dropshipper, using a single, accurate shipping rate.
How Does It Work?
There are a few ways you can choose to configure this Advanced Feature. The right one depends on your business objectives and the way you handle fulfillment.
Ship from the nearest origin: Choose this option if you want products to be sent to customers from the closest location that has the required inventory.
Ship from the fewest origins: Choose this option if you want to ship products from the origin that has more of the items from the order.
There's no right option here – some scenarios make it more efficient to ship from the closest location, while others mean shipping from one location is smarter.
Consider this: a customer places an order to Sarah's Socks which includes a mask and a pair of socks. The customer is based in Dallas. While the Austin warehouse does have the inventory for the socks they've ordered, they don't have the mask. Rather, the L.A. warehouse has both items in stock. Instead of shipping the socks and masks separately, they may opt to "ship from the fewest origins." This means that the entire shipment would come from L.A., condensing what could have been separate shipments into one. This makes shipping cheaper for the customer, and the company doesn't have to eat any of the cost.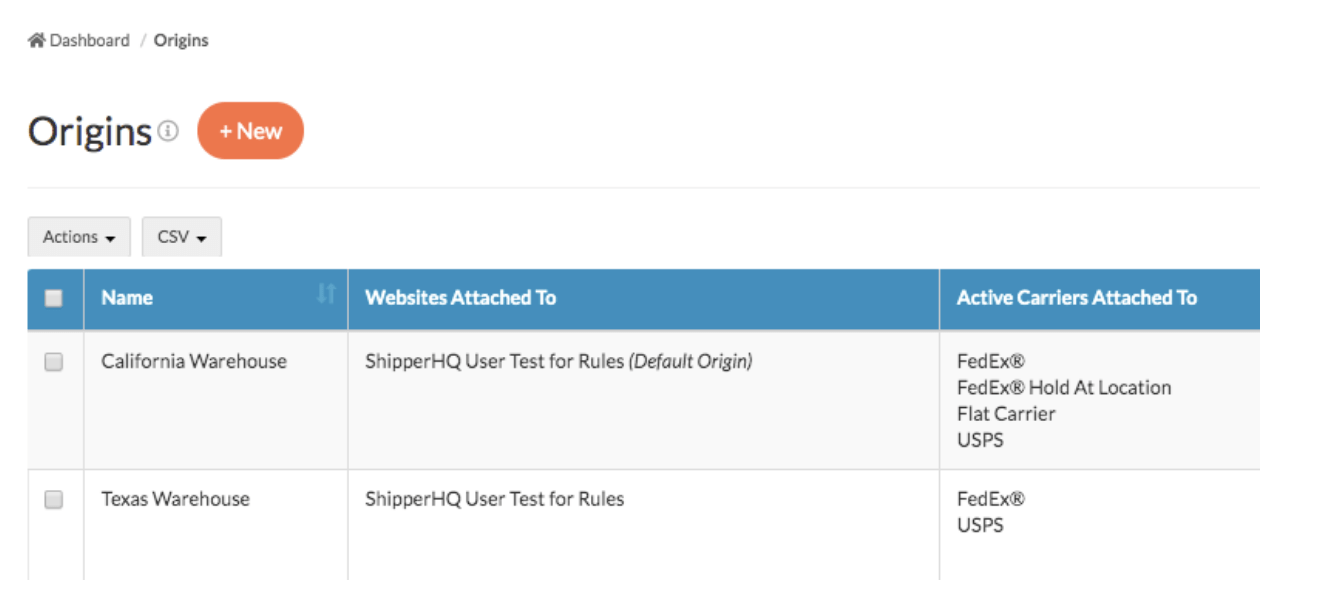 Restricting Shipments by Origin
Another key feature part of Multi-Origin Shipping is the ability to restrict a shipment's origin based on location. For example, if Sarah's Socks eventually opens up a Toronto warehouse, they want to be sure that orders from the Northeastern U.S. don't ship from this location. Shipping cross-border often requires additional paperwork, taxes, and restrictions – even for orders going from the U.S. to Canada. To avoid this, the sock company might restrict products from shipping from Canada if they're headed for a U.S. address.
Increasingly, companies are opening warehouses in multiple locations to avoid these cross-border complications. With Brexit in full effect, many brands choose to open fulfillment centers within the U.K. This allows them to continue selling there without complications. For scenarios like these, a tool like Multi-Origin Shipping is crucial.
The ShipperHQ Method:
Distilling complicated shipping scenarios into straightforward customer experiences is what we do. Let's explore how ShipperHQ's shipping logic works for Multi-Origin Shipping:
After you've configured inventory and warehouse information, ShipperHQ uses its shipping logic and your origin information to decide which shipping location should be used
If products need to ship from different origins, ShipperHQ will calculate rates for each separate shipment.
ShipperHQ displays the rates and methods that make sense, according to your preferences and settings.
If shipments are coming from multiple locations, they must have a shipping method in common to pull in a single rate. If they don't share a common method, you can use Method Merging to create one. By configuring the feature in ShipperHQ, you can ensure that all products can be combined to create an accurate shipping rate, even without an existing common method. Merchants can choose to name the newly created method whatever they like, to ensure clarity at checkout.
If Sarah's Sock Company uses FedEx for shipments coming from L.A., UPS for Austin, and USPS for Chicago, their order may come from three different carriers. However, with Method Merging, the customer will still only see a single rate.
Product Attributes
After you configure Multi-Origin Shipping, you'll see an additional attribute option for your products within your platform. The Origin Attribute allows you to assign a specific origin to any product.
For Sarah's Socks, that might mean adding an Austin Origin Attribute to its line of signature socks, and an L.A. one for masks that are only stored in that warehouse. All shoes would carry a Chicago Origin Attribute since it's the only place they're stored.
Multi-Origin Shipping Saves The Day For Jeni's
Beloved ice cream retailer Jeni's Splendid Ice Creams has a strong ecommerce presence but needed help with fulfillment. In the early days, the company shipped all products out of one location. With orders coming in from across the country, this was tricky. The logistics around sending ice cream on full cross-country trips was laden with potential issues.
"We were opening Scoop Shops across the country, but only shipping out of one fulfillment center," said Clements. "We realized that in order to sustain our online business and our cold storage supply chain, we needed multi-warehouse fulfillment. This wasn't native to our platform Bigcommerce, so we knew we needed a solution," said Chelsea Clements, former Director of Ecommerce at Jeni's.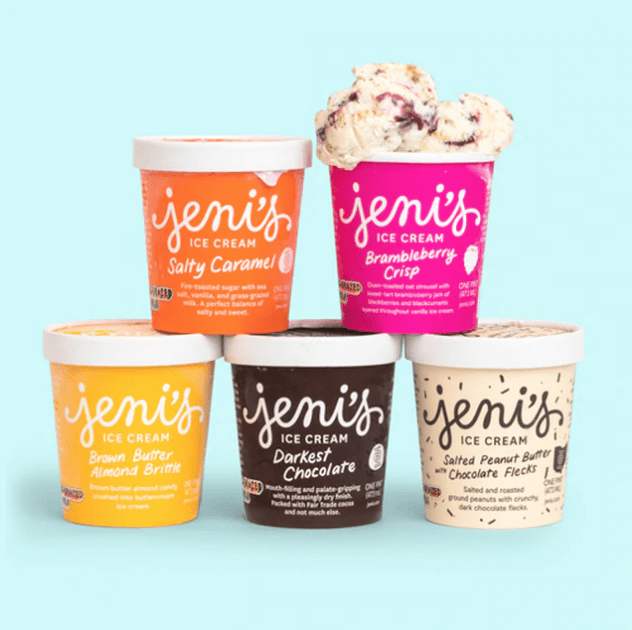 After integrating with ShipperHQ, fulfillment became streamlined and automated. Soon after the integration, disasters in California made it impossible to ship out of key fulfillment centers.
"ShipperHQ helped us enable multi-warehouse fulfillment logic for our BigCommerce store, which grew the business. This especially came in handy during a time of crisis when landslides in California prevented us from getting shipments out of one of our fulfillment centers" Clements said.
"If that had happened before we used ShipperHQ, we would have had to shut down our entire ecommerce business until the roads re-opened. We don't have any developers on the team, but with ShipperHQ it was as easy as changing some settings, and we were able to keep our business up and running."
Thanks to Multi-Origin Shipping, the business remained in tact during a natural disaster, and happy customers received their tasty treats in tip-top condition.
How Can Multi-Origin Shipping Help My Business?
More than anything, ShipperHQ's Multi-Origin Shipping feature can save you money. When shipments are being sent from multiple locations, but not being charged as such, retailers lose money. Charging accurate shipping rates to your customers can eliminate these shortcomings, seriously helping your bottom line.
In addition, Multi-Origin Shipping makes handling multiple warehouses much more simple through automation. Plus, with Method Merging enabled, you can use separate carriers or methods for every warehouse. Different service and pricing levels of certain carriers in certain areas can significantly impact the rates you pay for shipping.
Finally, the tool makes scaling your business more realistic. If you move to multiple warehouse fulfillment and continue handling fulfillment manually, you'll be pouring a lot of time and effort into coordinating operations. As you expand even further, the scale of this work will grow exponentially. On the other hand, adding locations can be a breeze when you know fulfillment will be smooth, predictable, and accurate.