The ecommerce industry is growing at breakneck speeds. One of the verticals seeing the most staggering growth is fashion. Keep reading to see how your ecommerce business can master apparel shipping, and find ideas for increasing efficiency and lowering costs.
Apparel shipping is a relatively uncomplicated corner of the ecommerce industry. Consisting of non-perishable items with small footprints, selling and shipping clothing online presents a uniquely lucrative opportunity. Because of this, apparel has historically been one of the key verticals contributing to ecommerce growth in the past decade. Pairing this with the relatively low cost of entry into the sector, and you've got a vertical made in ecommerce heaven. This upward momentum has only accelerated throughout the past year.
Today, fashion ecommerce represents the largest single ecommerce sector in the world, with a value of more than $750 billion. By 2025, the industry is slated to be worth $1 trillion. With a compounded annual growth rate of 7.18%, fashion stands apart as the vertical to beat in ecommerce.
Fashion Ecommerce Trailblazers
Since the beginning of the ecommerce era, clothing has been at the heart of the industry. In 2002, Amazon started selling apparel. Today, the brand boasts more than a million listings for clothing and apparel items. Independent brands and Amazon itself peddle fashion items ranging from super-economy options to high-end luxury items. These listings have contributed to Amazon's somewhat surprising standing as the top-selling clothing brand in the country.
Amazon's fashion success is spread across its entities. After acquiring retailers ShopBob and Zappos, the brand continued its investment in the fashion sector, launching Prime Wardrobe in 2018. The program offers try-before-you-buy options for fashion shoppers, mimicking the popular feature commonly offered by subscription services today. While 87% of fashion items for sale on Amazon are sold through its Marketplace, Amazon itself holds a respectable share of the market, selling clothing under a bevy of Amazon-held brands. Looking forward, Amazon is reported to be focusing on AR advancements that make virtual try-ons more reliable.
Preceding Amazon was UK clothing retailer ASOS.
The brand, named for the acronym "As Seen On Screen," sold items similar to those that customers had seen on the rich and famous. The brand quickly adapted to a broader business model selling a greater variety of fashion apparel. Today, ASOS remains a leader in international fashion ecommerce, driving $3.7 billion in revenue in 2019.
More recently, subscription services focused on apparel have cropped up in big numbers. One of the earliest, and most successful, subscriptions is Stitch Fix. The brand focuses on delivering hand-curated fashion finds to style-conscious shoppers. Customers can choose to keep or return items, returning unwanted items in the same box they received them in. Harvard student Katrina Lake founded the brand back in 2011, and added mens and plus size offerings in later years. With 3.4 million customers as of June 2020, the brand stands as the archetype for thousands of similar businesses.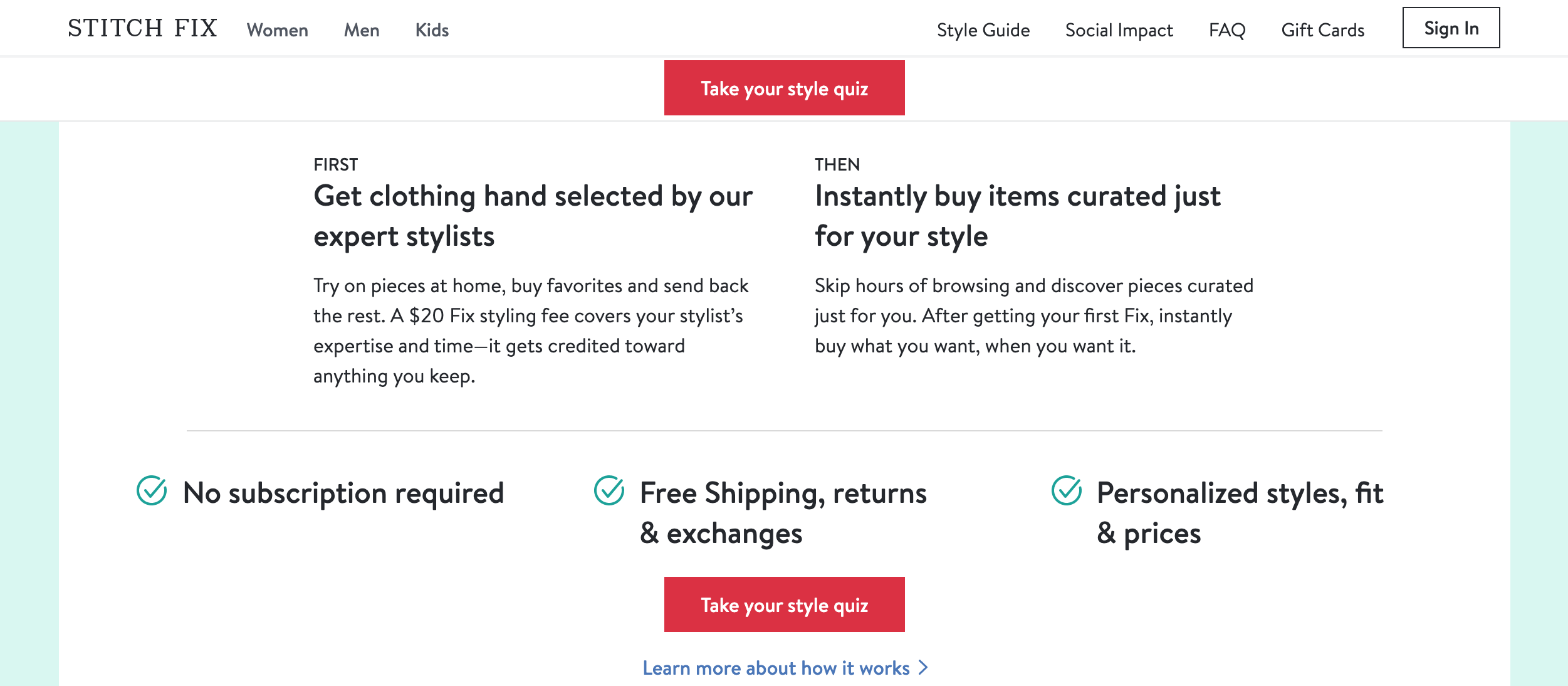 Confronting Customer Hesitation
One of the obvious and unavoidable challenges that come with online clothing shopping is simple: you can't try on the clothes before you order them. Clothing returns make up more than 50% of all ecommerce returns, so it's an issue that needs to be addressed from both consumer and retailer perspectives. Companies like Amazon are working hard to overcome those issues with AR-powered solutions and flexible returns programs.
Return What Doesn't Fit – As part of its Prime Wardrobe offering, Amazon allows customers to order multiple sizes of the same item to reassure them that at least one option will be a good fit. Although this option isn't very environmentally friendly, it's leaps and bounds above the typical gamble customers are forced to make with traditional buying methods. This method of facilitating "intentional returns" is gaining some traction, but its sustainability issues present an issue.
AR Virtual Try-Ons – As a more "green-friendly" option, giving customers the chance to try items before buying is the more favorable innovation. Amazon is diving deep here, pouring resources into its Outfit-VITON technology. Researchers developing the tech say, "Online apparel shopping offers the convenience of shopping from the comfort of one's home, a large selection of items to choose from, and access to the very latest products. However, online shopping does not enable physical try-on, thereby limiting customer understanding of how a garment will actually look on them."
It's unclear when the virtual try-on feature will launch. But with big-name retailers like Adidas and Tommy Hilfiger already offering it through tools like Zeekit, it's likely to launch sooner than later.
Checkout Expectations
Fashion represents one of the most advanced sectors of the ecommerce market, in large part thanks to its popularity, which allows for intensive innovation. As part of this modernization, customers of online clothing retailers have higher expectations of their shopping experience. Some features in checkout have gone from "nice-to-haves" to "must-haves."
Delivery Dates – While 82% of customers say they prefer to shop with stores that show delivery dates at checkout – rather than vague timeframes – just 60% of retailers currently show them. Delivery dates add clarity and urgency to the buying experience. And of course, customers prefer them – so providing them is a must for stores looking to scale.
Pickup Options – Options to buy online and pick up in-store (BOPIS) are gaining significant traction. BOPIS purchases were up 259% in 2020, thanks to pandemic restrictions and increased offerings from merchants. Further, 45% of online shoppers prefer to pick up items themselves rather than waiting for them to ship. With this in mind, retailers should carefully examine the options they have to allow for pickups. Whether in a brick-and-mortar store, fulfillment location, or even through a third party, such as FedEx™ Hold At Location, it's important to offer customers this self-serve option in some capacity if possible.
Free or Discounted Shipping – Increasingly, customers expect a discount or deal to be available to them to help with shipping costs. Whether it's a spending threshold that unlocks free shipping, a discount code for selected users, or something else, your shoppers expect to have an option. Opportunities abound, even for businesses with slim margins that can't easily afford to subsidize shipping. High thresholds for free shipping, free shipping only on high-margin items, limited-time deals, and category-specific discounts can keep these subsidies to a minimum, while still driving excitement and urgency at checkout.
Tecovas Gets it Right
Texas bootmaker Tecovas was born online as a direct-to-consumer brand, focused on quality craftsmanship.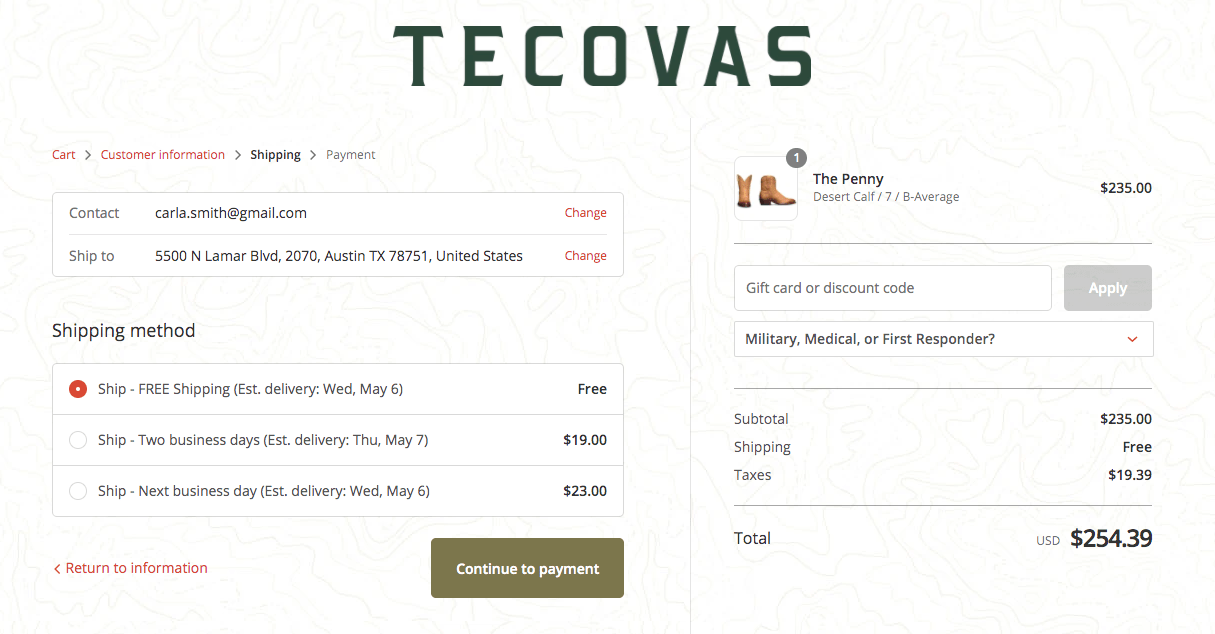 In the early days of operations, customers were given varying shipping speeds varying from economy to 2-day. However, those shipping speeds meant little when they didn't actually tell customers when their boots would arrive. Instead, they saw vague timeframes, like "arrives in 5-7 business days."
After integrating with ShipperHQ, they're able to better communicate exactly what each shipping method actually means for customers.
"Now customers on the other side of the country get a better picture of what free shipping, 2-day shipping and our other shipping options mean. It's not just about shipping price anymore. They want to choose what's most convenient to them and know precisely when their order will arrive without any guessing involved. With ShipperHQ, that's exactly the type of checkout experience a customer receives," said Noah Solomon, Digital Director at Tecovas.
Beyond simply providing customers with delivery date estimates, they've created a more efficient shipping process internally as well.
"We are able to save on labor costs by smoothing out our fulfillment process. Since we now provide our customers with accurate delivery date information – one that takes into account how long dispatch actually takes – we can batch ship our orders more efficiently, " said Solomon.
Packing Problems
Although apparel is generally a commodity that ships easily, there are many common issues that can complicate the process.
Naturally, clothing makes for a pretty lightweight shipment. However, not all clothing shipments are created equally. Consider a shipment containing a wedding dress, versus a box full of jeans. The wedding dress will likely be sent in a large box to avoid crushing the fabric, but it's unlikely to weigh much. Meanwhile, a box of jeans could be pretty small, but dense. While the jeans might weigh twice as much as the dress, the dress will likely cost more to ship.
With this type of calculation, carriers can charge more accurate rates for packages. It takes into account both the dead weight of the package and its dimensions. Because of this, the wedding dress package might have a greater dimensional weight than the box of jeans.
Some retailers offer flat-rate shipping, or base custom shipping rates on the dead weight of their packages. Because of this, they may find themselves covering a bulk of the cost of large, lightweight shipments – thanks to dimensional rating. The key way to combat this is to calculate shipping rates based on dimensional weight.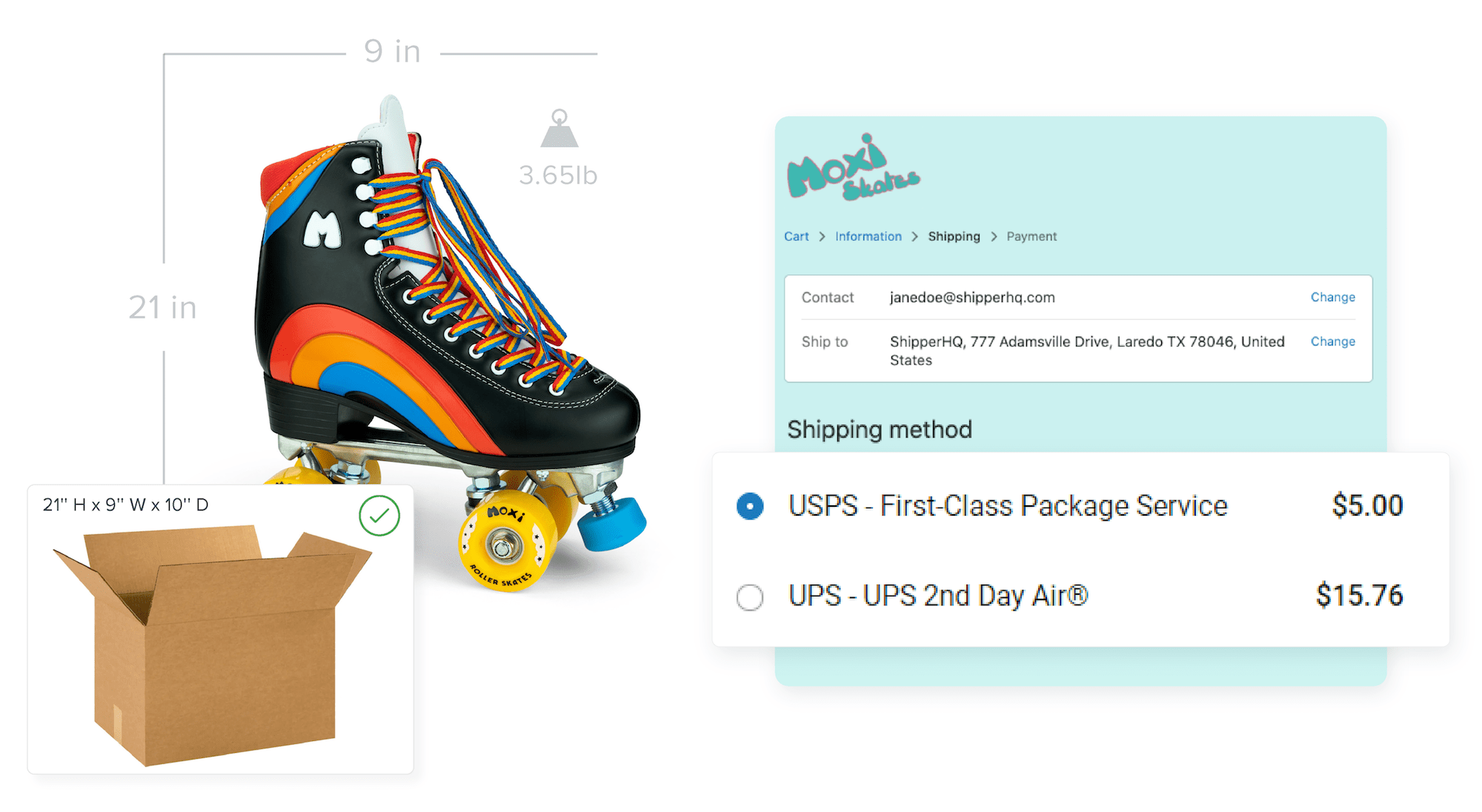 Moxi Roller Skates is a skate retailer based in Southern California. While the brand's ecommerce offering took off with great success, they had trouble with shipping. They'd regularly find they had undercharged customers by up to 50% for shipping. The setup was unsustainable, and they needed a solution.
Integrating with ShipperHQ, Moxi Roller Skates began calculating rates with the Dimensional Shipping feature. Using the platform, the brand could utilize incremental packaging, which automatically identified the smallest possible box size for a shipment. Smaller packaging means smaller dimensions. This meant that customers could see more accurate shipping rates, while Moxi Roller Skates spent less money on oversized, and inaccurately priced shipments. 
Packaging Considerations
Beyond finding efficient methods for packing and calculating shipping rates, great packaging is also a key to creating positive customer experiences. The right packaging choice depends heavily on what you're shipping.
While every retailer has different packaging needs and factors, there are a few guidelines for shipping apparel efficiently that apply across the board:

Padded shipping envelopes are a solid choice for apparel shipping. Single items or smaller orders fit nicely into them, and their flexibility means dimensional shipping rates stay low.
Corrugated boxes work best for bulkier items like sweaters, or large orders with multiple pieces. It's best to have multiple sizes of boxes on hand so you can ship using the smallest one that works to save on shipping. They also keep clothing secure and nicely presented for a positive unboxing experience.
In addition, be sure to pay attention to the way you place items in their packaging. While it might seem unnecessary, every detail affects the way consumers view your brand, so getting it right is an opportunity worth pursuing.

No matter how they're shipped, clothing should always be folded neatly before shipping. Depending on the products, it's best to wrap them in tissue paper or other packaging to keep them nicely folded. Avoid rolling clothing as it can introduce unnecessary wrinkles and get messy fast. If you're sending items in a box with extra space, be sure to include filler, like brown paper sheets to minimize shifting in transit.
Personalized Packaging
To make your customers' unboxing experience even sweeter, consider opting for branded packaging. Companies like Arka provide nearly unlimited options for customized packaging at costs lower than you might imagine.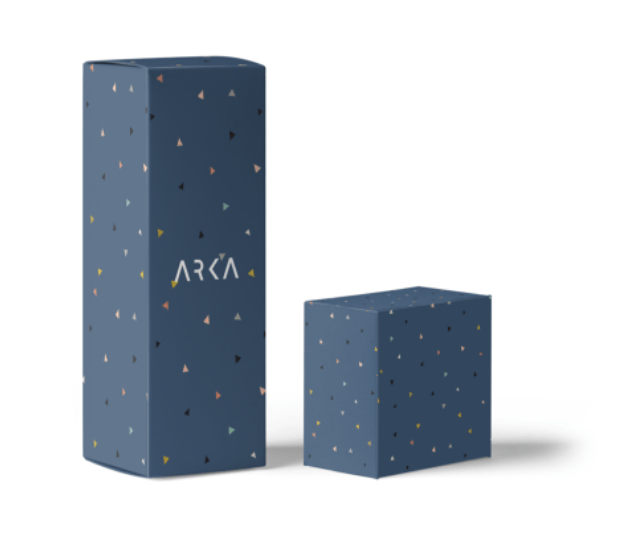 Packaging doesn't have to include only boxes. You can choose from a variety of custom packaging options that range from tissue paper to stickers, to custom tape and branded inserts. While it's an investment that's not vital to operations, it's one that can make a significant impact on the way a customer views your brand. Custom packaging drives excitement, and can even drive engagement through avenues like unboxing videos.
Cheapest Apparel Shipping Methods
When it comes to shipping clothing, there are a few methods that are reliably affordable. Within the US, domestic carriers offer a few great choices:
USPS First-Class Mail is, in most situations, the cheapest way to ship items weighing less than 1 lb. This is typically a fast shipping option; packages usually arrive within 1-3 business days. Rates start at $4 per package.
USPS Priority Mail Flat Rate or Regional Rate are good options for clothing shipments over 1 lb. Be mindful of flat rates, however. While they can save you big on heavy shipments, lighter ones may actually cost you more with flat rate options than you'd pay using a custom rate.
FedEx Ship Manager Lite is made for ecommerce retailers and provides another cheap option, and may even cover packaging costs for you.
UPS Marketplace Shipping can also provide special rates to registered ecommerce sellers. Rates start at just $2.47 per package.
International Carrier Options
Shipping apparel overseas can be a bit trickier than a domestic shipment. The good news is, the actual shipment process is pretty similar to domestic shipping.
USPS Priority Mail International Flat Rate is usually the most affordable way to ship clothing cross-border. Packages deliver in 6-10 business days and include $100 of insurance coverage. Rates start at $28.50.
FedEx and UPS do offer international shipping, but don't offer flat rate boxes, resulting in shipping costs over $100 for items with dimensions greater than padded envelopes. For this reason, USPS is the clear choice for the majority of situations.
Taxes + Duties for Apparel Shipping
When shipping anything overseas, you must take taxes and duties into account. These fees vary by country, so having a clear understanding of the costs associated with each country you ship to is crucial. When a shipment arrives into a country, relevant taxes must be covered before the item is released from customs.
In almost every country, the contents of your shipment will dictate what duties or taxes are due. To ensure you pay the right amounts, be sure to include a detailed commercial invoice with the shipment. In addition, specify to customers whether your shipments are DDU (delivery duty unpaid) or DDP (delivery duty paid). If a shipment is DDU, customers are responsible for paying additional duties, which can be upsetting if it comes as a surprise.
For example, the import of used outdoor clothing is restricted in Australia. India does not allow used clothing imports at all, and Mexico restricts the import of Chinese apparel or shoes. Needless to say, you'd be much better off knowing about these restrictions in advance, rather than fielding complaints from upset customers while dealing with a foreign country's customs office.
Wrapping Up
In an industry where brand loyalty reigns supreme, your shipping experience is a sterling opportunity to get it right with customers – and to keep them for life.
Of course, this includes both the pre-purchase and post-purchase experiences. By showing tailored, accurate shipping rates and dates, you'll foster trust and loyalty with customers before they check out. And by following that up with high-quality tracking and proactive communication, you'll gain customers for life.
Ready to improve your shipping strategy with features like Shipping Rules, Dimensional Packing, and Delivery Dates?
---
Want to access masterful pre-purchase and post-purchase shipping automation? Be the first to know when the ShipperHQ / ShipStation integration is ready. Get added to our early-access list here.