In early 2020, ecommerce retailer Moxi Skates was facing the perfect storm: a massive influx in demand, supply chain delays, and unclear fulfillment timelines, resulting in frustrated customers. ShipperHQ stepped in to help the brand solve for shipping – and significantly cut their losses along the way.
Moxi Roller Skates is a California-based company that was founded around – and continues to thrive amongst – the community culture of skating. Founder Michelle "Estro Jen" Steilen works to connect with members of the skating community through skate camps, cultivating an audience of like-minded skating enthusiasts.

The skates come with more than just a community though. Each pair of Moxi Roller Skates is manufactured with high-quality materials. This is what sets them apart.

"The quality speaks for itself," said Brian Andrews, Ecommerce Manager at Moxi Roller Skates. "It's not just the culture, the actual product is a high-quality skate. Once you get a pair, you can really see and feel the difference compared to other brands."
Pandemic Problems
At the start of the 2020 pandemic, the company knew it needed to improve its ecommerce offering. Like many other online sellers in the recreational activity sector, the brand saw a massive uptick in sales as stay-at-home orders took hold. They needed to formalize their internal processes and improve customer experiences across the board.

One step the company took was replatforming to Shopify Plus, allowing for much better customization than their previous platform. Additionally, they implemented a robust customer support platform – and integrated with ShipperHQ's shipping rate management solution.
The Switch to Shopify Plus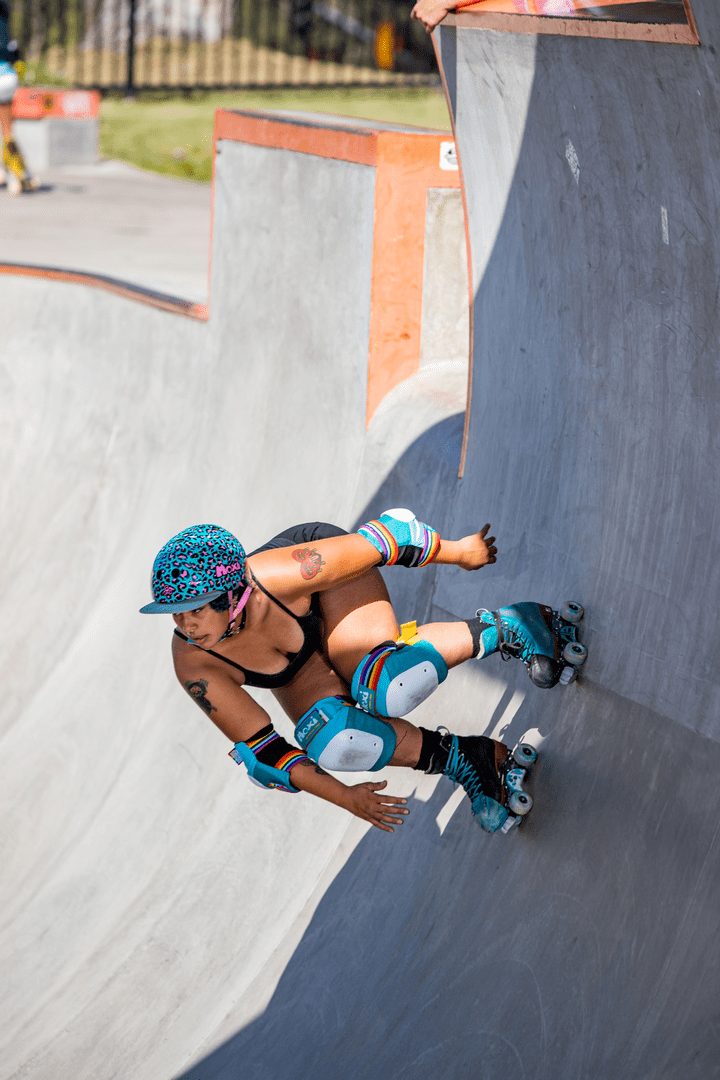 The decision to upgrade from Shopify to Shopify Plus was an easy one.
Moxi Roller Skates had outgrown the functionality of its initial plan. Plus, they needed more features to help with reporting and automation. Fortunately, this is exactly the kind of thing Shopify Plus was built for. With Shopify Plus, retailers gain more commerce capabilities and customizations. This allows them to create a true enterprise experience without the time, money, and development resources other ecommerce platforms would require.
Thanks to its robust, native functionality, Shopify Plus lets merchants create completely unique buying experiences. Merchants can cater to different audiences and segments, through beautiful, highly-customizable storefronts.
"Moxi Roller Skates has created a site that really shows off the individuality of their brand and their deep connection to the roller skating community. The site is super easy to navigate and shows off their fashion-forward skates. Plus with things like Shop Pay enabled, Moxi Roller Skates allows for a quick, easy buying and checkout experience for all customers," said Nur Ipek, a Merchant Success Manager at Shopify Plus.
Enter: Reliable Rating
After shifting to Shopify Plus, Moxi Roller Skates still had one major problem with its shipping processes: incorrect rating.
"We would have rates that would be drastically incorrect, upward and downward – so we would be taking the loss on shipping," said Andrews.
Before ShipperHQ, Moxi Skates was regularly undercharging customers by 50%. Essentially, they were stuck with the other half of shipping costs.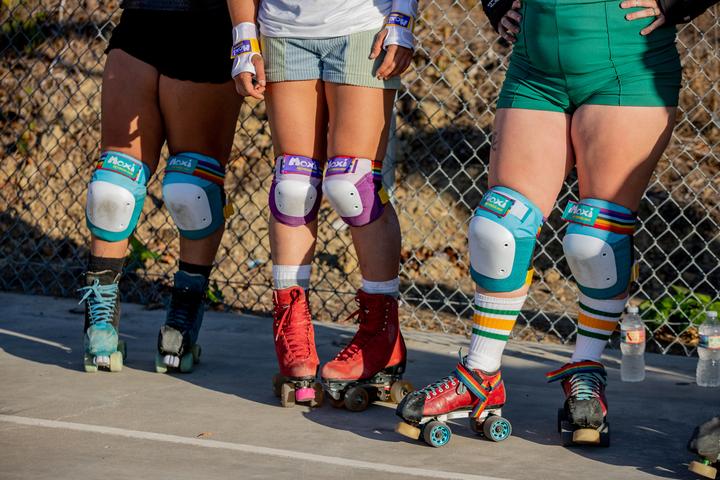 By pivoting to use ShipperHQ's Dimensional Packing feature, they dramatically increased rating accuracy, significantly lowering their shipping losses.
With Dimensional Packing, they can utilize incremental packaging, which automatically directs items to the next size box if they don't fit into a default box. The feature also led to the brand utilizing poly mailers. These mailers reduced the cost of shipping on their apparel and protective gear.

With ShipperHQ, the brand was able to implement its own Shipping Rules and Dimensional Packing Rules. Now, using the Best-Fit Algorithm, the platform pulls rates that are much more accurate and reliable. 
Even niche, time-consuming problems were eliminated. For example, being able to automatically hide UPS as a method when a customer enters a P.O. Box, has been a notable improvement.
"It is so rewarding to help customers like Brian at Moxi Roller Skates solve real-world problems," said Devon Plopper, ShipperHQ Senior Account Executive. "When we initially spoke, we discussed everything from COVID supply chain issues all the way to whether or not adding warehouses or fulfillment centers across the country would be helpful. Every time I speak with someone interested in ShipperHQ, I try not to just be a shipping consultant but help them conceptualize how shipping fits into their broader business strategy."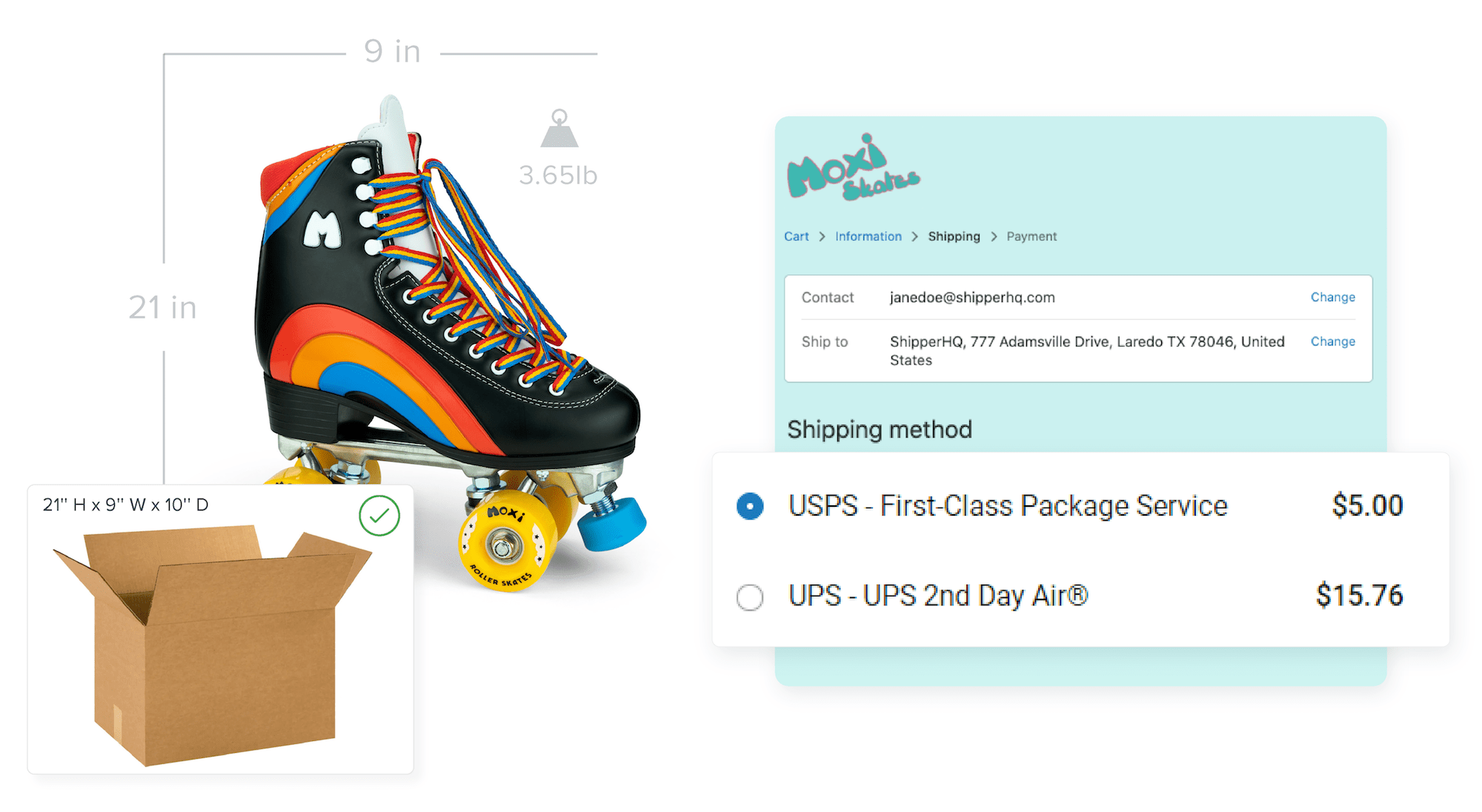 ShipperHQ Features Used:
Shipping Rules – To improve rating accuracy, the brand has built shipping rules that account for product availability, dimensional weight, and more. 
Dimensional Packing – Utilizing packing rules was also crucial to rating accuracy. Now, every order goes into a box that fits just right.
Multi-Origin Shipping – In the near future, Moxi Skates will pick back up its dropshipping fulfillment channel. With our Multi-Origin Shipping feature, fulfilling orders from multiple locations will be automated and simplified. 
The Full-Service Solution
"Working with ShipperHQ has been awesome. Coming from a customer service background, I look for that in any of the tools we use," said Andrews.
Even when it comes to problem solving, he's had great success in working with ShipperHQ's Account Management team.
"They answer any question I have, right away. Even if they need to research, they always follow through ," said Andrews about the ShipperHQ team. "I like that they don't let the tough issues stop things and they continue pushing through to figure things out."
Big Business Impacts
Moxi Roller Skate's replatforming and shipping integration couldn't have been more timely.
"We had to adapt on multiple levels. COVID-19 caused interruptions in the supply chain and forced manufacturers to close periodically. But we also had a huge rise in demand at the same time. It was the perfect storm."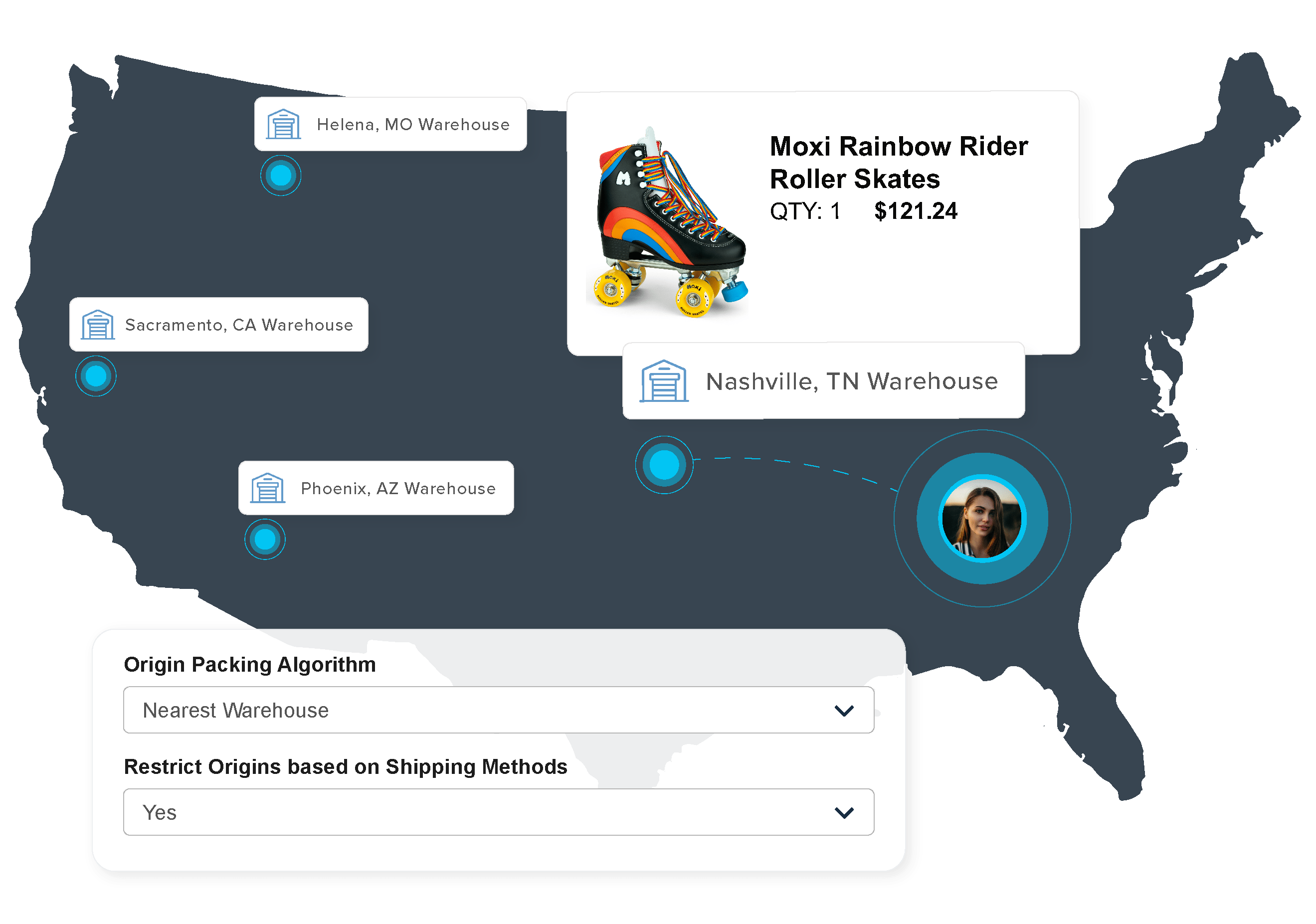 For a while, despite the spike in orders, there was no production happening. To successfully adapt, proactive communication was key. "We found that not saying anything to the customers is the worst thing you can do."
Today, the company has a policy in place to pass along all manufacturing updates to customers via email newsletters. Although they still receive the occasional complaint from a frustrated buyer, they know it's ultimately better than radio silence and offers a net benefit to customers.
At one point in 2020, Moxi Roller Skates was accepting all orders, even those that couldn't immediately be fulfilled. At the time, the company hadn't yet realized the full extent of supply chain issues. Quickly though, they realized it would be impossible to offer certainty around products that hadn't yet been produced.
Now, the brand only accepts orders that it can fulfill. They have implemented a "back in stock" notification system. When a color or size of skate becomes available, customers get a notification.
"We're not a brand that is going to dress up a problem in vague language – we are very open. Any information we get from suppliers, we send on to customers, even down to how many shipping containers we have," said Andrews.
"We provide this granular information because we don't see the purpose of doing it otherwise – it would just be more frustrating."
The Bottom Line is the Bottom Line
At the end of the day, the biggest impact that ShipperHQ has made on Moxi Roller Skates is good, old cost-cutting.
Simply put, they aren't taking a loss or overcharging on rates anymore.
"The rate accuracy is the biggest thing I love about the platform," says Andrews, "And the customer service – that's a huge key to success for any new technology. You know someone is going to be on the other side of the email, especially a critical issue that impacts your business."
Looking for a Comprehensive Shipping Solution That'll Help You Cut Costs? Try It Free for 15 days.