Thanks to stay-at-home orders and fortunate timing in logistical improvements, thousands of retailers saw soaring sales in 2020, especially in the liquor, wine, and beer sectors. Want to get in on the action? Our quick guide has everything you need to know.

How to ship alcohol: it's the question of 2021, thanks to the roaring success retailers found last year. Here's just a quick overview of the industry so far:
To put it mildly, beer, wine and liquor online sales are on the up and up. But before we get too deep into business, let's back up to understand why shipping alcohol can get complicated – fast.
A Brief History of Alcohol Shipping
A word of warning: shipping regulations surrounding the sale of alcoholic products can be complex and confusing. The reason for these complications is that each state in the U.S. has its own rules for shipping and delivering alcohol. The disparity in rules among states goes back more than 100 years, and it's all thanks to prohibition.
In 1917, Congress passed the 18th amendment, making it illegal to produce, transport, or sell intoxicating liquors. This law, of course, spurred prohibition-era traditions like speakeasies and rum-running. The law was wildly unpopular, vague, and difficult to enforce. By 1933, Congress had passed the 21st Amendment, lifting the blanket ban and allowing states to decide for themselves which rules to enforce. These state-specific laws still rule today, meaning many "dry states" still exist, and others closely regulate alcohol distribution. Thanks to these ongoing regulations, retailers are still restricted in what alcohol they can send, and to where.
Can You Mail Alcohol?
The short answer is: it depends. Here are a few key caveats to keep in mind:
Carriers will only accept alcohol shipments that they're able to deliver to their destination. Additionally, they can only ship alcohol sent by a licensed alcohol distributor, manufacturer, or importer.
Everyday consumers cannot legally ship alcohol themselves. Although these shipments do occasionally slip through the cracks, it is unlawful and inadvisable for people to do so.
If you're shipping alcohol as a licensee-to-consumer, you must alert the carrier and accept the appropriate shipping surcharge, plus any applicable duties and taxes.
All alcohol shipments must be accepted and signed for by an adult who can provide photo identification.
Carrier Rules & Regulations
Beyond these blanket rules, each carrier has its own regulations for shipping alcohol.
Shipping alcohol with USPS is not possible, as the service prevents alcohol delivery or delivery of alcohol-related marketing collateral.
Shipping alcohol with UPS is possible. The company has dedicated wine, beer, and spirits shipping programs, which enable certain customers to ship alcohol, including from licensee to licensee, direct-to-consumer from wineries/breweries/distilleries, and retailer-to-consumer. All alcohol shipments must have proper packaging to avoid breakage and be clearly labeled on the outside. To ship beer or liquor, you must also qualify as an approved shipper.
Shipping alcohol with FedEx is possible for certain sellers. FedEx only allows licensed sellers to ship alcohol, who must sign a FedEx Alcohol Shipping Agreement. They allow licensee-to-licensee or licensee-to-consumer shipping.
State by State Breakdown: Where Can You Ship Liquor?
Virtually every U.S. state has some variance in how freely it allows people to ship alcohol. However, some states are more restrictive than others, including:
Alabama – Residential delivery of beer, wine, or liquor is prohibited. However, the Alabama State House recently passed a bill that could legalize delivery services in the future.
Arkansas – In March 2021, the state passed a law allowing liquor stores to deliver straight to customers without third-party delivery. It's unclear how this will affect ecommerce alcohol deliveries, but as of now, alcohol delivery by carriers remains illegal.
Delaware – Only alcohol that was purchased on-site is eligible for shipping. This means that if a consumer visits a winery, brewery, or distillery, they are able to buy and ship alcohol to their home. Online, phone and subscription alcohol shipping is illegal.
Kentucky – Currently, no carrier accepts alcohol delivery to the state of Kentucky due to the high cost and risks associated with breaching dry-county laws. However, the law allows on-site alcohol sellers to ship directly from the manufacturer.
Mississippi – Currently, you cannot ship any type of alcohol to residential addresses in Mississippi. However, the state is currently reviewing a bill that would make alcohol delivery legal.
Rhode Island – To ship alcohol in Rhode Island, the consumer has to be present at the point of sale, effectively making ecommerce alcohol delivery illegal.
Utah – The state prohibits all alcohol delivery with the exception of wine delivery subscription services. The law allows licensees to ship only one bottle at a time, and places a 90% markup on the purchase, and requires consumers to pick up purchases from a designated location.
Read more about state-specific direct-to-consumer alcohol shipping regulations here.
Municipal, State and Country Rules
In-State: If your state does not have shipping restrictions on the delivery of alcohol, licensed distributors shouldn't have any issues sending alcohol in-state.
To Another State: Check the list above, or with your carrier, to understand the implications of shipping from one state to another. Although one state may allow you to send alcohol, the destination state may not allow for its delivery. Thus, voiding the shipment, causing frustration and lost revenue.
Overseas: Shipping alcohol overseas varies widely based on where it's going. For licensed sellers shipping alcohol to countries that allow alcohol delivery, the process is straightforward. However, virtually every country will attach taxes or duties to the shipment. Be sure to familiarize yourself with the unique requirements of the countries you ship to.

Alcohol Shipping Compliance In Action
When alcohol retailers are looking for ways to remain compliant, they can count on ShipperHQ's Shipping Rules. Our rules help retailers design a solution that prevents alcohol from being shipped to restricted locations. See how these ShipperHQ retailers have mastered beer, wine, and spirits shipping: 
Liquorama restricts consumers from purchasing alcohol if they live in a location where laws restrict delivery, such as Alabama. By enabling a popup like this one, they inform the customer of the process and restrictions, while still offering a workaround that gets products into customers' hands legally.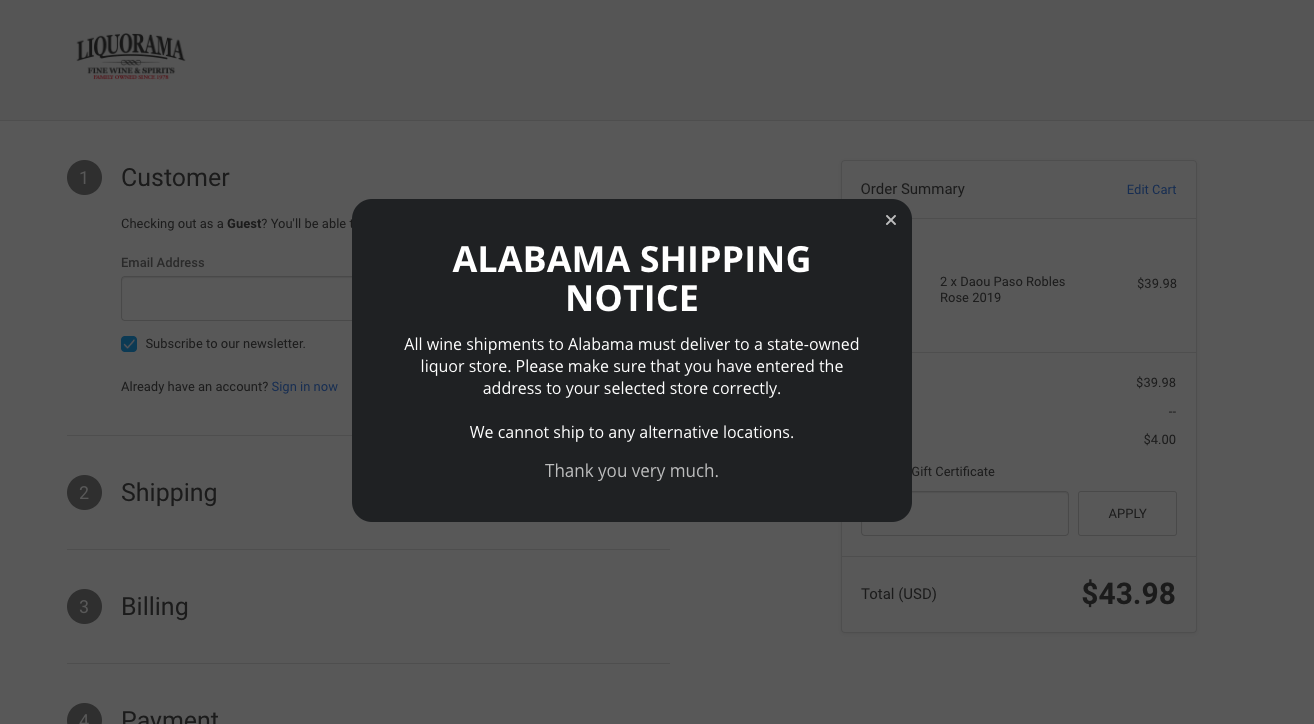 Zacky's Wine & Liquor informs customers proactively about shipping restrictions that might apply to their area and invites customers to engage with their team to find a solution.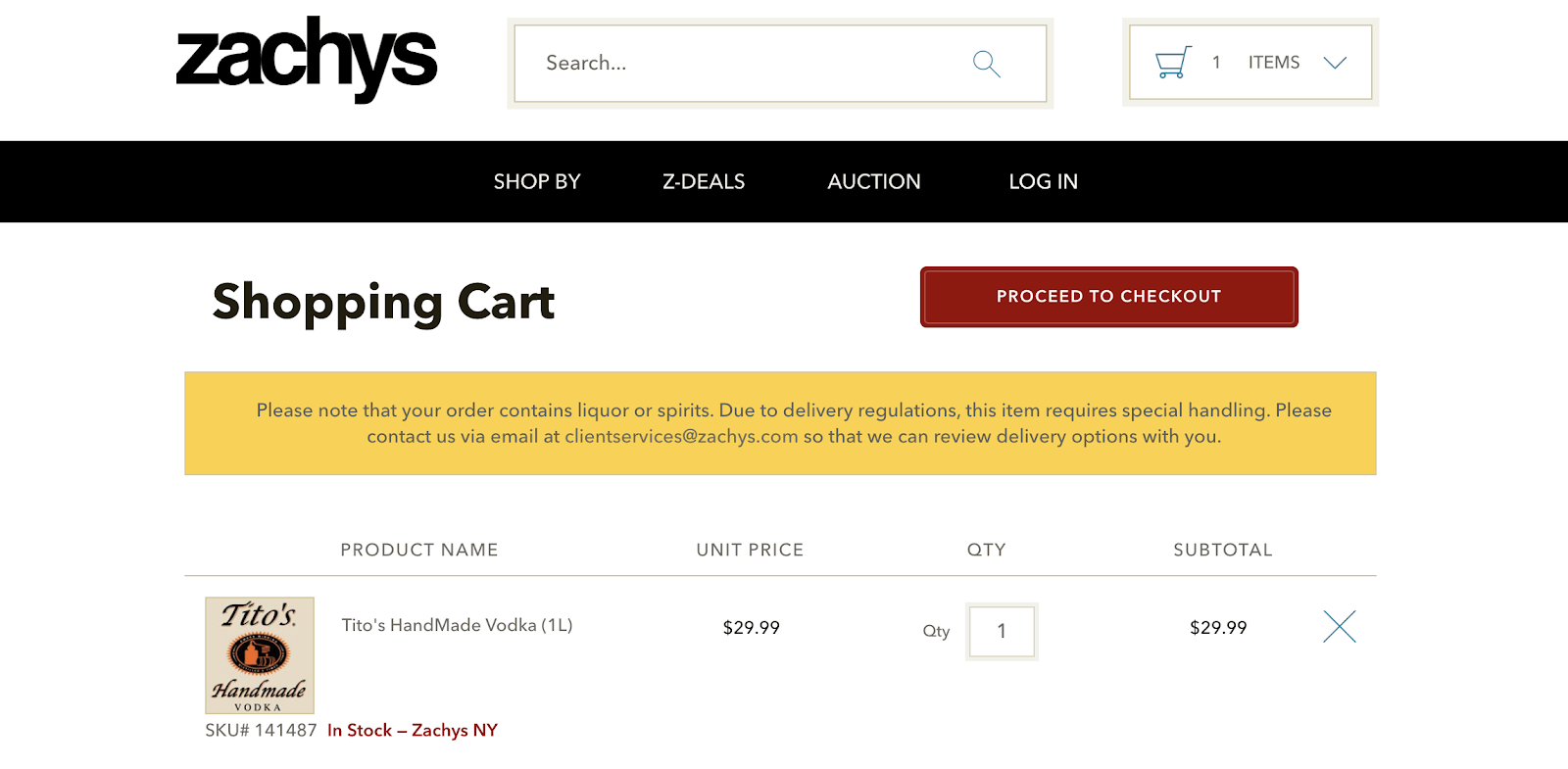 Shipping Alcohol Effectively
To get into the world of online beer, wine, or liquor sales, you'll need a solid shipping partner. With ShipperHQ's comprehensive shipping rate management platform, you'll have all the tools you need to create an effective, efficient shipping strategy for your alcohol business.
With tools like Shipping Rules, Address Validation, and Delivery Date + Time, you'll be able to give your customers the smooth and speedy alcohol delivery they expect – no dev workaround required.
Want to create a cost-efficient shipping strategy? Try ShipperHQ for 15 days, on us.