ShipperHQ's shipping rate management platform is packed full of useful features for customizing your ecommerce shipping strategy. But the system offers more flexibility than you can imagine.
Whether your favorite ShipperHQ feature is the reliable shipping rates, address type validation, dimensional packing, or something else entirely, virtually every user has their reasons to love our platform. However, there's more than meets the eye with ShipperHQ.
Here are five of our customer's favorite ways to use our features.
5 Lesser-Known Features ShipperHQ Customers Love
1. Setting Shipping Discounts on High-Margin Products
Drive sales of your highest margin products by setting up free or discounted shipping on specific product groups. Because these are your most profitable products, you can likely absorb some or all shipping costs on them.
Depending on what you sell, it's also likely that customers will add other items to their cart. This further drives the value of the shipping discount. Of course, some high-margin items still come with high shipping costs, making it less likely you can absorb the whole cost. On these items, consider simply offering a small discount or capped-rate shipping to drive sales.

On the other side of the coin is the option to surcharge shipping for some items, and leave the fees off of your high-margin products to drive sales. With Shipping Rules, creating and changing these discounts and surcharges is straightforward and instant.
2. Hiding Unnecessary Methods from Local Customers
Though it's no secret, hiding unnecessary or redundant shipping methods at checkout can help drive conversions and improve checkout experiences in unexpected ways. By removing shipping methods that don't need to be offered at checkout, retailers can provide a clearer set of shipping options and hide ones that don't apply based on a number of factors, including shipping destination.
For instance, let's imagine you're a home goods seller based out of LA.
Many of your customers are located in Southern California, so your rates for economy shipping to them are pretty low. Plus, even the "slow" delivery option usually have packages arriving to a buyer's address within 3-4 days, which most customers are fine with. Rather than offering several options for expensive expedited shipping, you might instead only offer ground shipping options, as they are affordable and relatively fast.
This is another instance where Shipping Rules can help. This time, by hiding expedited shipping options from customers within a radius you determine.

This solution keeps shipping costs low for customers who are located close by. And, it doesn't come at the cost of slow delivery. By hiding the expedited options you might show customers further away in other parts of the country, you drive affinity to your brand from local customers, while streamlining checkout for them.
3. UPS Ground Freight Rates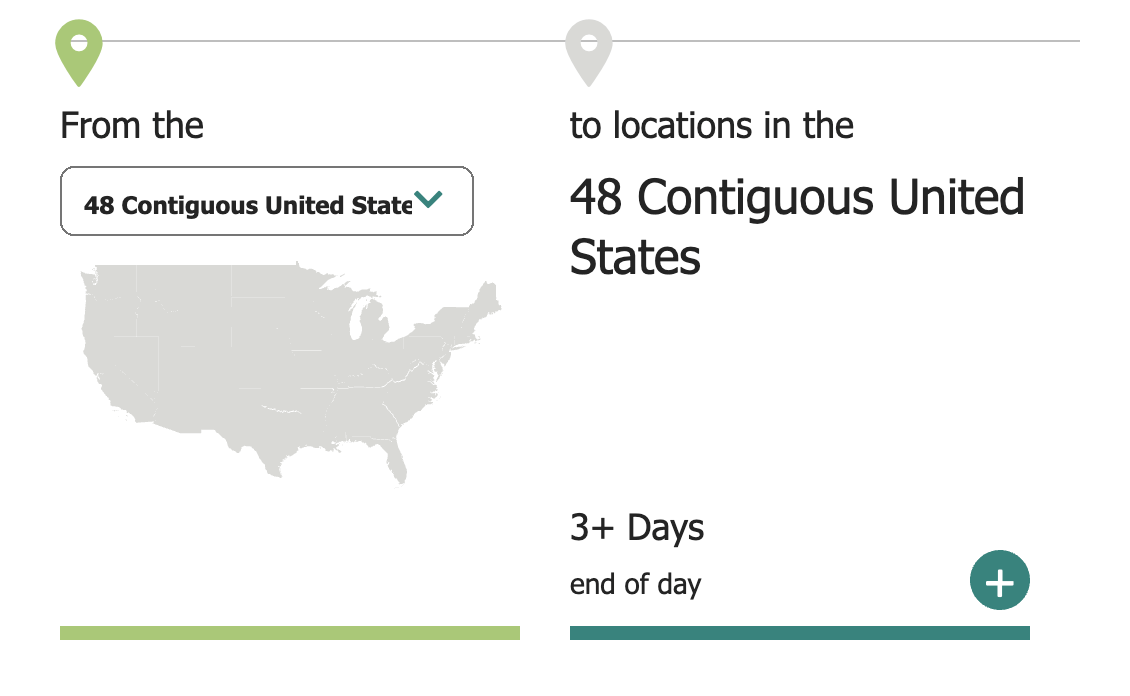 Some retailers ship products in freight-sized quantities, but can't use traditional freight services because they don't package products on pallets. However, with ShipperHQ, retailers can easily integrate with UPS Ground with Freight Pricing to get freight-style discounts on large quantity shipments. To qualify, shipments must contain multiple packages and weigh over 150 lbs.
This solution works great for customers who ship large numbers of boxes that aren't palletized. Retailers who produce goods in one location and distribute them from multiple others can benefit from this option, as well as wholesalers.

With freight services, shipments are usually delivered to commercial destinations, most often with loading dock access. Using UPS Ground with Freight Rates, retailers can ship their products to residential addresses, or commercial ones without loading docks, easily. Using ShipperHQ, you can integrate services like this into your larger shipping strategy to find the right shipping solution for every unique order.

4. Seamless Integration with Convenient Carrier Services
Many convenient options are built-in to the ShipperHQ platform.
For example, retailers can add FedEx One-Rate Boxes to their shipping options to keep costs low, predictable, and clear. UPS offers a similar solution with its UPS Simple Rate option, and USPS with Priority Mail Flat Rate program.
These options are excellent for retailers who need to keep things predictable, and want to have a reliable, cost-efficient shipping option for all orders. Each service also includes specified package sizes. This makes it even easier for retailers to access quotes based on what will fit in each package with Dimensional Packing from ShipperHQ.

Additionally, services like FedEx™ Hold at Location and UPS Access Point® mean even retailers without brick-and-mortar locations can offer convenient pickup services reminiscent of In-Store Pickup. With curbside pickup soaring in demand over the past year, it's imperative to offer solutions like these to customers who expect convenient options at checkout. 
5. LTL Rate Pre-Authorization
Many retailers who ship via LTL freight have trouble with rates changing after checkout. Most LTL shippers do extensive rate shopping before finalizing their choice. However, this can become problematic for customers who want to checkout now.
Most retailers, of course, are eager to secure a sale. They want to avoid cart abandonment that comes from unknown shipping costs, so they most often provide an estimate and work from there. However, the process can add on unexpected fees, giving retailers no choice but to accept the extra costs.
A useful workaround is to use a 3rd party payment solution to preauthorize a credit card for shipping payment within checkout. By doing this, the card does not charge until a final decision is reached.
With this method, a retailer can finalize the shipping charge. Plus inform the customer and push through the payment if the customer agrees. This saves the sale. Plus, the retailer doesn't have to accept charges the customer would have otherwise been on the hook for.
Let's apply this scenario to an industrial chemical company.
They've just begun selling online and haven't nailed down their go-to LTL shipping option. Because of this, they still do a lot of rate shopping to make sure they get a fair price. Rather than telling customers to "Call for Shipping Quote" or informing them that shipping would be calculated later, they show an estimate of the cost at checkout. But add a disclaimer that the actual amount will be charged later.
This encourages people to complete checkout by giving them a good idea of what they'll be expected to pay. It also eliminates the pressure of having to deliver a final price in the moment. This helps drive more conversions as it gives customers clarity about shipping when it matters most.
Applying These 5 Shipping Tips with ShipperHQ
These are five of our favorite ways to use ShipperHQ, but we want to hear from you! Do you use ShipperHQ features in unexpected ways? Tell us in the comments how you've gotten creative with the platform.
Interested in Getting Started? Contact one of our shipping experts. They can help you create a powerful, efficient shipping strategy for your store.
---