Online shoppers want clear, accurate delivery dates at checkout, regardless of what they are buying or where they are located. This need is even greater right before a holiday.
When a buyer arrives at the shipping portion of your checkout page, what do they expect to see? Total shipping costs and information on when their order will arrive, also known as delivery arrival dates.
While delivery date details are always a good thing to show, buyers especially look out for these details right before a holiday such as Mother's Day, Christmas and Valentine's Day. Or when they need to buy a present for a birthday or anniversary.
Right now your customers are on high alert, shopping around until they find a retailer that readily offers an actual date of delivery and not just an estimate. This expectation hasn't changing even through we're in the midst of a pandemic. If anything, your buyers are even more anxious to know.
With delivery dates, you offer your customers two things:
Assurance about when something will arrive, leading to higher conversions at checkout
Trust that you are a responsive business actively trading, which is especially important if you are an SMB
Showing accurate delivery dates also has a significant impact on your bottom line: 45% of customers abandon their carts because of unsatisfactory delivery options. Meaning, you're probably pushing buyers away and driving them to your competitors if you don't have them at checkout.
With customer experience a front-and-center focus for many in ecommerce, the importance of having delivery dates at checkout can't be any clearer. And yet, to pull it off correctly, there's a lot you have to consider.
Here's how you can offer your customers accurate delivery dates in time for any holiday.
Delivery Arrival Dates, Defined
To get off at the right foot, first we should be clear about what we mean by delivery arrival dates. It is exactly as it sounds – the day a customer can reasonably expect the order to arrive. For some methods where delivery dates aren't guaranteed, a window may be provided instead. However, the ideal is to show an actual date of delivery.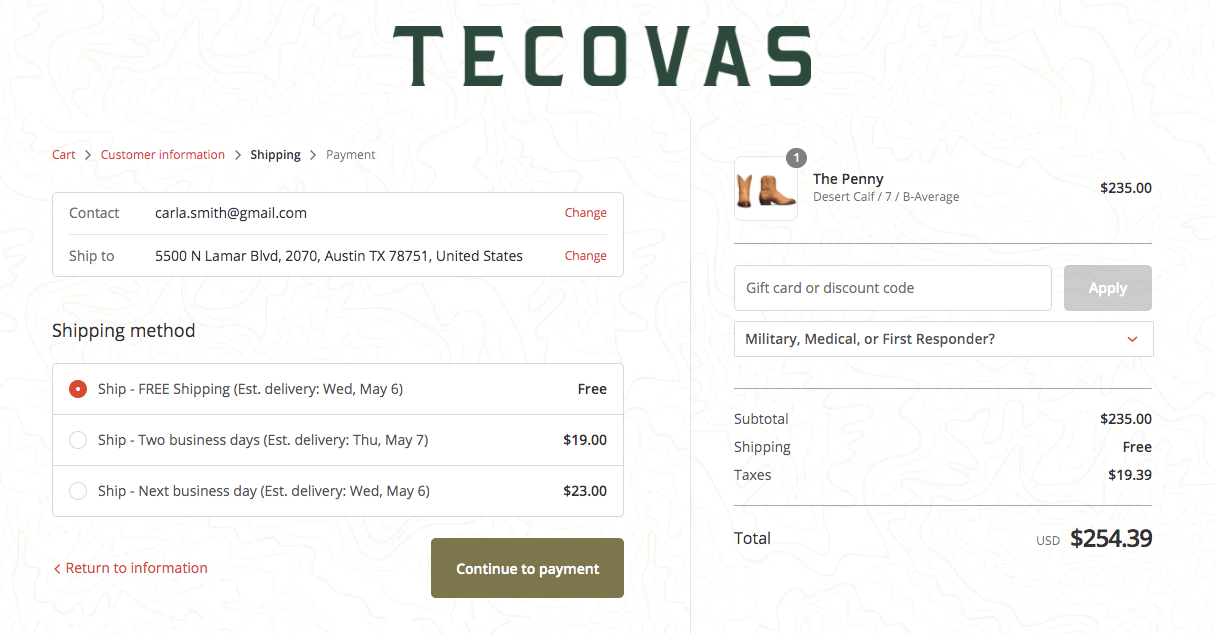 At checkout, your customer will see something like:
Ground Shipping – Delivered by Wednesday, April 22nd
Premium – Get it by: April 23-28
This is different from ship date (the date that the order is shipped from the seller/warehouse to the customer) and estimated shipping date (an educated guess on when the order will be shipped out).
Shipping Speed vs Delivery Arrival Dates
In a checkout usability study conducted by Baymard, they found that users have a difficult time comparing shipping options that display shipping speeds ("2-4 day delivery") rather than specific delivery dates ("Arrives April 24-26″).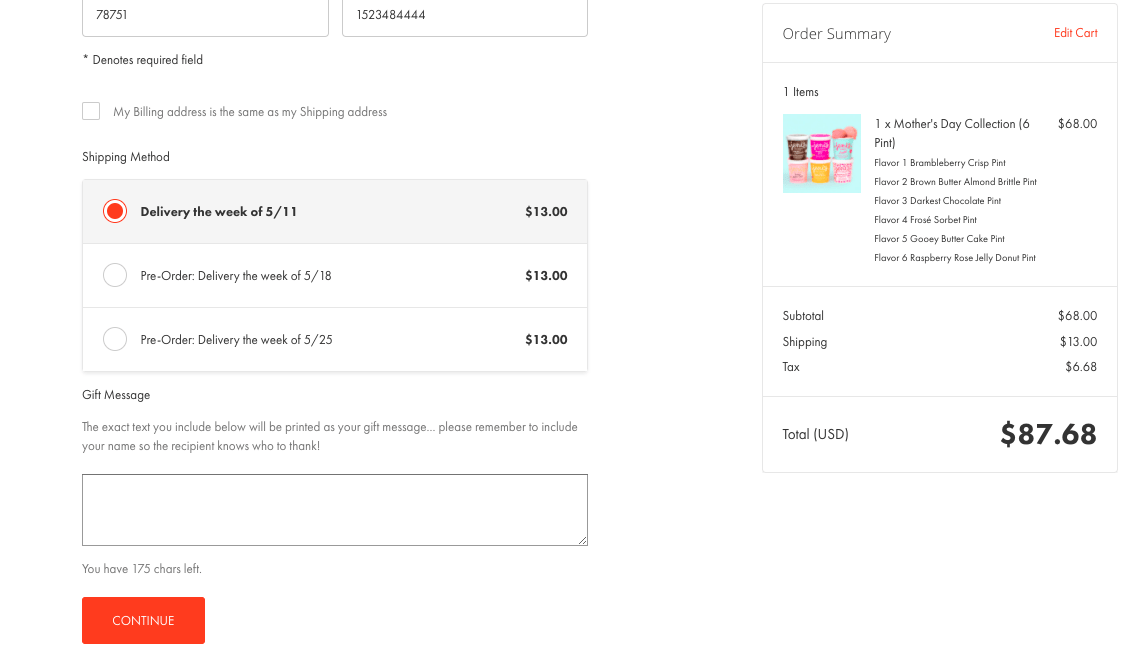 Too often, subjects in the study misinterpreted a shipping speed and miscalculated the arrival date. They wouldn't think about variables like current weekday and time, order processing time, and non-delivery days like weekends and holidays. These unknown factors basically leave buyers guessing the delivery date. And that puts stress on the user, especially when multiple shipping options are presented on the checkout page that all having different shipping speeds.
Knowing this, why do nearly 40% of ecommerce sites display shipping speeds at all? More than likely, it's an oversight issue. They don't know delivery dates are more useful than a list of shipping speeds. Or, because accurately determining delivery dates is complicated.
How Does Order Fulfillment Impact Delivery Dates?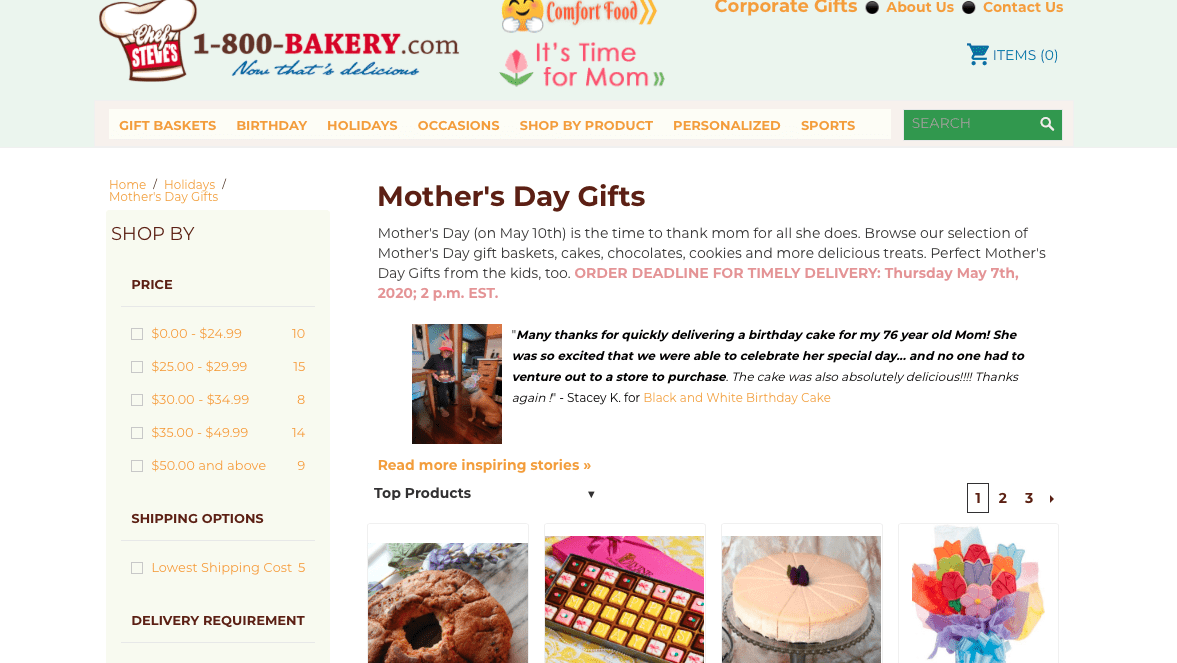 Once an order has been placed, it needs to be fulfilled via employees at your store, warehouse or through a dropshipper. There are several factors during this process that impact delivery dates and times.
Production Lead Times
Lead times are used to define how many days are required to prepare an order for shipment. This can be less than a day, such as packing a t-shirt in a padded envelope. Or it can be a few weeks, such as the time needed to manufacture and build a custom piece of furniture. It's also important to communicate this information to customers, like 1800-Bakery did on their website's dedicated Mother's Day gift page. Right away, the customer knows they must place an order by 2pm EST on May 7th to get orders shipped out in time.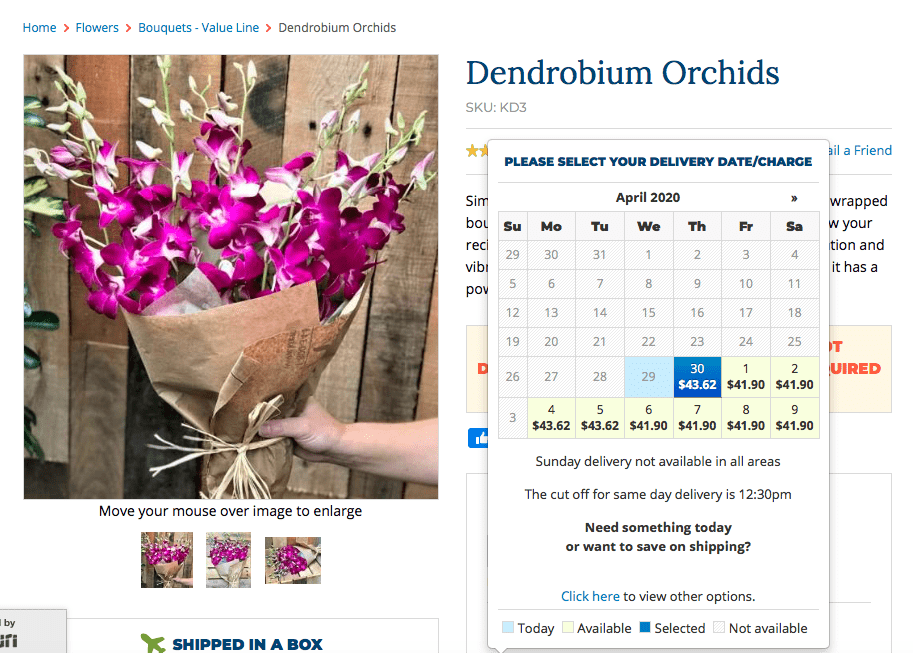 Fulfillment Cut-Off Times
Fulfillment cut-off times work in conjunction with lead times. This determines what time of day you stop fulfilling orders that are placed that day. The most frequently seen example of a cut-off time is for same-day shipping. For example, you may tell customers on your site "The cut off for same-day delivery is 12:30pm," like Kremp Florist does for their flower orders.
Blackout Production Days & Dates
Blackout production days and dates are used to define when a warehouse or location is not processing orders. Say you're a bakery that's closed on Mondays. If an order comes through Sunday night after you close, your delivery date details need to account for that lost day of production.
Blackout Dispatch Days & Dates
Blackout dispatch days and dates help you dictate when orders can and cannot be fulfilled. This is most common with weekends and holidays like Christmas when your operations are closed. But this could also apply for smaller businesses, like if FedEx only picks up orders from your store on Wednesdays.
What Causes Delivery Date Delays?
In an ideal world, packages would get to your customers at the right day and time with 100% accuracy. But, that's just not possible. Ecommerce shipping is complex and delays happen.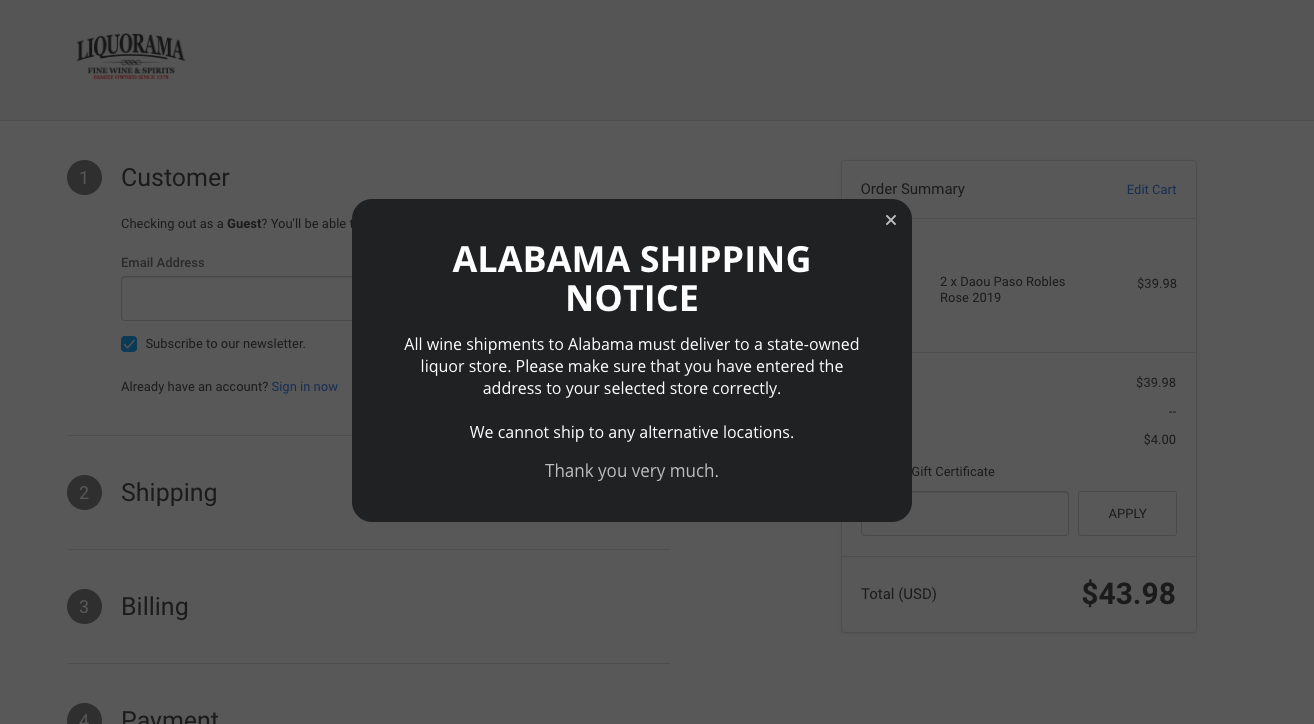 Here are a few things that could have a big impact on your delivery dates.
Shipping Service Used
Transit times vary depending on the carrier you ship with, the service used, shipping destination and other factors. For the most part, the farther the delivery the longer it will take, unless a customer is willing to pay for an expedited delivery option. Not all carriers offer 7 day delivery either, which affects delivery dates as well.
Federal Holidays
When a customer places an order before a federal holiday, it can slow down the pace of shipping times. Warehouses or shops are likely closed, or have reduced hours on these days.
Inclement weather
If a natural disaster, like flooding, mudslides or heavy snow have occurred at a shipping origin or the customer's destination, then it's likely that a shipping provider will hold off on delivery until things are more normal.
Shipping Restrictions
In some states or countries, laws may restrict or prohibit what items you can ship directly to consumers. In unique cases a middleman may be required for delivery to happen at all, such as Alabama's law that requires liquor to be shipped to liquor stores and not a customer's residence.
Time of Purchase
Delivery dates may end up a day or so off because of order fulfillment cut-off times. If you get an order at 9:00 am, you may be able to fulfill it on that exact date. However, if you get an order in at 9:00 pm it could add a day to the delivery timeline.
Customs
Getting through customs can take days and even weeks for international orders. And this doesn't include the time it takes when a package is out for delivery. If you submit tariff codes incorrectly, customs delays may happen even further.
Inventory
Just because a customer has placed an order, doesn't automatically mean what they want is in stock. If backorders are necessary, you have to communicate about when an item is available to ship. And then send delivery dates afterward.
Shipping Delays and Unprecedented Circumstances
Shipping and delivery delays can also occur due to unprecedented circumstances, such as a medical pandemic. In this situation, shipping providers and retailers (including giants like Amazon) must adjust their services to adhere to safety concerns and policies implemented by the government.
It's best to keep up with the status of the carriers you work with, like UPS, FedEx or USPS (and any other regional provider) to see what you can guarantee your customers. Then communicate with them about these changes via your website, post-purchase emails, shipping policy page, and at the cart and checkout directly.

Why your Customers Want to See Delivery Details
We've gone through what you need to consider for accurate delivery dates. But why exactly do your customers care about it so much? A few reasons why your customers care so much, especially right before a holiday, include:
Security
It's no fun to order a big ticket item only to have the neighborhood thief make off with it instead. And because a customer knows exactly when their order will arrive, they can plan to be available to sign for delivery if necessary. Or if an item is temperature sensitive, high-value or requires white glove service.
Special occasions
Customers can plan ahead of time for an upcoming holiday or birthday. Let's face it, cookies, flowers or jewelry are just not as special the day after (even if we love the gesture). Be a part of your customer's special occasion by allowing them to give that perfect gift on time.
Convenience
If a customer is planning a weekend trip, but wants to be available when delivery happens, delivery arrival dates can help them decide quickly what shipping option to choose from. Delivery dates create more convenience, with shoppers being able to pick a date or date range that fits their busy schedule.
Delivery Dates & ShipperHQ
With ShipperHQ, you can show your customers actual delivery dates automatically with a significant degree of certainty.
Because our Delivery Date & Time feature allows you to configure your shipping strategy based on production and dispatch requirements (as mentioned above), you'll be able to fulfill orders on time, every time.
Our platform returns dates directly via the carrier's API. So if you are using UPS, USPS, FedEx, Canada Post or your own table rates, you'll instantly get the most up-to-date delivery information at checkout even if date targets and times shift (such as UPS Next Day Air Saver and 2nd day Air AM, whose delivery time has now been pushed to the end of day).
Plus, you can even offer 7 day delivery through our partnership with FedEx. For more information on how to get this up and running, contact us directly.
Start offering delivery date and time to your customers and sign up for a free 15-day trial of ShipperHQ today!