Over the last year, consumer behavior changed significantly since many shoppers were stuck at home for long periods of time due to "shelter-in-place" orders. This caused a shift in how shoppers wanted to engage with brands. Thus, the race for experiential commerce to bring brick-and-mortar-like experiences to digital began.
Why do 92% of consumers have concerns about shopping on unfamiliar sites? Well, just think about it. The main advantage brick-and-mortar retail stores have over online shopping is their automatic ability to offer a physical experience that builds personal relationships.
When the customer walks into the store, they can interact with real employees. They can touch and try on products before making a purchasing decision, and see other shoppers making purchases. This automatically reinforces the credibility and reputation of the store.
In comparison, when shopping online, customers are unable to engage with staff or other shopper. Instead, they must rely on photos, videos, and written descriptions. That's why it's so important for online brands to invest in experiential commerce.
So What Can You Do About It?
To overcome the challenge of replacing brick-and-mortar experiences, most ecommerce brands focus solely on providing convenience to shoppers. While convenience should be at the forefront of ecommerce strategy, the following 3 imperatives are also critical to retail success in the coming years.
According to The Retail Leaders Association's list of Imperative for the Industry, retailers must:
"Become Omnipotent on Omnichannel": Consumers will choose retailers based on ease and richness of end-to-end experiences.
Personalize Experiences: Most retailers today still fall short of high consumer expectations for hyper-personalized shopping.
Turbocharge Delivery: Affordable, fast, and reliable delivery options will make or break ecommerce businesses.
According to Accenture's recent Business of Experience report, 77% of CEOs said their company will fundamentally change the way it engages and interacts with customers.
Retailers that want to win in the long run have to invest in experiential commerce technology to deliver on those three imperatives. Then, they'll be able to close the online-offline gap by building differentiated creative experiences for their customers.
What is Experiential Commerce?
Experiential commerce is a customer-centric selling strategy that focuses on building relationships between brands and consumers through virtual shopping experiences. This type of strategy is often powered by innovative commerce technology, such as 3D visualization, Alternate Reality (AR), and Virtual Reality (VR). The overarching goal is to design the best possible online experience for discovering, exploring, and purchasing products.
Top Benefits of Experiential Commerce:
Boosts customer confidence – The typical ecommerce experience relies on product images and descriptions to showcase a product's uses or features. Oftentimes, these do not answer all the questions customers might have about the item, which leads to higher return rates. Experiential commerce solves this problem by providing opportunities for shoppers to engage with or test the product virtually before purchasing.
Showcase unique brand experience – Developing an experience-first ecommerce strategy with the right technology allows merchants to showcase their brand without having to compromise on their ability to deliver great customer experiences.
Build personal relationships with customers – Customers don't want to be sold to anymore. They want to build connections and relationships with their favorite brands. Experiential commerce allows merchants to provide useful product experiences that build customer trust and value while facilitating purchasing decisions.
See It In Action: Moxi Roller Skates
Our Shopify Plus merchant, Moxi Roller Skates, is a successful DTC skate brand that thrives amongst a community culture of skating. On their site, shoppers can easily find the following:
"Virtual Skate Shop" where customers can book online consultations with a skate expert
"Welcome to Your Skates – Choose Your Adventure" section walks first time owners through every step of using and learning about their new skates
"Arts and Culture" section with resources for movements, cultural trends, and artists in the skating community for shoppers to explore
"Moxi Roller Skates has created a site that really shows off the individuality of their brand and their deep connection to the roller skating community. The site is super easy to navigate and shows off their fashion-forward skates. With technology like Shop Pay and ShipperHQ enabled, Moxi Roller Skates allows for a quick, easy buying and checkout experience for all customers,"


Nur Ipek, a Merchant Success Manager at Shopify Plus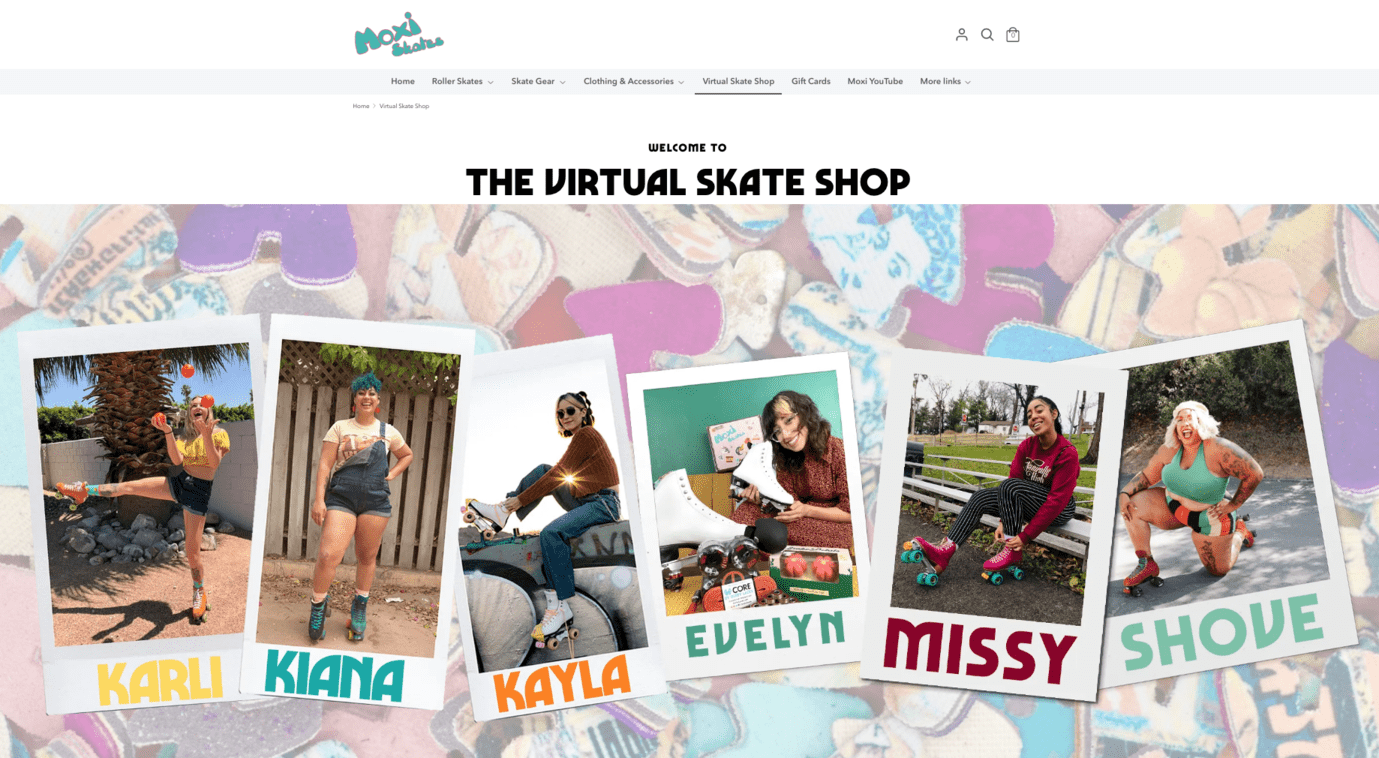 Technology Needed for Experiential Commerce
In the last year, several technologies emerged as driving forces for increased levels of personalization, convenience, and unique experiences in ecommerce. Here's why merchants should be racing to embrace and implement them.
Headless Commerce Framework
Headless commerce architecture refers to the separation and decoupling of the frontend and backend of an ecommerce application. This approach offers the freedom to build whatever and however you want, enabling you to enrich the customer experience. Thus, headless has recently become well known as a way to future-proof ecommerce businesses. It enables more choices for integrating technology solutions, better site performance, and more flexibility for quick site customization.
However, one of the best and most exciting benefits of a headless framework is the opportunity for creative brand experiences. For years, many merchants have had to choose between offering a great ecommerce experience or showcasing their unique brand and content. Now, headless commerce provides the potential for a better brand and customer experience.
See It In Action: Yeti Cycles
Our BigCommerce merchant Yeti Cycles recently launched their new headless site designed by ZaneRay Group. The goal was to create an immersive brand experience that prioritized both customer engagement and ecommerce performance. Now, the Yeti team is able to build out new, brand-consistent pages and upload content without custom development. Their new headless architecture allows them to quickly make updates to their brand and user experience based on changing trends.
According to a recent case study by BigCommerce, after launching their headless site, Yeti Cycles saw a
53% increase in users
44% increase in sessions
36% increase in pageviews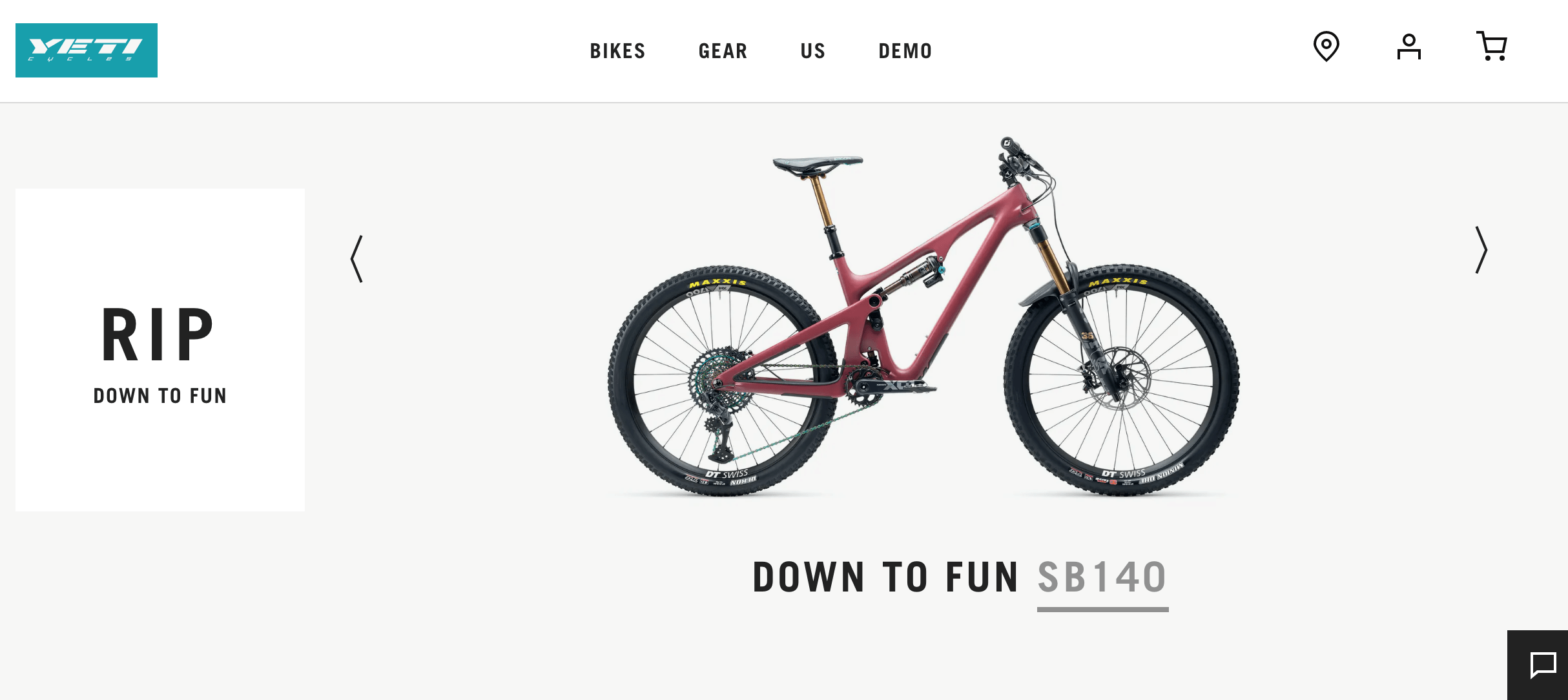 Augmented and Virtual Reality
Unfortunately, one main drawback of most ecommerce experiences is the inability to try products before buying. That's why 46% of returns are due to products being the wrong size, fit, or color. The most popular technology solutions for this are augmented reality (AR) and virtual reality (VR). "Virtual try-on" using AR or VR allows customers to "try on" cosmetics, glasses, and clothing. Many brands even use it to let customers view how furniture and appliances look in their own homes. In the B2B context, virtual reality can also be used to virtualize wholesale showrooms. This provides a much more tactile experience that increases customers' purchase confidence.
See It In Action: Whole Latte Love
Our Shopify merchant Whole Latte Love provides a 3 dimensional (3D) and AR view of their products. On mobile and tablet devices, shoppers can use the AR tool to view espresso machines and other coffee makers in their own kitchens. On desktop experiences, shoppers are able to view the product from all angles in 3D.
Customers become more engaged when a product page captures their imagination. To accomplish that we not only provide professional quality videos and in-depth blogs, we go to the next level with 3D images they can manipulate and augmented reality so they can place the equipment in their kitchen.


Gary Salzman, CEO of Whole Latte Love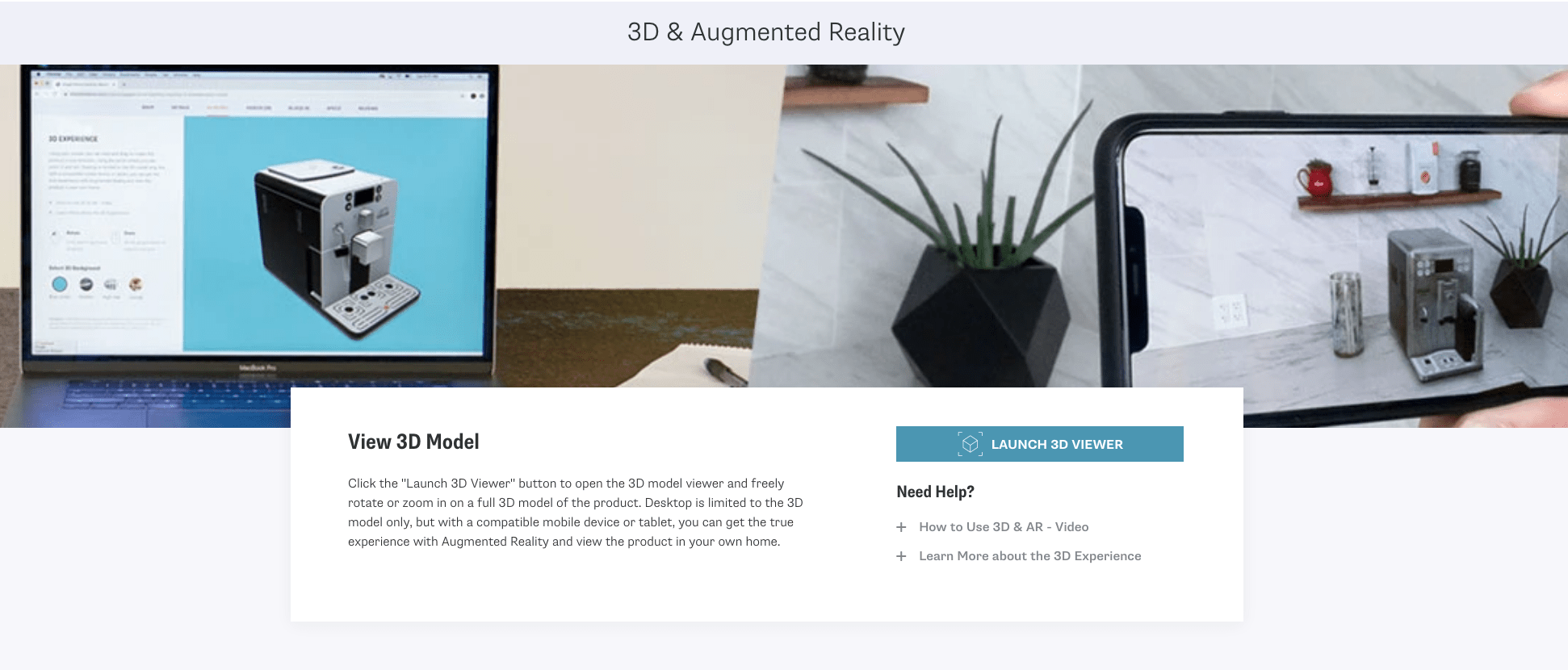 3D Visualization
For brands who want to start small when investing in experiential commerce, Google's Swirl Ads provide an immersive 3D ad experience that's simple and rich. Swirl allows potential customers to engage with a product with rotation, zoom, and expand abilities within the display ad on a mobile web page.
Tips on Improving Your Ecommerce Experience
The purpose of experiential ecommerce is to build online experiences that facilitate customer engagement, trust, and loyalty without an in-person brick-and-mortar experience. Here are some quick tips on providing the best possible end-to-end experience for your customers.
Streamline and Optimize
Focus on the customer journey and eliminate unnecessary steps wherever possible. The best way to do this is to streamline the checkout and payment process.
Because 56% of shoppers expect a variety of payment options on the checkout page, you need to provide numerous payment methods Apple Pay, PayPal, AfterPay etc.
Offer convenient and personalized delivery options in checkout like Buy Online Pickup In Store (BOPIS), curbside pickup, FedEx Hold at Location, and UPS Access Point. A top cause of cart abandonment is lack of suitable delivery options, and new research shows that almost 50% of consumers prefer to pick up their online orders themselves.
Create a seamless look and feel for your checkout page. Order details, payment options, and delivery information should be clear and easy to find.
Engage, Re-engage, Repeat
The technology above helps retailers initially engage with potential customers to influence a purchase, but equally important is their ability to re-engage with the customer post-purchase. The goal is to create compelling experiences that both attract new customers and retain previous buyers.
Provide a "My Account" dashboard for users that retains their payment information, addresses, purchase history, and order tracking right on the site. This way, shoppers don't have to toggle between your site for order details and a different third party site for package tracking.
Offer custom shipping promotions to specific customer groups. For example, offer customers with an online account free expedited shipping or offer customers with high order values, free shipping on orders above a certain threshold.
Transparency First
A recent survey reported that 44% of customers would abandon a brand altogether due to the inability to find information and 23% would abandon a brand if they found conflicting information. This means having clear and transparent information about the product, shipping, returns, and more is crucial to delivering a satisfactory ecommerce experience.
Show clear delivery dates for each shipping method. Currently, most brands are still missing this expectation by providing shipping speeds (arrives in 3 – 5 business days) instead of delivery dates (arrives on June 16th).
Make clear return policies easy to find on your website.
Include contact information or a chatbot to assist customers who have questions.
How We Can Help
Investing in emerging technological trends like headless commerce and AR/VR can help bridge the gap between online and offline shopping. However, merchants also need to ensure that their ecommerce experience meets customer expectations from beginning to end, including shipping and delivery. ShipperHQ helps merchants create a streamlined pre-purchase shipping and checkout experience with:
Accurate delivery dates and times for every shipping method at checkout
Customized delivery options for each purchasing scenario including, in-store and curbside pickup, same-day-, overnight, and two-day delivery, and more
Personalized shipping promotions for customer groups, shipping groups, or product groups
Accurate shipping rates so customers don't under or overpay for delivery
Ready to see how an optimized checkout experience drives conversions, customer trust, and loyalty? Get ShipperHQ for free for 15 days.