In the last year, shopping behavior has evolved to focus on content and experiential commerce. Rather than being sold to, consumers want to build connections with the brands that they buy from.
Today, brands are no longer competing based on price, but instead on the relationship and experience they provide for their customers.
Customers want to be given relevant information that's useful to them at the moment, then facilitate purchase when they're ready. That's why 70% of marketers are now actively investing in content marketing and content commerce.
What Is Content Commerce, and How Does It Work?
Content commerce refers to the creation, publication, and promotion of valuable, informational content as a conversion-driving strategy. And, as a sales channel to generate revenue.
According to Aberdeen Group, conversion rates from brands that invest in content marketing are 6 times higher than those that don't. By combining content and commerce into a single platform experience, companies are able to drive sales by making it possible to view products and media content in one place.
Leveraging content commerce allows brands to:
Increase their reach to new customers
Grow website traffic through SEO
Improve brand awareness with relevant content
Establish trust, authority, and credibility to build a loyal customer base
Accelerate the buying process
Content and Commerce in Action
Here's how ShipperHQ merchants are treading the line with content commerce:
Hyper-personalized Experiences
In the past year, hyper-personalized content and experiences have become ecommerce standards. Research shows 80% of shoppers are more likely to make a purchase from a brand that offers a personalized experience. Plus, 59% of customers say that personalization influences their shopping decision.
For instance, our Shopify merchant Revel Nail provides a hyper-personal experience for all of their customers through a live feed. Here, shoppers can share images of how they used their nail beauty products as well as view how others in their community have used them. After logging in, this page allows them to filter their image feed by their friends and by their location, thereby locking in a perfect opportunity to showcase product content while building personal relationships.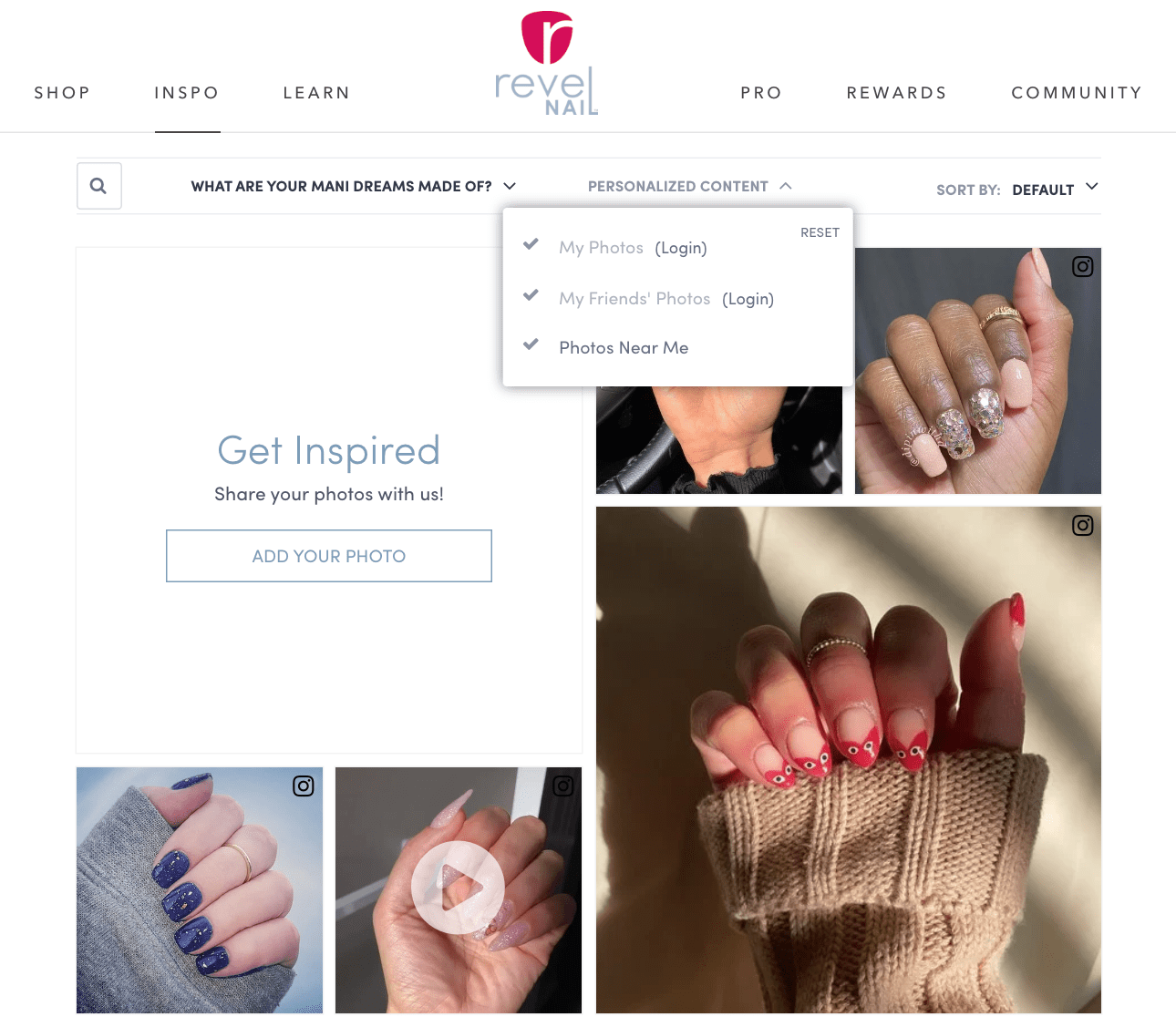 Educational and Inspirational Content
According to 5WPR's 2020 Consumer Culture Report, 83% of millennial shoppers and 72% of all shoppers believe it's "more important than ever" to buy from companies that reflect their values.
A great example is our BigCommerce merchant SoloStove and their work on Project Good, which focuses on inspirational stories about ways to give back to the community.
"We realized the best thing we can do in uncertain times is bring joy and warmth to those who could use a smile. We wanted to do our part by reminding others there is good in the world when all they are hearing is bad news."

John Merris, CEO of Solo Stove
When shopping online, customers are unable to physically try out products, so product pages are the next best thing. Brands must influence buying decisions by using images, videos, and descriptions to tell the story of the product.
According to studies conducted by Harvard Business Review, two primary criteria for great product pages are:
The demonstrated trustworthiness of your brand
The degree to which customers can evaluate the product by reading about it rather than experiencing it physically
HBR found that a single design element used effectively on a product page can increase purchase intentions up to 10% — a big difference in today's competitive ecommerce environment.
The power of content commerce is apparent with our Shopify merchant Whole Latte Love.
On every killer product page, Whole Latte Love includes:
Product videos
Detailed product specifications with comparisons to competing products
Tips on how to use their coffee making equipment
3D and augmented reality product viewing from every angle
Question and answer section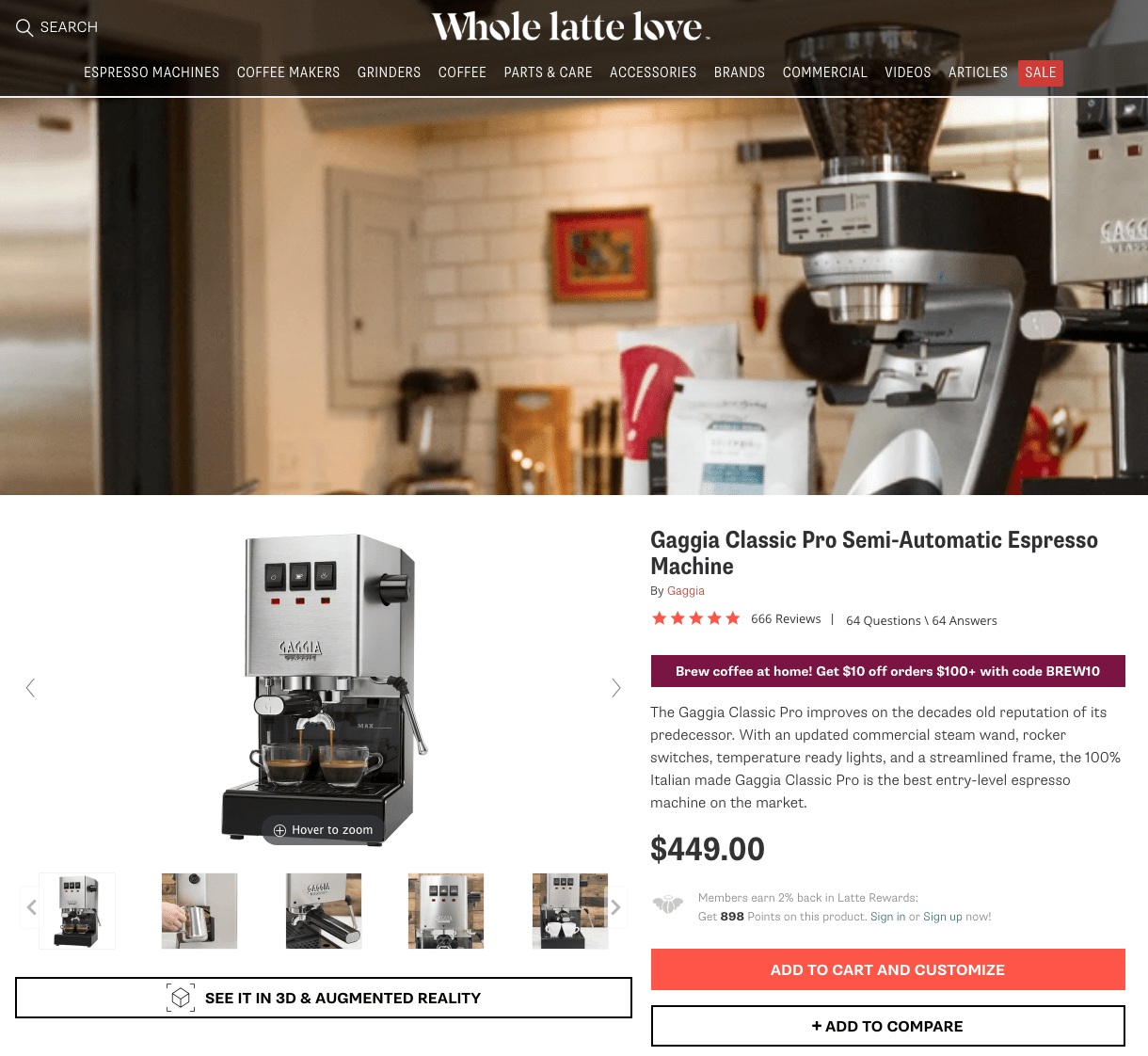 Case Studies and Testimonials
Providing customer content and testimonials is a brilliant content commerce strategy. Because 95% of shoppers read reviews before making a purchasing decision, adding reviews directly to your page reduces the likelihood of customers leaving your site to hunt down feedback.
For example, our merchant Donald Russell, whose Magento site was built by our agency partner Screen Pages, includes their Great Taste Awards, customer testimonials, and reviews on their home page. By providing this content at the forefront, Donald Russell boosts potential customers' confidence in the quality of their food.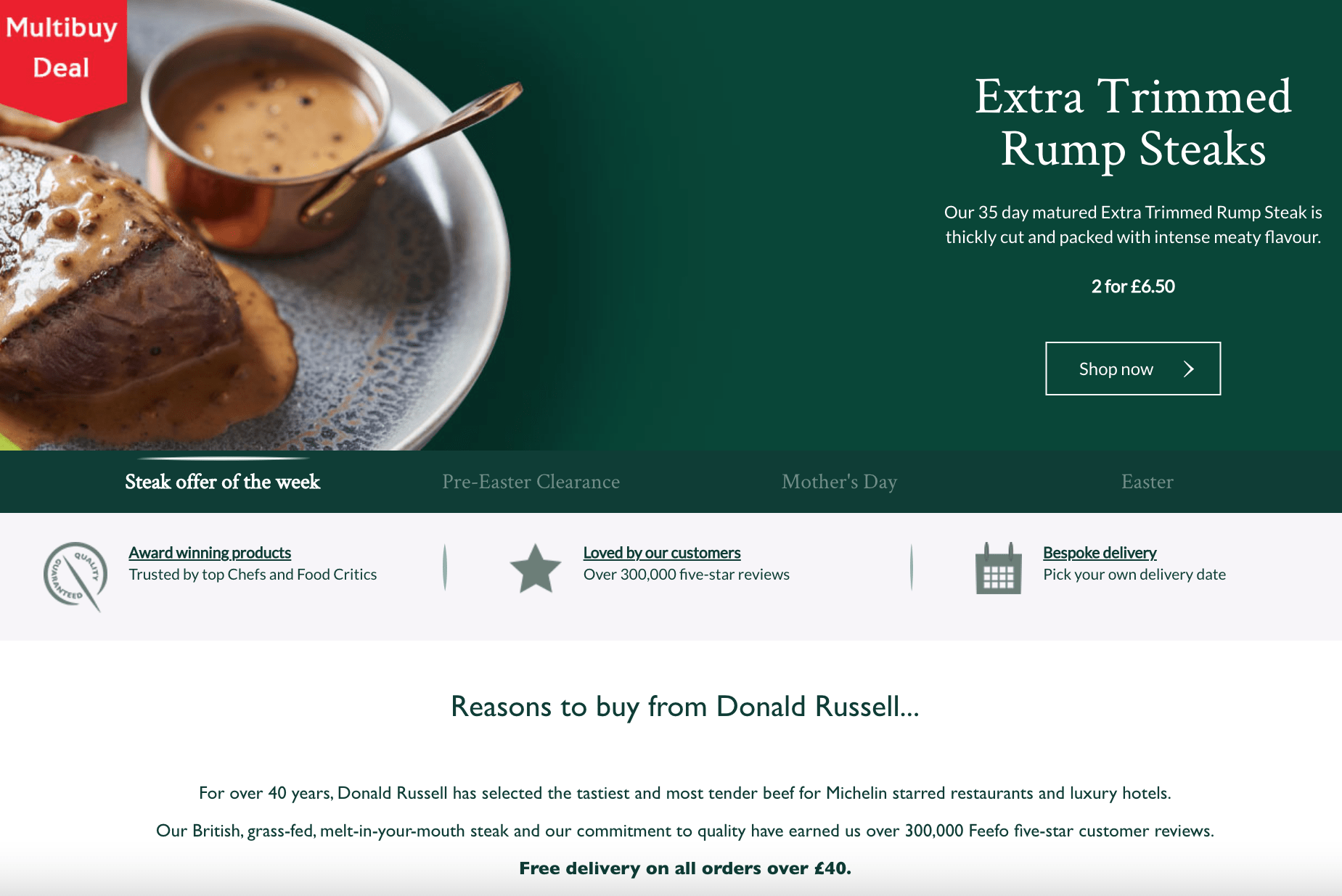 Social Media and Influencer Content
Today, 71% of consumers are more likely to purchase products and services based on social media content. Moreover, 89% of professional marketers say ROI from influencer content is comparable to or better than other marketing channels.
In fact, our BigCommerce merchant Jeni's Splendid Ice Creams is now a household name for frozen desserts due to their creative use of influencers and social media.
First, they create special ice cream flavors named for celebrities like Tyler the Creator and United States President, Joe Biden. Then, after releasing these new products, Jeni's promotes fun and engaging social media content to spread the word. Each time, the new flavor sells out extremely quickly.
In 2021, social commerce will continue to evolve and become a core outlet for content commerce strategy. Our partner MuteSix, a marketing agency helping DTC brands create breakthrough content, predicts that social commerce video strategies will be crucial to building customer relationships that drive sales.
"Live video and ecommerce will continue to merge with the rise of technologies like Amazon Live, TikTok, Shoppable Instagram Live. It's more important than ever to have a video strategy by platform. Engaging video content grows businesses and sells products. It looks extremely native and doesn't feel like an ad, so customers are highly engaged. We see this being the major differentiator in 2021 and beyond."

Josh Henry-Hicks, VP Paid Social, MuteSix
How Content in Checkout Drives Conversions and Reduces Cart Abandonment
At checkout is where the line between content and commerce completely disappears, and every piece of information should be focused on facilitating and influencing a purchase decision. Accurate and detailed shipping and delivery information is the most compelling and desirable content to include in the checkout experience.
When it comes to online shopping, the delivery date is the moment of truth before purchase. Our 2020 consumer study shows that 82% of customers prefer to shop with brands that show actual delivery dates, and 45% would even pay more for this information.
Another main cause of cart abandonment is the lack of satisfactory delivery options. So, be sure to tailor the pre-checkout shipping experience to each customer by showing only the most relevant and convenient delivery options for every scenario.
How ShipperHQ Helps
ShipperHQ's Shipping Rules gives merchants full control over the shipping options and rates they show in their cart based on geographic zones, shipping groups, products, and more. With these rules, they can easily discount or surcharge live or custom rates and run promotional pricing.
Plus, the Delivery Date & Time feature allows merchants to provide delivery dates for all shipping options. Depending on the ecommerce platform, it even allows customers to choose their own delivery date and time from a calendar during checkout. The displayed delivery information will account for cutoff times, lead time, the maximum time in transit, based on the products being purchased, carriers used, and location of fulfillment centers.
Here's what these features look like from the customer's perspective: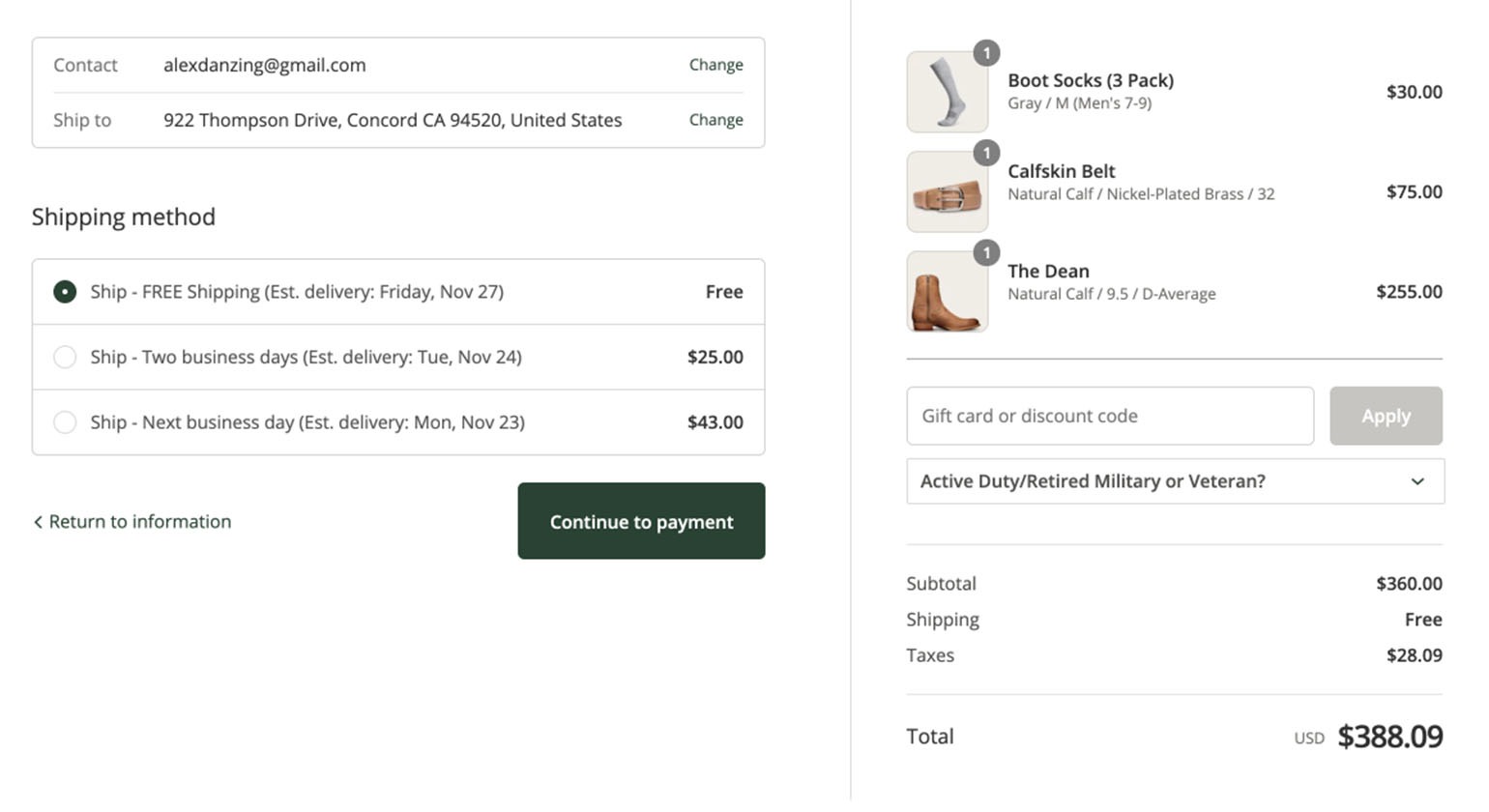 For merchants wanting to take content commerce to the next level, ShipperHQ's upgraded Enhanced Checkout for Magento 2 creates an Amazon-like checkout experience that includes time-slot delivery, a calendar date selector, split-shipping capabilities, and a robust order view. This means greater flexibility and control that allows customers to choose their preferred delivery options for each individual shipment. Additionally, the enhanced order view provides the most important order content, including packing specifications, shipping rates and methods, and the dispatch date.
Here's what this next level checkout content looks like from the customer's perspective: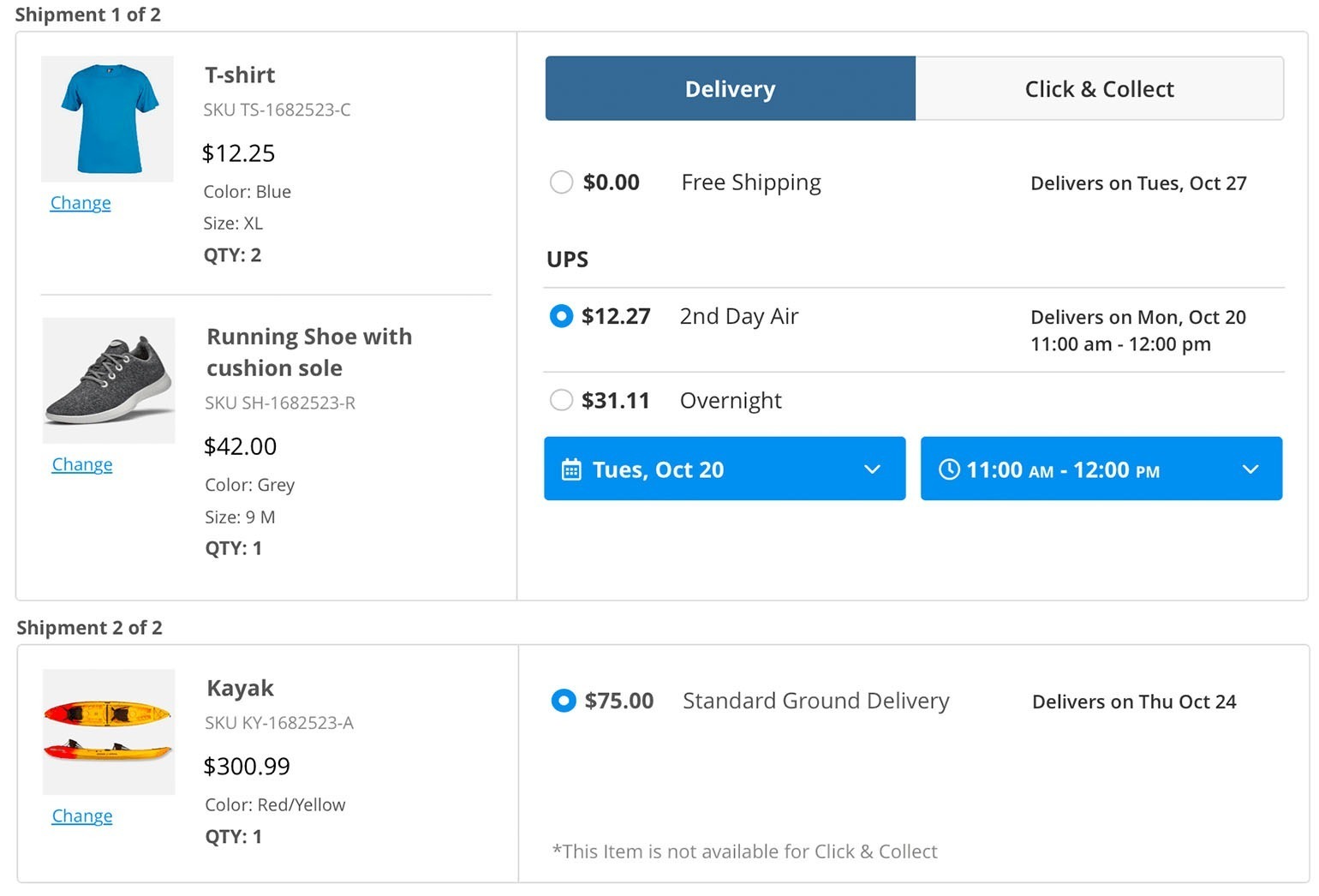 Ready to master the intersection of content and commerce in your checkout? Get ShipperHQ's free trial to see how you can influence a purchasing decision with detailed shipping and delivery information.