While it's a wrap on Adobe Summit, the learnings are far from over. In case you missed it, we've got you covered with all the latest updates on Adobe Commerce and digital trends.
From Magento to Adobe Commerce
One of the most exciting topics at Adobe Summit this year was the announcement of Adobe Commerce. It has been almost 3 years since Adobe acquired Magento Commerce. Since then, the product roadmap has accelerated significantly with Adobe and Magento teams integrating as one, and unifying the two brands under one name is the next phase of becoming fully integrated. As such, the Adobe team has officially announced the consolidation of Magento Commerce and Adobe Commerce Cloud into just Adobe Commerce.
It is important to note that, despite this change, Magento Open Source branding and support will not be changed, as the Adobe team will continue to support the Magento Association and their efforts to empower the collaboration of the global Magento community.
Adobe Summit Key Takeaways
The New Commerce Imperative
According to stats shared by Jason Woosley, VP of Commerce at Adobe, there were more than 50 days in 2020 during which online spending surpassed $2 billion. Now, 70 – 80% of consumers prefer digital buying experiences over in-person experiences. This means businesses have had to quickly and dramatically shift their focus, especially with 85% of brands adopting digital commerce in the last year. With all that said, here are the New Imperatives for Commerce Success, as told by the Adobe team:
Be more agile in reaching new buyers
Open new channels for selling
Enable new buyer journeys across industries
Quickly bring new international markets online
Adobe Commerce Roadmap: Headless Is Not Just a Buzzword Anymore
In light of the Magento and Adobe brands merging as one, Adobe Commerce announced its new vision at Summit:
In a future where customer experience is paramount, and all commerce is digital commerce, Adobe enables the world's best brands to deliver the world's best commerce experiences.
According to Sherrie Rohde, Developer Relations at Adobe, and Jonathan Roeder, Developer Experience at Adobe, 43% of developers in the ecosystem are speeding up deployments and 45% are working more during the pandemic than before. This has led to rapid digital transformation and accelerated roadmaps.
During the Commerce Roadmap session, Christian Hedge, Director of Product Management at Adobe Commerce, walked through how they were going to deliver on this vision. The 2021 roadmap is focused on delivering modern and extensible headless commerce to accelerate time and lower the total cost of ownership so merchants can build unique experiences that drive results.
Here are the 5 pillars of their product roadmap:
Superior Customer Experiences – Delivering rich and contextual shopping experiences that boost sales in every channel
Multi-Channel Commerce – Advanced capabilities that support a wide range of digital commerce models
Intelligent Commerce – Optimizing outcomes with intelligent processes, insights, and experiences
Extensible & Integrated Commerce – Efficiently deploy and maintain customized processes and integrations to solve unique challenges
Frictionless Platform and Infrastructure – Be able to rapidly innovate and grow with a highly scalable and secure platform
The 2021 Adobe Commerce patch schedule will include features like Visual AI, Live Search, Magento Cloud, and Magento Payments.
The Latest in Digital Transformation
The main purpose of Adobe Summit is to share the latest insights and success stories from experience makers around the world. In case you missed them, here are some of our favorites:
Upgraded Enhanced Checkout for Adobe Commerce
In lieu of the launch of Adobe Commerce and our selection as the Official Pre-purchase Shipping Solution, we announced our upgraded PWA-enabled Enhanced Checkout for Adobe Merchants.
The functionality of this solution helps merchants differentiate themselves from competitors with an optimized and streamlined pre-purchase experience. Adobe Commerce merchants that integrate with our out-of-the-box PWA-powered checkout experience can now gain access to innovative, customer-friendly capabilities including time-slot delivery, a calendar selector, and split shipping. Additional functionality includes robust order information like packing specifications, shipping rates and methods, and dispatch dates.
Our goal for Enhanced Checkout is to make it easier for merchants to take ecommerce giants like Amazon, Walmart, and Target head-on, without custom development time and funds required.


Karen Baker, CEO and Founder of ShipperHQ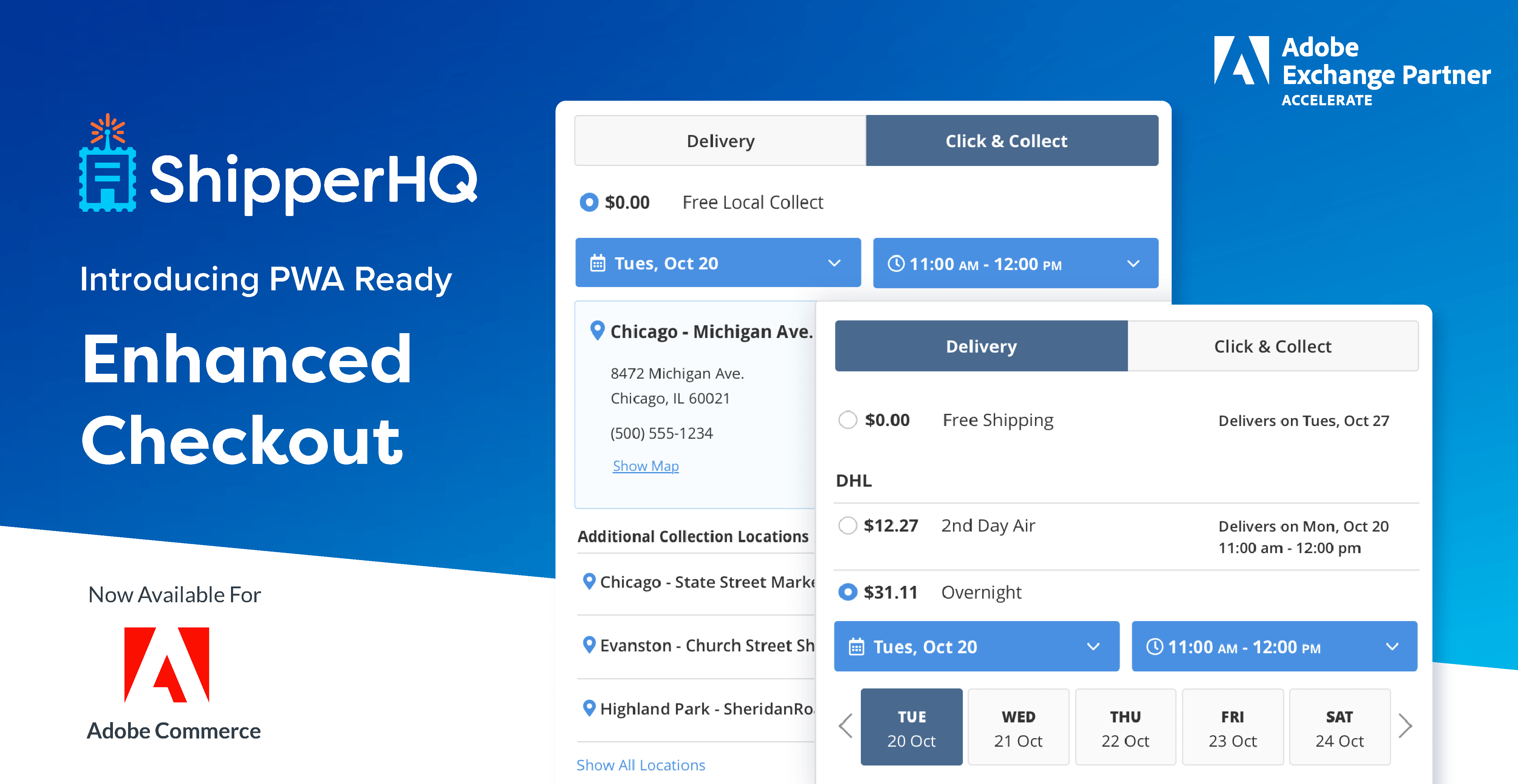 Adobe Summit Exclusive: Amazon Checkout Guide
Everyone's favorite word at #AdobeSummit2021 was Amazon. Ecommerce giants like Amazon have unlimited resources to create highly optimized checkout and shipping experiences for their shoppers. That's why consumer expectations for online shopping have skyrocketed and the Adobe Commerce Roadmap is so focused on enabling merchants to create higher-performing digital experiences. Additionally, many Summit sessions were focused on teaching digital experience makers how to create the seamless Amazon-like experiences consumers have come to expect.
As a Summit Showcase Sponsor and Adobe's Official Pre-purchase Shipping Solution, we've got it covered with our new Guide to Creating Your Own Amazon-Style Checkout. Ecommerce giants like Amazon have unlimited resources to create highly optimized checkout and shipping experiences for their shoppers. This guide will show merchants how they can replicate Amazon's checkout with limited time, resources, and funds.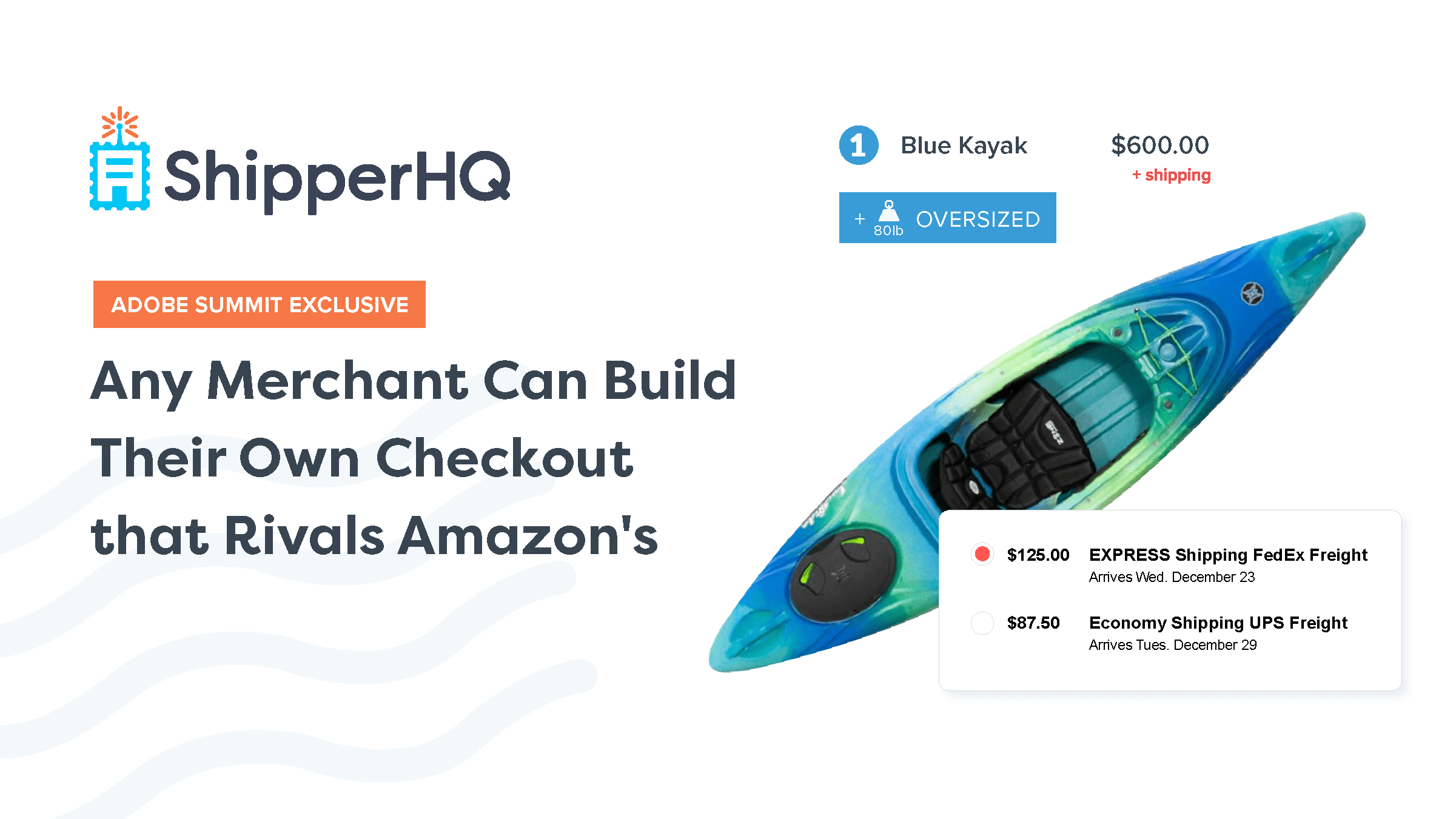 Adobe Summit Customer Success Story
During Adobe Summit, we also released our new customer success story featuring our merchant Marysville Marine Distributors. Marysville Marine actually has one B2B and one B2C ecommerce portal. With our help, they launched on Adobe Commerce with optimized checkout and pre-purchase shipping experiences for both of their sites.
Marysville Marine's new checkout allows them to save time on shipping inquiries while providing accurate rates, more delivery options, and improved customer experience for each buying scenario.
The combination of Adobe Commerce and ShipperHQ features have allowed us to operate more efficiently behind the scenes and provide a more transparent and streamlined experience for our customers, leading to 50-100% higher conversion rates and improved customer satisfaction.


Ryan VanHoozer, VP of Operations at Marysville Marine
Ready to apply your learnings from Adobe Summit and get started with your own streamlined Amazon-like checkout experience? Try our #1 shipping experience management platform for free for 15 days!