With B2B and B2C offerings, Marysville Marine had a complex shipping challenge on their hands. In an effort to lessen the manual work surrounding fulfillment, the brand integrated with ShipperHQ. Conversions jumped, customers loved it, and shipping rates became more accurate. Keep reading to see how.
Marysville Marine is a wholesale distributor of marine engine parts, fuel components, plumbing, steering, controls, electrical equipment, oil and more. For more than 30 years, the brand has been driven by its mission to provide quality products with the best customer service in the marine industry.
The brand operates two separate ecommerce entities. It has a B2B presence as Marysville Marine, and a B2C entity as Marine Parts Source. The company sets itself apart with its staff of highly technically experienced experts. They're on call to help customers with every part and every order. Customers trust the staff to answer a huge variety of questions about their equipment, parts, and orders.
The Fulfillment Challenge
In the days before ShipperHQ, shipping for Marysville Marine was heavily manual. The shipping logic they had in place simply couldn't handle the complexity the company needed from it. Often, they'd have to call customers after an order was placed and manually adjust the shipping rate they'd been charged. This, of course, created an unpleasant customer experience. Shipping rules were difficult to manage and if the company wanted to offer promotions on shipping, they had to code them manually.
"Before using ShipperHQ, they had a very basic shipping solution in place. Shipping rates were not always accurate, and they were not able to implement a lot of the special instructions and rules that were needed for certain products. They also were not able to offer certain regional shipping methods or delivery options," said Raja A, Business Analyst at partner agency, DCKAP.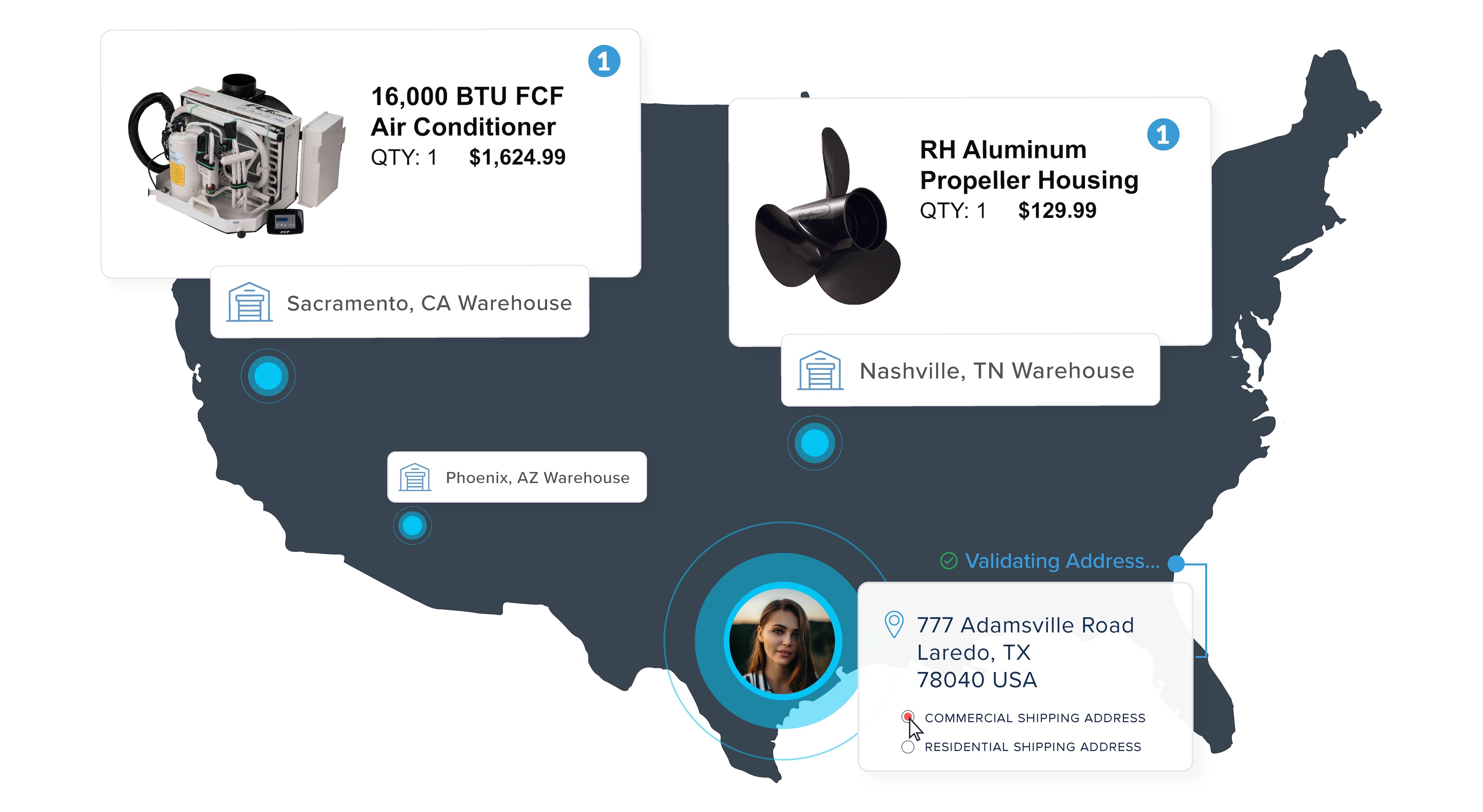 Like many industrial retailers, the company had complex shipping requirements, which arose in part from having five different fulfillment locations. Each location houses thousands of different parts of varying sizes, weights and dimensions. The fulfillment centers also offer local pickup and limited local delivery. On top of having multiple locations, the company's product catalog contains a huge collection of parts of varying sizes. This meant that calculating accurate shipping rates was even more crucial.
Rather than continuing with its slow, manual, and inaccurate shipping processes, Marysville Marine wanted to overhaul its shipping solution. They set a goal to give customers an easy website experience that automated shipping from the closest fulfillment center, minimized costs, and ensured orders shipped in as few packages as possible. Additionally, they wanted to offer a free shipping threshold that could exclude certain items. With the old setup, these goals were out of reach, or at the very least – a lot of manual coding hours away.
With so many moving parts, the company needed a solution that would automate the complicated details, without complicating their customer journey. That's when they found ShipperHQ.
The New Way to Ship
After integrating with ShipperHQ, the company is able to automatically manage multiple shipping locations and multiple carriers, a change that's been instrumental in the brand's continuing success.
Being able to create custom Shipping Rules has helped the company to improve usability, which has helped drive conversion rates up 50-100%, with rates fluctuating with the seasons. Address Validation has helped fight fraud attempts and reduced address correction fees and unexpected delivery costs. 
"The combination of Magento and ShipperHQ features have allowed us to operate more efficiently behind the scenes and provide a more transparent and streamlined experience for our customers, leading to higher conversion rates and improved customer satisfaction," said Ryan VanHoozer, Vice-President of Operations.

The biggest improvement was a reduction in the manual work around shipping processes. With the new system in place, there's no need for manual quoting or coding of promotions. They never need to call customers to change shipping charges after a sale. ShipperHQ has also allowed the company to more easily work with multiple carriers, including LTL freight companies, which can now provide real-time quotes as well.
Features Used:
Shipping Rules – Marysville Marine created a robust set of custom rules to tailor which shipping options customers see at checkout. These rules allow for live rates based on Dimensional Weight, providing fast and accurate shipping rates. 
Address Validation – By verifying addresses and address types, the company has reduced unexpected residential delivery fees and cut down on fraud attempts.
Multi-Origin Shipping – What was previously a headache that needed to be manually managed has become automated. The company now uses the automated Multi-Origin Shipping tool to determine what products ship from where. Plus, they can create custom shipping rates based on origin and destination. 
"It was really important to us to have a shipping solution that had a lot of flexibility and a lot of customization to fit our complex shipping needs. With ShipperHQ, all of the features we needed worked for us very seamlessly," Ryan says.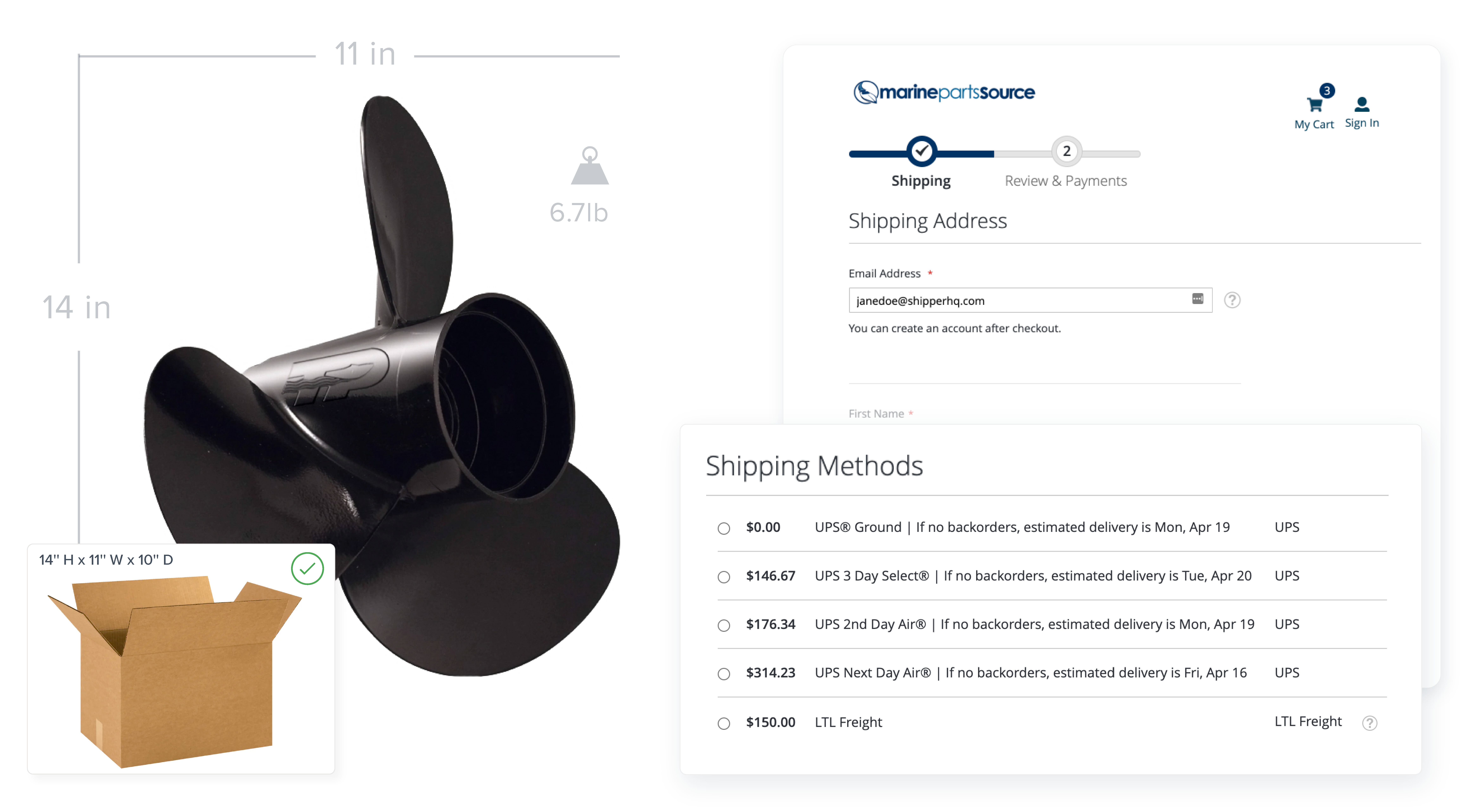 The ShipperHQ Switch
Choosing a shipping management platform was easy for the team at Marysville Marine. With a recommendation from ShipperHQ partner, experts in B2B Digital Commerce Solutions & Technology DCKAP, the company knew that ShipperHQ was a good fit. The platform's Shipping Rules and Muti-Origin Shipping tools were just the ticket to smooth out shipping.

"DCKAP is proud to be partnered with ShipperHQ, which has proven to benefit our business tremendously. With the variety of settings, rules and features that they offer, we can truly customize the service to our needs that will help to ensure a successful customer experience," said Raja.

The tool quickly solved many of the issues the company was facing at checkout, in turn, giving the team the time it needed to focus on improving their customer experience.

"It's been a very positive experience working with the ShipperHQ team. They solved a lot of problems for us and most importantly automated so many processes. The responsiveness of the developers and the customer support team is amazing. They can always get an answer within a few minutes, which hasn't been the norm out there for most solutions."
---
Looking for a shipping solution that'll save you time?