Have you ever had to go to more than one grocery store to get the exact items you need? It's not the most efficient way to handle your grocery run, right? What if instead, you had a system where you could automatically pull all the products you need from multiple locations and had one, single grocery trip?
Now imagine you could do that with your online retail store — that's a game-changer, right? This kind of fulfillment process is known as Multi-Origin shipping. Here at ShipperHQ, this feature enables you to create business and shipping logic to support complicated fulfillment needs across multiple warehouse locations.
What Does Multi-Origin Shipping Mean?
Let's start by breaking down the term itself, shall we? In short, multi-origin shipping means fulfilling shipments from more than one location. That being said, having a multi-origin shipping strategy is essential for customers who have multiple fulfillment centers, warehouses, or dropshipping vendors.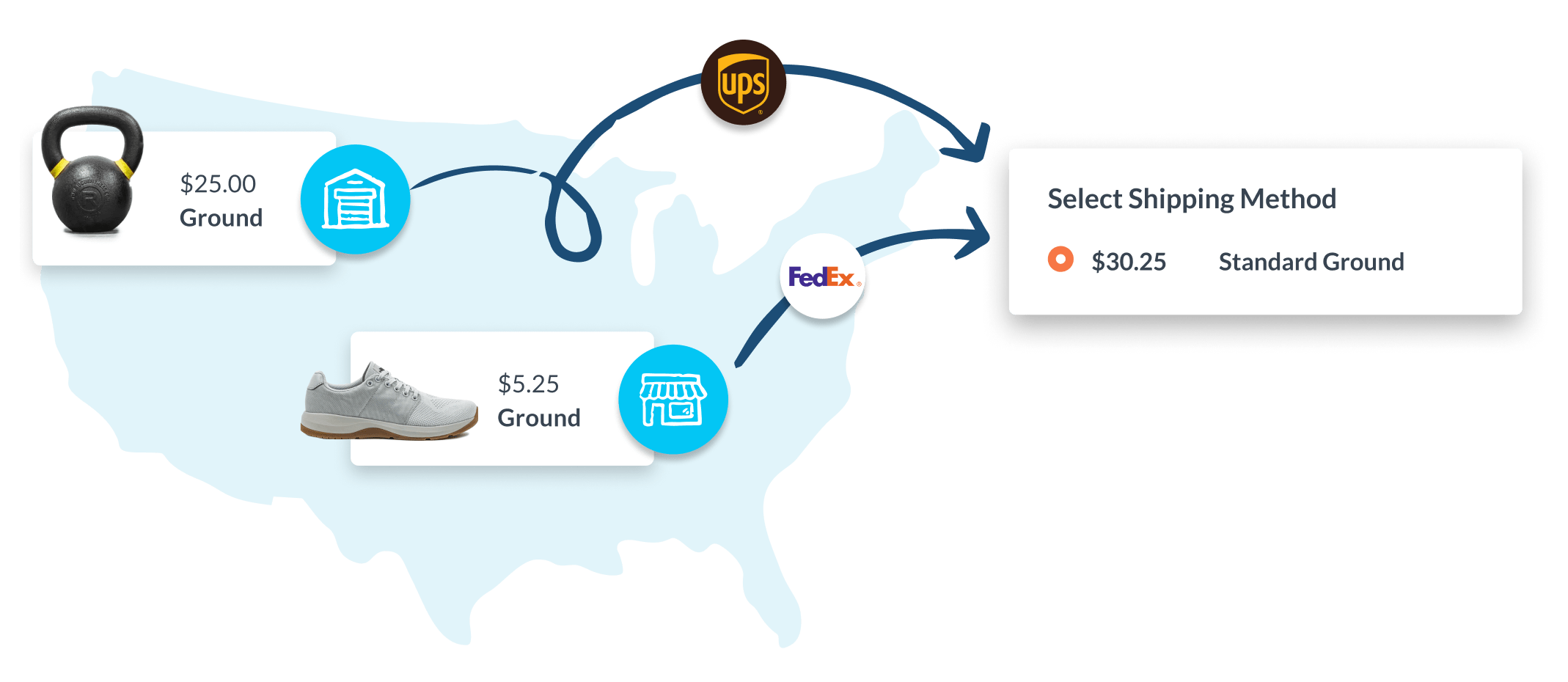 Generally, it's more efficient for you to organize shipments from the warehouse or location that is closest to the customer. However, there are a few different scenarios where other options may make better sense for more accurate shipping rates, stronger delivery date and time transparency, and smarter shipping strategies. We love to give you options!
Multi-origin shipping also refers to companies who use third-party vendors for dropshipping — meaning you receive an order from a customer, then you purchase it from a third party who sends the order directly to your customer. Either way, this feature can adapt to your specific fulfillment needs!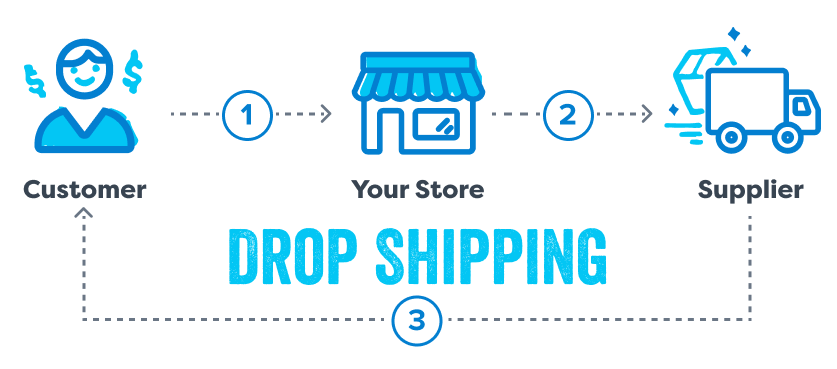 What Does This Look Like With ShipperHQ?
Happy you asked! ShipperHQ takes your inventory information and specific fulfillment needs and automatically determines the most effective way to ship your orders from multiple locations. In other words, it works in ShipperHQ like this:
Enter in your origin information and where products are located (AKA warehouse or vendor location).
Configure your shipping methods and carriers (set your rules!).
Then, with every order, ShipperHQ takes the origin information and automatically determines which origin to use for fulfillment.
ShipperHQ will then display the rates and methods in a fashion that fits with your business logic.
Your customer gets the most accurate rate for the most efficient shipping options, right in their checkout!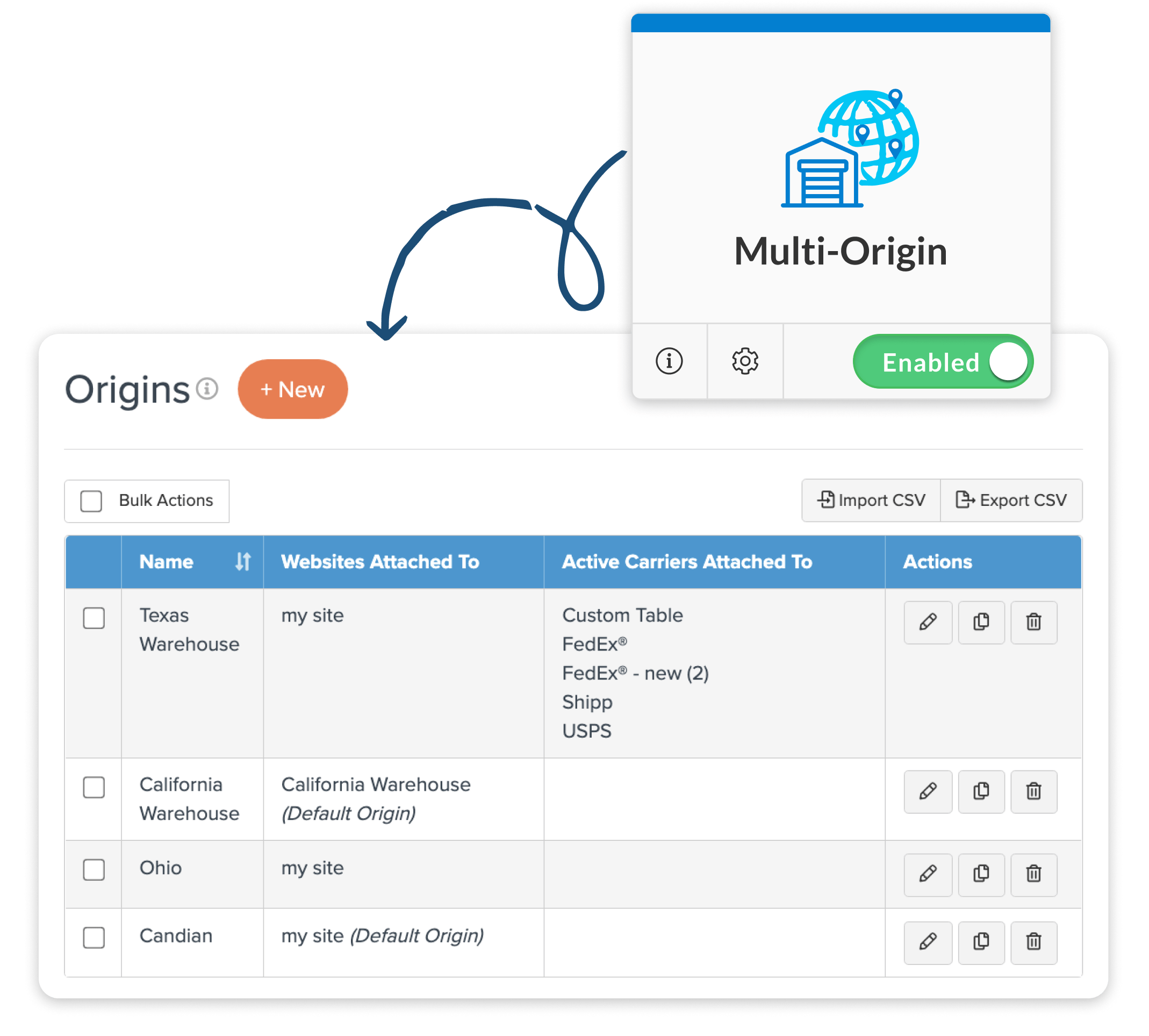 Pretty cool, right? Let's get a little more into what these rules or preferences look like on your end!
Which Shipping Scenarios Does This Support?
Once you enable this feature, you can set your specific rules to configure the best way to implement multi-origin shipping. It really all comes down to your current fulfillment operations process and distribution setup.
Here are the fulfillment options you can set up with multi-origin shipping:
Ship from the fewest number of origins
Ship from the origin closest to the customer
Ship from the origin based on Zone Restrictions
How should you make the decision? While we know everyone has their own preferences, here is our suggestion on how to determine the best solution for your business:
Shipping Orders From the Fewest Origins
If you have multiple products coming from one warehouse, but one of the products is also available at a warehouse closer to the customer, the order will only use the warehouse that houses multiple products.
This option is typically less expensive to ship for the merchant since it means fewer shipments. However, it tends to cause slower delivery times since shipments could come from a location further away from the customer.
Shipping Orders From the Nearest Origin
Merchants generally use this option if they have multiple warehouses and want to ship items from the nearest origin to the customer — even if a further warehouse has more than one of the items.
This option typically results in faster shipping to the customer but may include multiple packages and an increase in cost to the merchant.
Tell Me What Else I Can Do With This!
Love your energy! Here are a few more options for setting up your own unique multi-origin shipping strategy:
Assign different carriers for each shipping location (e.g., we only want to ship UPS out of the Ohio warehouse and FedEx out of the California center).
Specify service areas based on origin location (e.g., we only want to send all Midwest orders from the Ohio warehouse).
Establish surcharges, discounts, or restrict shipping methods based on the location of a warehouse (e.g., we don't want to offer UPS Ground shipping out of our Alaska warehouse).
Set a product's shipping availability from one or certain locations (e.g., we only want to ship our flip flops out of the California origin center). This is also helpful if you are using a dropship supplier!
Keep the shipping complexities behind the scenes (e.g., we only want the customer to see their shipping rate and carrier). They don't need to see how the sausage is made!
Along with these rules, ShipperHQ also supports more advanced configurations to leverage multi-origin shipping. Let's chat about them real quick!
Zone Restriction
You can determine that one of your warehouses ships internationally and domestically while another one only ships domestically. For example, let's say a merchant has two warehouses in different countries — one in Canada and one in the US. The merchant would want to set a zone restriction so a US customer won't get a shipment from across the border, even if they technically live closer to the Canadian warehouse. We don't want to add unnecessary tax and duties implications to anyone's order!
Shipping Groups
You can establish certain rules regarding specific products and how they are shipped with other parts of a customer's order. For example, you can determine that specific pre-packaged or bulky products can't be combined with another shipment (like never ship ice cream with electronic items!).
Customer Success Story
Speaking of ice cream! Jeni's Ice Cream is known for providing customers with delicious, sweet treats right to their door. Of course, shipping efficiency is HUGE for them, since they are selling a product that…well, has very specific needs (in other words, no one wants a melted package waiting for them at home).
Once they started working with ShipperHQ, they were able to streamline and automate their fulfillment system for a smoother process. However, Mother Nature decided to add another wrench into their shipment plans. Their key fulfillment centers are located in California and when the state suffered from disruptive and dangerous landslides, they saw a new challenge crop up — they couldn't get shipments out of one of those fulfillment centers!
"If that had happened before we used ShipperHQ, we would have had to shut down our entire eCommerce business until the roads reopened. We don't have any developers on the team, but with ShipperHQ it was as easy as changing some settings, and we were able to keep our business up and running." – Chelsea Clements, former Director of Ecommerce at Jeni's.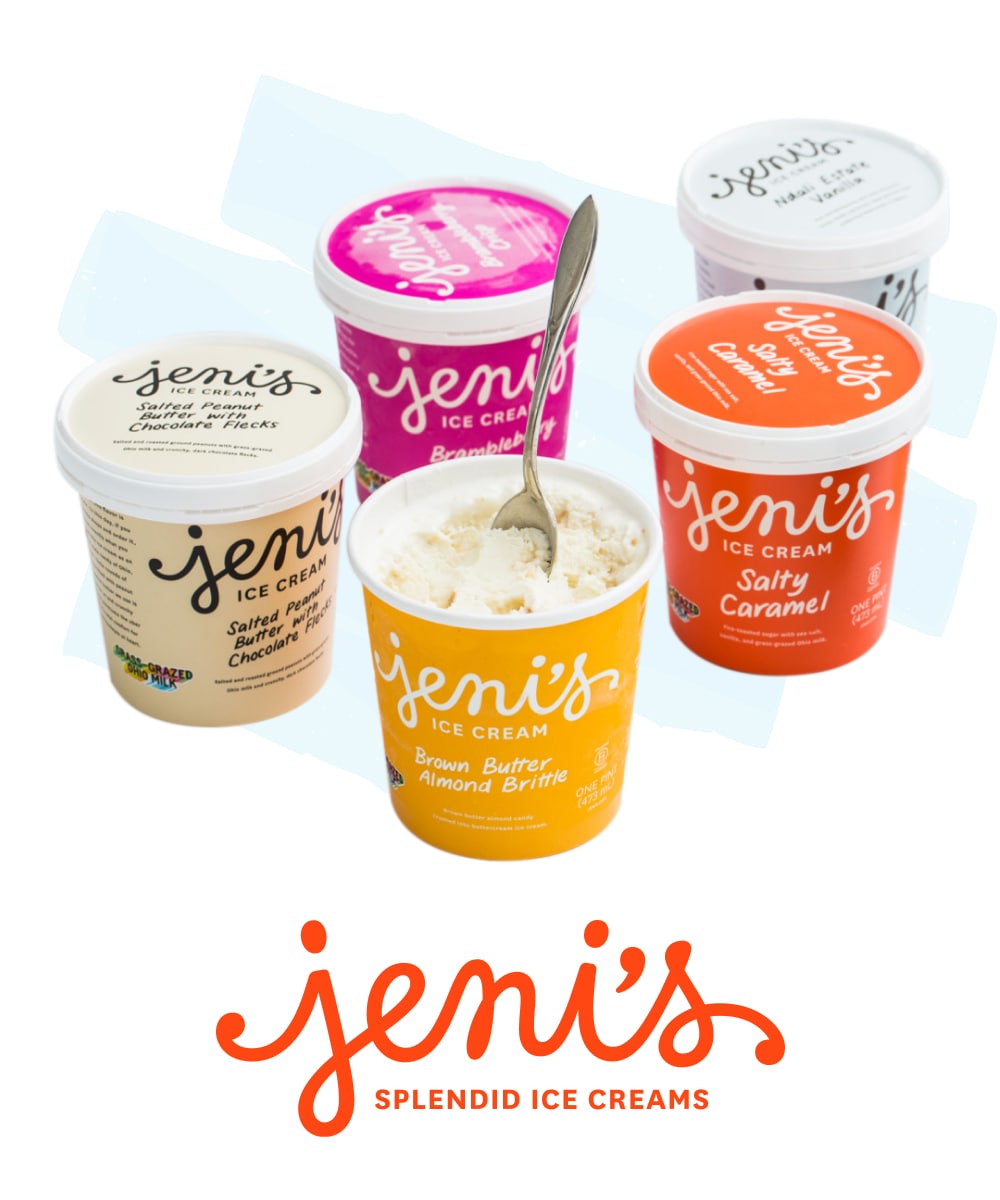 Since we had already helped Jeni's set up a multi-origin warehouse shipment strategy, they were miles ahead when this disaster came calling — and they didn't skip a beat when it came to getting their customers the products they ordered.
Why Multi-Origin Shipping is Important to Our Merchants
This is the information you really want to know — let's chat all about benefits for you and your business (and maybe your stress levels?):
It ensures that merchants are appropriately charging for the shipment of items coming from multiple destinations.
We always love this money-saving benefit! If you are currently shipping from multiple warehouses and not correctly accounting for the costs (as in, what you are charging your customers for shipping), then those inaccuracies are going to cut into your bottom line and overall profits. By implementing multi-origin logic, you can automatically charge the accurate shipping rate for your customers, based on your previously-set fulfillment rules.
It allows merchants to create business and shipping logic to support complicated fulfillment needs.
Another fan favorite since who doesn't love simplifying operations? Multi-origin means you can oversee multiple warehouses without the manual hassle — it's all done automatically based on your settings. This feature enables you to have more control over how you ship, including choosing specific carriers for each warehouse.
Plus, you can always change your shipping settings easily, which means you don't have to worry about disrupting your entire operation process for every adjustment. This is especially handy when you're growing and need to add more fulfillment centers, which leads us to…
It helps with scaling your business!
If you want to scale your business in the future, then you definitely need to ensure your fulfillment operations are smooth as silk now. Anyone who is currently handling a manual, multiple location fulfillment situation will probably tell you that it's not sustainable for growth — and it's obvious why! It takes (lots of) time, money, and attention away from actually growing your business.
With multi-origin, you can set up your fulfillment operations for success now and then grow your business with the strong strategy already in place.
Are you ready to put an end to the headaches caused by trying to manually oversee shipping from multiple warehouses? Sign up for a free 15-day trial with ShipperHQ and see how our multi-origin shipping can save you time and money — all while simplifying your fulfillment process!