Here's how Jeni's Splendid Ice Creams overcame inclement weather to ship their delicious ice cream pints to customers across the United States.
When you're shipping ice cream, you have very specific needs. These temperature-sensitive, perishable items require extra care and attention, otherwise, customer's will receive a melted, soupy mess instead.
This is especially true for Columbus, Ohio-based Jeni's Splendid Ice Creams.
Jeni's is more than just a trendsetting purveyor of artisanal ice cream. They're a brand people love.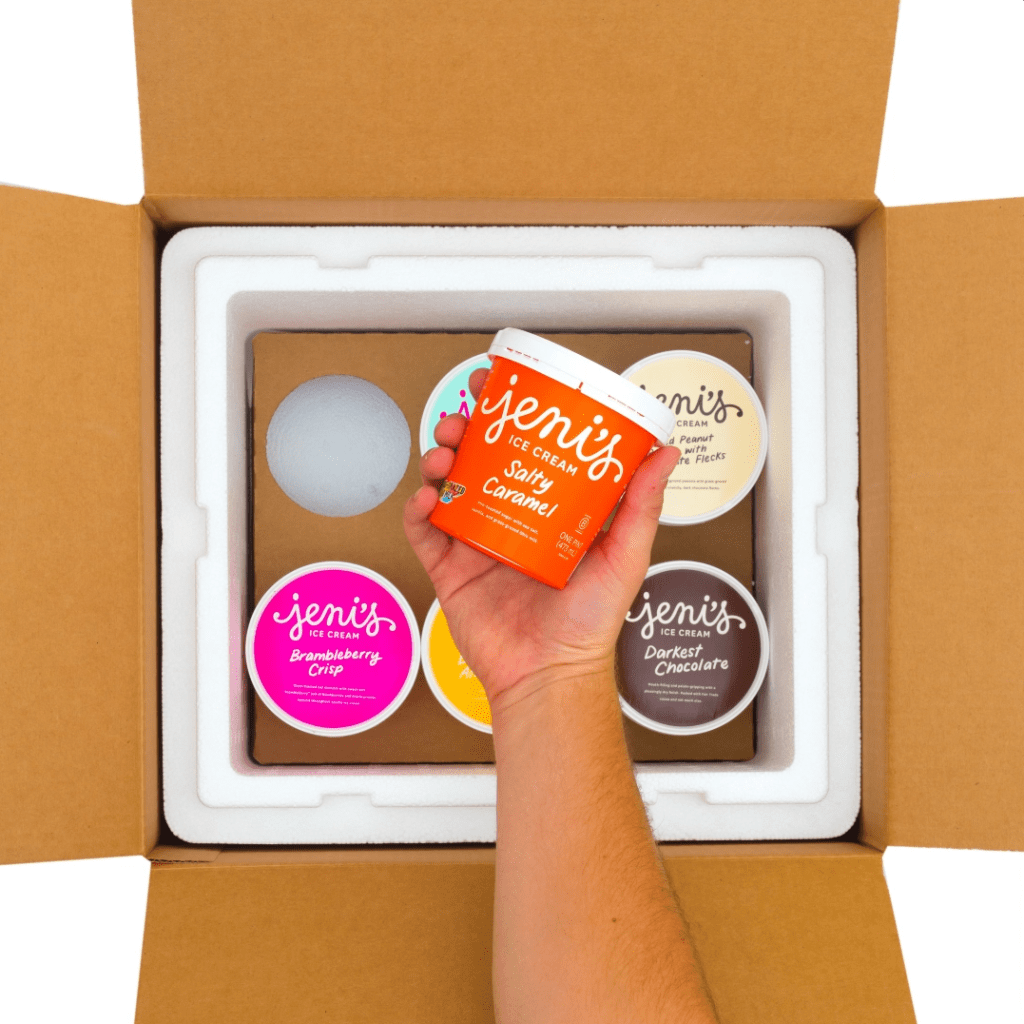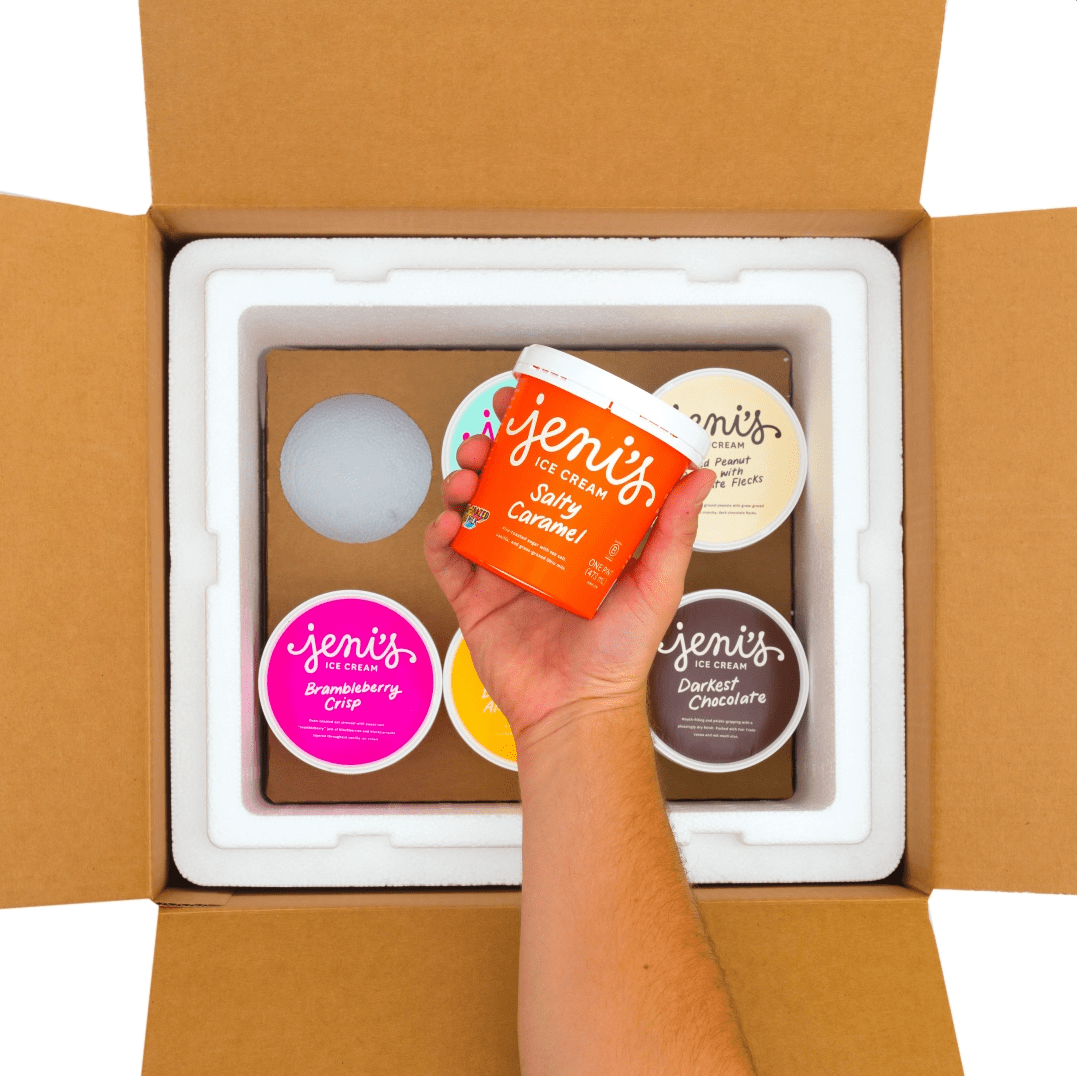 "People go on first dates at Jeni's Scoop Shops, people get proposed to, and have their weddings with us," said Chelsea Clements, former Director of Ecommerce at Jeni's.
"Our customers send our ice cream for Mother's Day, bereavement gifts and anniversary gifts. We are a part of people's lives."
Jeni's wants to create a delightful experience, no matter where a customer is enjoying their product.
Whether in one of their Jeni's Scoop Shops or opening up a signature Jeni's orange delivery box at home, a customer should always have a memorable experience.
To grow their eCommerce business, Jeni's needed a partner that could help them ship ice cream effectively and retrieve rates from multiple fulfillment locations.
In the early days of Jeni's, the ecommerce team fulfilled out of one shipping origin. However, as the brand quickly became a household name and scoop shops popped up all across the country, shipping from one place was unsustainable.
Shipping ice cream across the country requires special planning. Unwanted temperature changes are always possible, meaning the risk of pints melting during transit could become a real serious issue if they didn't find a solution.
Jeni's eventually opened up more than one fulfillment location to service customers more effectively. However, to keep their online business and cold storage supply chain going, they needed a way to automatically pull and manage shipping rates from multiple warehouse fulfillment locations.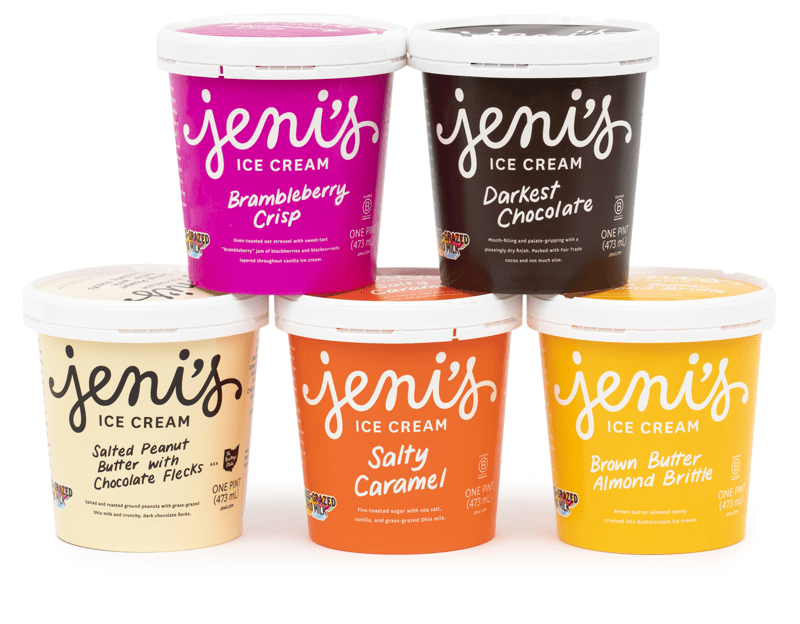 ShipperHQ isn't just an add-on or 3rd party integration piece to us. They're a partner

Chelsea Clements, Former eCommerce Director at Jeni's Splendid Ice Creams
"ShipperHQ helped us enable multi-warehouse fulfillment logic for our BigCommerce store, which grew the business. This especially came in handy during a time of crisis when landslides in California prevented us from getting shipments out of one of our fulfillment centers."
Because the Jeni's team does not have developers of their own, a natural disaster like this would have caused a shut down of their entire ecommerce business until roads re-opened. Thanks to ShipperHQ, this didn't have to happen and they could continue shipping ice cream.
"With ShipperHQ, it was as easy as changing some settings for us to fulfill orders out of our other warehouse. By doing this, we were able to keep our business up and running as this situation unfolded."
Relying on ShipperHQ to calculate delivery dates has saved the frozen food ecommerce company 131 hours per year.
ShipperHQ also partnered with Jeni's to enhance their customers' ecommerce experience in other ways, like setting shipping cut-off times, and automating flat rate shipping and real-time FedEx Priority overnight delivery.
"They also helped us with things like delivery dates, which is especially important for shipping ice cream. Customers send Jeni's as gifts. The last thing they want is for a loved one to receive a melted box of ice cream. Or an order a few days after a holiday or birthday."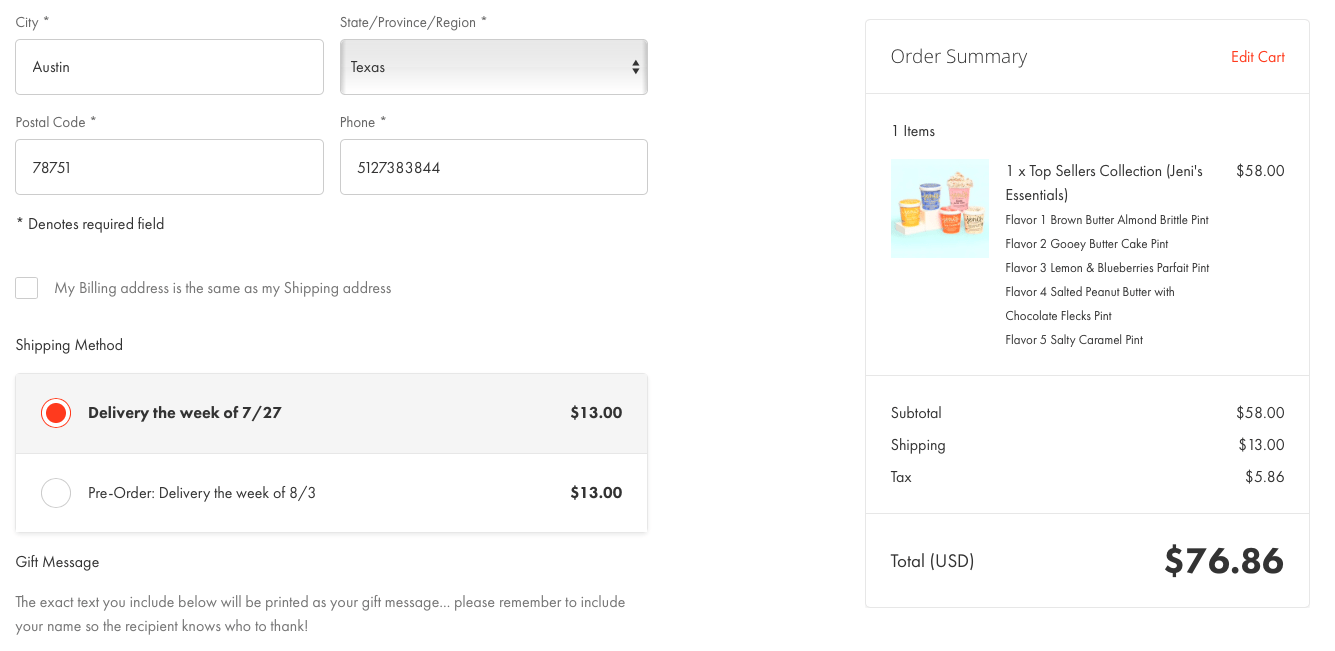 Clements added, "They're very knowledgeable in all aspects of ecommerce. And they've been great with helping us with our tech stack, giving us advice and honest feedback about things we could try or avoid. ShipperHQ isn't just an add-on or 3rd party integration piece to us. They're a partner."
---
3 Essential Tips for Shipping Ice Cream in 2021
🍦
Invest in

Insulated

Packaging – Packaging for ice cream needs to be thermally insulated and equipped with refrigerants. This ensures that the temperature for an item remains at 32°F or colder. One option to consider is expanded polystyrene foam (EPS), which is both cheap and lightweight.
Utilize Dry Ice – Because it's less bulky and heavy, dry ice is a go-to option for many merchants looking to keep frozen food fresh. However, since it's considered a hazardous product, there are restrictions involved. You must follow proper safety precautions and use a two-inch thick, sturdy EPS container and place it inside a corrugated cardboard box. Plus, make sure your package is not airtight.
Set Maximum Transit Time for 30 Hours – By minimizing the travel time for a package, you will reduce dry ice requirements and the risk of unsaleable products. The ideal way to do this is by parenting with a expedited or next-day delivery service. Additionally, be mindful of weekend or holiday delivery delays when choosing a carrier.
---
Want to Tailor Your Shipping to the Way you Do Business?
Sign up for a 30-day no-risk free trial of our shipping software, available on BigCommerce and other major ecommerce platforms.