Last week a somewhat subtle email went out by UPS that has I believe quite large ramifications in the eCommerce technology space and will impact a lot of App Providers and Platforms in a few days (June 5th).
What is the Change?
Traditionally most logistics carriers rely on a combination of API key and password/user id in order to access what we refer to as live dynamic rates. The below pic is an example from Adobe Commerce.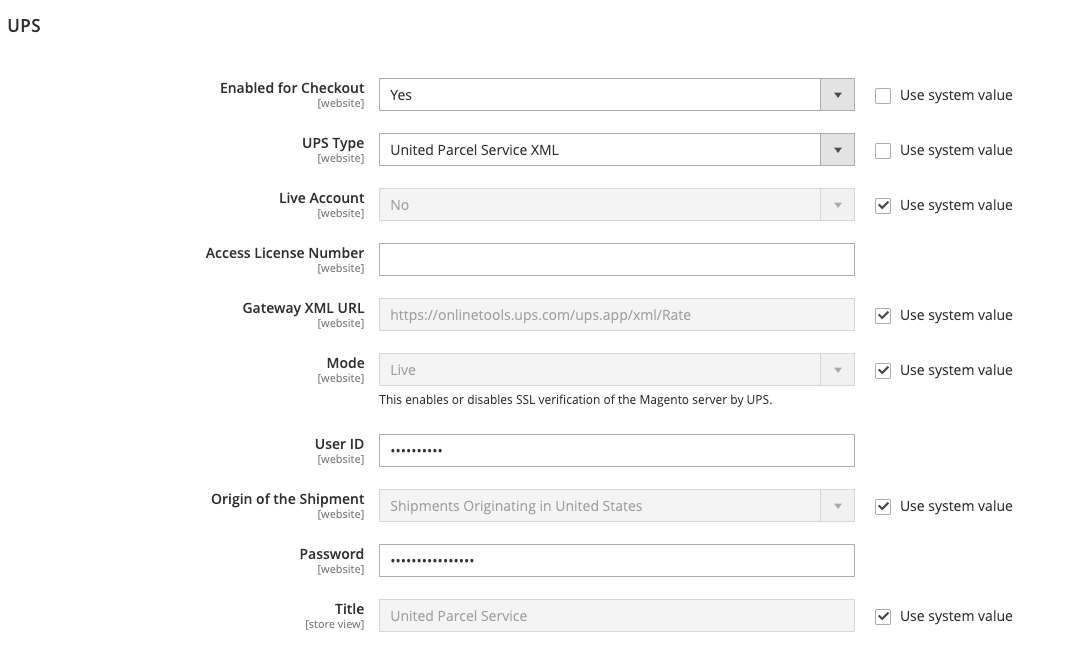 You can see here need to enter Access License Number, user id and password. You get this from the UPS Developer Portal. From our research most apps work using these 'keys'.
On June 5th UPS will stop issuing new Access License Numbers (XML keys) straight from the portal.
The Impact?
Most Apps in the eCommerce marketplaces will no longer be able to show UPS Rates, until they shift over to the new oAuth API (which is no small change). Therefore the only way they can onboard customers is if the merchant has a key already or if they re-use a key (which is not allowed).
This impacts much deeper though. From what we can see both Adobe Commerce and Woo Commerce base implementations will no longer be able to serve UPS dynamic rates for merchants. We believe Salesforce Commerce Cloud is also impacted.
This problem also extends to the label side, tho we expect no impact here as label providers have to get UPS certification to be enabled.
Who Can we Use?
ShipperHQ many years ago (back in 2014) formed a relationship with UPS and became a UPS Ready Partner, in fact we were the first to be so with an open source extension (UPS Access Point on Magento). We use the registration service and as such are not impacted.
BigCommerce and Shopify also are unaffected.
The Wider Ramifications
Those of you that know me will know I'm a fan of innovation and change. But I'm also from an Enterprise background and I understand the need for regulation and diligence. Security matters, reputation matters. UPS is indicating here I believe a longer term view of them seeking to understand and regulate who is using their technology, and I believe thats less about them trying to stop the innovation and more about them seeing that its about responsible innovation.
That I celebrate. Many years ago when I first started working in this space I saw a number of merchants go bankrupt due to bad code. To write good software that runs in critical spaces like the checkout takes time/money and diligence. What people most want is to trust what is out there. I believe that this is the start of a larger clean up by the underlying technology owners to get to a more responsible place for all. We saw what happened with bitcoin, we see the possibilities of AI, we need companies to help us regulate and I believe UPS is well positioned to lead the charge.
Your Options as Merchants
We all make decisions on the software we use. I'm not a sales person, I'm an engineer. As the wife of a merchant tho I'm saying from experience just make sure you are aware of the software you are putting on your site, and also where stuff like your data is going. When you buy cheap the classic statement 'you get what you pay for' is often true. At ShipperHQ we run a complex set of systems to keep your service running with an incredibly high SLA. On top of that we are Premier Partners with UPS (amongst others), just 1 of 5 companies in the world with such a status. That speaks to our reputation, and our diligence. We are proud to be a US based company (keep Austin weird!!), along with having key presence in UK, EU and Australia. We understand global, but we also protect local.
We're extending an offer to all merchants who sign up before the end of June to get 3 months off any annual plan. Just send us an email and quote the promo code (3MONTHUPS) to get this deal. We also have consultants available to answer any questions or concerns you may have around these changes. To be clear – ShipperHQ is not impacted. We are also offering a new 15 day trial to anyone who has tried us before, just sign in and reach out if need that extension.
Platforms / UPS Reps / Agencies
Woo/Adobe users — give us a shout, happy to discuss your options 😉
UPS Reps — if you need any assistance, please email in and Ali or Jared will give you a hand. We're here to help.
Agencies — please use slack channels or contact your rep to request help. We aren't just here to sell ShipperHQ; we are here to support you with shipping.