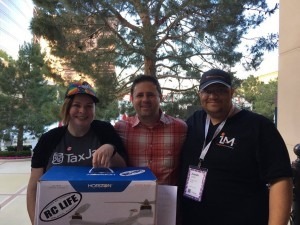 Imagination Media is an ecommerce solutions provider that focuses on delivering brilliant, intuitive and effective integrated solutions built on the Magento Platform. Their speciality is customizing ecommerce solutions to fit their customer's business logic and allows retailers from all industries to be able to seamlessly integrate their online and in-store operations.
Imagination Media has been an active and involved part of the Magento Community since its formative days. Today they continue to contribute and create as a proud part of this bold community. The Imagination Media team is a rare blend of experience, expertise, commitment and dedication. They understand the Magento platform and never stop working to create custom solutions that are perfect for their customer's needs.
In addition to their Magento knowledge and expertise, Imagination Media has been around the block when it comes to PreImagine. This will be their third year attending the event and second as sponsors.
Ali Ahmed, President & Founder of Imagination Media, sheds some light on what it's like to be both a guest and sponsor at PreImagine and how to get the most out of your evening there:
Why did Imagination Media decide to sponsor PreImagine this year?
Sometimes in the day to day grind we feel like we fail to fulfil our obligation to the Magento community and all that it has done for us. PreImagine is a way we can buy a fellow community member a beer and say thank you – we jumped at the opportunity to sponsor this amazing event again this year. It is truly an honor to be associated not only with this event, but with everyone who attends and contributes to the experience.
How would you describe your past PreImagine experiences?
As a sponsor –We didn't really pay much attention to being a sponsor last year. It didn't change much for us, we enjoyed it as much we did when we were just guests.
As a guest – The event really makes you feel like one big extended family. It's a genuine feeling of community.
What is your favorite memory from past PreImagines?
It's Las Vegas, so excuse us, please. Memories in that city can be a bit…hazy. I think our favorite memory was the group photo at the very end.
What are you looking forward to most this year?
We're looking forward to connecting with other passionate and creative members of the Magento community. And we're looking forward to learning from them. We look forward to meeting new members of the Magento community we haven't met before. We can't wait to be there again!
What would you list as the biggest benefit of attending PreImagine?
The free drinks. And the free A/C! Some of the scenery isn't bad, either. Oh, and seeing you guys again!
Do you have any advice for first time attendees?
Come in with an open mind. Come hungry to learn and ready to connect. And, come prepared to work hard and play hard too – remember, this is Las Vegas, baby!