Pixafy is an ecommerce agency anchored in tradition and deeply invested in the future of digital commerce. They are online retail experts that specialize in B2C and B2B implementations. Not to mention the synergies with their sister company, Net@work, who have unique expertise integrating with back office systems such as Sage and NetSuite ERP, CRM, HR etc. Pixafy's highly experienced team includes engineers, UI developers, designers, marketers and system architects. They provide their clients digital transformation and channel harmonization across aspect of their ecommerce universe.
The Pixafy team has been apart of the Magento community from the very beginning in 2010. "Like many companies here, Pixafy is proud to be an OG," says Aleza Shapiro, Senior Marketing Manager. Although this is the first time they have sponsored the event, they haven't missed one PreImagine and have had a chance to watch the community evolve and grow over the years.
We were lucky enough to interview Aleza and get real insight on the Pixafy experience at PreImagine: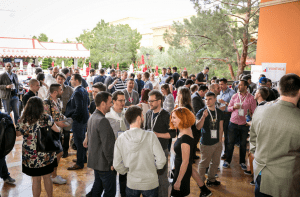 Why did Pixafy decide to sponsor PreImagine this year?
We love and respect the Magento ecosystem and that's exactly what PreImagine stands for.
How would you describe your past PreImagine experiences?
All smiles and hugs. There are so many connections that have been made over the years. The band's back together again!
What is your favorite memory from past PreImagines?
All the fun Magento swag people have collected or made in the past year they want to share/show off.
What are you looking forward to most this year?
I always love the General Sessions. The Magento team definitely provides #allthefeels
What would you list as the biggest benefit of attending PreImagine?
Enjoying a refreshing drink in the sun with longtime friends that feel like family. We're all here because we bleed orange.
Do you have any advice for first time attendees?
Comfy shoes. Even though I don't usually leave the Wynn during the conference, Vegas is YUGE!