MageMojo built their hosting company specifically and only to host Magento stores. They specialize in doing one thing and doing it really well so they are able to offer faster performance, deeper support, and lower prices. "We're making Magento great again!" says Eric Hileman, Co-Founder of MageMojo.
The MageMoj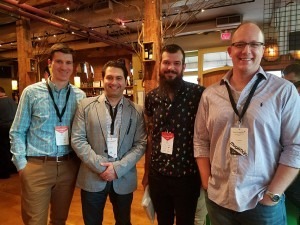 o team has been a part of the Magento community since 2009. In addition to providing the community with great service, they are very active in showing their support. This will be their second year attending and sponsoring PreImagine and they are also organizing Meet Magento NY this year and plan on going big!
Eric sheds some light on what it's like to be both a guest and sponsor at PreImagine and how to get the most out of your evening there:
Why did MageMojo decide to sponsor PreImagine this year?
We love to support community events in Vegas, especially since the Wynn is expensive. PreImagine needs all the support it can get in order to put on a great event (and open up that bar!).
How would you describe your past PreImagine experiences?
As a sponsor Good! ★★★★☆
As a guest Excellent! ★★★★★
What is your favorite memory from past PreImagines?
Favorite memory was thinking how beautiful it was out there on the Sunset Terrace in the evening surrounded by Magento community members from all over the world. That was the first time we'd seen people whom we'd only known from their twitter profiles, IRL. It was a feeling of inspiration that really energized us for the next couple days.
What are you looking forward to most this year?
We're looking forward most to spreading the word about the Magento Security Council we co-founded and the free malware scanner the Council put out. We're also giving free 3 month memberships to Nomad Mage for continuous learning. Spreading education about security while also learning from our Peers is exciting! We're ready to collaborate on more initiatives with other community members!
What would you list as the biggest benefit of attending PreImagine?
PreImagine is the eye of the hurricane. Everyone is crazy busy leading up to Imagine. We all arrive in Las Vegas and have that one day where everything is calm. PreImagine sits in that calm window and gives everyone a chance to take a breath, say Hello to old friends, and relax for a little while before the whirlwind begins again Monday.
Do you have any advice for first time attendees?
There's no need to be shy. Find the people you recognize from twitter, stackoverflow, etc, just walk up and introduce yourself. We're all here for the same reason and you'll find you have a lot in common with everyone, if you open up!