Amazon was a trailblazer in the ecommerce landscape. They innovated in countless ways, but the most notable was the way it transformed customers' shipping expectations. Retailers looking to offer an experience to rival Amazon's should start by adopting a shipping-first mindset. With just a few setup steps, any ecommerce merchant can provide an Amazon-style checkout that can transform every customer's experience.
Amazon-style checkout is the experience merchants dream of offering. Think about it: if you could build a checkout experience from scratch, what would you include? You'd probably prioritize clarity first and foremost. Of course, you'd make sure to break down packages by their contents, arrival dates and shipping speeds. You'd make sure checkout was the smoothest part of your customer's journey. Whatever it took to ensure those frictionless experiences serve to increase conversions and cut down on cart abandonment. To break it down, you'd probably end up building something pretty identical to the Amazon checkout process.
Smaller retailers have always had the chops to compete with Amazon in many other areas like price and service. But many still struggle to create a checkout and shipping process that emulates Amazon's process. But fear not, retailers. Amazon-style checkout is more accessible than you might think. And it's waiting in your ShipperHQ dashboard.
Straying from Amazon
Amazon has dominated the ecommerce market for nearly two decades. In 2020, the company was slated to account for nearly 40% of all ecommerce transactions, but the onset of COVID-19 and the slew of complications it brought had a significant impact on Amazon's progress. Rampant delays marred the reputation of the ecommerce giant as the most reliable in the industry and signaled a shift in consumer sentiment.
Today, about half of millennials say they're willing to pay more for products if they can support a small business. Twenty-four percent of them say they plan to shop more with small businesses in 2020. Customers' expectations haven't changed. They've adjusted their habits from relying on Amazon to relying on other retailers, preferably those that offer a similarly straightforward, predictable experience.
Checkout Expectations
The single most significant factor in your checkout and shipping strategies should be to give customers experiences they enjoy. The short of it is pretty general: they want accurate rates, clarity on when their package will arrive, and most importantly – free shipping.
We can further gather insight into what customers expect from industry data:
45% of consumers abandon carts because of unsatisfactory delivery choices
60% want to see a delivery date before making a purchase
44% abandon carts because of high shipping costs
61% have abandoned carts because no free shipping option was offered
35% prefer alternate delivery locations at checkout
Needless to say, customers have high and specific expectations for their checkout experience. They want clarity, choice, and value. As a merchant, you might be saying to yourself, "I want all those things too, but it's not that easy!" Unless it is. Let's consider the elements that make up the "Amazon-style" checkout experience: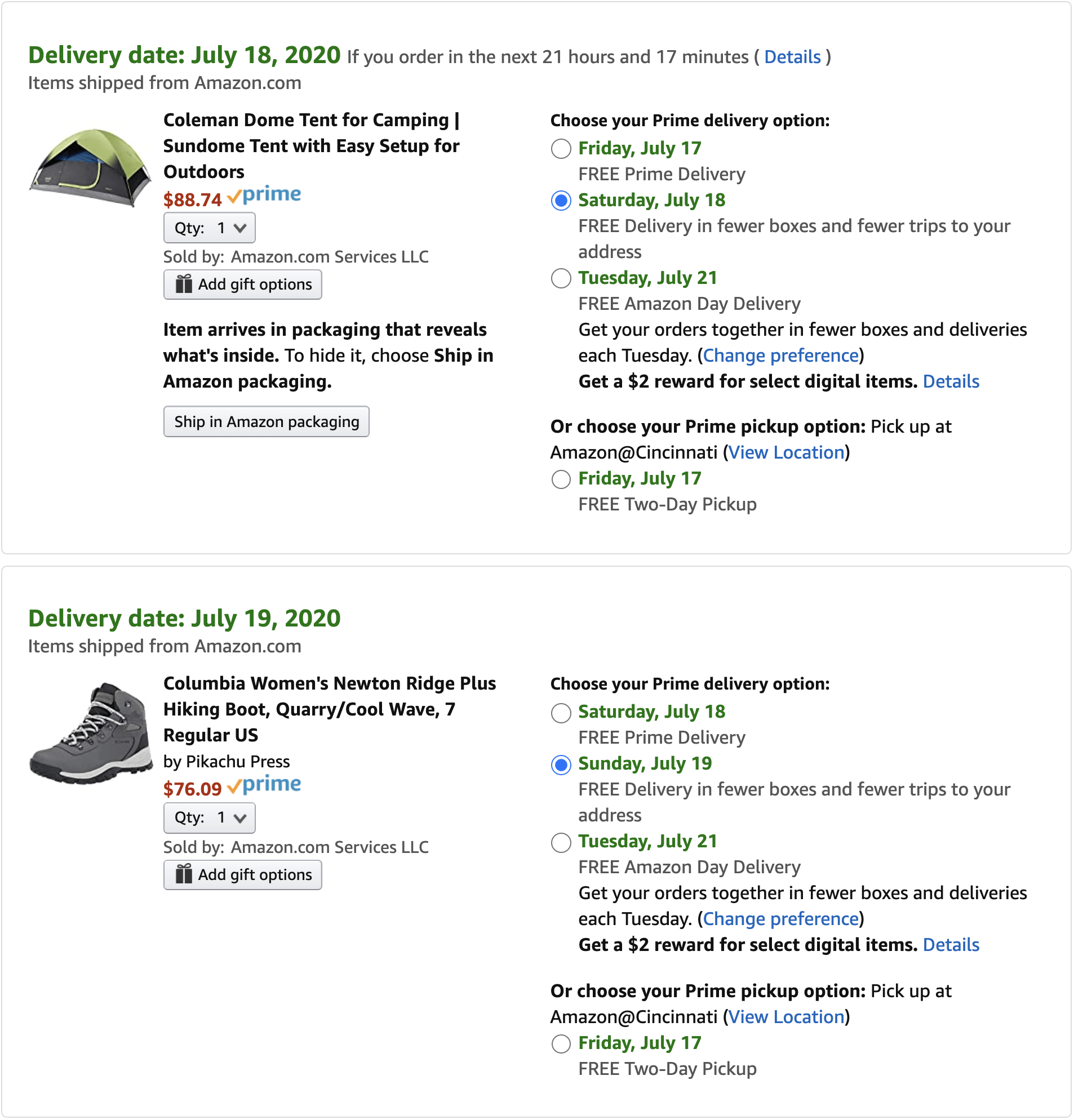 Amazon's Formula:
PART 1: A clear breakdown of split shipping packages
PART 2: Choices for each package
PART 3: Clear, guaranteed delivery dates for each package
PART 4: Alternate options (Two-day Pickup in this example)
While it might be frustrating to reckon with, there's no denying that the Amazon experience is user-friendly and encourages – rather than hinders – the purchase decision. You may not be able to emulate every facet of the experience, but you can take some cues from the experts to understand how to provide an equally simple and effective process to your customers.
Applying The Formula to Your Checkout
Let's start by breaking down each part of the formula. Parts one and two go hand-in-hand, so let's explore the value of split shipping:
PART 1: A clear breakdown of packages
PART 2: Choices for each package
Split Shipping is what happens when items from a single order need to be shipped separately because of availability, location or packaging requirements.
For example, if you're a specialty sock retailer with multiple warehouses, a customer might place an order of several different pairs of socks that are available at separate warehouses in different states. Old school shipping solutions might have required you to wait for a shipment from one warehouse to another before finally shipping out the entire sock order together.
Instead, split shipping means the socks ship from their respective locations at a much sooner date than they would otherwise. This can shave days, or even weeks, off a delivery. Using a split shipping method will break down your customer's options clearly and communicate to them exactly what packages will contain which products.
Alternatively, a customer may place an order that contains socks for themselves and a pair for a friend for an upcoming birthday. Because the socks are located at different warehouses, they'll ship separately, but what if the birthday socks need to arrive sooner?
Simple: configure your shipping strategy to offer separate shipping speeds on each package dispatched. With this process in place, your customer can choose to pay for expedited shipping for one part of the order, and free, slower shipping for the socks they ordered for themselves.
The flexibility of the divided checkout allows customers to choose individualized delivery choices for each shipment.
PART 3: Clear, guaranteed delivery dates for each package
If you're an ecommerce merchant in 2020 and you're not showing up-front delivery dates, you're behind the times. It no longer suffices to simply display a range of business days ("Arrives in 5-7 business days), today, customers want specifics. If the customer who ordered those birthday socks has miscalculated, those fuzzy tubes might arrive a week late, delaying all the magic of the moment along with them.
In one checkout usability study, Baymard found that users have difficulty relating shipping speeds to delivery dates. In other words, it's easier to understand specific delivery dates, e.g. "July 28-31" rather than "7-10 day shipping." The study also showed that subjects often miscalculated their delivery date thanks to factors like blackout dates, weekends, lead times, or holidays. This method puts all the onus on the customer to figure out the math.
As the self-described "world's most customer-centric company," it's no secret that Amazon has cracked the code for customer-centricity. Delivery dates as a standard part of checkout is a major factor.
PART 4: Alternate options
Amazon introduced its Locker pickup locations in 2017 and has seen resounding success in its initial alternate pickup option. Today, options are expanded to Amazon brick and mortar stores, package dropoff and pickup locations within communities like college campuses, and even same-day delivery.
While this step was industry-leading, the other primary carriers in ecommerce delivery have quickly innovated themselves to level the playing field. Take FedEx's Hold At Location (HAL) service, which lets customers pick up packages at predefined locations, saving you on residential delivery fees, and offering security and convenience for customers. Innovations like this and UPS's Access Points have contributed to an ecosystem that's rapidly expanding, as well as getting more creative.
Providing options inspired by Amazon's alternate options is a smart way to give control back to customers in the most transparent way possible. As a small retailer, you might feel intimidated at the thought of offering options like these, which can feel ambitious. The good news is, setting up these options is usually straightforward, and relies much more on the last mile delivery carrier than on the merchant.
Bonus: If you're an ecommerce retailer who's also got a brick and mortar location, you've got an opportunity to provide curbside pickup or local delivery. It's an option Amazon simply cannot directly compete with. Additionally, the recent push toward small business shopping has increased consumer awareness and demand for small business innovation. Presenting strong online shipping options, accompanied by choices for local pickup or delivery is a one-two punch you should take advantage of.
Setting Up Your Amazon-style Checkout for Magento
Ok, so you've seen the tactics and head the numbers: what's next? Fortunately, we've got an out-of-the-box solution that can help transform your checkout without major changes to your site or platform.
ShipperHQ is the world's most popular shipping management solution. With our powerful solution, your checkout could soon look like this: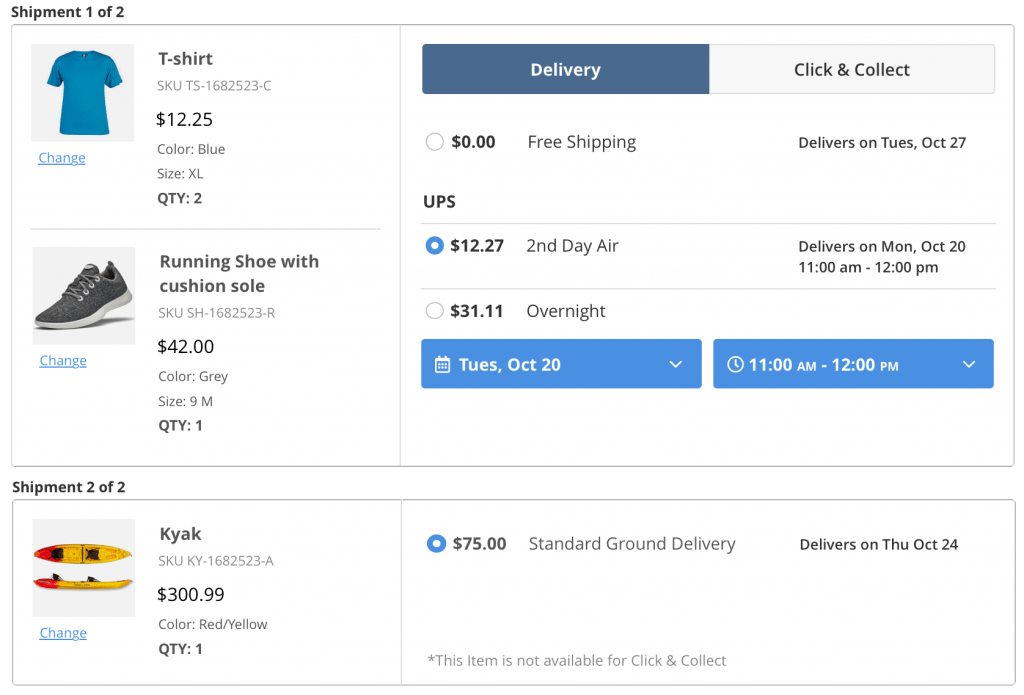 Magento users can opt for our Enhanced Checkout feature, which enables split shipping along with many other features that create the smoothest checkout process possible*. A polished, professional checkout experience like this one not only elevates your brand's aesthetic but also increases conversions from customers who know exactly what to look for in an ecommerce experience.
Setting up Amazon-style Checkout for Other Platforms
While Enhanced Checkout is currently only available for Magento 2 users, ShipperHQ's powerful Shipping Rate Management Platform is available to merchants on Salesforce Commerce Cloud, BigCommerce, Shopify, WooCommerce, and Zoey. Thousands of merchants depend on the features offered on our platform to streamline their shipping process. There are several key features that can also help you build an Amazon-style experience. A few of them are:
Shipping/packaging efficiency: Use dimensional packing and weight to get the best shipping margins possible. Use multi-origin shipping to ship from the closest location to a customer
Delivery choices: offer same-day delivery, alternate delivery, LTL freight and many other shipping options
Accurate rates: dimensional weight, address validation, and live rates give you the most accurate rates available
Shipping rules: one of the most powerful ways to ship smarter, these rules allow you to implement logic into your shipping process based on shipping groups, customer groups, shipping zones or other filters you select.
Ready to start taking on Amazon yourself? Sign up for a free trial to see our powerful tool in action. Or, drop us a line if you'd like us to show you the ropes.
*Enhanced Checkout is coming soon for other platforms. Stay tuned!