Accurate delivery dates are already here for ShipperHQ customers. This week, we're adding two more carriers to one of our most popular, powerful features. See how enabling Delivery Date & Time functionality can increase conversions and combat cart abandonment at checkout.
Delivery Date and Time displays are crucial in the shipping strategy of proactive retailers. Learn more about why this feature is becoming more vital by the day, and how you can implement it within your checkout process.
As the world moves toward an ecommerce-first approach to shopping, expectations evolve too. In the past several years of development in the logistics arena, Delivery Date and Time has stood out as an exceptionally useful, customer-centric offering that can impact sales significantly.
What is Delivery Date and Time?
ShipperHQ Delivery Date & Time refers to a feature we offer that shows customers the date, and sometimes time, their order will be delivered at checkout. It's a powerful way for merchants to drive sales and fight cart abandonment using simple transparency.
When a customer knows when their order will arrive, there's no room for miscalculation of delivery date, which is a common issue when only transit times are provided, e.g.: "5-7 business day shipping." A study by Baymard found that despite this, 40% of US ecommerce checkout experiences show shipping speed (or days in transit) rather than delivery date.
Of course, it's not just us folks in the shipping industry who sing the praises of this feature. That same Baymard study used eye-tracking technology to trace the parts of the checkout experience that catch customers' eyes.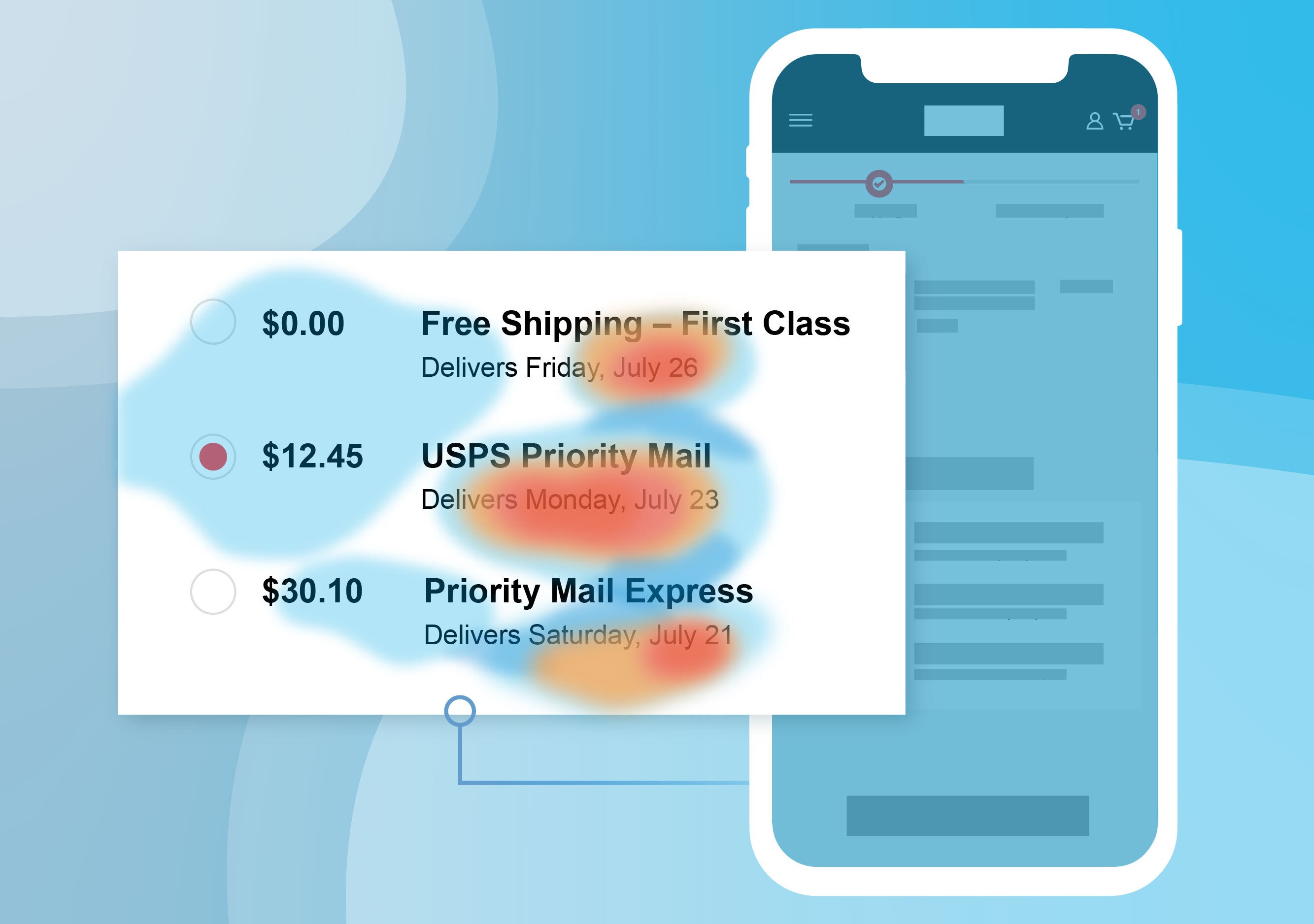 "Our eye-tracking checkout research underscored the preference users have for delivery dates – notice how the user completely ignores the shipping names and instead focus solely on the displayed delivery dates." reports Baymard.
This research demonstrates that shoppers are more concerned with the day their order will arrive than the number of days in transit. Expecting customers to calculate their own delivery date using shipping speed or transit days leaves much room for error, which can result in unhappy customers and lost revenue.
Business Benefits
Multiple Use Cases
For ecommerce stores that ship perishables of any kind, custom-made or high-value goods, delivery transparency is vital. Delivery Date and Time can benefit businesses selling everything from flowers to fungi, and sofas to steaks.

By expanding the offering to Time Slot delivery, retailers can give customers even more control and insight into their delivery. Because for those most important, anticipated orders, a missed delivery can sour the entire experience.

The Amazon Way
There are few online retailers that are not taking a hard look at the largest competitor of all, Amazon. It's no secret that Amazon has nailed its online shopping experience down to the last detail. However, no matter what size retailer, there are many ways to replicate some of Amazon's popular features. Showing customers accurate and dependable delivery dates is one.
Let's take a look at the Amazon checkout page: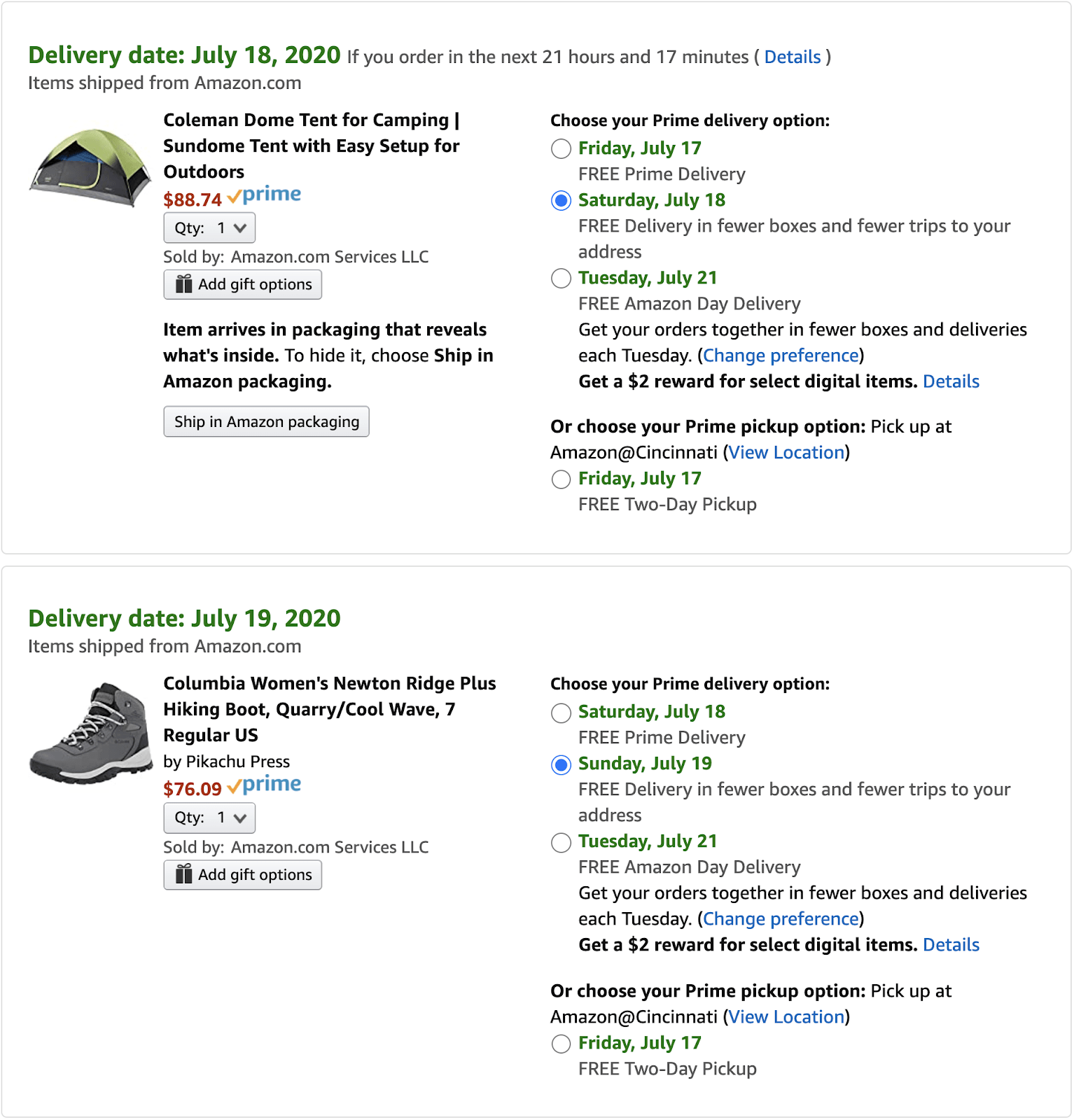 To many shoppers, this interface is incredibly familiar. It provides a consistent experience that customers have become accustomed to seeing. In addition, it provides those powerful three options on the side of each shipment: the shipping speed selector.
Amazon was an early adopter of Delivery Date displays over shipping speed. Perhaps unconsciously, customers have conditioned themselves to expect a date of delivery, rather than a speed of delivery.
Real-World Solutions
Retailers everywhere can benefit from the clarity of giving customers real delivery dates. Many ShipperHQ customers have already found success after implementing Delivery Date and Time.
Take ShipperHQ and Magento customer, Donald Russell. A high-end UK online butchery, the company saw a massive spike in demand during March of this year. With site traffic consistently up 400-500% daily, the company needed to adapt to fit a demanding market, and fast.
By adding Delivery Date and Time to their checkout process, the company was able to successfully meet demand, while staying organized and transparent with customers, their absolute first priority.
Read more about Donald Russell's pivot to Delivery Date here.
Adding Delivery Date and Time to Checkout
One of the most common reasons online retailers don't show delivery dates is due to the difficulty they face in implementing the feature.
That's where we come in. With a ShipperHQ account, adding our Delivery Date & Time feature is as simple as switching it on and doing some basic configuration. Here's a quick rundown of how it works:
Want to read more about implementation? We've got a full guide to help you get started. To begin, check out the feature's capabilities or learn more about setup.
Nailing the Execution with ShipperHQ
Implementing Delivery Date and Time within your checkout is only the first step. Beyond simply having the feature enabled in ShipperHQ, you can strategically maximize its effectiveness.

In another article, we give a full rundown of how to get the most out of this feature. Let's run through a few of the takeaways:
Be transparent about cutoff dates and times
While customers might get a little confused about calculating delivery dates based on shipping speed alone, one thing they do understand is deadlines. Communicating clearly with customers about when their order must be placed to secure delivery on a specific date is essential. This provides clarity, but also drives conversions thanks to the sense of urgency it provides.
If a customer is shopping for a birthday or special occasion, they need to know the actual date of delivery. Giving them that deadline can make a big impact on their purchasing decision. With ShipperHQ, this is a feature you can easily switch on.
Test Your Options
Try out some different options to see what customers respond to. You could try offering different shipping speeds (with Delivery Date displayed of course) or test lead time tolerance.

You could even try offering a Delivery Date and Time selector, which lets customers backtrack their shipping options. This puts all the control in your customers' hands and adds a level of customization to every order, driving customer affinity.

Don't Forget Your Customers
Remember, the entire reason for adding the feature – and for your business in the first place – is your customer. Be proactive about seeking feedback on your shipping options. Ask customers how satisfying their checkout experience was, and whether the delivery went smoothly.
If customers don't have positive feedback, don't fear. It's time to adapt your strategy, and possibly rethink the options you offer. With customers at the front of everything you do, you're sure to strike ecommerce success no matter what you sell.
New Carriers On Board
Previously, we had partnered with several key carriers to offer Delivery Date and Time, including FedEx and UPS. Today, we're pleased to announce the addition of two key carriers to the feature:
What does this mean? If you ship via FedEx, UPS, USPS or Canada Post, you can easily add Delivery Date and Time to your checkout with ShipperHQ.
We're eager to show you how this feature works in a little more detail. Connect with one of our shipping experts today to see how it could work for your store.
Ready to see how it works? Sign up for a FREE 15-day trial of ShipperHQ.