In the year that catapulted buy-online-pick-up-in-store (BOPIS) to the spotlight, returns have proven to be a challenge even for the most innovative retailers. Next year that might change.
Curbside returns and curbside pickups are likely to see an uptick in popularity in 2023, and with good reason. At the recent 2023 Ecommerce Forum event, industry experts predicted that curbside returns would continue to grow. It's a well-founded prediction, based on the current trends and consumer demand.
In 2022, BOPIS sales grew significantly, driven by consumers adapting to new shopping habits and retailers modifying their offerings.
While the changes in the ecommerce industry have largely been propelled by a desire to stay out of physical stores, their effects are expected to persist. According to recent studies, a significant percentage of online shoppers plan to continue using alternate shipping methods such as curbside or in-store pickup, even after social distancing guidelines are lifted.
Shopping features like BOPIS are known for their convenience, and customers now expect retailers to offer curbside return services as well.
Benefits of Curbside Returns
Customer-Centricity
The most obvious benefit is to your customer. Those who take advantage of offerings like curbside pickup are likely to expect similarly convenient return options. Curbside returns offer many of the same benefits as BOPIS.
In fact, customer surveys have shown that a considerable percentage of shoppers who've used BOPIS appreciate the option to instantly return products if necessary. Additionally, customers enjoy the ability to see and handle products before taking them home. Offering convenient pickup and return solutions can significantly improve customer loyalty.
Reduced Reverse Shipping Costs
Even before the impact of COVID on the ecommerce world, retailers were already paying an average of $10 per return. With the overall growth of ecommerce, the rates of return are expected to continue rising. Curbside returns provide a simple, no-label, no-shipping-required option that appeals to convenience-minded buyers. Retailers can also save money by sending returns back to warehouses in bulk, especially after they're returned to a central hub like a store.
Increased store traffic
Whether returns occur as true "curbside" transactions or require a quick in-store visit, both versions bring established customers to your brick-and-mortar. This provides massive upsell potential. BOPIS and curbside returns alike can also drive higher AOV, with 49% of BOPIS customers saying they've purchased another item while picking up an order.
Challenges of Curbside Returns
Logistical concerns
The most obvious concern for retailers is the logistical angle of handling returns to a small, potentially under-equipped store location. Retail employees aren't always trained in online returns processing, which creates a need for more training. Additionally, stores need the physical space to hold returns should they come in. Not to mention, there may be challenges with specific product stock. Can every item be returned to every store? Are there restrictions to some storefronts that don't apply to others? As a grocery retailer, can a store that can't sell alcohol in the first place be eligible to accept a return still?
While these concerns are valid and complex, they can be solved relatively easily with clearly communicated parameters around the program. Increased employee training is a worthy investment, as well, and one that can make every team member better-equipped and more valuable. Rely on shipping management platforms like ShipperHQ alongside intelligent post-purchase shipping software like ShipStation to help coordinate specifics of where items can be returned and label printing. A little setup on the front end will take your business a long way.
Returns abuse
As any ecommerce seller will tell you, returns are a double-edged sword. While undeniably necessary for customer satisfaction, the abuse of returns is virtually inevitable as well.
In a Forter study, 54% of retailers said they lost more than $5 million each year thanks to returns abuse. Fraudsters and authentic customers alike can cause this. The good news is that retailers can stop fraudsters in their tracks using intelligent fraud detection software and proactive policies, such as Bolt.
The tougher end of the spectrum involves your actual customers, some who might take advantage of offerings like lifetime warranties, extended return periods, no-questions-asked policies or other customer-friendly return options. There's no way to completely eliminate customers from abusing your returns system, but there are simple ways to mitigate the issues.
First, be sure to keep customer account records up to date. Then consider requiring contact details and purchase information for returns, especially for high-dollar goods. While this may make the returns process slightly longer, honest customers aren't likely to mind the bit of extra work required to get a refund or exchange.

It's a tricky balance to strike. Retailers must juggle offering a return policy customers will love, and one that won't hurt your bottom line. But with a little bit of elbow grease and planning, you can prevent abuse before it becomes a larger issue.
Stores Offering Curbside Returns in 2023
Several major retailers now offer curbside returns, reflecting the growing popularity of this service. In addition to Best Buy, DSW, and Dick's Sporting Goods, other retailers have joined the trend, providing a clean and straightforward process for customers.



It's worth keeping in mind that these are major retailers with significant resources. However, smaller retailers can leverage their size to remain flexible, and adopt policies like curbside returns with more ease than their larger counterparts.
Expanding Availability of Curbside Returns in 2023
As curbside returns continue to gain momentum, more stores are jumping on board to offer this convenient service. In 2023, a wide range of large and small retailers implemented curbside returns to meet customer expectations. These include fashion brands, electronics stores, and home goods retailers. With the increasing demand for hassle-free returns, it's becoming a competitive advantage for businesses to provide curbside return options.
Key Points for Curbside Returns in 2023:
Curbside returns are growing in popularity as consumers seek convenient and contactless options for returning their purchases.
Retailers are recognizing the benefits of curbside returns, including improved customer satisfaction, reduced shipping costs, and increased foot traffic to physical stores.
Logistical challenges can be overcome through clear communication, employee training, and leveraging shipping management platforms to coordinate return processes.
Returns abuse is a concern, but proactive measures such as fraud detection software and policies can help mitigate the issue.
Many major retailers have already implemented curbside returns, and smaller retailers are leveraging their flexibility to adopt this service.
The First Step
Before you can focus on streamlining curbside returns, you'll need to optimize the first half of the transaction: fulfillment.
Integrate with a Shipping Rate Management platform like ShipperHQ to instantly offer curbside or in-store pickup, alternate location pickup, or just transparent delivery dates and times. It's the first step in a process that will make both purchases – and returns – even more customer-friendly.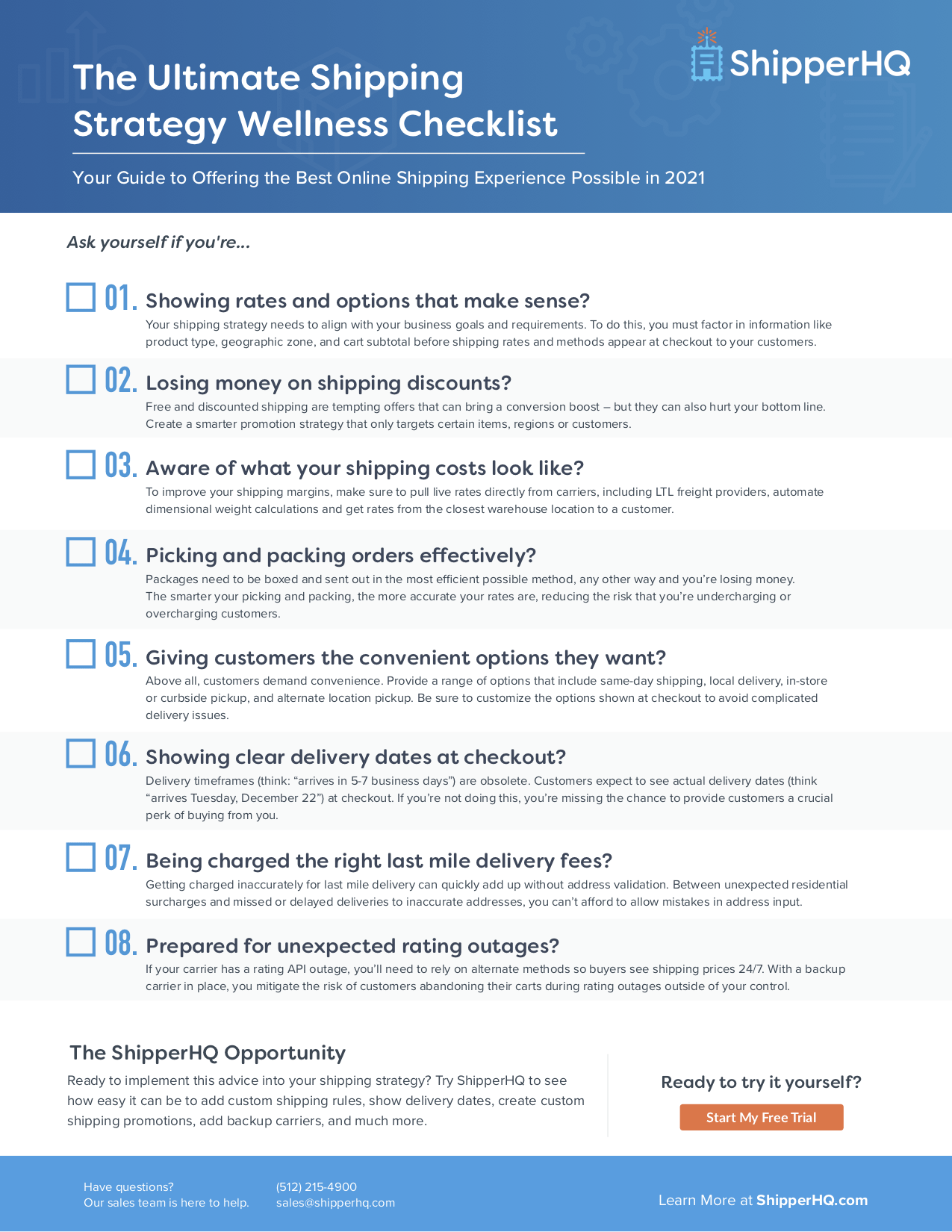 FAQs
Can all items be returned curbside?
While most items are eligible for curbside returns, there may be exceptions for certain products, such as hazardous materials or oversized items. It's recommended to check with the retailer's curbside return policy for specific details.
How do I communicate the curbside return policy?
Retailers typically communicate their curbside return policy through their website, mobile apps, and in-store signage. It's important to provide clear instructions on how customers can initiate a curbside return and any requirements or documentation needed.
Does weather affect curbside returns?
Weather conditions can impact curbside returns, particularly during extreme weather events. In such cases, retailers may provide alternative options, such as returning items by mail or rescheduling the return for a safer time.
Can curbside returns support sustainability?
Yes, curbside returns can contribute to sustainability efforts by reducing the carbon footprint associated with shipping returns. By allowing customers to drop off returns at nearby stores, it eliminates the need for individual return shipments.
Are there peak times for curbside returns?
Peak times for curbside returns can vary depending on factors such as holidays, promotions, and customer behavior. Retailers may experience higher volumes of returns during busy shopping seasons or after major sales events. It's advisable to plan accordingly and allocate sufficient resources to handle increased return volumes during peak times.