Virtually every ecommerce retailer has unique shipping needs – but many of them don't have the tools in place to make their process smooth and user-friendly. See how ShipperHQ can help Magento retailers create a customized, order-specific shipping strategy that will help convert – and retain – customers.
Magento stores are jam-packed with features that make selling online a reality for retailers selling just about anything. With out-of-the-box functionality, paired with potential for deep customization, the platform is a favorite for thousands of enterprise sellers. It's undoubtedly a powerful solution, but some retailers find that they need more customization to build a Magento shipping strategy that converts buyers.
This need was the catalyst for the formation of ShipperHQ's predecessor, WebShopApps. The company was made up of a series of extensions, available on the Magento Marketplace, specially made for customizing shipping details within a retailer's Magento checkout. After seeing the success of WebShopApps, the developers behind the brand moved into a new space, creating ShipperHQ, which combined the most useful extensions into one powerful, all-in-one shipping management platform. Today, ShipperHQ exists exclusively as a separate integration that can seamlessly handle every aspect of a retailer's shipping strategy.
Purpose-built for Magento customers, the platform transforms shipping from a complex challenge to a simplified tool for conversion.
Keep reading to see how ShipperHQ helps Magento retailers optimize their shipping experience at checkout.
10 Ways to Improve Your Magento Shipping Strategy with ShipperHQ
1. Give customers unmatched transparency
By showing accurate Delivery Dates at checkout, you can give customers clear details about their shipping experience with you. Delivery dates are calculated based on factors like product availability and location, origin and destination, carrier availability, blackout dates, lead times and more. While 82% of customers would prefer to shop with a retailer who shows delivery dates at checkout, just 40% of retailers do so. Instead, many retailers show delivery windows, such as "Delivers within 5-7 business days," which leaves room for confusion and unsatisfied customers. With solutions so easily available, there's no reason to not be showing delivery dates in your checkout process.
2. Let customers choose exactly when to receive deliveries
Customers love seeing delivery dates at checkout, but giving them more control over the process creates an even better buying experience. With ShipperHQ's Calendar Selector and Time Slot selector features, customers get to choose a date (and time, if enabled) from a calendar for their order to be delivered, then receive corresponding rates. This level of specificity helps customers understand exactly when items will arrive, and helps retailers get a clear picture of which orders to prioritize.
Scottish butchery Donald Russell saw a staggering increase in site traffic and order volume at the start of the COVID-19 pandemic. To help manage this influx, they enabled ShipperHQ's Delivery Date and Time feature to increase transparency with customers. The move significantly cut down on customer service calls from shoppers seeking delivery date details, in turn, creating an improved customer experience during a very stressful time. Read the full story here.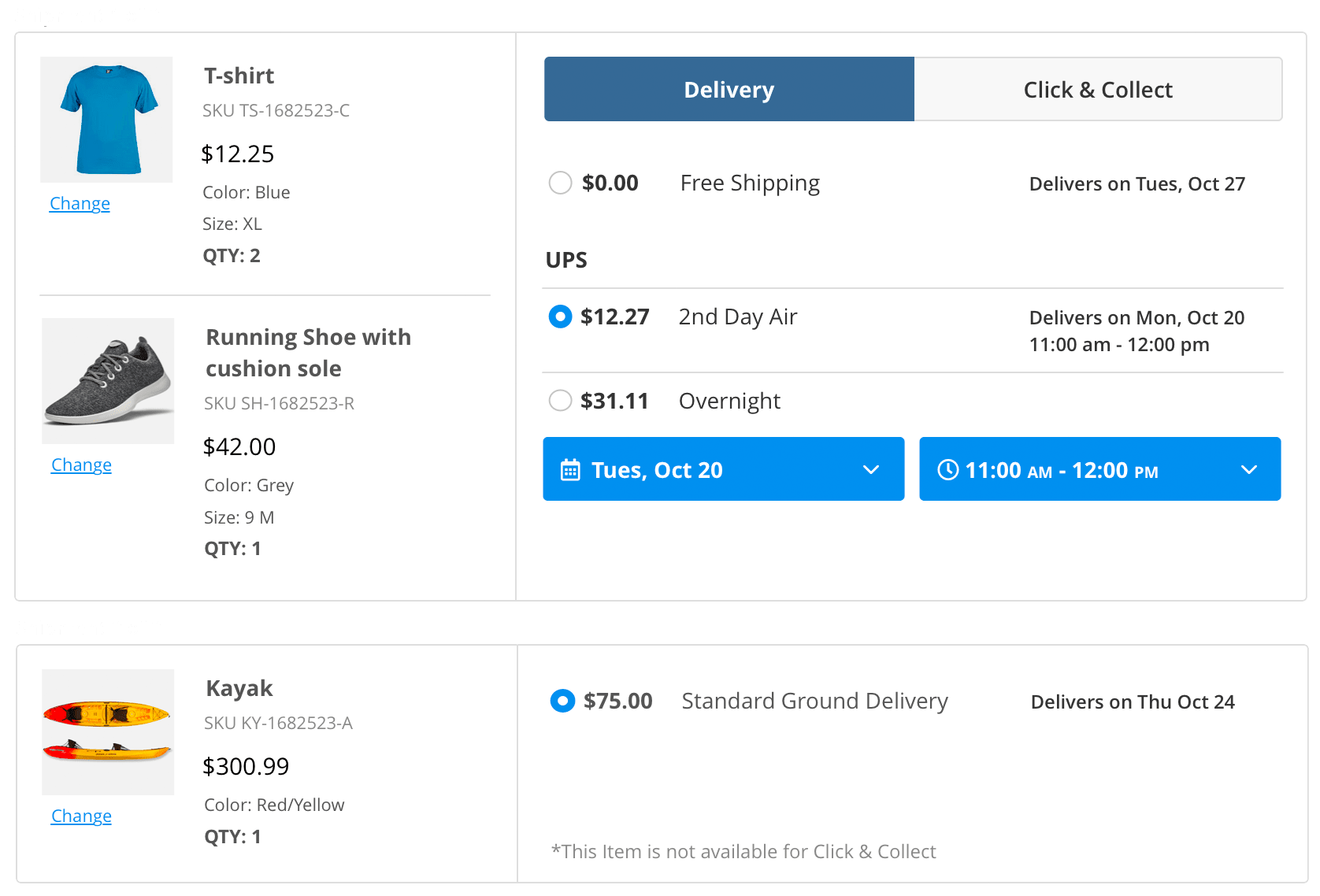 3. Create and manage shipping promotions on the fly
Want to offer free shipping at certain items? Shipping discounts to local customers? Surcharges on express shipping? Require overnight shipping for perishables? With ShipperHQ's Shipping Rules, the options are virtually endless. You an create a totally customized shipping experience and maintain control over your checkout.
4. Ship items as soon as they're available
With ShipperHQ's Enhanced Checkout solution, retailers can offer more advanced features, including Split Shipping. With this feature, retailers can split a single order into multiple shipments. This comes in handy when orders contain products from different warehouses, items that are backordered or items with special shipping considerations such as perishables. It creates an Amazon-like experience, significantly elevating your checkout as a whole.
[With ShipperHQ] we hide the complexity from the customer and just show what's possible for the current cart scenario.

Helene Übelhack, head of Marketing at bobbie
5. Get faster and more accurate fulfillment
Another powerful feature of the Enhanced Checkout solution is the comprehensive order information it provides retailers on every single order. With Enhanced Checkout, retailers get vital fulfillment information, like packing specifications, shipping rates and methods, and dispatch date, all at a glance for improved accuracy and visibility.
ShipperHQ gave us tools to offer our customers more options on how they want to receive their orders, and made our complex shipping methods and calculations a lot easier for us to handle.

Emily Pepperman, Web/IT Support at Dive Gear Express
6. Eliminate unexpected shipping fees
Just about every retailer knows the dread of having to pay unexpected shipping fees after the fact – fees they never had the chance to pass on to the customer. Most commonly, these fees occur when customers list a residential address as a commercial address. With ShipperHQ's Address Verification, retailers can be sure the address they're pulling rates for matches the type listed by the customer.
7. Automatically pack orders in the right box
With Dimensional Packing, orders are automatically packed in the smallest possible box size to maximize efficiency. Plus, shipping rates are calculated using the package's dimensional weight, required for Magento dimensional shipping, rather than dead weight, providing a much more accurate estimate of what the ultimate charge will be.
Our smaller item sales increased by 30% with the help of Dimensional Packing from ShipperHQ. Sales of our heaviest products are up infinitely as we hadn't had a solution to offer LTL shipping to our customers prior to implementing ShipperHQ.

Kevin Comerford, President, Mr. Shrinkwrap
8. Show dynamic, real-time rates for improved accuracy
Whether you ship parcel or freight packages, ShipperHQ lets you pull live rates for every unique order. Gone are the days of manually calling around for freight rates. With live LTL freight rates, customers can see real, up-to-date rates for shipping large, oversized and heavy products.
Custom marine accessories retailer, Boat Outfitter had complex shipping needs, thanks to a catalog featuring both small, parcel-sized products, and custom, oversized goods. After integrating with ShipperHQ for live freight rates, the company was able to save 15 man-hours per month, simply from removing the need to manually quote each freight shipment. Read the full story here.
9. Let local customers skip shipping altogether
Did you know that 45% of customers want to see an in-store pickup, curbside pickup, or alternate location pickup option at checkout? This convenient option is perfect for customers that hate waiting around for delivery. No storefront? No problem, several carriers offer pickup and third-party locations, through services like FedEx™ Hold At Location and UPS Access Point®.
Gertrude Hawk is an 84-year-old chocolatier based in Pennsylvania. With a significant portion of revenue brought in during the Easter period, COVID-19 restrictions hit at an especially bad time. Having to shutter virtually every store in the country, they needed a solution to get products into customers' hands, fast. Partnering with ShipperHQ, Gertrude Hawk was able to quickly pivot to offering curbside pickup. In a welcome turn of events, the company was able to recuperate nearly ⅓ of their lost sales during Easter. Read the full story here.
10. Maximize efficiency by shipping from the nearest warehouse
Got more than one warehouse or fulfillment center? With Multi-Origin Shipping, you can automatically ship orders from the location closest to your customer. Plus, you can create rules to determine whether shipments should be split up or sent together.
"One of our biggest drivers for using ShipperHQ is it's flexibility. Their platform is easy to install, test and setup in Magento. If we need to make a change to our shipping quickly, it only takes us a few clicks before it can take effect immediately at checkout. Just this experience itself – the amount of time it's saved us and will save us in the future – makes ShipperHQ worthwhile."

Aynsley Peet, Head of Ecommerce at Cox & Cox
Ready to transform your shipping experience? Connect with us today to see a demo, or try it for yourself free for 15 days.