From the very first order they fulfill, ecommerce retailers know how vital it is to have smart shipping technology in place. But without the right tools, those solutions can be time-consuming and expensive. That's where ShipperHQ's Shopify shipping app comes in.
Shopify shipping strategies are as diverse and unique as the stores that use them. From individuals who need customized lead times, to enterprise retailers who require advanced automation, every store has its own requirements.

Shopify stores are hosted on one of the most widely-used, user-friendly ecommerce platforms out there. But when it comes to finding a Shopify shipping app, they require more flexibility than the platform's native functionality. They need more control, more customization, more opportunity to turn shipping into a tool for conversions than the default Shopify shipping solution offers.
ShipperHQ's Shopify shipping app was born out of a need to bridge the gap between what was available out-of-the-box from ecommerce platforms, and what retailers actually needed.
A Brief History of ShipperHQ
Prior to releasing ShipperHQ, our company was primarily known for its suite of WebShopApps shipping extensions. These extensions let retailers customize shipping details within their checkout environment, but was limited to Magento users only. However, the demand became significant quickly. So our developers opted to combine the best of each extension into one powerful shipping rate management platform called ShipperHQ. Now, the solution is available on additional ecommerce platforms, including Shopify and Shopify Plus.
Today, ShipperHQ is an all-in-one Shopify shipping app that transforms the way retailers optimize their checkout experience. Keep reading to see how Shopify retailers can create a powerful, customized shipping strategy that helps convert – and retain – customers with ShipperHQ.

Why You Should Use ShipperHQ's Shopify Shipping App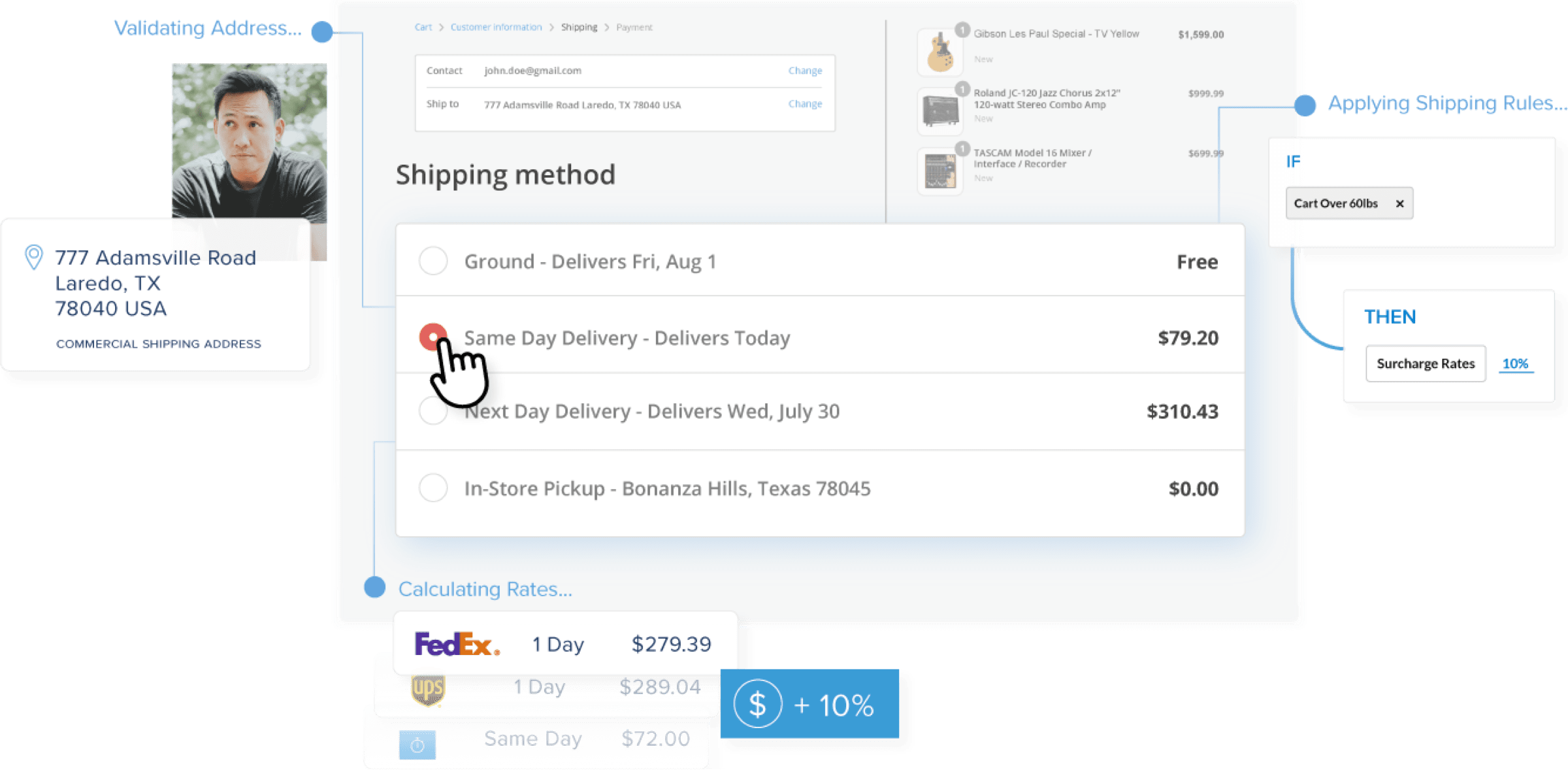 1. Accurate Last Mile-Delivery Fees
Charging your customers the right rates for shipping is vital to keeping shipping a net neutral, or net positive expense. Too often, surprise shipping fees creep into the equation. Usually, when it's too late to pass the expense on to the customer.
The most common unexpected shipping surcharges are residential delivery fees, which carriers charge merchants when they deliver to home addresses. Sometimes, customers mistakenly list their home address as a commercial one, or vice versa. This can result in these unnecessary residential delivery fees.

ShipperHQ's Address Type Verification feature automatically validates whether an address is residential or commercial. This ensures you're getting charged the correct last-mile delivery fees every time.
2. On-Demand Rates for Parcel and LTL Freight Shipments
ShipperHQ's shipping app lets Shopify retailers instantly pull in rates from 50+ parcel and LTL freight carriers on-demand.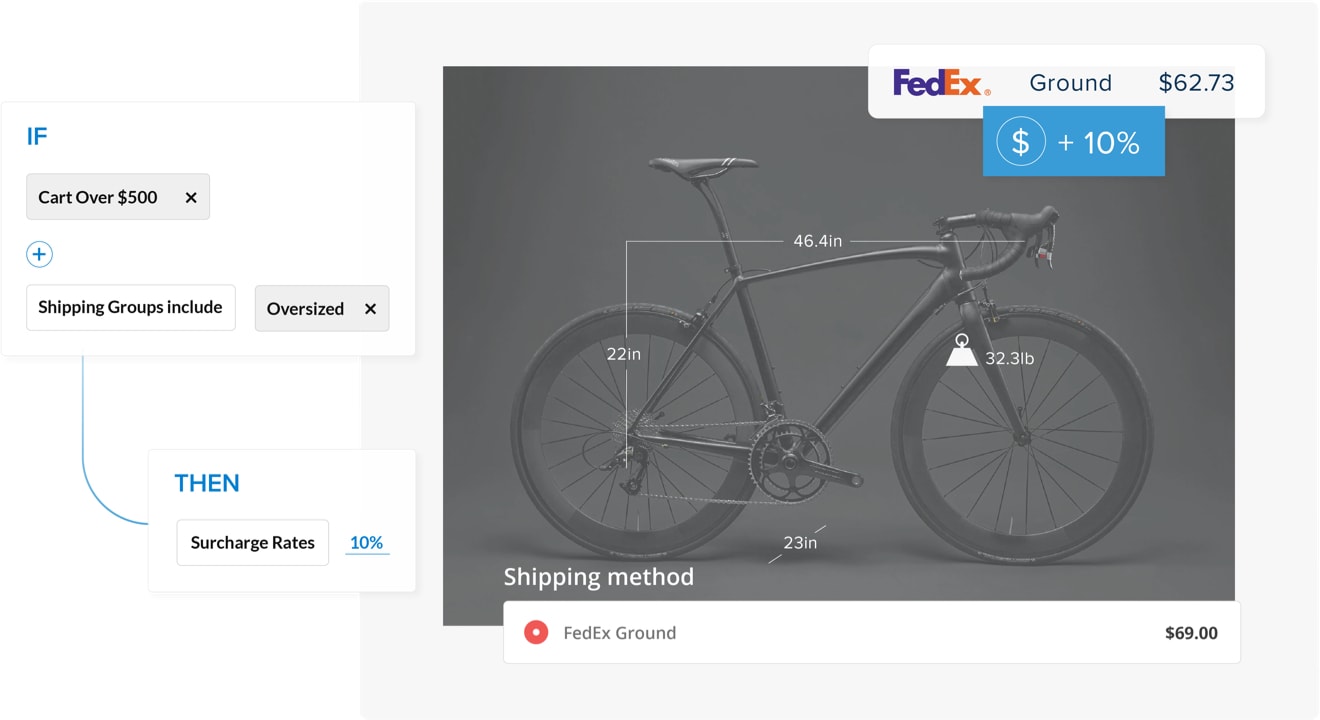 With automated rating, retailers can eliminate the task of tracking down manual quotes, the traditional method for LTL freight.
By getting live rates for even the most odd or oversized shipments, your checkout experience can be fast and streamlined regardless of what a customer is ordering.
3. Actual Delivery Dates, Not Just Shipping Speeds
Not every business needs to provide the option to choose delivery dates, but every retailer should provide delivery date transparency.
Although 82% of customers prefer to shop with retailers who show delivery dates at checkout, just 40% of retailers provide them. A majority of retailers still show shipping speeds (for example, "Arrives in 5-7 business days"), which can be confusing and unclear to customers.

ShipperHQ's Delivery Date & Time feature lets you pull in this information directly from UPS, USPS, FedEx, Canada Post and even a custom table rate carrier. Plus, you can customize details that will affect delivery dates for greater accuracy. This includes factors like lead times, blackout dates and cutoff times.
4. Automatic Rating from Multiple Shipping Locations
For retailers who ship out of more than one warehouse, storefront, fulfillment center or dropshipper, shipping rate management can get complicated.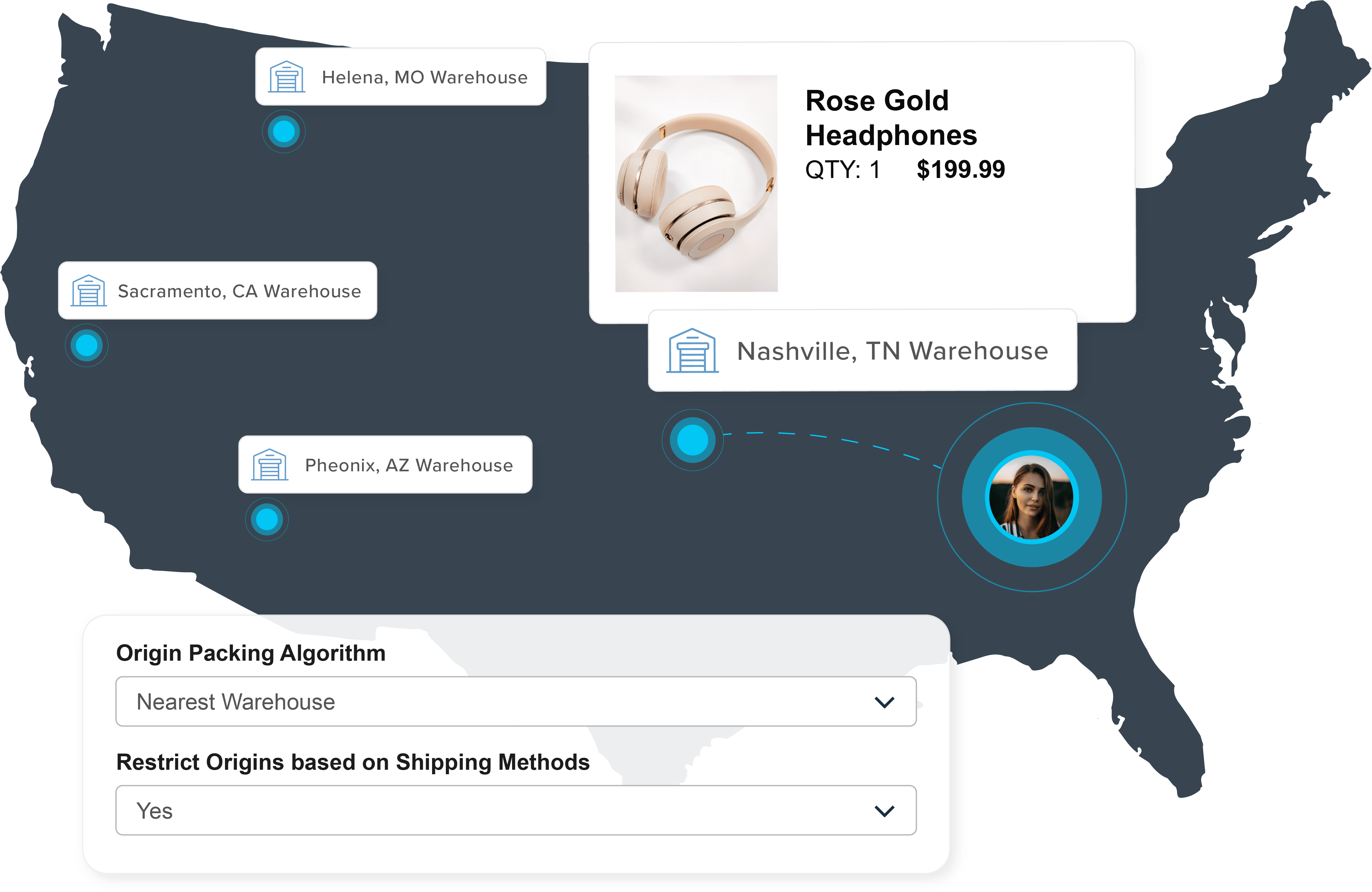 But with ShipperHQ's Multi-Origin Shipping feature, you will automatically retrieve rates from the closest location to a customer. Or, the fewest number of shipping origins if items are available in multiple places.
Additionally, you can define service areas, restrict shipping methods and add surcharges for specific shipping origins.
5. Better Shipping Margins Through Our Best-Fit Algorithm
Dimensional Packing can improve your rating accuracy. Retailers can choose to use our Best-Fit Algorithm to find the snuggest box suitable for an order. Plus, set up custom packing rules if items require special packaging or cannot be shipped together.
This feature also uses dimensional weight based calculations, helping you prevent shipping overcharges and undercharges. Rates are based on dimensions and weight together, rather than simply quoting on actual weight alone.
6. Customizable Promotions, Discounts, and Surcharges
With ShipperHQ's Shipping Rules, retailers can embrace shipping as a marketing tool to stand out from competitors.
Want to offer free shipping only once a customer hits $75? Offer shipping discounts to first-time buyers, or loyal customers? Require overnight shipping for perishable or high-value items?
Shipping rules makes it all possible. They give retailers the freedom to create a tailored, business-savvy shipping strategy that aligns with their goals.
7. Easy In-Store Pickup, and Alternative Pickup Setup
With ShipperHQ's In-Store Pickup feature, you can offer options like BOPIS (buy online, pick up in store) and curbside pickup to local buyers. Plus, set up smart rules that restrict the number of pickup locations available based on what's closed to a customer's address.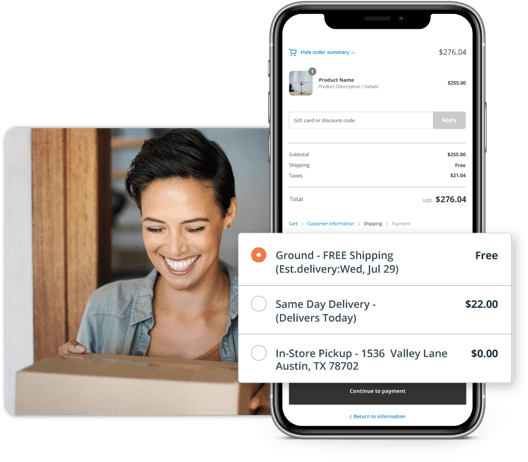 Even if you don't have a physical store, ShipperHQ connects retailers with solutions like FedEx™ Hold At Location and UPS Access Point®. These carrier integrations allow customers to pick up packages at thousands of retail locations across the U.S.
With 45% of customers saying they'd prefer to pick up items over waiting for them to ship, it's crucial to offer the convenient options they want.
ShipperHQ Customer Story: Tecovas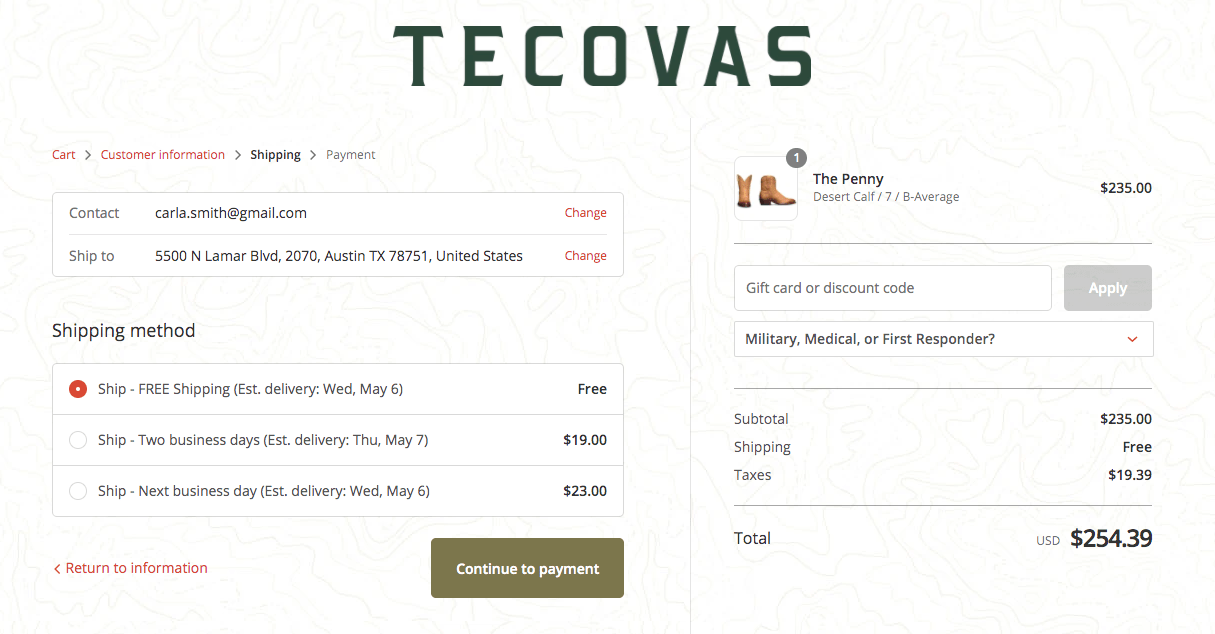 Texas boot retailer Tecovas is a direct-to-consumer footwear brand. Each boot takes more than 200 steps to create, underscoring a commitment to hand-craftsmanship and quality service. As an online-first company, the brand remains focused on finding new and better solutions for their Shopify Plus store.

"We want to try and provide as close to an in-store experience as possible for those that can't visit. Fast, free shipping is the most important place to start," said Noah Soloman, Digital Director at Tecovas.
After installing ShipperHQ's Shopify shipping app, Tecovas was able to significantly improve its checkout experience using two key features.
Delivery Date + Time: "Our website used to only show delivery ranges at checkout. Previously, we would display something like '3-6 business days' as an estimate. In a lot of cases, the boots arrive much faster than that, but we couldn't message that universally. With ShipperHQ, now we can offer real-time delivery date details calculated by FedEx."
Address Validation: "We spent some time doing manual address validation before, but knew a third-party Shopify app like ShipperHQ could do it a lot better than us and give us valuable ROI."
Read the full Tecovas case study here.
Ready to transform your checkout with ShipperHQ's Shopify shipping app? Connect with us today to see a demo. Or try it yourself for 15 days, on us. 
---
Want More Tips? Download our Free Shipping Strategy Checklist ✅