Incorporating your carefully negotiated FedEx and UPS rates into your checkout is clutch when it comes to your overall shipping strategy. Not to mention, getting your checkout set up faster so you can start selling your goods!

Well, we are about to make your day that much better — ShipperHQ has made it even easier to connect UPS and FedEx rates to your checkout. And since we are overachievers over here, we've also added the ability to instantly integrate FedEx Standard List Rates and UPS Daily Rates as well.
Our Main Improvement Goals
When we decided to update this process, we knew we had to crush certain goals to make it smoother for our customers. Read on to see where we made improvements so that adding your negotiated rates (or getting those standard list rates quickly) is now a pain-free experience.
1. Remove friction
This friction included everything from validation failures to being forced to locate your very specific credential information (and who can find anything these days, really?). Not to mention, the added necessity of actually creating an account with UPS and FedEx in the first place. Spoiler alert — not everyone has one!
2. Offer credential-free UPS and FedEx list rates
We wanted customers to have the ability to get started quicker, which meant entering less information during the setup process. If you could get access to standard list rates right away, then there is no delay in building your shipping process whatsoever. Our thought was, "how can we get our customers to that finish line faster and easier?"
3. Allow folks to start testing their configurations quicker
If installing your UPS or FedEx negotiated rates meant holding up the setup of your checkout system, then that meant the entire shipping structure of your online business would be delayed. You also wouldn't be able to immediately test the checkout flow or ensure everything works well together. Your time is valuable and every minute counts!
The Current Workflow
With all of those goals in mind, we went to the drawing board (what's the equivalent of a coding board?) and now — look how easy it is! Have you ever seen an installation be less time-consuming?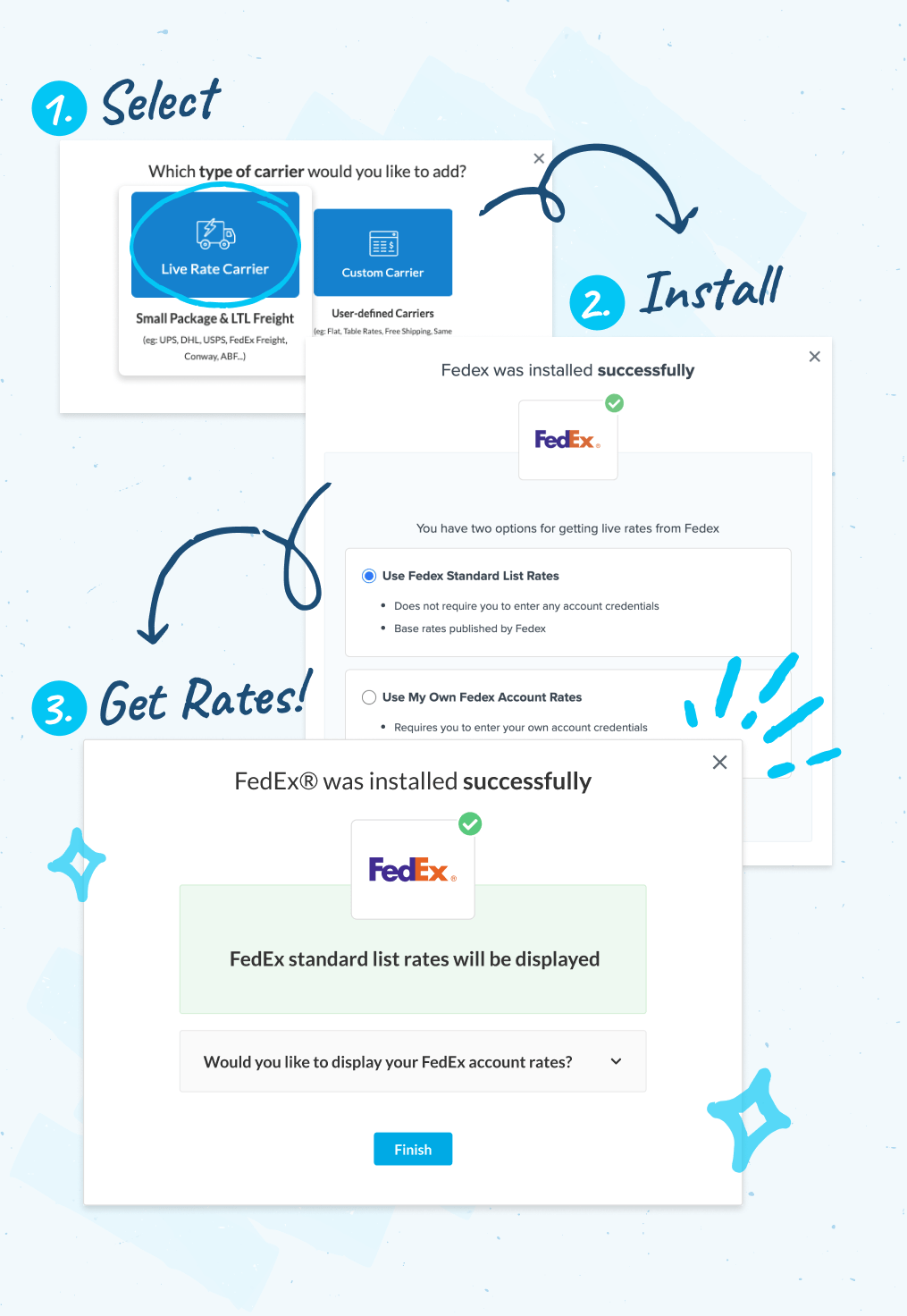 Let's break it down a little more so you can really join us in feeling the excitement around these modifications.
The biggest change with this update is you do not need to enter UPS or FedEx account details to receive and integrate carrier rates into your checkout system.
Now, you can enter your account details later (or even set up an account if that's your vibe) and still see the standard rates in the meantime.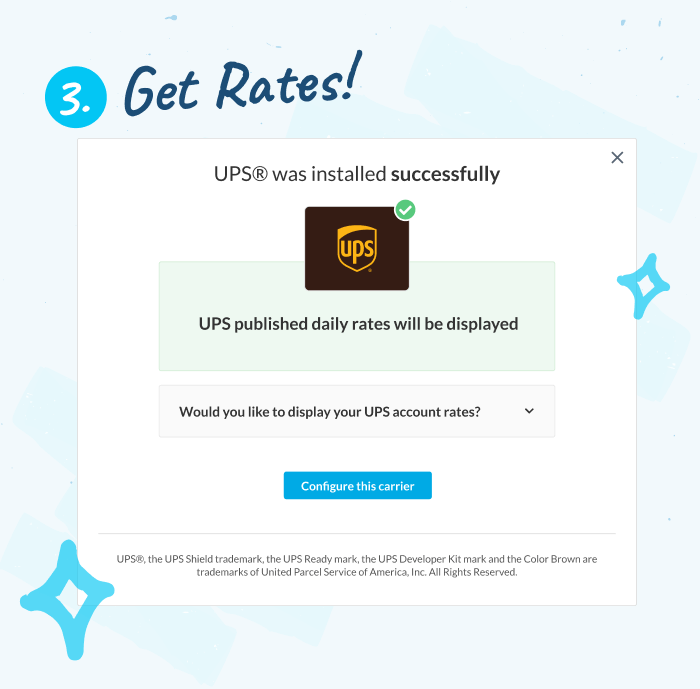 Look at that beautiful green checkmark. Plus that magical word: 'successfully'.
It's essentially a credential-free enablement with the option to register your account in the future. What does this mean? Well, for one it means you get rates instantaneously. Plus, you now have more options for uninterrupted shipping. This new flow means that you can use the standard rates offered by UPS and FedEx regularly or as an automatic backup to your own rates in case carriers ever have unforeseen outages.
We aren't done yet — we also improved the registration process to connect directly to your own FedEx and UPS negotiated rates if/when you decide to do so.
Previously, you would have to leave our site, go to Fedex or UPS's site to get your account information, come back to us, enter your credentials, then wait for validation. A little inconvenient, no? Well now, it's much more straight-forward and seamless:
Click on your carrier
Agree to the end-user license agreement (EULA)
Enter Account Information directly
Validation Station!
You don't even have to leave our site or copy/paste your credentials to validate. It's all right there in the dashboard. In other words, no more multi-tab web pages for you.
The Benefits
The bottom line — with this update, our focus was making life simpler for our merchants. When you sign up with us, we want you to have an instant and easy connection to our services. Not only is it gratifying to avoid a configuration-induced headache, but you can access our full range of resources faster.
Nifty things like rate shopping and being able to test your rates in advance can now be accessed quicker without needing to first enter in complicated or hard-to-find credentials. Removing any unnecessary friction in the process means you can get back to your main focus quicker: your business!
Come and take a look for yourself!