Have you ever been the one in charge of putting away your leftovers from dinner? Then you know firsthand the struggle of trying to find the perfectly sized container for your exact needs (it's a skill, truly!).
Shipping products can be a very similar challenge. You don't want to discover that you've been wasting valuable energy, time, and supplies on packaging your products inefficiently. This is where the difference between calculating dimensional weight versus product weight comes into play. More specifically, our Dimensional Packing feature.
What is Dimensional Packing Exactly?
Glad you asked! Dimensional Packing automatically determines the most efficient packaging options for any combination of products in a cart, based on your shipping box sizes and item specifications. It's our nifty feature called the "Best Fit Algorithm."
Here's how it works: it takes into consideration the weight and/or dimensions of the items, the quantity, and the available shipping parcels in your system. Then, it automatically determines which options would give you the best fit in the least amount of packaging— all of which is dependent on your preset rules and customized options.
Once this configuration is determined, ShipperHQ then takes the order's package information and sends it to the carrier to ensure an accurate rating. (If you are using a custom rating, then ShipperHQ will use the information to set the rate based on which package is used).
Dimensional packing takes a labor-intensive process and turns it into smooth sailing from checkout to delivery — for both you and your customers. Plus, you can utilize specific measurements to get more accurate shipping rates, instead of relying on table rates or product weight alone.
Dimensional Weight vs. Product Weight
Most carriers offer two different types of shipping price structures: one based on the product weight and one based on the dimensions.
To quickly clarify, dimensional weight refers to the weight a package is rated at by the carrier, based on its size. If you are interested in diving deep into the calculations, then definitely check out our post here. But basically, think of measurements like height, width, and length. 
Product weight is more straightforward — it simply refers to the physical weight of the item, which can also be rated by the carrier if it's heavier than the dimensional weight (in fact, some carriers don't use dimensions at all). 
Most eCommerce systems do not support dimensional weight vs product weight options, which means merchants are often underquoting their shipments, especially if a product's dimensional weight exceeds its physical weight. Not really what you need, right?
Using this feature within ShipperHQ ensures you are receiving the most accurate prices while creating a cost-effective packing process.
Is Measuring Dimensional Weight Good for All Merchants?
Great question! The answer is…it depends. The nuances and uniqueness of your products is why we built this feature in the first place.
Let's say you have items that vary in size and/or sell products that are large (yet lightweight), then determining the dimensional weight will make a big difference when it comes to the accuracy of your shipping rates.
If you don't always know the exact dimensions of your products or maybe you simply prefer a flat rate shipping strategy, then dimensional weight may not matter as much to you!
In case you're more of a visual learner, let's look at this example below: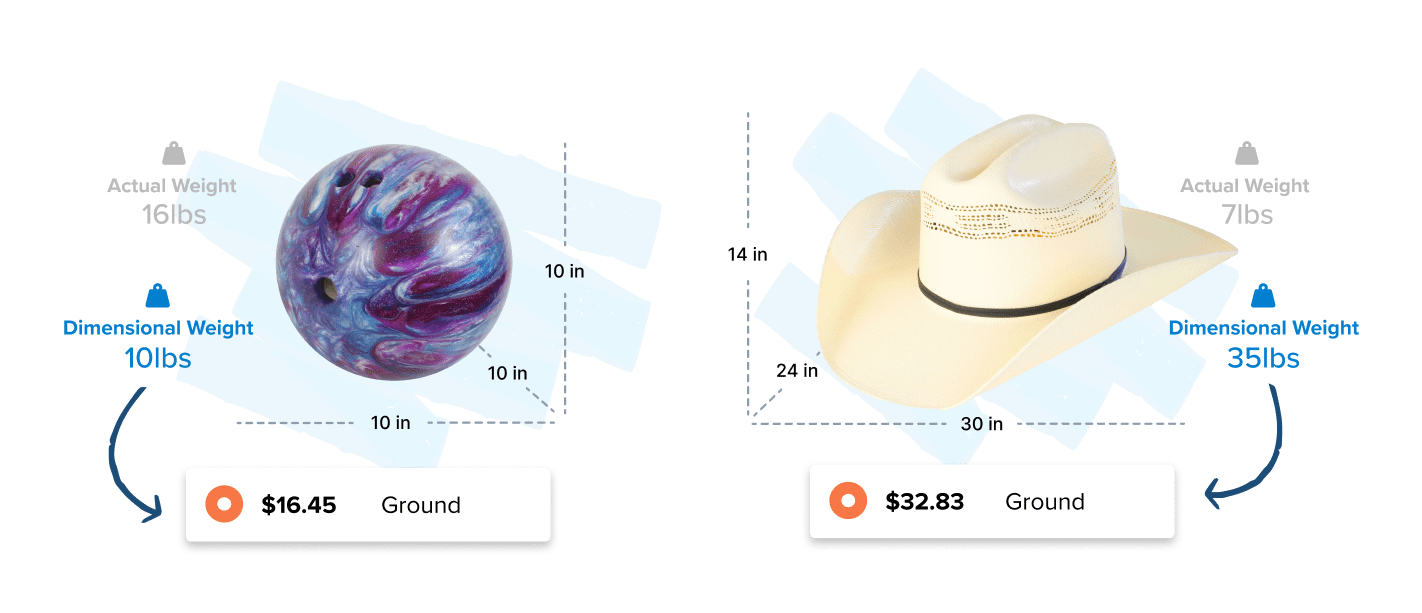 Here you can see the difference between packing a bowling ball (where the product weight is used to calculate the shipping cost) versus the cowboy hat (where the dimensional weight is used).
The differentiation between the two impacts your carrier rate accuracy — and then, in turn, what you charge your customers for shipping the item.
Why Does This Matter to My Business?
Well, do you like the idea of spending less money on packaging overhead and a better long term shipping strategy? Then it will matter a lot to you!
Obviously, when you are shipping your products in more efficiently-sized packages, then you aren't wasting your materials unnecessarily.
However, aside from saving on materials, the accuracy of your carrier rates are also dependent on the precision of your package dimensions. Since dimensional packing takes into consideration the size and weight of each object, you are also getting more accurate carrier rates based on those calculations.
For example, if you are charging the customer based solely on the product weight, but the carrier is charging you based on the dimensional weight, then you are technically losing money on each sale. With dimensional packing, you are utilizing the most efficient rates for your shipping needs — no money wasted. Plus, with better shipping rates, you are better set up for an increase in conversion rates.
Lastly, you can use our algorithm while also solving for exceptions to the rule. So, you can set up customizable packing rules based on what you learn each time our Best Fit Algorithm does its thing!
How ShipperHQ Can Get You Ahead in the Dimensional Game
Along with knowing the benefits of dimensional packing for your shipping needs, ShipperHQ can also help you build a creative advantage over your competitors with our unique algorithm. Yes, our engineers are that good.
How does this give you a competitive edge? Well, for one, you are creating a stronger overall shipping strategy, which means your customers are being charged the accurate rates for delivery and you're not losing money on wasted materials. This lets you focus on growing your business with the knowledge that your profits are going towards helping your company thrive, not on inaccurate and inefficient shipping methods.
Through dimensional packing, you'll see increased shipping profitability and cost efficiency each time someone purchases an item from your store. Also, different carriers – like FedEx and UPS – calculate dimensional weight differently, so using the feature through ShipperHQ can ensure you get the most accurate negotiated rates.
If that isn't enough, you are also offering more options for your customers by creating customized selections based on your specific products.
Let's Get Customizable
Let's dive into your options a bit more — when you utilize this service with ShipperHQ, you can customize your shipping dimensions based on your products and their individual requirements. Basically, you can set some ground rules.
Here are some examples of what you can expect from our tool:
Freedom to create your own packing rules based on specific products or unique conditions.
Are you known for selling a lamp that defies the logic of physics? Not a problem — you can set specific weight and quantity limits per box to fit your needs!
An algorithm that not only supports multi-packaged products, but also the option to ship items separately.
This is super essential — when a carrier rates a single SKU (or barcode) by weight, but the product itself actually ships in multiple boxes, it can lead to massive rate discrepancies.
When you enable dimensional shipping through ShipperHQ, then you can include options like packing fees, packing weight, padding, and spending minimums.
AKA choose your own shipping adventure!
Customer Success Stories
You don't have to just take our word for it. Here are some of our customers talking about the importance of our dimensional packing and shipping feature for their business:
"It was really important to us to have a shipping solution that had a lot of flexibility and a lot of customization to fit our complex shipping needs. With ShipperHQ, all of the features we needed worked for us very seamlessly," – Ryan VanHoozer,Vice-President of Operations at Marysville Marine
"Our smaller item sales increased by 30% with the help of dimensional shipping from ShipperHQ. Sales of our heaviest products are up infinitely as we hadn't had a solution to offer LTL shipping to our customers prior to implementing ShipperHQ. We could not be happier with the performance or the ongoing support to help us offer the best shipping rates that we can." – Kevin Comerford, President at Mr. Shrinkwrap
"The support is great; we took advantage of their customization service which went smoothly. We don't have to worry about our shipping anymore. ShipperHQ has saved our team time. For example, we have better access to data now. We have the ability to have data come through the systems and not have it go through code which was painful for our team. Having a system intelligent enough to pack products into the correct boxes." – Creed Ford, Director at Rudy's Country Store and Bar-B-Q
"ShipperHQ's dimensional packing feature helped us define exactly how we are packing our oversized and bulky products. Now our rates are much more accurate. We don't have to worry about under or overcharging customers no matter where we ship, domestically or internationally." – Ian Maclean, Owner at Hairpinlegs.com
So, are you looking to save money, increase the accuracy of your shipping rates and pack your products more efficiently? Let ShipperHQ help you grab that competitive edge with our unique dimensional packing options. Sign up for a free trial today!