Enough is enough. It's time to tidy up shipping.
I met Karen Baker at an Imagine in – I think – 2013 or 2014? It's all a bit blurry for some reason. One thing that isn't blurry was my immediate and crystal clear appreciation for her authenticity and straight talk.
The other thing that was crystal clear is Karen's passion for helping merchants succeed when it comes to shipping. This passion permeates the entire ShipperHQ team – the hardest working (and playing) team in eCommerce as I like to say.
The result of this passion is the launch of the ShipperHQ Shipping Experience Management Platform (SXM) – the foundation for our vision to make shipping innovations easily accessible to merchants so that they can stand up and compete with the likes of Amazon.
In Karen's own words – "Enough is enough. It's time to tidy up shipping."
Get the full scoop below. And come see the ShipperHQ crew at Booth 508 at Magento Imagine to get a dose of some straight talk and passion for all things shipping.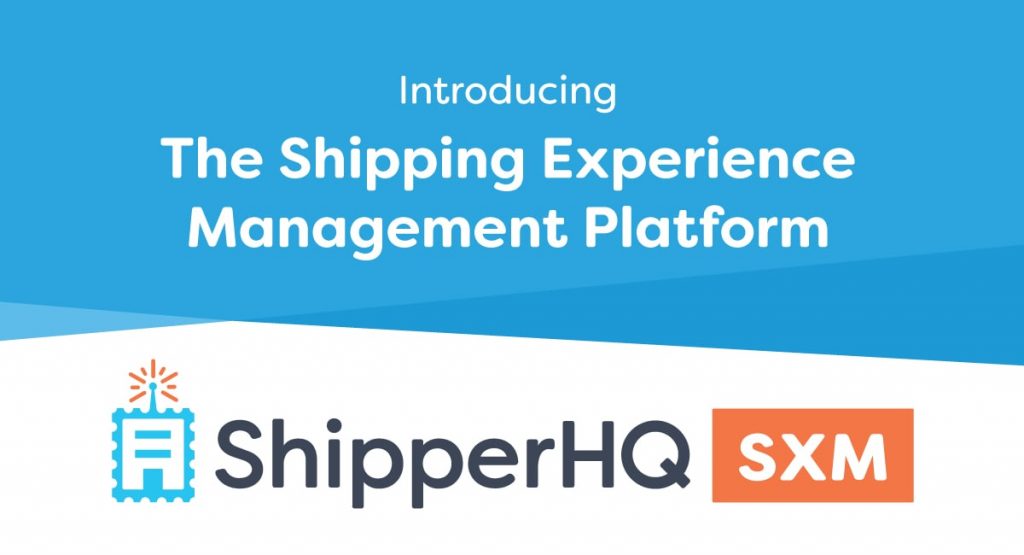 Today we're announcing the launch of ShipperHQ SXM— the world's first shipping experience management platform.
Designed to empower merchants of all sizes, the ShipperHQ SXM makes it easy to configure sophisticated shipping pricing and delivery options based on virtually any variable—customer, product, origin and destination—in order to profitably deliver free shipping and other shipping-based promotions and experiences.

The platform's Enhanced Checkout feature also enables split checkout, scheduled delivery date and time, in-store pickup with a map view of pickup locations, and support for accessorials for LTL freight shipments—all shown in a branded experience from right within an eCommerce site's cart and checkout.

A new Enhanced Order View feature displays the shipping details required to ensure orders are fulfilled in precisely the way the customer requested. Rich shipping information like origin, date and time requirements, packaging, special handling instructions are presented in an at-a-glance view from within the store admin.

Beyond eCommerce experiences, the ShipperHQ Shipping SDK makes it easier than ever for merchants to tailor and distribute shipping-based pricing, promotions, and delivery options to any sales channel. The SDK also includes Enhanced Order View data and a new Label SDK to manage orders and print labels from the merchant's preferred back-end system.

Rounding out the new platform features is an Analytics Dashboard. Merchants can now view and analyze key metrics that impact shipping strategy and tactics. Leveraging data gleaned from ShipperHQ's position in the cart and checkout, merchants can compare completed orders to abandoned carts to identify patterns and extract insights on how shipping cost and price, methods, location, and other options affect conversion rate, sales, and margins.

The core ShipperHQ SXM platform is just one way the company gives merchants a leg up on Amazon. With an expansion of the ShipperHQ Marketplace, merchants can assemble a powerful shipping stack via the growing ShipperHQ ecosystem of complementary shipping technology, agency partners and carriers.

"The ShipperHQ Marketplace is the merchant-facing benefit of our partner first philosophy. We want to provide a one-stop-shop for both partners and merchants. Partners can plug into ShipperHQ and get access to our growing merchant base and avoid having to build and maintain integrations with multiple platforms. Merchants can fulfill their shipping technology and services needs in a single location.


Genevieve Eddison, CTO of ShipperHQ
The ShipperHQ Marketplace also helps merchants tap into new markets with access to innovative Cross Border, White Glove, LTL and Same Day shipping solutions—made possible by new and expanded partnerships.

Our growing partner ecosystem combined with the ShipperHQ SXM progresses us toward our goal of being the central hub for making shipping innovations easily accessible to merchants—and to our solution partners who serve them—so that they can stand up and successfully compete in a world where Amazon never stops innovating
For more information about ShipperHQ SXM and the eCommerce Shipping Experience Revolution, stop by Booth 508 during the Magento Imagine conference May 13-15 or contact our team at ShipperHQ.com.