Learn all about ShipperHQ, the world's #1 shipping rate management solution for Magento merchants
What if I told you there was a Magento shipping solution out there that helps you manage and customize your rates, options and details at checkout with ease? Yes, I'm talking about full on personalization here. There's a tool that matches your business' shipping goals and requirements to what's shown at the point of purchase.
Meet ShipperHQ, the leading Magento integration for merchants looking to improve their shipping experience in the cart and checkout.
Our solution doesn't just help you fetch shipping rates from UPS, USPS, FedEx and other major carriers. It's a comprehensive platform that allows you to take control of your pre-purchase shipping strategy. With unique shipping rules, promotions and much more, you'll be able to convert buyers and boost loyalty like never before.
And with 77% of online shoppers admitting they abandon carts if shipping options aren't what they want, there's a lot to lose from your Magento checkout simply because your experience is not optimized for sales.
What is ShipperHQ?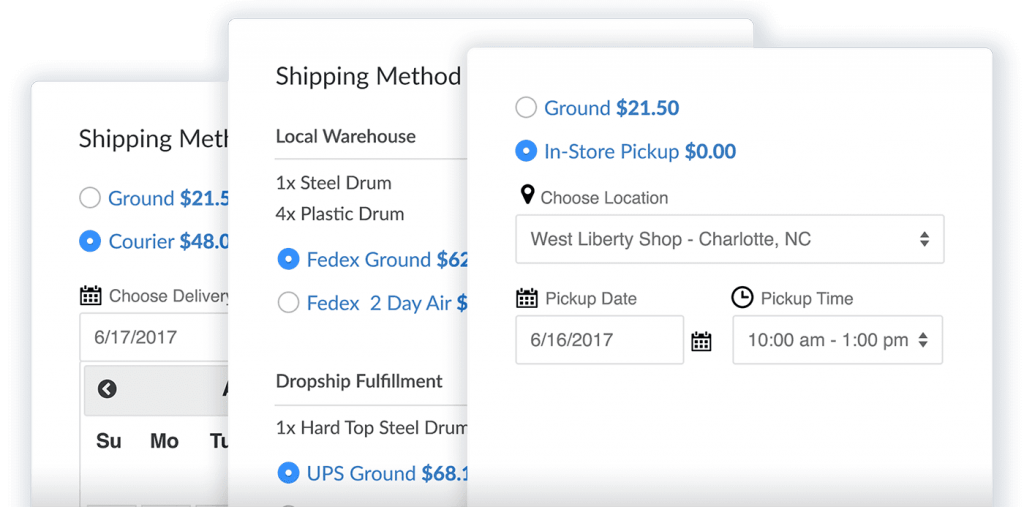 ShipperHQ is a flexible shipping rate management solution built from the same great minds that developed the popular WebShopApps extensions. Our early success with WebShopApps allowed us to create a more robust product that customers have now loved for years.
Since 2014, ShipperHQ has helped tens of thousands of merchants create a checkout experience that drives sales and stands out from the competition. B2C and B2B merchants that use ShipperHQ for their Magento shipping needs can:
Easily configure a long-term shipping strategy, or make changes instantly
Streamline all shipping options and manage logistics providers in one place
Use shipping as a marketing tool and create rules based on real-world logic
Be upfront to customers about when they can expect package delivery
Reduce friction and improve margins through automated shipping processes
Our number one goal is to help Magento merchants around the world leverage shipping to achieve ecommerce success.
With ShipperHQ, retailers can manage complex shipping and delivery scenarios with ease. Before rates and options ever appear at checkout, behind-the-scenes rules, restrictions and surcharges take into account many different things. This includes factors like product type, destination and cart subtotal.
As an official Magento Technology Partner since 2011, ShipperHQ is also the only rating-focused UPS Ready® provider in the Magento shipping ecosystem.

Explore What's Possible with ShipperHQ
Provide Irresistible Delivery Choices at Checkout
With ShipperHQ, Magento merchants can easily manage what shipping rates and methods they show at checkout. We calculate live rates and support 50+ carriers, including LTL freight providers. Plus, we let you offer innovative services, like same-day delivery and alternative pickup via UPS and FedEx, to your customers.
As an added bonus, all of this is managed through a single dashboard experience. That way if you want to make changes, you can easily login, update and test.
Control Your Magento Shipping Margins with More Accuracy
Whether you want to break even on shipping, make a profit from it or simplify differentiate your business by showing the lowest costs, accurate rating is the first place to start. From calculating rates based on dimensional weight, to automating box selection and packing rules, ShipperHQ does all the heavy lifting.
All you have to do is add your product dimensions in Magento. And add your box dimensions and packing specifications in ShipperHQ. From there, you can sit back and watch the magic of accurate rates happen in real-time for every order.
Offer Greater Delivery Transparency in Your Magento Checkout
With ShipperHQ, you can give your customers total delivery date clarity. Our solution pulls in delivery date information straight from the carrier, including UPS, USPS and Canada Post. Plus, it allows you to configure details like blackout dates, cutoff times production lead-times. That way, the information you show at checkout matches your operations.
Unlike other platforms, ShipperHQ for Magento also allows you to display a calendar during checkout. With it, your customers can choose a delivery date and time that fits their schedule.
Other Ways ShipperHQ Can Improve Your Magento Shipping Experience
Stay Ahead of Rate Service Disruptions – Automatically pull rates from an alternative provider during scheduled maintenance. Or, if an API outage occurs out of the blue.
Connect the Dots with Custom Rates – Specify where products are located, such as a warehouse, fulfillment center or drop shipper. Then tailor rates according to how close a customer is to a specific fulfillment location.
Declutter Your Magento Checkout Page – Simplify your checkout page by showing a single shipping quote. Eliminate a carrier's name altogether for orders being fulfilled at multiple locations.
Save Money with Accurate Delivery Fees – Verify address type during checkout. Doing this ensures you're charging customers the right fees for residential or commercial delivery.
Breakdown Accessorial Charges – Don't surprise customers with fees after booking. Be clear about costs associated with liftgates, pallet jacks, fuel surcharges and more.
A Totally New Checkout Experience
Now, Magento 2 merchants can take their checkout even further with a shipping experience unlike any other extension in the ecosystem.
ShipperHQ's Enhanced Checkout features Amazon-style split shipping to give customers the freedom to choose their preferred delivery method for individual shipments in the order.
This comes in handy for merchants that sell a wide variety of products. Maybe some are available for in-store pickup or require expedited shipping, while others need an LTL carrier. With the Enhanced Checkout, it's easy to allow that flexibility and keep it simple for the customer.
The Enhanced Checkout also comes with expanded support for some of the most popular delivery options your buyers want.
Magento 2 merchants can offer in-store pickup with added store details and location map, as well as show a calendar view and time-slot selector, so customers are able to choose the method, date and time most convenient to them.
For merchants, we've also incorporated an Enhanced Order view that provides robust order information and shipping details to boost your fulfillment speed and accuracy. Details include packing specifications, shipping rates and methods, dispatch date and more.
Did I mention that all of this is available as an out-of-the-box, PWA enabled solution for fast integration and no additional development time or cost? You'll be hard-pressed to find this level of flexibility and control anywhere else without having to build it yourself.
Enterprise-grade Logistics For Everyone
Ouradvanced features are powerful enough to meet the most complex needs of Enterprise retailers, yet flexible enough to fit any business. With several subscription levels available, ShipperHQ can scale with you as your Magento shipping needs grow.
Plus, ShipperHQ's functionality is backed by an innovative GraphQL Rating API that makes everything we do possible and portable. So if your needs are really custom, you have the ability to build your own integration into your backend system.
Work With Our Shipping Experts
ShipperHQ is the culmination of over 10 years of shipping experience gained from working with tens of thousands of merchants worldwide.
After personally dealing with the some of the struggles of ecommerce shipping, we decided to do something about it. Today, we're proud to help Magento merchants bring the complexity of their shipping needs under control.
Our award-winning customer success team are approachable and passionate about solving your shipping problems. And with offices in the UK, Australia and the heart of Texas, we're here to help no matter where you are.
Our team of ecommerce shipping experts are happy to get up and running in no time. With Consultation Services, Priority Support, and Configuration Services, we can guide you towards the best setup for your shipping goals, or put your Magento shipping strategy in our hands and we'll take care of setup for you.
Let us help you create custom shipping experiences and a winning checkout process for your Magento store. Get started with your No Risk 30 Day Free Trial. Or download our free extension from the Magento Marketplace and visit ShipperHQ.com to sign up.