Does Shopify ship internationally? From language barriers to product restrictions, here's what you need to consider before offering international shipping through your Shopify store.
Picture this: You're an online seller from Portland, OR, on Shopify specializing in American football merchandise. In the last few years, you've made a killing in the United States, selling to NFL and NCAA fans nationwide. But you have an inkling you could take your business even further if you embrace Shopify international shipping for your Portland e-commerce business as well.
Expanding beyond your borders is the obvious next step. After all, there are American football games played in England, Canada, Mexico, and other countries interested in gridiron. As a smart seller, you realize you'll have to take advantage of this sudden change, or you'll be left behind.
The trouble is, you're intimidated by the concept of international shipping and how it will impact your bottom line.
Can Shopify ship internationally? How different is it from shipping in the United States? Is there a way to make it simple and easy for both your customers and your business? Does Shopify provide free shipping worldwide?
To craft an e-commerce international shipping strategy that actually works, specifically one that includes the best shipping rates and options available in the market, you need to spend time customizing it. And no, this doesn't mean you have to mean become a shipping expert overnight, either.
In this post, we'll guide you on the right path. You can rest easy knowing your Shopify international shipping strategy is built for success.
Brief Guide on How To Set Up International Shipping on Shopify:
Review carrier restrictions
Select compatible carriers
Customize shipping zones
Translate your store
Manage product considerations
Determine shipping origins
Address border restrictions
Brief Guide on How To Set Up Worldwide Shipping on Shopify:
Assess carrier options
Customize shipping zones
Optimize delivery options
Calculate dimensional weight
Consider insurance and order tracking
Test and iterate
Ecommerce International Shipping 101: What Does the Future Hold?
Selling overseas, even if it's just for a select group of products, is worth tackling. That's what shipping rules are for, after all. If you are still on the fence, consider this:
To put it plainly, only shoppers expect international shipping options, and it's no longer a nice to have to meet this expectation.
---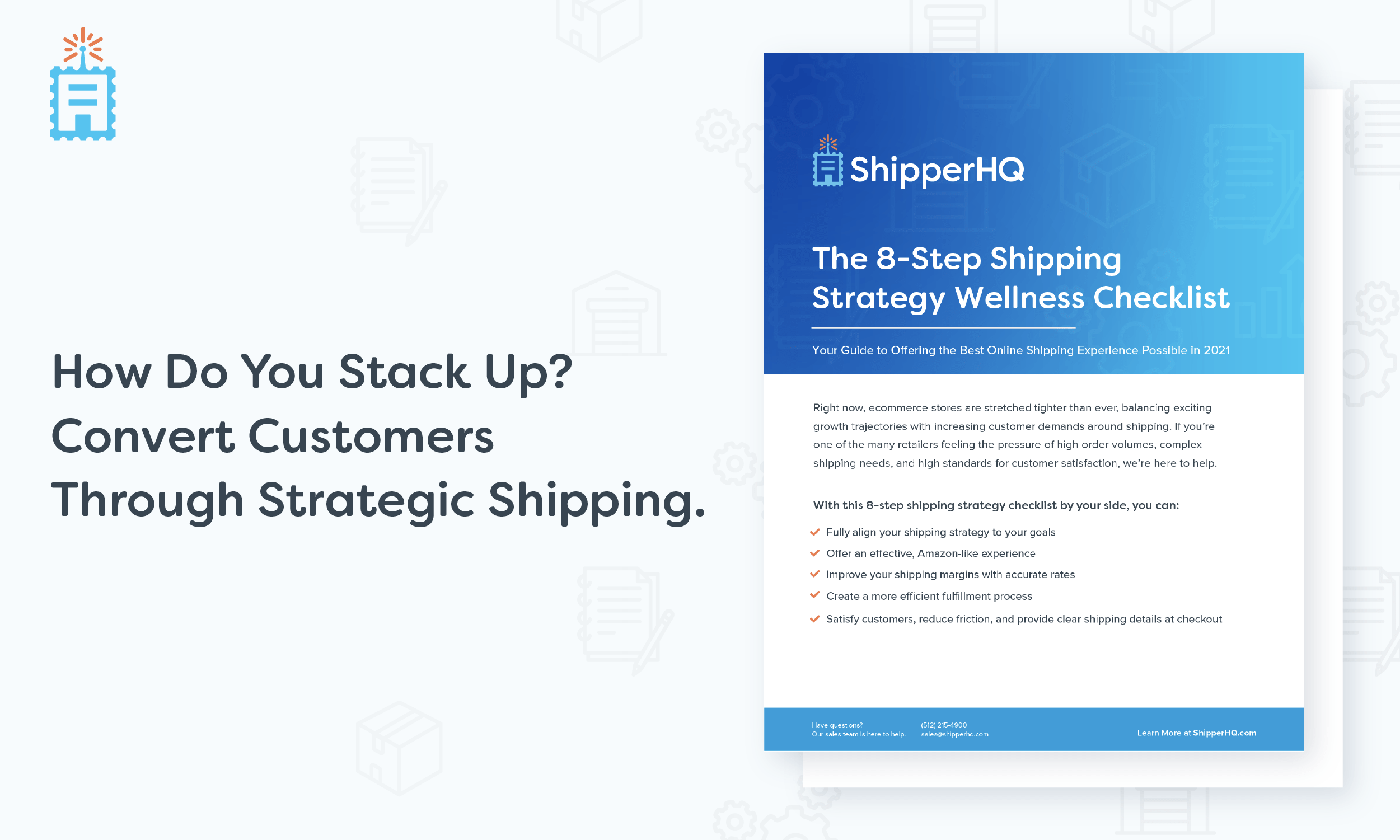 ---
Does Shopify Ship Worldwide?
The short answer is yes. Whether or not you can ship internationally is determined at the carrier level. Whoever you partner with, let's say UPS, FedEx, or DHL, has their own restrictions around where they will and won't deliver.
During the age of COVID-19, this information is especially pertinent to be aware of since additional restrictions have been put into place. To stay up-to-date, it's best to check out the approved countries list stated on a carrier's website, such as the ones listed below:
Shopify International Shipping Rates, Explained
You could be eligible for reduced Shopify shipping rates from carriers like UPS, USPS, DHL Express, or Canada Post, depending on which Shopify subscription plan you are on. While discounts vary based on package type, size, weight, destination, and origin, here's a general overview of what you can expect:
USPS
Domestic Shipping
International Shipping
Between 64.5% and 88.5%
Between 5.0% and 10.4%
UPS
Domestic Shipping
International Shipping
Up to 61.38%
Up to 73.43%
DHL
International Shipping
Between 71.5% and 76.0%
Canada Post
Domestic Shipping
Shipping to the U.S.
International Shipping
Between 12.9% and 26.0%
Between 24.0% and 28.1%
Between 45.0% and 52.6%
7 Things That Affect E-commerce International Shipping on Shopify
Customers are the lifeblood of your business.
It can be too easy to forget the human on the other side of the transaction. When running through this list, really think about how these factors impact both your customer experience and customer support.
As long as you don't lose sight of this when putting together your e-commerce international shipping strategy, you'll be on the right path. Now, let's dig into the seven issues that may pop up when planning your new international shipping endeavor on Shopify.
1. Translations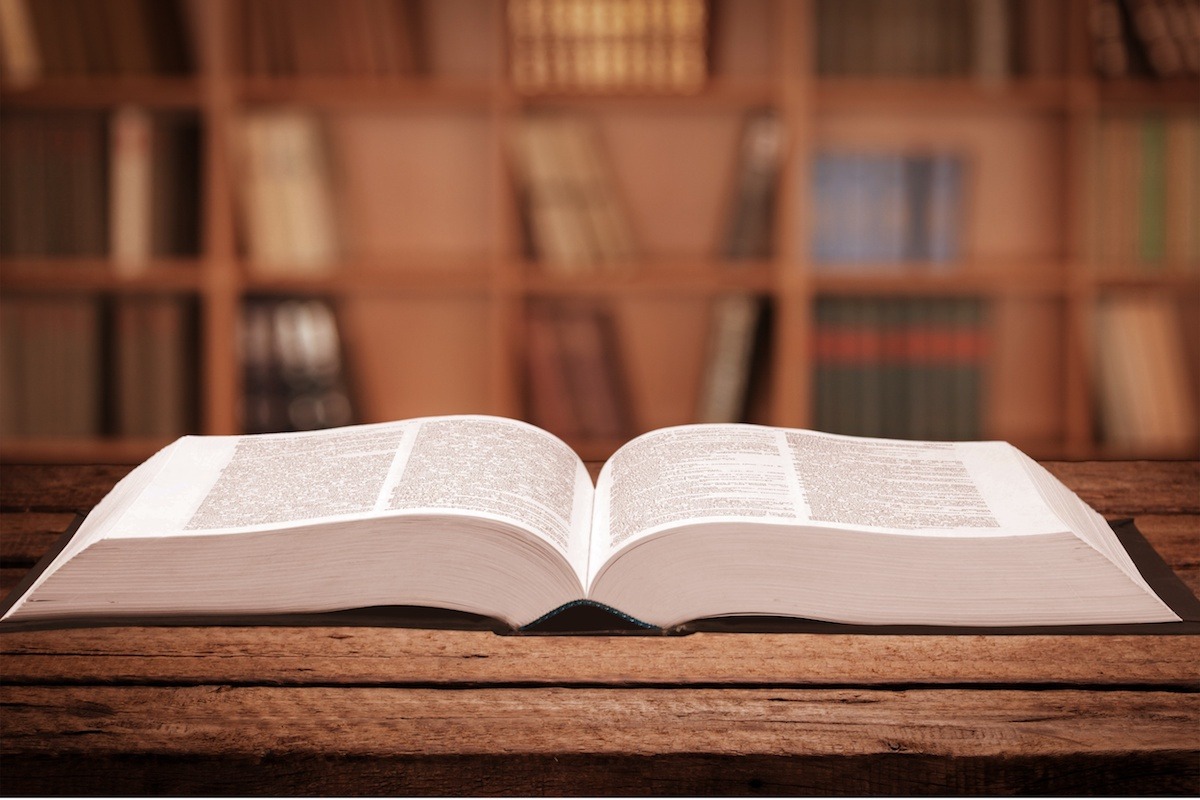 When entering a new market abroad, you're probably going to hit a language barrier.
If your website isn't translated into, say, German, the customer may click on the wrong thing and have to edit their cart too many times. Which, of course, is a pretty bad user experience.
And if they're already unhappy about this, imagine what would happen if they get charged an unexpected fee just because they didn't understand the small text on your product or checkout page.
Here's our advice: If you're not ready to sell to a country, don't include that country. Start by focusing on the 1-2 areas outside your home base where you receive the most website traffic and market to those really well. 
Google Translate only gets so far (and is notoriously unreliable), so hiring a professional translator – or working with a third-party company that specializes in localization – is key.
If you want to start small, in Shopify specifically, you can translate your checkout by editing your theme. You can even translate that page into multiple languages, if you really want to.
As an English speaker, you may not even realize the untapped potential of updating your language for a UK or Australian audience. However, small regional dialect changes can go a long way (a.k.a. more conversions!).
2. Product Considerations
This may sound obvious, but you need to really think about what you want to ship overseas. And how you pack these items, such as with custom packaging and poly mailers.
Just because your U.S. store has your entire inventory online doesn't mean your Brazilian store has to as well.
Does it make sense to ship heavier items cross-border, like a hefty plaque, if it costs an arm and a leg? You may want to instead stick to selling lightweight items, like decals or t-shirts, for this specific Brazilian store.
Or, if you really prefer to make anything and everything available to your Brazilian brand loyalists, consider adding a handling and packing surcharge to offset some of these costs. This way, you are never losing money on the time and attention it takes to get certain products to your customers safely.
Beyond setting up a shipping strategy that's friendly to your bottom line, you can also incentivize your international customers to purchase more from your online store each time they buy.
You don't have to have the same marketing across the board for all your stores, especially since some might not even offer international shipping at all.
You need to adjust your marketing strategy accordingly based on stores with international shipping and without.
For example, your free shipping strategy will probably look very different between the two.
Maybe your U.S. store, which only ships to Canada and Mexico, has free shipping on orders over $50 for domestic customers but $75 for international. While your Spanish store offers free shipping across the board for any EU county, but places a threshold for all other European nations.

3. Shipping-Origin Considerations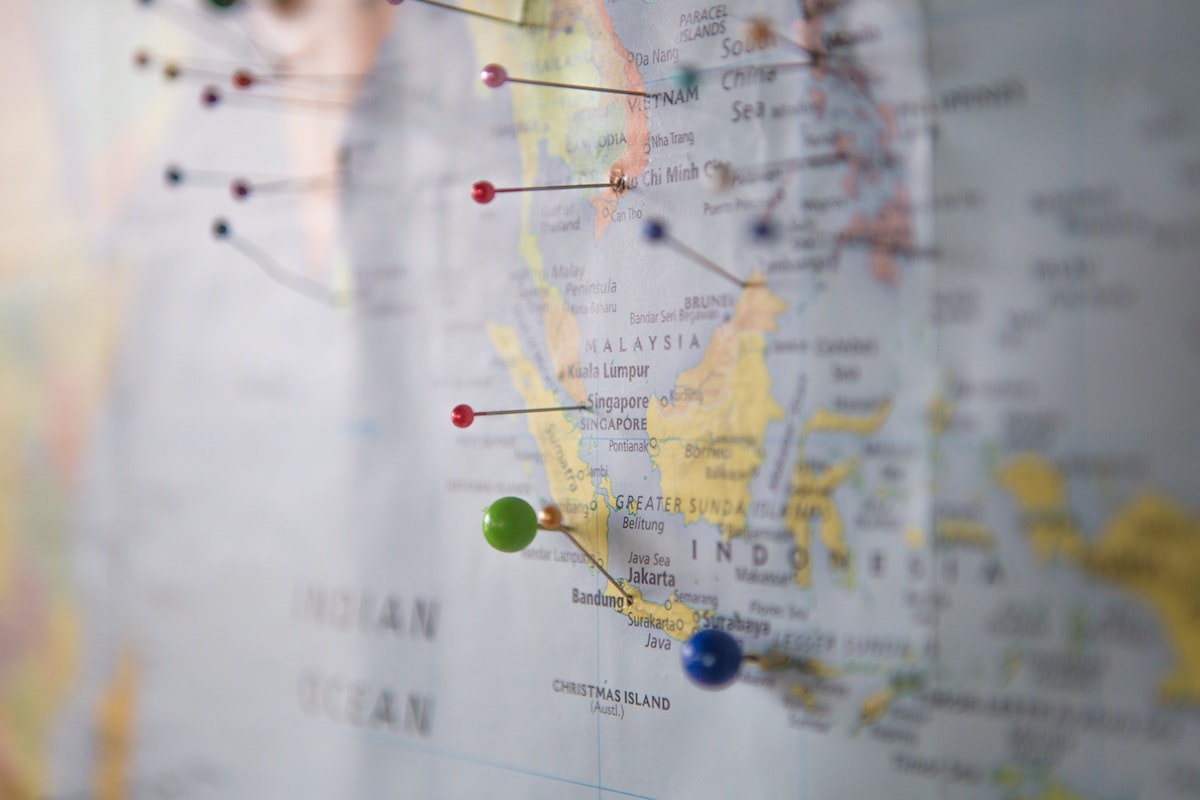 Something else you need to consider when figuring out your Shopify global shipping strategy is where you are shipping from, also known as your shipping origin.
If you are working with a single warehouse, for example, then it's going to cost a lot more to ship to a customer located on the other side of the planet.
That's why it's commonplace to work with multiple warehouses as your business grows.
By sending packages from different warehouse locations (or dropship vendors, depending on your preference), including international ones, you can cut your shipping costs and get packages delivered to your customers a lot quicker.
To do this successfully, you need a way to manage how you get your shipping rates from these different locations.
Rate management software like ShipperHQ's Shopify shipping app can help you control multi-warehouse shipping, as well as cater your shipping strategy for various international checkout scenarios.
For instance, you can set a rule that items from your Brazilian store should always be shipped via your Mexico warehouse. Or you can add a surcharge if a customer is located in a rural location to offset residential delivery fees.
You can even decide to ship according to minimum and maximum order values if necessary.
By tailoring your shipping experience like this, you can get better margins. Plus, give your customers a better shipping price compared to shipping out of an origin thousands of miles away.
4. Border Restrictions
Every country has its own shipping rules and regulations. And as a merchant, it's important you are aware of how to stay compliant with these laws. 
You don't even have to be selling anything perishable or hazardous to be flagged by customs.
Some items can only be transported via certain shipping methods.
For example, batteries over a certain capacity cannot legally be transported by air for safety reasons.
Just because you may sell American football jerseys doesn't mean countries will take them in. Stranger things have happened. It doesn't hurt to check.
Carriers like UPS have their own regulation checkers to aid with this.
You don't want to be charged various border and return fees after the fact, especially when up-to-date information is readily available online.
To prevent this from happening, you can create shipping rules for your products.
That way, any restricted items never get shipped out to customers in these locations. You can even include language on your product page about these restrictions in Shopify.
That's one way International Military Antiques uses ShipperHQ for their Shopify store. As you can imagine, selling antique firearms and other weaponry online comes with a heavy set of shipping restrictions around them.
With customers all around the world, ShipperHQ is their first line of defense to stay compliant with rules and laws for these products.

5. Carrier & Shipping Options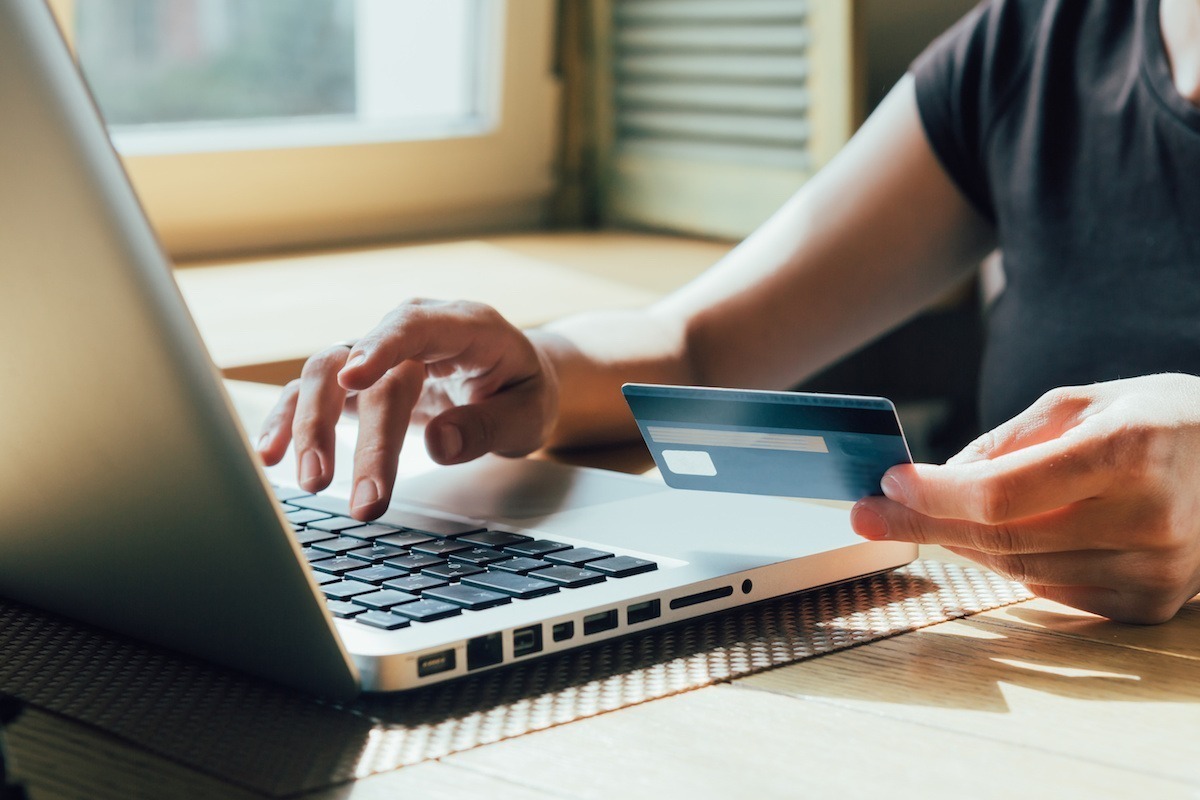 Do you tend to use only one or two carriers for your shipping? While there is a certain expectation that international packages will take a bit longer to deliver, you still want to get an item to the customer ASAP.
It's true – your current carrier might be amazing for your United States deliveries. However, they might be costing you money when shipping cross-border.
Unless you operate out of Detroit, USA, and are shipping to Toronto, Canada, Next Day Shipping is likely out of the question.
It's definitely worth it to check out different logistics providers so you get the best deal possible.
This includes contacting your current reps and seeing what you can negotiate for international customers. Each carrier has its own strength, and you want to get the best options for both you and your customers.
"Options" is the key word here, as customers always like to feel like they're in control. Offer buyers different delivery methods at various costs and in-transit estimates, within reason.
On the flip side, make the checkout process more simple by dropping carrier names, opting instead for options like:
Ground – 14 to 21-day delivery
Express – 7 to 10-day delivery
Express Plus – 3 to 5-day delivery
Give realistic expectations to your customers. That way, you don't overpromise, and they should be happy with the time frames offered.
6. Dimensional Weight
For items that take up a lot of room but don't weigh too much, like a full-body pillow, shipping costs can really start adding up. After all, you don't want to end up under or overcharging customers for shipping.
That's where calculating dimensional weight can help.
Dimensional weight converts a package's length, height, and width into a weight figure. This is the number most carriers are using these days to calculate shipping rates. So if you aren't, you probably won't be showing accurate rates on your website.
In Shopify specifically, you can set up your product dimensions. However, you are limited to having one default box size when calculating rates at checkout for Shopify international orders outside of the U.S. and Canada.
This means you're pretty much guaranteed to have rate discrepancies. Particularly between what you charge customers and what you pay for shipping.
For international buyers, you will want to use a tool like ShipperHQ that lets you set up multiple boxes. Plus, something that automatically determines which package is the best fit for a given order.
By doing this, you can really align your checkout experience (rates and options) to the way you actually pack and fulfill your orders. This includes packaging items separately or one item into multiple boxes.
7. Insurance and Safety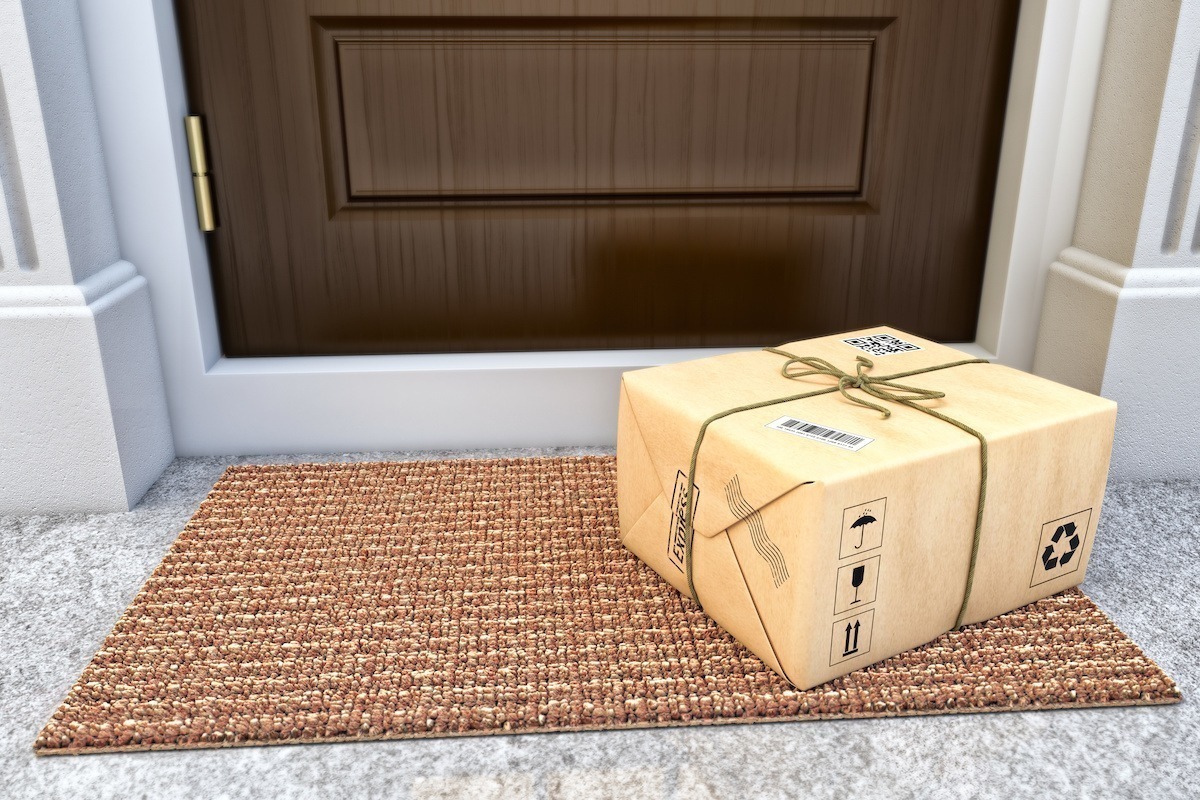 With your merchandise traveling across seas, bouncing between planes, trains, and automobiles, customers want to know that their package will arrive safely to them.
Shipping insurance is one way to ease your customers' minds. 
Most carriers, including DHL, UPS, and USPS, automatically insure shipments for up to $100. However, if the value of a shipment surpasses this number, it's up to you to provide more coverage.
And even if a package gets delivered, its safety may be out of a carrier's control.
Therefore, Order Tracking should be offered to your customers whenever possible. This way, they can plan to be home when a package is out for delivery. And be aware of where an order is at all times.
FAQs
How does Shopify handle currency conversion for international shipping fees?
Shopify automatically converts shipping fees into the customer's local currency based on real-time exchange rates.
What integrated solutions does Shopify provide for international shipping?
Shopify integrates with shipping carriers like UPS, FedEx, USPS, and DHL for seamless international shipping services, rates, and tracking.
How can Shopify's analytics help optimize my international shipping strategy?
Shopify's analytics tools offer insights into shipping costs, delivery times, and customer satisfaction, helping you optimize your shipping strategy based on data.
What international shipping insurance does Shopify offer?
Shopify partners with shipping carriers that provide automatic insurance coverage for shipments up to a certain value. Additional coverage options can be explored through third-party providers.
How to add ShipperHQ's Shopify shipping app store to your business?
Install ShipperHQ from the Shopify App Store, follow the setup instructions, and configure your shipping options for advanced features like rate management and multi-warehouse support.
How ShipperHQ's Shopify Shipping App Can Help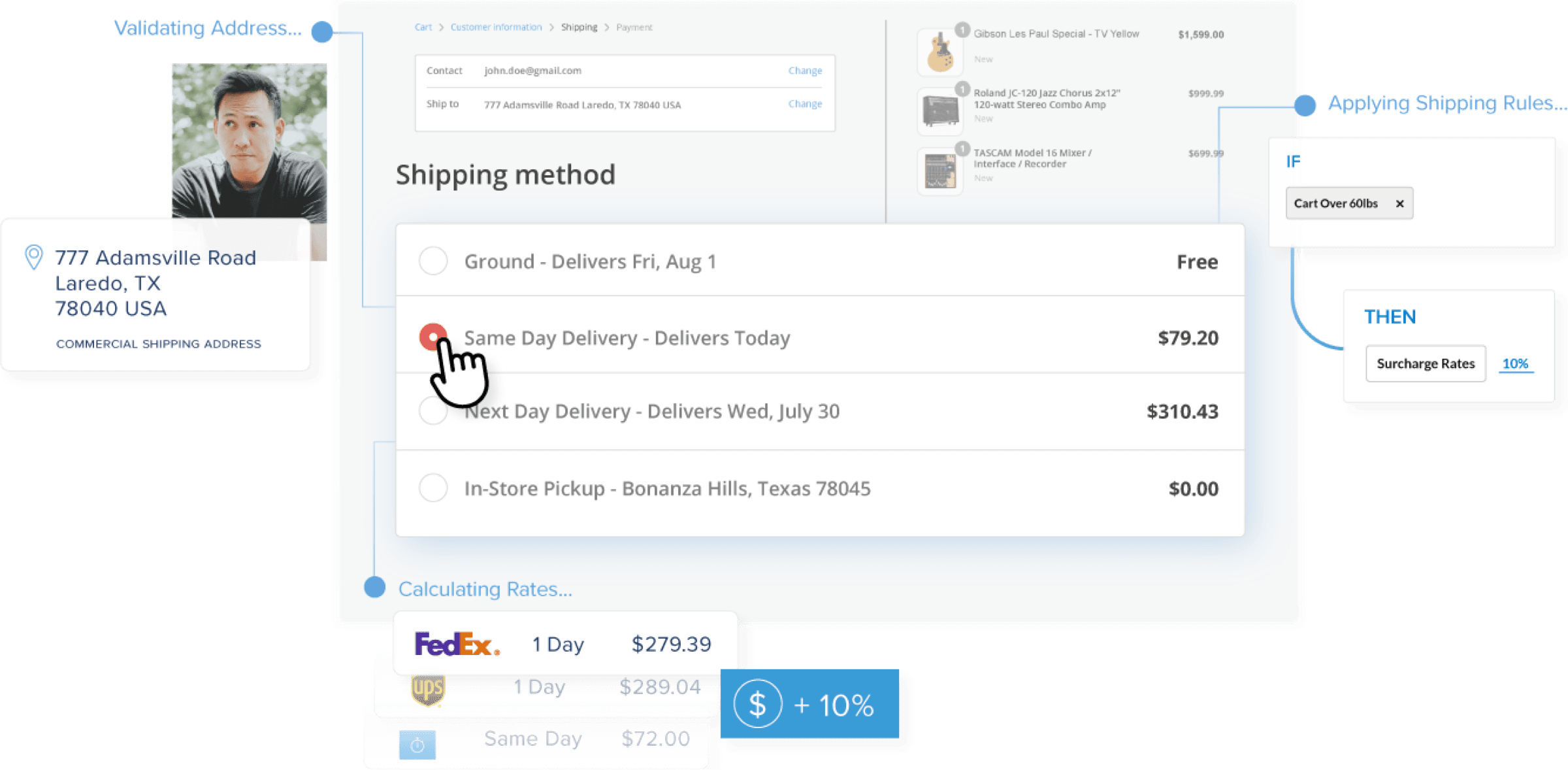 As you can see, international shipping can be its own beast altogether.
There's an air of uncertainty even your best customers will experience when shipping from such great distances. There are so many things that can go wrong.
Adding ShipperHQ's Shopify shipping app store can take away most of this uncertainty.
While you will encounter situations selling internationally that might puzzle you, we have tools in place to handle most of the cross-border issues you'll face around shipping.
For example, if you have a strangely shaped, overly big, or otherwise bulky box, we help you take that into account. This way, you can avoid any surprises with shipping costs. We also allow live LTL freight support, which Shopify does not natively offer.
If you work with a warehouse abroad, you can also make sure orders always get shipped from a warehouse in the same country or region. Doing this allows you to avoid long shipping times, customs, and duties. It also opens up the possibility of offering more options like the much loved Next Day Shipping.
While international shipping may be daunting, it's not impossible. There's a lot to keep track of and plan for.
But with ShipperHQ and Shopify, your business will know no boundaries.
Do you plan to implement a cross-border eCommerce strategy in the future? Or want to optimize your current one for more conversions?
Try a 15-day free trial of ShipperHQ to start making shipping profitable for your business.