If 2020 has shown us anything, it's how quickly we can evolve as a society. From successfully working from home, to just shopping online for everyday items, the pandemic has been a catalyst for change in the industry. That's why we decided to explore how storefronts will continue to evolve in 2021 and beyond.
Storefronts were the face, brains, and inner workings of virtually all retail environments until just a few years ago. With a simple function – selling merchandise – physical stores have rarely needed to radically evolve their offerings to stay competitive. Since the dawn of ecommerce, however, storefronts have taken on a new role in the ecosystem. And it's one that's only expected to become more vital as ecommerce evolves.

According to IBM's 2020 US Retail Index, COVID-19 has shifted online shopping behavior significantly. Essentially, becoming the channel of choice for buyers five years earlier than industry leaders had predicted.

Meanwhile, retailing is coming full circle.
Today, many online sellers are eagerly looking to open brick-and-mortar locations, popup shops, or experiential limited-time offerings. Many of these businesses were, just five years ago, focused solely on selling directly to consumers, cutting out the need for physical offerings completely. However, now they have recognized the value of having a synchronous omni-channel shopping experience.

From non-traditional showrooms, to augmented reality (AR) and subscription boxes, retailers are testing the waters through a bevy of innovations.
Storefronts Pulling Double Duty
With buy online, pickup in store (BOPIS) becoming downright mainstream in 2020, many stores have already embraced their role as dedicated fulfillment centers.

Many multi-channel retailers have been offering these services for years, but now even online-exclusive sellers are getting in on the action. With retail space more available than ever, especially in the many ghost town malls peppering the country, retailers are snatching up spots to use as distribution centers for their business. Though these locations aren't always used as a true "storefront," they provide a similarly local, accessible experience.
Amazon, especially, is seizing the opportunity. In mid-2020, Amazon was in talks with Simon Property Group, Inc., the country's largest mall operator, to rent retail space formerly held by JCPenney, Sears, and other department stores.
The move isn't unexpected. Amazon has rapidly been expanding it's fulfillment capabilities. As always, the retail giant is making moves to compete against businesses who have the one essential element Amazon has yet to nail: physical locations.
The Click to Brick Model
So why is the world's largest retailer scooping up properties as fast as it can? It all comes down to convenience. The closer and more numerous their distribution centers, the faster products get into customers' hands.
It's a trend that's expected to carry over to many segments of ecommerce. Direct-to-consumer (D2C) stores that were once online-only are now putting up four walls and giving customers an in-store shopping experience as well. It's a trend that's gaining momentum both by retailers who planned it in advance, and those who didn't.
Notable retailers jumping on the clicks-to-bricks model include craft-made Tecovas boots, Bonobos clothing, and luggage maker Away among many more.

Warby Parker has been a poster child for the Click to Brick model. Launched exclusively online in 2010, the trendy eyewear seller opened its first flagship location in New York in 2013. Since then, they've expanded to 100 stores across the country. Few retailers have mastered the transition as well as Warby Parker. Especially considering its primary online offering – mailing customers five pairs of glasses to try on and return – is deeply ingrained in the business. And, effectively eliminates the need for a store visit at all.
CEO Neil Blumenthal explains the synchrony of its dual models:
"We think the presentation by retail experts of either [online] or [offline] is a false choice," Blumenthal said. "It really is the intersection of the two. And we are trying to approach retail expansion in a very deliberate manner, where we are testing and learning."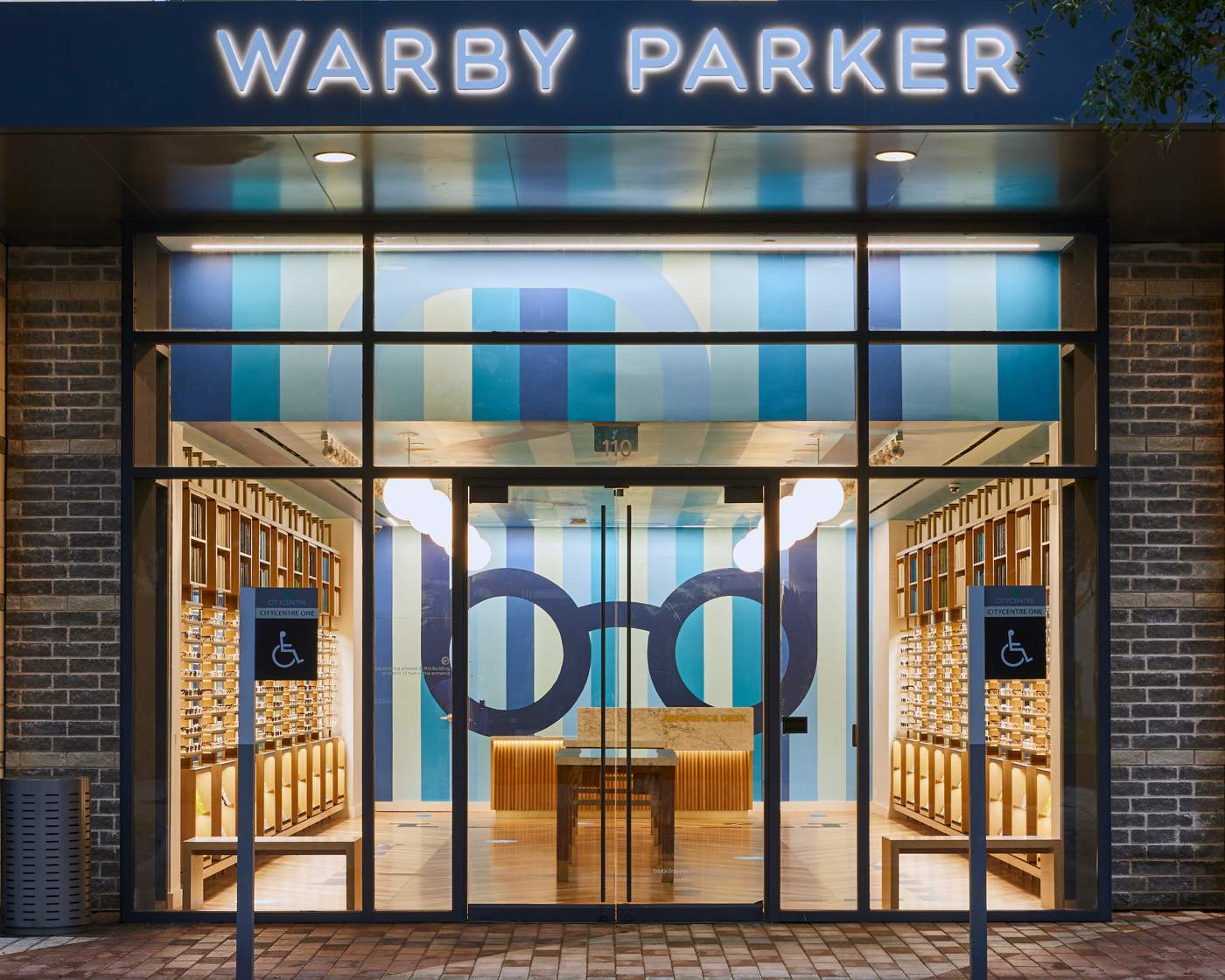 "We have learned so much from face-to-face conversations, feedback that, from a purely digital relationship, probably would have been impossible to get," Dave Gilboa, Warby Parker Co-Founder, said.

Changing the Storefront Experience
For millions of retailers, storefronts aren't new and exciting additions. But they're certainly working to make them that way.
Stores everywhere are transforming their interiors to provide not just "shopping and browsing," but "experiences." Though it's a buzzword that's all but lost its meaning, experiential commerce is gaining traction with young audiences. More than any generation before, millennials and Gen-Zers are focused more on the why behind their buying than the what. Retailers who want to stay in step with their audiences need to update their stores – and websites – to provide something more than just a place to buy stuff.
Leading the Charge
Nordstrom was the de facto founder of this model. Since its first location opened nearly 120 years ago, the brand has effectively transformed and evolved into something more. With stores providing a range of services from stroller cleaning to shoe repair, alterations to personal shopping, the brand has solidified its standing in the luxury sector. Recent innovations have included a limited-time partnership with Tesla to install car galleries within stores. Plus, Nordstrom Local locations to cater to clients with personalized shopping and styling.
Of course, some goods lend themselves more easily to experiential sales than others.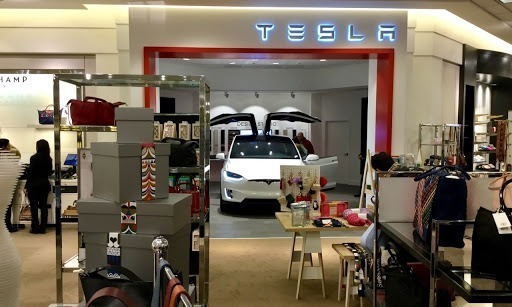 Canada Goose, a high-end outdoor outfitter, demonstrates the effectiveness of its cold-weather gear with an arctic room that creates a daily snowstorm inside its Toronto location. While the arctic room will certainly show off a parka's ability to keep you warm, it's even more likely you'll talk about the experience for years to come even after purchasing it.
Another prime example comes from the mattress retailer Casper, which launched its flagship store in New York along with their "The Dreamery" experience. At "The Dreamery," shoppers can book a time to snooze on a Casper mattress. This was an innovative way for the brand to give customers something novel, practical, and memorable. Most likely, it's also helped sell a mattress or two.
Walmart Looks to the Skies
When we consider the most innovative retailers in the game, Walmart can't be left out of the conversation. This year, the mega-retailer announced its plan to transform 200 of its supercenter stores into aesthetically pleasing spaces. The redesign was reportedly inspired by the design and experience of airports. This refresh is aimed at making customers' in-store and digital experiences better aligned. Key features include bolder signage, more touchless payment options and an app integration.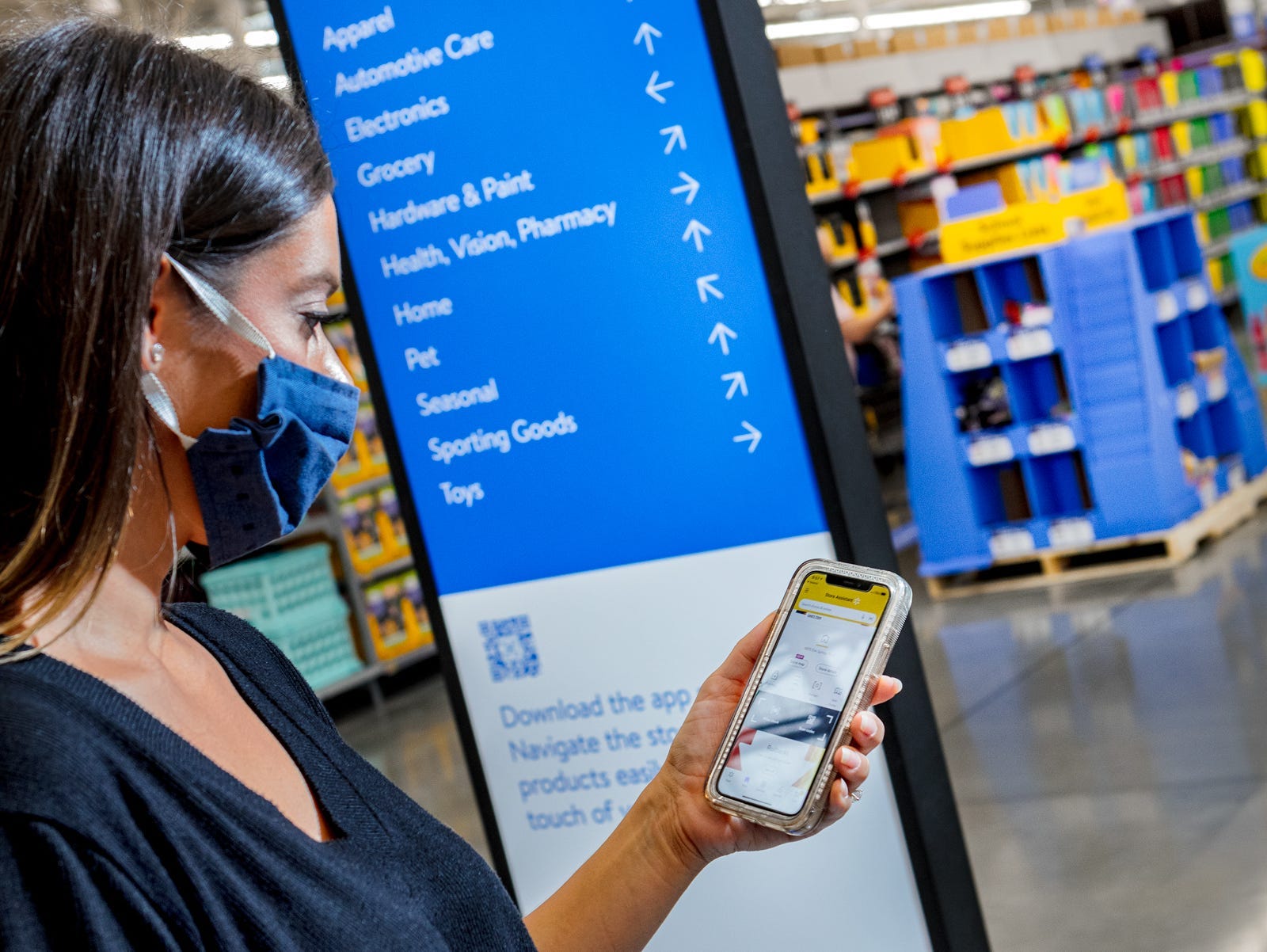 "We're really excited about the shopping experience being one in which customers can really toggle between their phones and what they see at the store," said Walmart Chief Customer Officer, Janey Whiteside. 
A main focus of the transformation was making in-store browsing feel more like shopping on an app, but the company was careful not to make the experience too digital.
"It's really important that we don't alienate people who aren't used to shopping on their phone," Whiteside said. "We're not going to reorient stores so that if you don't use a phone, you can't find anything."

Whatever individual storefronts are becoming, they're all becoming one thing: more than a place to browse and buy. The goal of an in-store experience isn't only product sales – it's engagement, brand affinity, and loyalty.
Stores that are focused on prioritizing fulfillment services don't need to miss out on the action. With a lot of innovation happening inside stores, there's plenty of room to experiment.
Storefront Innovation Reigns
Many stores are also launching smaller or more specialized storefront experiences. From virtual and augmented reality and beyond, retailers are truly embracing new technology and buying models.
"The importance to have an ecommerce presence is unlike we have seen before," said Tim Ahlenius, Vice President of Strategic Initiatives at Americaneagle.com. "With online purchasing continuing to grow at a rapid rate, retailers can best seize opportunities by beginning to expand their ecommerce store and digital marketing strategies to overcome challenges and thrive in this new and growing space. If it makes sense, evaluate if a subscription-based ordering system is an opportunity. Additionally, explore partnerships both locally and within your industry sector."
Here are just a few innovative ways retailers have updated their storefront and online shopping experiences in the last couple of years.
AR + VR
Retailers looking to enter the augmented reality space saw a big boost in 2019 with the launch of Shopify AR. The feature is a toolkit that enables retailers to create their own AR experiences. Content presented with Shopify AR saw a staggering 94% higher conversion rate than the same products without AR. In 2020, the technology has become uniquely useful as customers actively try to avoid in-person shopping. With 3.5 billion AR users expected by 2022, several retailers have successfully jumped on the tech:
In 2016, TOMS launched a limited-time initiative where customers could wear a VR headset in-store to be immersed into a Peruvian village. With its model of "one for one" shoe donation, the experience allowed customers to get an intimate look at the kind of people their purchase would be helping. The goal of the project was engagement, and it successfully reached millions, producing a de facto "empathy machine."
In May, the Texas-based jewelry seller launched an AR-powered virtual try-on feature, catering to customers who couldn't come into stores to test out looks. Users don't need to download anything to use the service. It works with iOS devices in the Safari web browser, allowing customers to try on jewelry overlaid on their image.
The furniture giant launched its AR room design service in 2019 to help customers get the right look and dimensions for their rooms before buying. It's a shining example of the usefulness of AR, and one that worked even before COVID restrictions were in place. By allowing customers to try out different pieces in their home before buying, they win twofold. When customers "try on" many different items, they're more likely to make a purchase. This experience also reduces the number of large-item returns, a pain point for many furniture retailers.
Subscription-Based Buying
Some retailers are counting on their customers' loyalty and desire for convenience to move the needle. With subscription services, sellers can rely on sustained order volume, predictable stock needs, and valuable feedback from buyers. While many businesses exist as subscription-only models, plenty of traditional retailers are entering the market as well. And with predictions suggesting that the global ecommerce subscription industry will be worth $246 billion by 2025, it's a wise move.
This millennial-centric clothing brand recently launched its subscription-based clothing rental service, Nuuly. While it offers the exact same items available to buy at Urban Outfitters and similarly popular stores, Nuuly takes the commitment out of the transaction. When customers receive a box of six curated items, they're able to wear them for a month before returning for the next haul. Of course, if anything is a hit, customers can buy the item outright.
The model isn't unheard of, with billion-dollar services like Rent the Runway having been available for years. What is significant is the move toward giving its target market what it wants: freshness and affordability. At just $88 per month, the service lets customers wear the latest fashions without the hefty price tag, driving loyalty and increasing the likelihood to buy.
Nike
The international activewear brand is making moves to fortify its ecommerce offering by launching a shoe subscription for kids called Adventure Club. With three frequency and pricing-based options, kids can receive up to 12 new pairs of shoes per year, offered on over 100 styles. After kids grow out of these shoes, they can be returned and recycled to reduce waste. By leveraging an age-old problem – kids rapidly outgrowing shoes – Nike is able to secure brand loyalty and sustain revenue.

"Kids grow fast and wreck shoes. We wanted to create a program that turns the negative, stressful shoe-shopping experience into something convenient for parents but fun for kids," says David Cobban, General Manager of the Nike Adventure Club.

Concierge Ordering
Though it's a relatively slight divergence from traditional retail buying, many stores are embracing the concept of concierge shopping as well.
In 2019, Tupperware opened a pop-up shop in New York city. A key factor in designing the experience was to eliminate the need to continuously restock shelves and displays. Rather than encouraging buyers to pick items themselves, they used a showcase model. After browsing and choosing, customers connected with employees, who input orders and arranged the behind the scenes picking and packing. It's a model popular with retailers that have limited display space, and less room for foot traffic.
Similarly, Glossier provided a concierge shopping experience in its 2019 series of pop up shops. By focusing on providing an on-brand space with a community feeling, the brand proved itself in the realm of physical shopping spaces.
The Big Picture
Whether in large ways or small, ecommerce stores are pushing themselves to provide more interesting, innovative ways to reach customers. Whether it's turning a storefront into a fulfillment center, transforming the inside of a storefront into a memorable experience, or just providing new options for buying that turn it into an event, smart retailers are seizing the moment to get ahead of the curve.
Want to turn your storefront into an experience to remember?
Start with shipping and fulfillment. By embracing ShipperHQ features like BOPIS, time-slot delivery, and curbside pickup at checkout, your storefront can get that much closer to the leading edge.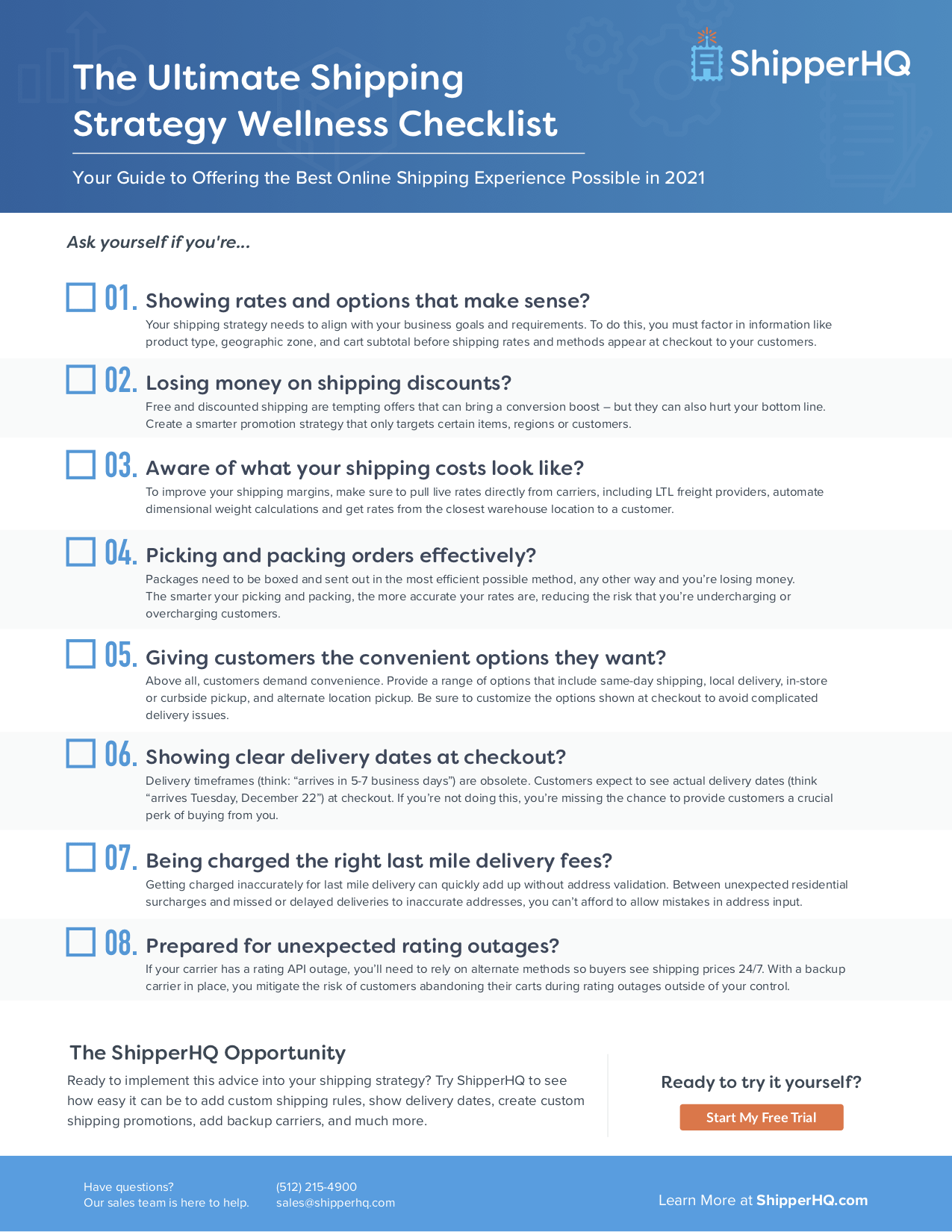 Right now, ecommerce stores are stretched tighter than ever.
Retailers must evaluate every move they make. And find new ways in 2021 to balance exciting growth trajectories with increasing customer demands around shipping.
If you're feeling the pressure of high order volumes, complex shipping needs, and high standards for customer satisfaction, we're here to help with our Ultimate 2021 Shipping Wellness Checklist.