For Shopify retailers scaling their operations, the Shopify Fulfillment Network offers a comprehensive solution for storage and shipping. With fulfillment handled externally, retailers have more bandwidth to focus on growing their business and optimizing user experiences. Here's how it works.
The Shopify Fulfillment Network (SFN) offers a hands-off storage and shipping solution for ecommerce retailers. With fulfillment centers across the U.S. and Canada, the network is slated to soon be able to deliver to 99% of the continental U.S. within two days or less. These facilities hold inventory, then handle picking, packing, and shipping for thousands of retailers. They can also manage business data with information like shipment tracking, customer data, and inventory management.
For companies that have outgrown their current facilities, or are looking to expand operations while maintaining short shipping timeframes, the SFN is a tool worth considering. The network operates as a Third-Party Logistics (3PL) partner for merchants, allowing them to take a step back from manual, in-house fulfillment.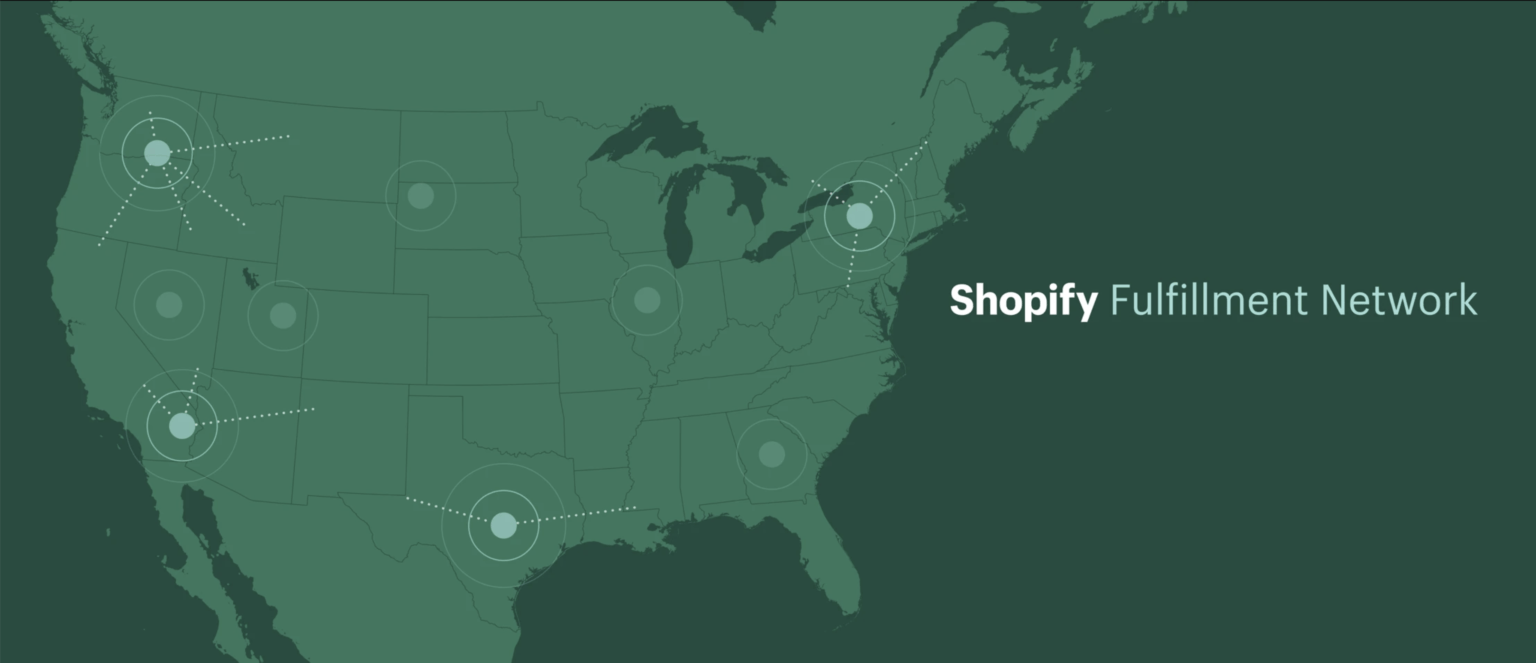 Using a 3PL for fulfillment was initially popularized by Amazon's version of the network, Fulfillment by Amazon (FBA). While FBA is widely used by Amazon merchants, it doesn't come without compromise. Users regularly cite issues with unfair practices and a lack of transparency on the platform, leaving them frustrated but without much recourse. The SFN aims to compete with Amazon, while offering more flexibility and brand integrity. We'll dive deeper into a comparison of the two later in this article.
Who Qualifies for SFN?
Before getting started, be sure your business is eligible for the program. If you meet these qualifications, SFN could be a good fit:
Your business sells in the United States
Your catalog has fewer than 2,000 SKUs
You ship between 10 and 10,000 orders per day
You don't sell any regulated or perishable products
How the Shopify Fulfillment Network Works
Configuring your store to work with SFN requires some work on the front end, but results in a smooth, automated process later.
Designate which products you want SFN to fulfill for you. This can be a selection of products or your entire catalog. Shopify will then review and approve products.
Work with the Shopify team to determine how you want your products packaged. This may include branded packaging or custom requirements for certain products, such as fragile items.
Send your products to the respective SFN location that will ship products to customers. Shopify can help you decide which products should be sent where and in what quantities.
When a customer places an order, SFN automatically picks, packs, and ships the order based on the parameters you've set.
Monitor, manage, and optimize your inventory levels and fulfillment performance with the SFN admin panel.
What Does the Shopify Fulfillment Network Handle for Retailers?
When working with SFN, you have control over how involved the program will be in your business. In general, The Network handles these tasks:
Receiving shipments from you or your suppliers
Storing, organizing, and managing inventory
Picking orders as they come in
Packaging orders to your specifications
Selecting carriers and coordinating pickup
Automating package tracking
Providing and maintaining customer and order data
What is the Difference Between SFN and Amazon FBA?
It's difficult to look at SFN and not compare it to Amazon's offering. However, the differences are significant and could deeply affect your business' health.
The most important difference is that with FBA, you're selling on Amazon. Your products are part of a catalog of millions of items and thousands of competitors. Your product pages look like every other product's pages, so you essentially become one vendor in a sea of items. By the same token, your products will benefit from the mass exposure of being positioned on the world's largest ecommerce site.

With SFA, you get to maintain your brand independently, even controlling the look of your packaging. You'll still sell products directly through your website, which you retain complete control over. For brands in the burgeoning state of expansion, this is especially important. However, fulfilling through SFN does not give you the extra exposure that listing on Amazon would. Additionally, FBA offers a far greater reach than SFN, meaning you can reach more customers, faster. To rectify this, Shopify plans to spend $1 billion over the next five years to build up its network and facilities.

Shopify COO Harley Finkelstein says, "By leveraging our scale with machine learning, demand forecasting, smart inventory allocation across warehouses, and intelligent order routing, we expect merchants will be able to get their goods to buyers faster and cheaper than any other option they have today while keeping their own brand front and center."

The company is reportedly broadening its scope in an attempt to prevent retailers who start on their platform from switching to a more advanced option as they grow. SFN is a tangible result of that effort.
"We're really interested in full lifecycles capabilities so that Shopify can stay with you from that first day all the way to running tens, maybe $100 million, maybe billions of dollars businesses," said Shopify CEO, Tobi Lutke.
How Much Does SFN Cost?
Unfortunately, there isn't a clear explanation of what the program will cost retailers. As of now, Shopify is working with merchants on a case-by-case basis to build partnerships. However, we do know that costs depend on a few factors:
Inventory storage, calculated daily
Pick and pack rates
Transportation costs
Special projects fees (these are a set of fees that cover things like inbound receiving, wholesale orders, returns, and are billed by the hour)
Specific costs for shipping are determined by your rate card, which outlines shipping rates based on the geographic zone and billable weight of the shipment. SFN automatically selects the best carrier or service for the job based on the timeframe and costs involved.
While these fees are vague, retailers interested in the program should connect with Shopify for more specific pricing information or refer to this page for more details.
To Outsource or Not To Outsource
If you're feeling overwhelmed with the fulfillment side of your business, it may be a good time to consider a third-party logistics provider like SFN.
The perks of a 3PL arrangement are numerous. You'll have more free time to focus on your business, free up your staff for other projects, enjoy hands-off inventory monitoring, and simplify your accounting and data management. You also get peace of mind knowing that the experts are at the helm, carefully handling fulfillment so you don't have to.
Of course, outsourcing fulfillment comes at a cost, both literal and figurative. Be sure to carefully consider the added expenses that come with a 3PL, as they can add up quickly. You'll also need to be ok with handing over a part of your business to an outside source, which can give you less control. Part of this loss of control means you have one less point of contact with your customers, a valuable tool in building ongoing customer relationships. While customers won't ordinarily even realize the difference, some retailers prefer to maintain control over fulfillment so they can mitigate issues with customers directly.

Whether you outsource fulfillment or not, you'll likely still need a dedicated shipping partner to manage shipping challenges. SFN, or any other fulfillment program, is just one piece of the fulfillment process.
With ShipperHQ, you're in control of every aspect of shipping. Features like Multi-Origin Shipping let you automatically send orders from the fulfillment location closest to the customer, you can enjoy some features of a 3PL experience without the compromise. Our comprehensive shipping management platform also lets you build custom Shipping Rules into your checkout to account for details surrounding inventory, shipping restrictions, shipping methods and more. Plus, you can drill down even further on rating accuracy with Address Validation and Dimensional Shipping.  
Want to see if it's a fit for your business? Try it free for 15 days.