From delivery dates, to affordable shipping rates and convenient options, customers expect a whole lot from you once they reach your Magento checkout. Here's what to do to keep buyers engaged – and coming back time and time again.
If you're like a lot of retailers, you've probably spent too many hours trying to figure out new ways to improve your Magento checkout experience. Whether this is your first Magento store, or you are a long-time online seller, customer demands are the same: they want greater transparency and a totally streamlined buying process.
Your shipping information, more often than not, is what causes them to take pause. Or, abandon their cart altogether. And that's the last thing you want happening when they are just a few clicks away from completing their purchase.
You can blame Amazon for this, by the way. They are the ones shaping shipping expectations for consumers – driving the ideal for fast, free shipping and delivery date guarantees. Regardless of your opinion about the retail giant, Amazon is a powerhouse, representing nearly a third of all U.S. ecommerce sales growth in 2020.
And they should be your baseline for what to improve upon at checkout. So why don't we start there? Here are 3 ways to get ahead, beat Amazon, and create the seamless Magento checkout experience your customers deserve in 2021.
Hold On – Why Should We Trust You?
Good question. Any company could put together a to-do list about shipping tips and call it a day. But not us. You see, ShipperHQ has a long history with Magento. In fact, we were one of their very first shipping solution partners back in the day. And even before that, our small team was working daily with thousands of Magento merchants. Our previous shipping technology, then called WebShopApps, included a robust shipping extension collection.
The growth of WebShopApps was literally inspired by Magento forums. Our founder and staff saw merchants ask questions about specific shipping flexibility and customization. They helped answered questions about shipping and got inspired to build extensions that solved these merchant's needs. It was the definition of finding a product market fit at its finest. And it worked. The demand for our shipping extensions became so great that releasing a single dashboard experience, now called ShipperHQ, was a natural progression.
Which brings us to today. We still have a strong partnership with Magento, and recently announced our official support as an Ecommerce Shipping solution provider for existing Magento merchants. Magento believes in our technology and our expertise in the shipping space. Hopefully, you can trust us too.
Now, let's get to those Magento checkout tips.
3 Essential Parts of a Fully Optimized Magento Checkout Experience
Accurate Shipping Rates
This probably seems intuitive. Your Magento shipping rates shouldn't be all over the place. They need to be as accurate as possible, which means minimizing overcharges and undercharges. According to an Usabilla survey of 2,000 U.S. retail shoppers, high shipping costs is the top cause (58%) for cart abandonment.
Your customers don't want to pay high prices, and you probably don't want to be losing money on every shipment. Plus, like we mentioned before, free shipping is the gold standard. So if you do charge for shipping, you need to give customers a good reason why you are having them "pay extra" at checkout.
What You Can Do:
Reevaluate how rates are calculated. For ecommerce shipping, you should be automating certain aspects of your operations and rethinking how you calculate your costs. To get better margins, you must utilize dimensional weight-based rates, or rates that consider package dimensions and weight together. If you aren't doing this, you could easily be charging too little for large, lightweight products, and experience other similar problems.
Apply unique shipping rules. For many retailers, the term "shipping rules" alludes to the post-order, or fulfillment experience. However, in this case, we are referring to rules you set prior to purchase. These shipping rules consider a customer's exact checkout scenario before retrieving shipping information altogether. This type of customization allows you to achieve even greater accuracy, and ensures that the rates you show, and the specific delivery methods offered, match customer expectations.
Specific factors that can influence your costs include:
Geographic zones, such as countries, states and even zip codes
Shipping groups, or groups or products that are similar
Customer groups, like new or repeat customers
Filters, such as cart subtotal, or product quantity
Creative Shipping Promotions and Relevant Surcharges
For a lot of customers, they assume free shipping is going to be the default experience you offer them. But the fact of the matter is, that's simply not feasible across the board. Your customers won't necessarily understand why this isn't the case though; 75% of consumers say they even expect delivery to be free for orders under $50.
The key here is, again, customization. To offset free shipping, apply relevant shipping surcharges or bundle in the "free" cost of shipping into your product pricing. For your shipping promotions, be creative and take a comprehensive look at what's causing cart abandonment. If your promotions aren't enticing enough, now is the time to pivot to get customers across the line.
What You Can Do:
Embrace shipping surcharges. Typically, these are added for very specific reasons. In most cases, as long as you are honest about why extra fees are being applied, customers will understand. Surcharges are common especially if a customer's checkout scenario falls within the following categories:

They live in a residential or remote area that lengthens delivery times
The delivery requires additional machinery, or administrative fixes
A time-sensitive method like expedited shipping is selected
They're receiving a high-value item, or the order has in-person signature requirements

Focus on revenue-driving promotions. Free shipping comes in many forms. One-size-fits all doesn't exist. Plus, more than likely, you don't want to always be eating the costs for shipping when there are other promotional tactics available. A few shipping promotions that actually drive revenue include:

Free shipping for first time customers
Free or discounted shipping for repeat buyers
Time-capped promos for holidays, or x number of days/hours
Free shipping thresholds, such as spending at least $75
Discounts based on the type of item in-cart, usually for high-margin products
Transparency and Convenience at Checkout
Once a buyer has landed on your Magento checkout page, there are certain pieces of information they expect to see. Specific delivery dates and convenient delivery options are chief among them. In fact, more than 80% of shoppers prefer to shop with retailers that show delivery dates at checkout, and 45% will abandon their carts because of unsatisfactory delivery options.
Amazon has once again set the standard here. Not only do they provide delivery date guarantees even before an item is placed in-cart, they allow customers to choose a delivery method that matches with their budget and schedule. Fortunately, it's possible to create a similar online shopping experience yourself.
What You Can Do:
Let customers pick their delivery date. With time slot delivery, your customers can choose a date/time that works best for delivery. In your Magento checkout, this can be done by showing a calendar selector. If you can't operationally handle time slots, another option is to always list a delivery date next to every method you provide at checkout. This information always needs to consider factors like: blackout dates, time-in-transit, lead times and cutoff times so you always get delivery dates right.
Give BOPIS or alternative delivery at shot. While it's likely not a shock, over 67% of U.S. shoppers have used buy online, pick up in store over the past 6 months. And sales for in-store pickup have jumped 259%. Even if you don't have a physical storefront, like Amazon, you can embrace alternative delivery by partnering up with UPS and FedEx. Both carriers have programs that allow you to provide pickup at local retail locations like grocery stores and pharmacies.
One More Thing: Let's Talk Progressive Web Apps (PWAs)
In the Magento ecosystem, there has been a ton of buzz about Progressive Web Apps (PWAs). I don't think you could escape that term if you attended a Magento event over the last few years. If you are unfamiliar with the term, PWAs create an app-like shopping experience within a mobile or desktop web browser.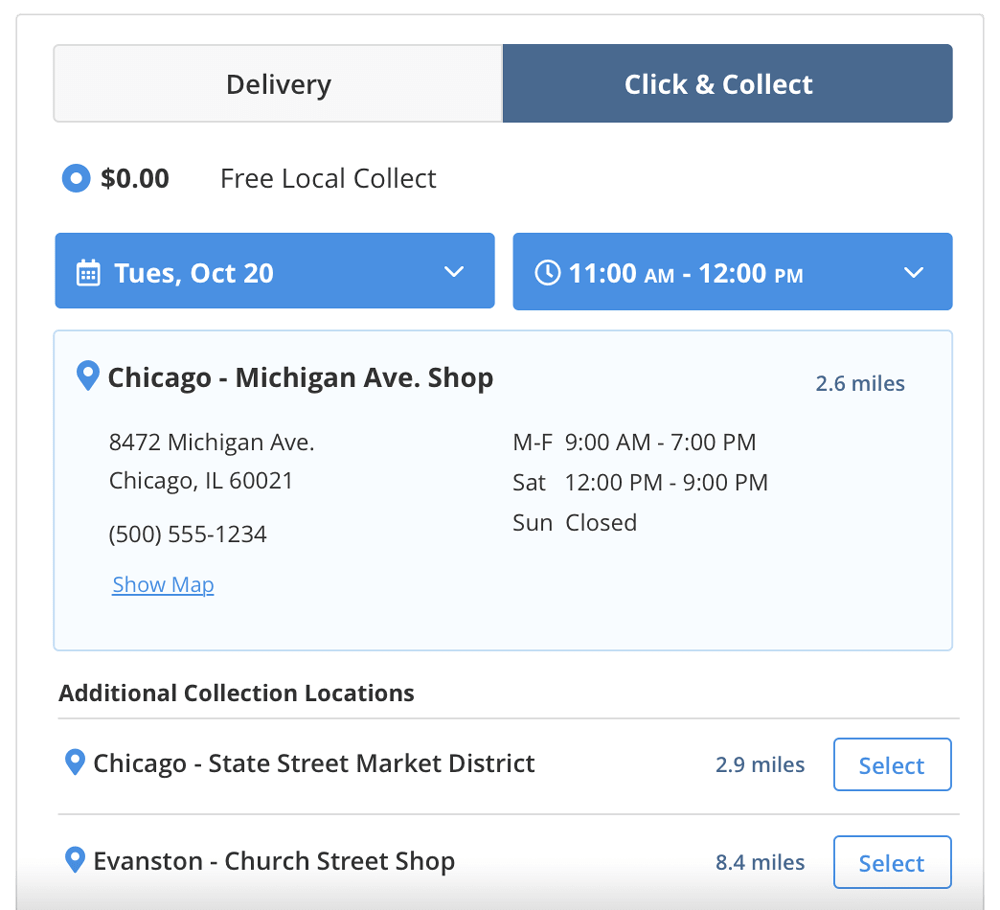 This technology bridges the gap between web browser and mobile functionality, from a speed, performance and accessibility perspective.
These apps live online rather than on a device, nothing has to be downloaded or updated. Here are a few more reasons why so many Magento merchants are investing in PWA technology.
Why You Should Consider Progressive Web Apps:
Higher Conversion Rates: With app-like performance, PWAs can access native hardware like contact lists for sharing items and camera-capability to scan credit cards.
SEO Benefits – Since PWAs live on the web, they can be indexed just like any other web page. You can enable purchasing while boosting engagement through search.
Push Notifications – With PWAs, users can opt-in to receive updates from your brand. According to Google, opt-in rates as high as 60% for PWAs specifically.
Many tech companies have launched their own PWA-powered technology, including ShipperHQ. With Enhanced Checkout for Magento 2, merchants have access to accurate rates, time slot delivery, a calendar selector, BOPIS and much more functionality. Enhanced Checkout was built to help you rival Amazon's checkout specifically with it's split shipping capabilities and robust order view functionality.
Wrapping Up: Are You Ready to Optimize Your Magento Checkout Experience?
Hopefully, this article has helped you evaluate your current Magento checkout strategy. To put it simply, just think about what you want to see. What frustrations do you have when you're ready to buy online? More than likely, everything we've talked about is relatable once you consider this perspective.
Then, make sure you are partnering up with future-forward ecommerce technology that has customer expectations as a driving force behind their business.
Ready to deliver on customer shipping expectations at checkout? Sign up for a free 15-day trial of ShipperHQ.