Ecommerce fulfillment depends heavily on accuracy – from shipping rates to packing processes, to on-time delivery. One of the most crucial aspects retailers need to nail? Addresses and address types. Keep reading to see how address validation can make your fulfillment smoother and save you money.
Address validation is the process of verifying address information against postal details. While it's a simple concept, there are a few types of address validation to understand. As a Magento user on ShipperHQ, you get access to advanced options with Magento Address Validation.
Address type validation verifies that the address type a customer enters is correct. Types are either commercial or residential, and details of a shipment are heavily dependent on address types.
Address verification ensures that the address details a customer has entered match postal data, which helps eliminate errors. Common errors involve street type, zip codes, or formatting differences.
In this instance, we're focusing on address type validation, because it affects the fulfillment process more directly. Let's dive in to understand why it's so important.
The Last-Mile Delivery Dilemma
The final stretch of a delivery is called the "last mile." This leg of the journey is when shipments are sent out from central transportation hubs, and go into the hands of the delivery driver. Many of the issues that crop up during the shipping process happen during this stage. In fact, an estimated 40-50% of the entire cost of a shipment can be attributed to last mile costs. So, why is it so troublesome? There are a few reasons.
Redelivery and failed delivery
When address types or details are entered incorrectly, the carrier may still attempt to deliver it unsuccessfully. However, you're still on the hook for the cost of that delivery, plus any fees for address changes and redelivery attempts.
Administrative fees
If a customer gets their address type wrong during checkout, it's likely they'll overpay, or more likely, underpay for shipping. And you'll be left to pay the difference. Residential deliveries carry an extra fee because they take more time and labor to deliver than commercial deliveries, which often take place in more densely populated areas that require less driving. If a customer's shipping rate doesn't take this into account, you'll be left paying the residential delivery fee.
Labor + Fuel
These expenses make up a significant portion of the cost of last-mile delivery, because this phase of the process is much more granular and manual than the rest. From dropoff to regional delivery, everything the carrier does can be automated for efficiency. Once it's time for actual delivery, packages must be loaded and handled manually. Plus, drivers have to travel to very specific locations, costing them more in fuel and labor than the first part of the shipment.
Packaging + delivery equipment
Sometimes, carriers have to use special packaging or equipment during the last mile. One of the most common costs associated here is a liftgate fee. If a customer is receiving an oversized shipment from a freight carrier, they will likely need to have a loading dock available, or pay to use the carrier's liftgate. This is another expense that can cost retailers big if they haven't passed on the fee to a customer.
Magento Address Validation Functionality in ShipperHQ
In ShipperHQ's comprehensive shipping rate management platform, the Address Validation feature is made up of three parts. Not every part of the tool is available to every retailer, thanks to platform limitations. In turn, if rates or methods are dependent on address type, customers will see accurate information, and retailers will charge the correct shipping rate.
Address Type Selector
This optional feature lets retailers add a "selector" within their checkout for customers to specify their address type. Customers can choose to identify their address as a commercial or residential one. Keep in mind, this feature does not validate the input is correct, it only invites customers to self-identify their address type. Keep reading to see how to verify this input against postal data.

This features is only available on Magento 1 and Zoey.
Dynamic Address Type Lookup
This feature automatically checks the type of the address entered, ensuring you can charge the correct last mile fees, including residential delivery fees. This method is more reliable because it compares the address with actual data from UPS and FedEx, eliminating the chance that a customer accidentally identifies the wrong address type.
This feature works for all ShipperHQ users and is popular among U.S. merchants specifically.
Address Validation on Checkout
Beyond checking the address type, this feature allows you to check address details. Details might include street names, numbers or types, zip and postal codes, and formatting. By verifying the details of addresses, you're less likely to send deliveries to non-existent, incorrect, or incomplete addresses. Of course, this also results in fewer redeliveries and the costs associated with them.
This feature is only available for Magento 1 and Zoey
Google Address Autocomplete
This advanced feature helps users by autocompleting their address input. Once a customer starts typing their address, the tool shows possible options that match that address. Then, it lets customers click them to avoid entering all the details. Addresses selected are already verified and correct. Which means, you have the most accurate possible shipping rates possible, and customers have one less step to complete their purchase.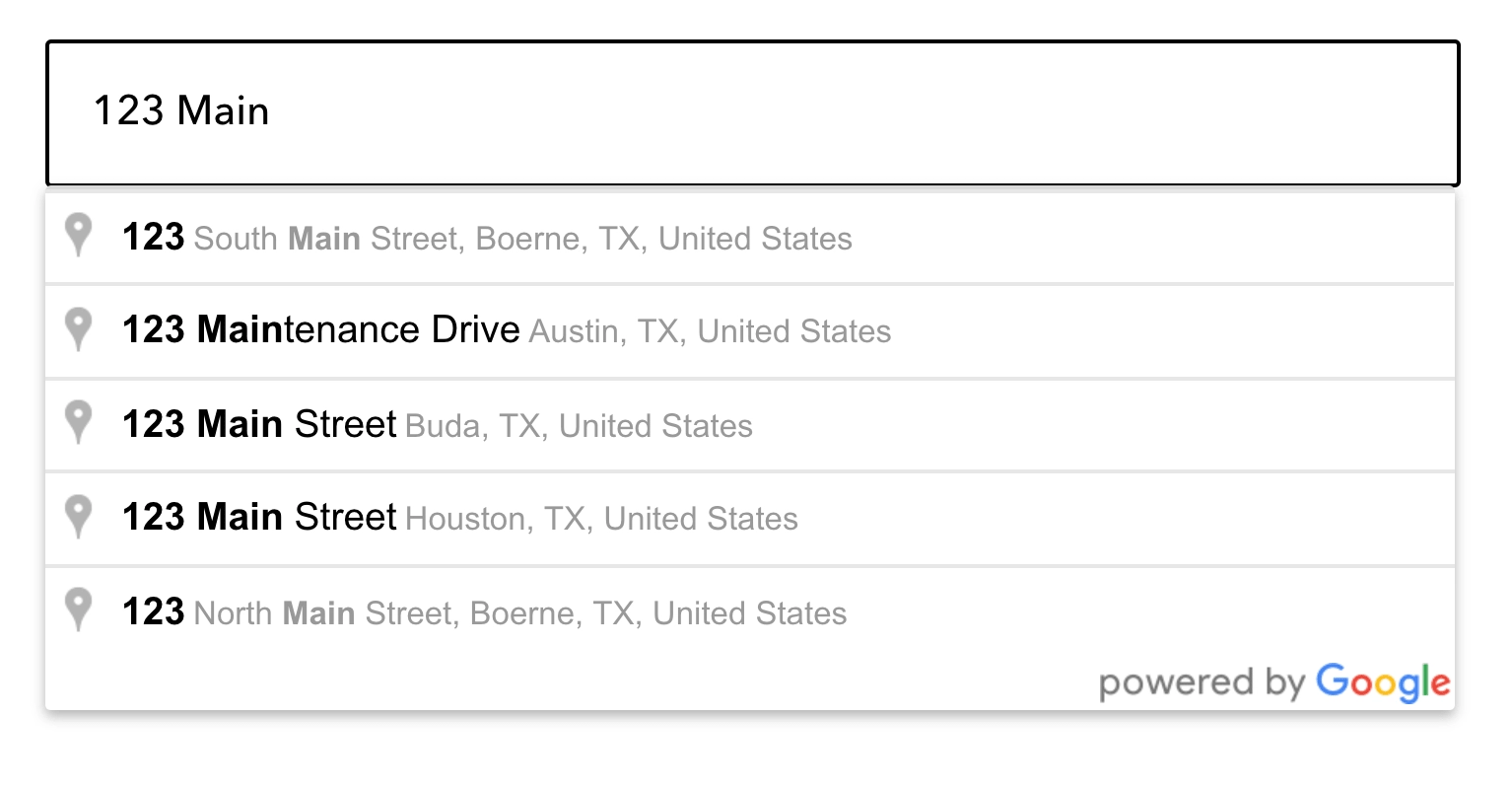 This feature works for Magento 2 users on ShipperHQ.
Address-Based Rules in ShipperHQ
Once you've got the right Magento address validation tools set up, you'll likely want to create some Shipping Rules to determine how the information is used. While your store may have a unique use case for address validation, there are a few common ways retailers use them.
Residential delivery surcharge
If a delivery is bound for a residential address, you can automatically tack on a residential delivery surcharge. You may choose to use the exact fee the carrier charges, or choose to increase or even subsidize it, depending on your shipping strategy.
Type-specific shipping methods
If you offer services like weekend or time-slot delivery, you may want to restrict the methods a customer sees based on their address type. For example, you could restrict customers with a commercial address from choosing weekend delivery, as the business may be closed over the weekend.
Applying rules like these, or others relevant to your business, will result in more accurate delivery rates and date expectations – and more accuracy equals more satisfaction. Customers will appreciate the attention to detail surrounding their fulfillment when their package arrives at the right time, at the right place.
"We spent some time doing manual address validation before, but knew a third-party Shopify app like ShipperHQ could do it a lot better than us and give us valuable ROI."

–Noah Soloman, Digital Director at Tecovas
Magento Address Validation in ShipperHQ
Getting started with Address Validation is a quick and painless process. Check out our quick step-by-step guide. You can also get in touch with our team of shipping experts if you need guidance in the process, or understanding which option is best for your checkout setup.
You can also try setting up Address Validation yourself, with a free, no-commitment trial for 15 days. See it in action right now. →