Ecommerce checkout experiences are a dime a dozen. Many retailers think that if they've got the basics down, there's no need to optimize or improve their offering. With this mindset, retailers miss out on value-added services that can make their store more customer-friendly and increase conversions.
A tactical checkout isn't a nice-to-have — it's a must-have. More and more, personalization is the avenue by which tactical checkout comes to life. From strategic segmentation to concierge shopping services, hyper-personalization has taken the ecommerce industry by storm. And with good reason – it works. Customers respond positively to experiences that are built for them. Those positive responses result in more conversions and revenue for retailers.
No matter which segment of customers you're targeting, whether first-time buyers or experienced brand loyalists, there's value in curating separate experiences for separate customer groups. For many buyers, an extra dose of value or personalization at checkout can mean the difference.
But actually getting consumers across that line is the part retailers need the most help with.
Since the beginning of ecommerce, customers have been perfectly willing to jump ship from one retailer to another if they offer a better experience.
In other words, even though cart abandonment is rife, retailers have many opportunities to win customers back.
The Amazon Way
Plenty of retailers have mastered the art of the tactical checkout, but none more notably than Amazon. Since its early days, the retail giant has offered a loyalty program, free shipping offerings, and many more features that make buying from them a great experience for customers. While not every retailer has resources like Amazon, we can glean some inspiration from the brand, and discover ways smaller retailers can leverage similar offerings. Let's see how Amazon has updated its checkout experience over the years.
Check out our deep dive into Amazon checkout to see exactly how it sets itself apart and how you can apply the same fundamentals.
Point of Sale Security
In an age when shopping online still felt scary to most, Amazon showed reassuring messages that helped customers feel secure about handing over payment information.
Buy-with-1-Click Feature
As an internet-first, Amazon offered one-click buying starting in 1999 when it secured a patent for the feature. To customers, what seemed like a simple convenience was actually a game-changing tool. For Amazon, it helped to retain customers by offering unprecedented personalization. With shipping and payment information saved, customers could literally complete a purchase with one click.
Cleaner Interfaces
By 2013, Amazon had given its CTA a major update, cleaning up the interface and making its buttons more clarity. It also offered wish lists, alternate seller options, and live shipping rates.
Today, Amazon offers some of the most forward-thinking, automation-heavy features in the industry. This includes:
Alternate pickup locations via lockers
Guaranteed delivery dates
A prime shopper loyalty program
Discount codes offered by individual sellers
Related product suggestions
User generated reviews and photos
High quality photos and descriptions
Robust subscription program
Let's explore some of the most promising ways to win customers at checkout.
8 Ways to Win Over Customers at Checkout
Upsells + Cross-sells
When a customer is already on their way to a purchase, you can take advantage by offering upsells curated for them. Upselling is encouraging a customer to buy a more expensive version of a product. Or, buy additional items or services to accompany their purchase. Upselling is most effective on repeat customers. The probability of selling to an existing customer is between 60-70%, compared to 5-20% of first-time buyers. This sets repeat buyers apart as a uniquely valuable subset.

Keep in mind, upselling and cross-selling are different. Cross-selling is specifically used to convince buyers to purchase items that complement or supplement the product they're buying. Cross-selling is also a lucrative and useful tactic, but works differently.
Let's explore the difference: Santa Monica Seafood is an online retailer specializing in high-quality seafood (in case the name didn't tip you off). After a customer adds a nice filet to their shopping cart, they see a popup offer to add accompanying items like sauces and dressings. This is an example of a cross-sell, because it offers something related to the product. By contrast, if the company offered a higher-grade filet, rather than products that will enhance the meal overall, it would be an upsell.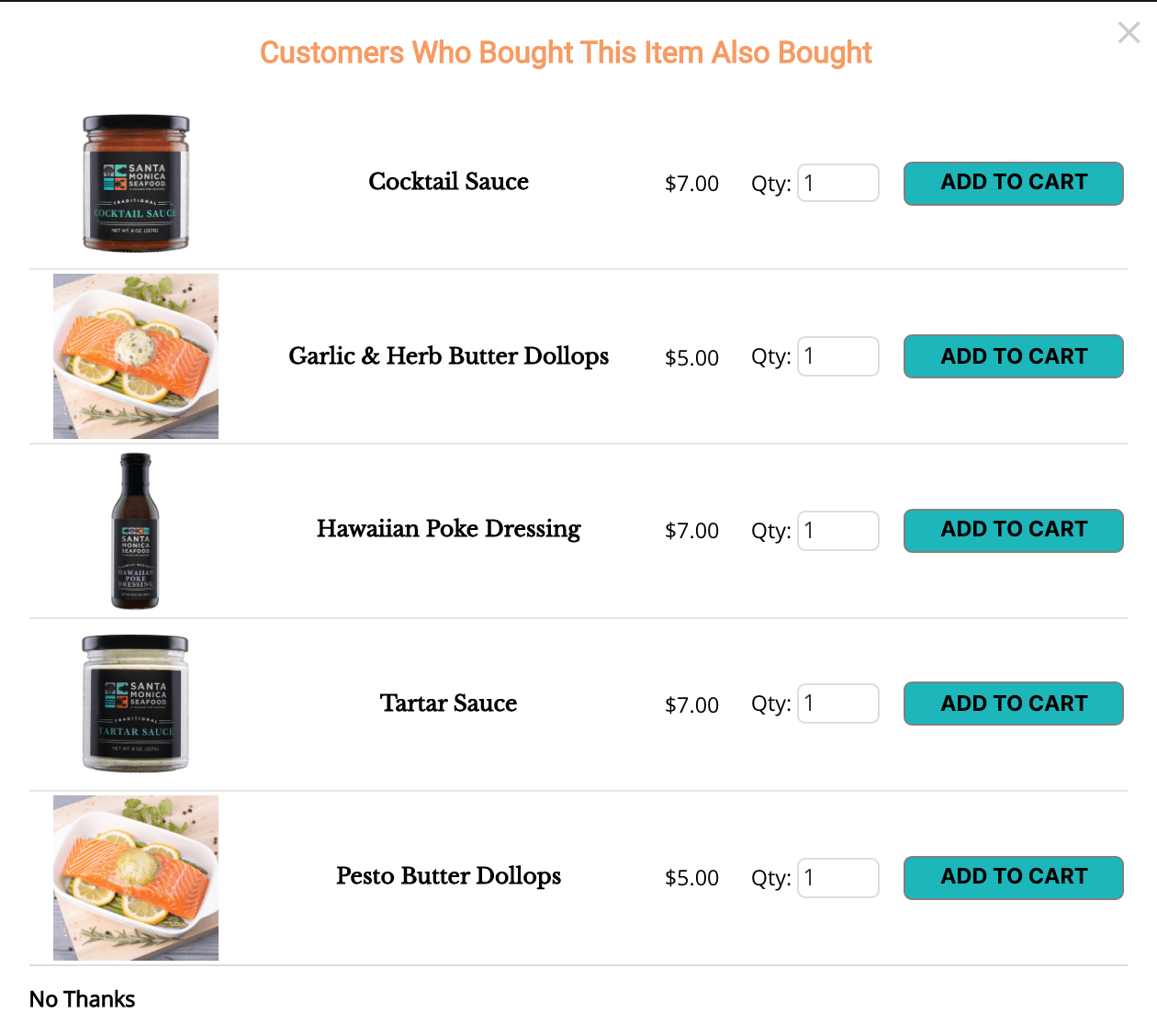 Both tactics are useful and appealing to customers, but keep in mind that they offer separate objectives and benefits.
Amazon relies heavily on the cross-sell model. For example, on pages promoting its own products and other popular products like electronics, it features side-by-side product comparisons that encourage customers to upgrade their purchase.
It also promotes cross-selling with its "Customers Also Viewed" feature, which displays other products commonly browsed and bought together.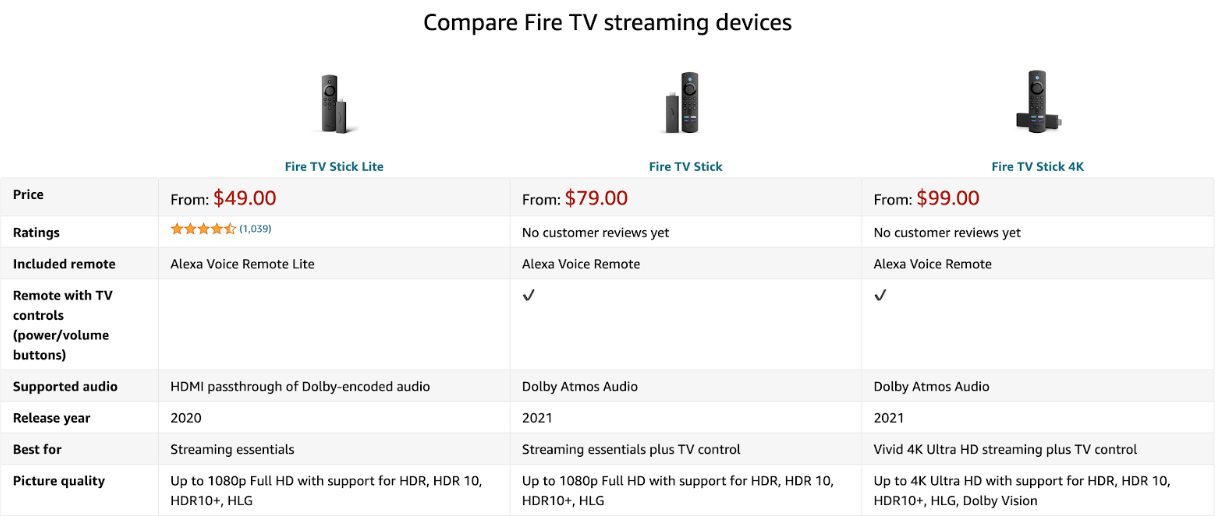 Promote upsells and cross-sells in many different locations, including product pages, within the cart, or even during the checkout process. The most crucial part of the process is to ensure the products offered are relevant and appealing to the customer.
In-Store Pickup
Buy-online-pick-up-in-store (BOPIS) sales leapt a staggering 259% in 2020, marking the onslaught of a new age of ecommerce. BOPIS is the most commonly used option of many versions of alternate pickup offerings. Similar features include curbside pickup, locker pickup, or alternate location delivery using services like FedEx™ Hold At Location, or UPS Access Point®. Whether or not you have a physical storefront, you've got options for offering convenient pickup services to your customers.

These options are great for merchants and customers alike. Customers get to avoid paying for shipping and worrying about porch pirates or being available to sign for a delivery. Retailers can avoid paying residential delivery fees and reduce missed or incorrect deliveries. These offerings are so popular, in fact, that 45% of online shoppers say they'd prefer to pick up packages versus waiting for them to ship.
Thousands of retailers, like UK children's good retailer Huggle offer in-store pickup with simple, straightforward offerings at checkout. Customers can select from traditional delivery options, or opt for free store pickup.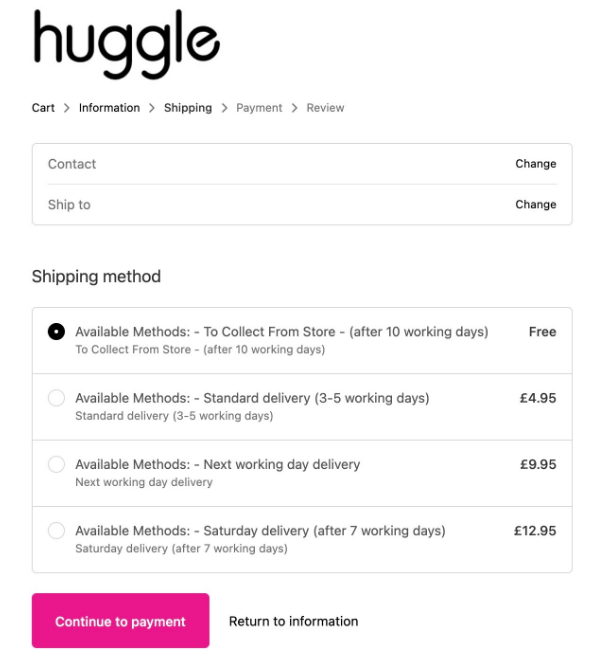 Amazon offers similar options for customers in select areas. Options might include Amazon Hub choices like lockers or counters, as well as in-store pickup in cities with Amazon storefronts.
Payment Plans
"Buy now, pay later" has become one of the most popular trends in ecommerce. Payment plan providers like Afterpay, Zippay, Klarna, and even Paypal have skyrocketed to the mainstream in the past several years.
Remember our stat about payment methods – 59% of shoppers will abandon their cart if their preferred payment method isn't offered? This is the perfect opportunity to meet the needs of those choosy customers. Customers love installment services because it can make larger purchases more affordable. With pandemic-related economic challenges, customers need help now more than ever. In fact, by March 2021, 55% of consumers had used a buy-now-pay-later service, a leap of 37% over July 2020 numbers. As customers continue to flock to these services, retailers are on the hook to keep up.

With so many providers offering installment payments, retailers are spoiled for choice. Installment plans offer merchants many benefits – most notably, the benefit of a successful sale and complete payment upfront. But they also come with some challenges, like processing fees that can reduce profits.
Installment payments are especially popular with retailers who sell high-value goods. Retailers like Burrow Furniture, which offers payment via Affirm. The service offers flexible, instant financing with low interest rates, making it more realistic for customers to make large purchases and pay over time.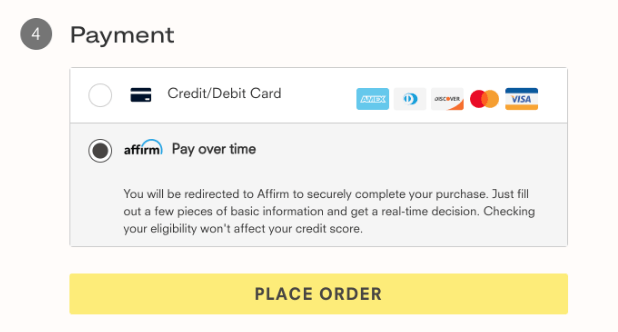 Amazon's version of payment plans is its credit card offering. Although a traditional credit card may be less appealing to customers, the 5% rebate they receive on all Amazon purchases likely makes up for it. It's a smart move by the retailer, combining long-term payment plans with a rewards program. However, it still doesn't meet the need of customers who are averse to credit cards and want a simple monthly financing option for their purchase.
Delivery Dates
Amazon popularized showing delivery dates online. Today, 82% of online shoppers prefer to shop with retailers that show delivery dates at checkout – and 45% say they'd even pay more to see them. Needless to say, if you're not already showing them, now is the time to configure delivery dates into your experience.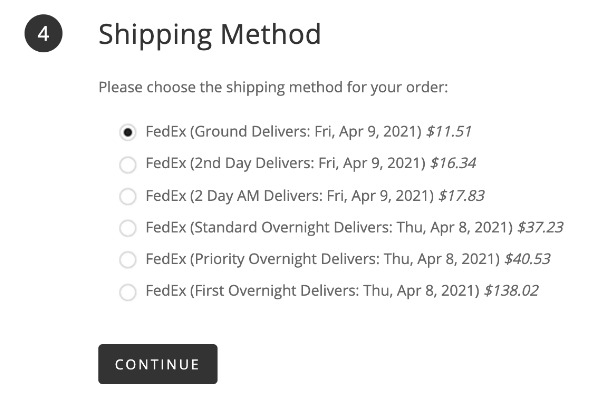 Keep in mind, for delivery dates to be customer-friendly, they need to be accurate. That means you'll need to realistically account for each part of the fulfillment process when calculating them. This might include production time, blackout dates, carrier availability, shipping method, and other factors unique to your store.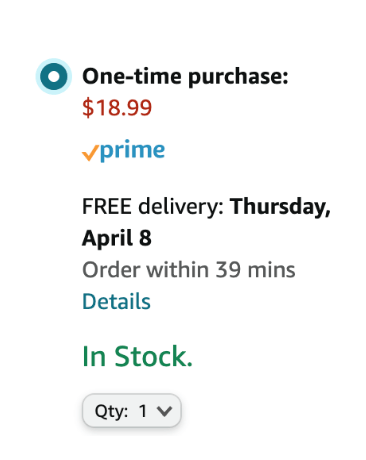 Amazon's delivery dates feature looks and works the same way most other retailers' do. Products pages feature the fastest possible delivery date, and checkout allows customers to choose between other available options. Amazon is able to guarantee delivery dates, in part thanks to its huge fulfillment network. This, of course, is something most smaller retailers typically can't afford to offer. However, when they're calculated realistically, even non-guaranteed delivery dates give customers peace of mind.
Popular barbecue seller Rudy's BBQ relies on accurate delivery dates to ensure its delicious meats and sides reach customers in time for them to enjoy them in perfect condition.
Discounts
While customers love payment flexibility and delivery dates, nothing wins them over quite like a good old-fashioned discount.

While making less money is probably not an appealing concept for most retailers, it can actually be quite lucrative.
Common ecommerce discount strategies include volume discounts ("buy two, get one free"), category discounts ("20% off shoes"), new customer discounts, returning customer discounts, student discounts, military discounts, teacher discounts, and many more.
The right type of discount depends heavily on your business model and your store. Merchants selling books and art supplies might be better off offering teacher discounts than new customer discounts. Meanwhile, a pet store might be better off enticing repeat customers with discounts.
There are also several ways to let customers use your discounts. For example. discount codes are popular because they are limited to specific groups of customers – those invested in your brand, or interested enough to do research to find them. Automatic discounts are even more customer-friendly, but also allow discounts to be utilized by a much broader base. You might choose which option to use based on what products are actually being discounted and how much you stand to lose should they be successful. While discounts will mean reduced revenue, they can also be the ticket to higher conversions, giving you a net positive return.
Stationary and office supply retailer Paperchase offers many different discounts to certain groups, and on certain items. Discounts include a 25% "Heroes" discount, available to education employees, health and social care, charities, emergency services, and the armed forces.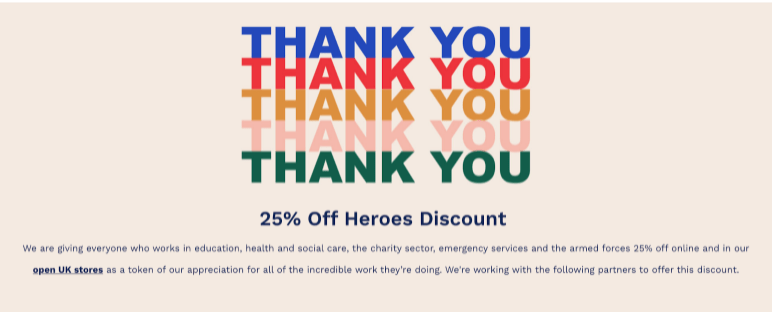 While Amazon does allow for promotional codes within checkout, it doesn't often offer codes itself. However, individual sellers in the Amazon Marketplace can take advantage of the checkout feature by providing their own codes on product pages or in customer communications.
Reviews
At the risk of sounding like a broken record, we'll reiterate: 85% of customers check reviews before making a purchase, and 79% of them trust reviews as much as they'd trust a personal recommendation.
Online shopping inherently carries some level of risk: we can't see, feel, or interact with products before we buy them. Reviews quell some of this unease, and have become an essential part of the online buying process for everything from shoes to wines. The pandemic only furthered our reliance on reviews from fellow shoppers. Review interaction today is 50% higher than it was in pre-pandemic days, likely thanks to our collective desire for more reliability in unstable times.

Customers seek reviews everywhere, from Google to Yelp, Amazon to Facebook, and everything in between. Increasingly, customers look to the website they shop from themselves to provide reviews about their own products. For a customer already on the brink of buying, providing a customer review on the product page can be a key decision point.
While many retailers are eager for more reviews, it can be difficult to encourage customers to leave them, especially if they've had a predictable, expected experience. One way to increase reviews is to incentivize customers to leave them. Consider asking in order follow-up emails, on social media, or in newsletters, and offer discounts to those who follow through. This is an excellent use case for discount codes, which can be provided to customers who write reviews. It's important to remember, however, that reviews must remain honest – you can't withhold a discount from someone who offers a bad review.
Merchants who show on-site customer reviews will enjoy greater transparency and customer satisfaction because their customers will have a better idea of exactly what they're receiving.
Scottish butchery Donald Russell leverages its many positive reviews right on its homepage, alongside its rewards for outstanding service. In an industry that's difficult to capture on a page, such as the world of fine meats, positive words from previous buyers can make all the difference.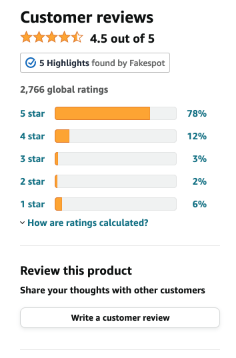 Reviews are also a hallmark of the Amazon offering. Since the 90s, the brand has shown reviews on product pages, setting the stage for the larger industry. Ratings are available at the bottom of product pages, and also next to item descriptions on search results.
High-Quality Photos + Videos
Product pages are a key element in your sales funnel. A customer could come to your site with full intention to make a purchase, only to be turned away by unpolished or unflattering product pages. Most often, the central element of a good product page are photos. More than 20% of online product returns are the result of items looking different than they do in pictures. This underscores the need for accurate photography from a customer satisfaction and revenue perspective. Unsurprisingly, 60% of customers prefer to see product images that give them a 360º view of the item.
Getting product imagery right isn't always easy, but it's plain to see: high-quality images convert buyers. While it's crucial that the photos you show are high quality, you can also call on your customers to help the cause. User-generated content can be a big help here. This is another opportunity to incentivize customers to leave reviews and share photos of their purchases, providing a double-whammy of purchasing influence by combining reviews and images.
Many merchants are getting creative as they master the art of product features and photography.
Bridesmaid boutique Revelry uses video on its category pages, a fresh and engaging innovation that helps customers see how the dress they've got their eye on looks in motion.
Moxi Roller Skates places a heavy focus on the aesthetics of their colorful skates and gives plenty of real estate to user-generated content from its community.
Seafood merchant Citarella sets a high standard for its product photography, featuring beautiful, detailed images of its fine seafood.
Whole Latte Love sells coffee machines, beans, and accessories to a community of enthusiasts. The espresso machine products each boast a robust product page featuring reviews, videos, high-quality photos, and a 360º augmented reality view. With a high price point, features like these can help convert buyers who want to know every detail of the product they're about to purchase.
Subscriptions and Loyalty Programs
Subscription services have taken the ecommerce world by storm, thanks to the mutual benefits they offer customers and retailers. Customers enjoy the convenience of their favorite products never running out, while retailers enjoy recurring revenue from loyal customers.

By the same token, loyalty programs have been in high demand for many years, linking customers with their favorite retailers. Although they work differently, subscriptions and loyalty programs both share the same objective: maintaining customers through recurring purchases.
Subscription programs typically work by requiring customers to enroll in a program, sometimes on a contractual basis, or more favorably, with a "cancel-anytime" model. Often, retailers can afford to subsidize the cost of products in a subscription program thanks to the predictable, recurring revenue they deliver.
Loyalty programs, on the other hand, can be as simple as a punch card from a favorite coffee shop. Retailers can leverage their loyalty programs to introduce new products to customers, share exclusive offers, and test new products or services on a captive audience. The loyalty program is a rare win/win in the ecommerce world. While all retailers would be wise to consider creating one, retailers who sell high-frequency purchase products – think groceries or cosmetics – are even more likely to see the benefit of increased loyalty.
Beauty brand Olay is an excellent example of a loyalty program that simply works. Club Olay is the brand's rewards and subscription program, which allows customers to customize the frequency and contents of their recurring deliveries. To boot, customers save 30% on every order and earn rewards points to use on future purchases.
Amazon's Prime program has elements of a subscription and loyalty program, but at its core is actually neither. Amazon does offer Subscribe + Save options on virtually any item you could buy repeatedly – from socks to dog waste bags. Prices are slightly reduced on Subscribe + Save products. However, the company does not have a true rewards program outside its credit card, which offers 5% cashback. For a short time, Amazon offered "Dash" buttons. They allowed customers to re-up on household essentials with the touch of a button. The program was discontinued in 2019 in favor of initiatives to encourage ordering through voice devices like the Amazon Echo.
The Best Checkout Experience for Your Store
If you've recognized a pattern in each of these methods to encourage conversion, you're not imagining things: personalization is key. Whether it's a curated list of items that go well with the one in your cart, pickup options that make life easier, reviews from people just like you, or one of the many other tactics we've covered, it's all about the individual.
In reality, the right strategy for driving conversions at checkout is the one that's, well, personalized to your store. As a merchant, you know your customers best. Take the data and insights you've got on hand to build a strategy that ensures every customer feels seen.
How ShipperHQ Helps with Personalization at Checkout
Looking for help with fulfillment tactics that get customers across the line? Try ShipperHQ on for size, features to improve your checkout include:
Customizable Shipping Rules that let you build dynamic shipping discounts on the fly
Delivery Dates based on real data, which account for lead times, shipping methods, and more
Dimensional Packing that shows shipping rates more accurately than dead weight quoting, saving you and your customers, and more