92% of online shoppers say that knowing their orders will arrive by the expected delivery dates is a key factor in their purchase decisions. Amidst the supply chain issues and shipping delays the ecommerce industry has been facing in 2021, customers still expect to receive their orders on time and will avoid purchasing again from a retailer after a delayed delivery. Here's how you can anticipate fulfillment complications and keep shipping on time this year & beyond!
A Recap on Delivery Delays
2021 has been a difficult year for shipping with "Shippageddon" and "Returnageddon" after 2020's record-breaking online holiday shopping season. Even ecommerce giants like Amazon have had difficulty keeping their shipments on time and arriving by the expected delivery dates. Now, economists are predicting that current supply chain issues caused by factory shutdowns, ship shortages, and port congestion will persist into 2023. This means that many phases of manufacturing and delivery processes will continue to take longer than normal.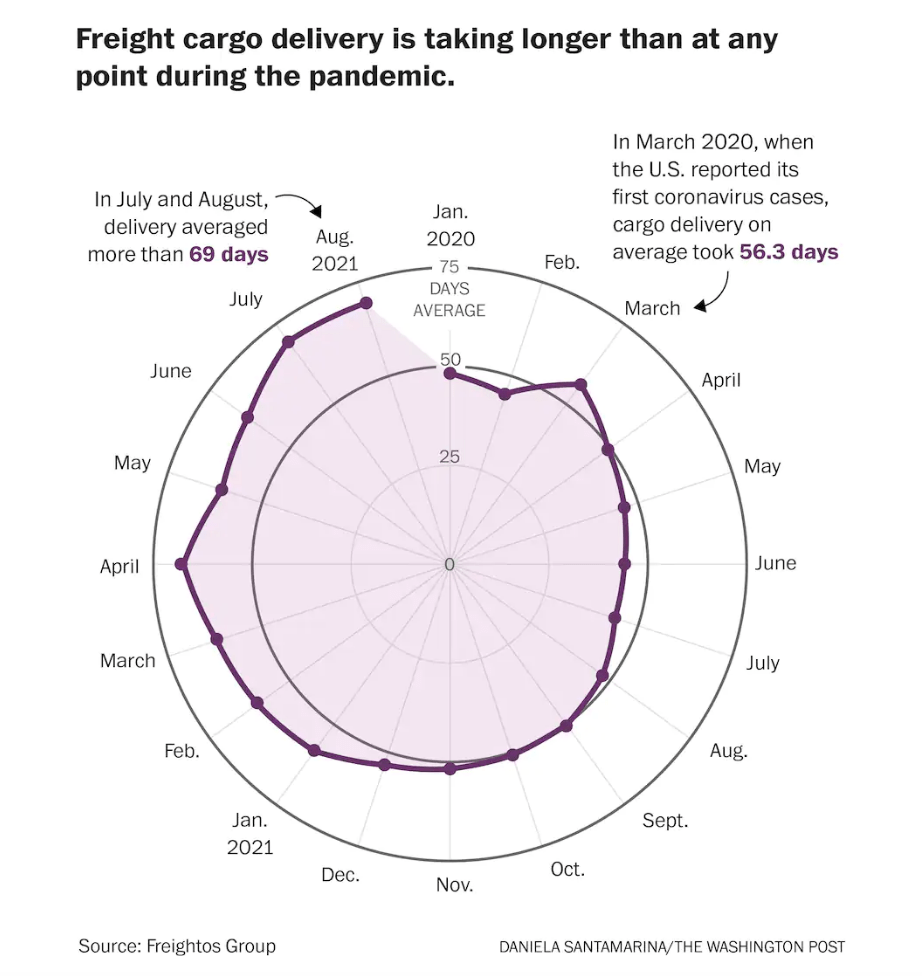 Packages will inevitably take more time to get to shoppers' doorsteps – shipping is now taking twice as long with major carriers UPS and FedEx still trying to work through their own bottlenecks. Due to the prevalence of these issues, experts are indicating that consumers should start holiday buying now. Shoppers around the world are being encouraged to complete their shopping earlier this year and to avoid buying in December.
What Consumers Are Saying About Shipping
So, how do these delays and issues impact the overall customer experience? Well, 84% of online shoppers say that delivery stands out most in the ecommerce experience, and 83.5% would be unlikely to return to a brand after a poor shipping experience. Actually, insecurity about shipping is the #1 reason for abandoned carts. 92% of consumers say that knowing their order will arrive when expected is a key factor in their online purchase decisions.
Clear and accurate delivery dates are the most compelling information to include at checkout. Recent studies have found that 61% of customers are more likely to make a purchase if they see delivery times in their carts, and 47% will avoid re-ordering because of a lack of delivery transparency. This means that delivery dates at checkout are the moment of truth before purchase.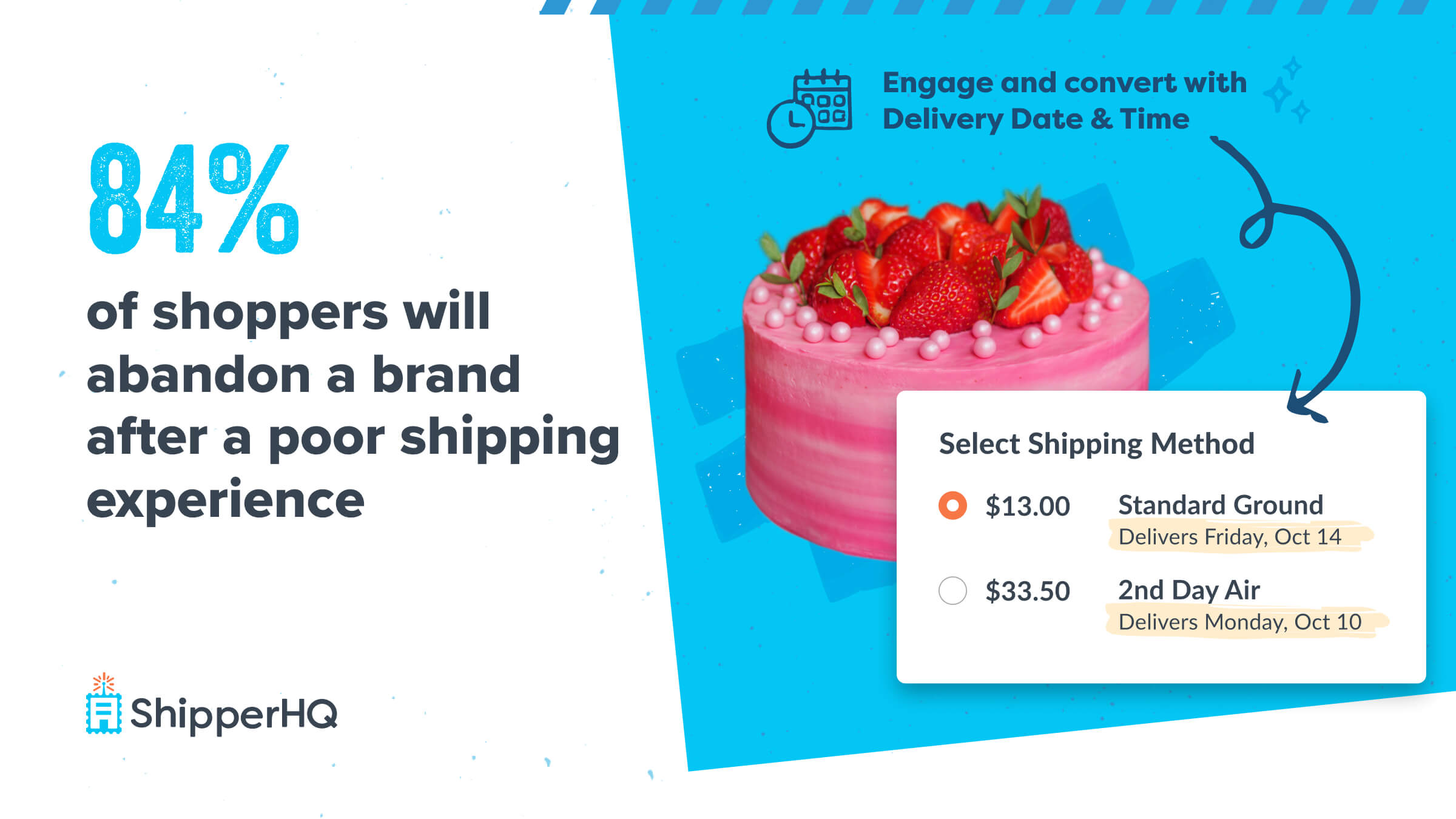 So, What Does This Means For Merchants?
To keep up with rising customer expectations for delivery, merchants must heavily invest in their checkout and shipping experience. This is because the quality of the shipping experience will definitely have a heavy impact on sales and customer loyalty. In fact, 87% of customers say that the shipping experience directly impacts their decision to shop with the merchant again. The opportunity cost of a poor delivery experience is high – 70% of buyers say a bad shipping experience negatively impacts their impression of the brand and not the carrier. Then, 1 in 3 will leave a bad review or post on social media about their poor delivery experience.
The good news is that merchants can proactively combat shipping delays by providing their customers with total delivery transparency. Customers want to know when their order will arrive, and merchants want to be confident that they can deliver on the date they display. Well, now you can have it both ways. By showing accurate delivery dates, merchants can:
Drive Conversions – Conquer cart abandonment with the most compelling information at checkout: delivery dates
Improve Customer Experience – Boost customer confidence with delivery dates you can deliver on every time
Take Complete Control – Show the dates that work for you with unrivaled enterprise-level control over your timelines
Beat the Competition – Stand out from the crowd with an Amazon-like experience that can't be topped
Show Delivery Dates Without Doubts and Convert More Customers

The first step is understanding the difference between shipping speed and delivery date. Although the majority of consumers want to see the date their order will actually arrive (i.e. Arrives on Friday, Oct 1), half of the world's major brands actually miss the mark by showing shipping speed instead (i.e. standard shipping 3-5 business days). Next, it's key to understand your fulfillment timelines and strategy.
Lead Times: Lead times or production times are the dates between when an order is placed and when it ships. When there are inventory shortages or back-ordered items, merchants need to add extra days to their normal lead time to calculate accurate delivery dates.
Blackout Dates: These are specific dates orders will not be shipped out like carrier closures or production shut-downs. Factoring in blackout dates and being upfront about them in your calculations will help ensure you can meet the delivery date shown to customers.
Cut-Off Times: Cut-off times might entail both shipping cutoffs ("Orders placed before 4pm EST will be shipped the next day") or, they may entail production cutoffs ("Production for orders placed after January 15th will resume on January 18th").
Time-in-Transit: The shipping speed for a given order will make up a big part of the delivery timeline. For 2-day shipping, add the expected two days to the delivery estimation. For more ambiguous shipping methods, make sure to add a couple extra days to account for any possible delays.
Customs: If shipping overseas, add time in customs to the delivery schedule. Because customs can be an unpredictable process, taking anywhere from a few extra days to a few weeks for orders to pass through, it may be a good idea to add a buffer to avoid missed delivery dates.
Configuring Delivery Dates for Checkout
To save time and money, merchants should invest in a solution that allows them to automate these calculations so they can show tailored delivery dates for any buying scenario at checkout. With ShipperHQ's innovative delivery date logic, merchants can configure their delivery dates based on:
Origins: Configure specific details of how warehouse or fulfillment centers operate. Identify blackout days based on which days each warehouse is operating, and when it can and cannot dispatch orders. When offering same-day dispatch, identify a cutoff time to stop fulfilling orders for the day. Then, create unique lead times depending on the carrier and method used.
Carriers: Set up carrier-specific rules to take into account carrier-specific considerations like carrier pickup times. These times will be factored into the calculation for total accuracy.
Shipping or Product Groups: Account for any product-specific factors that might affect delivery. Then, pair products together in shipping groups and curate delivery timeframes based on them. One way to group products is by lead time. Add in "Max Time-in-Transit" to identify the longest possible transit time for a shipping group, like perishable goods.
We're not your generic delivery date offering. With ShipperHQ's enterprise-grade date logic, you can stay agile in the midst of supply chain chaos and customize all of the above fulfillment factors including cutoff times, product-specific lead days, max time in transit, carriers, and fulfillment centers. Changes will reflect in your checkout instantaneously! Provide the most accurate delivery dates for local delivery services and more live carriers than any other solution.
Best of all, ShipperHQ's Delivery Date and Time is the only solution that accounts for weekend delivery by major carriers USPS, FedEx, and UPS. With our advanced calculations, merchants can show their customers exactly which day, Saturday or Sunday, their order will be delivered.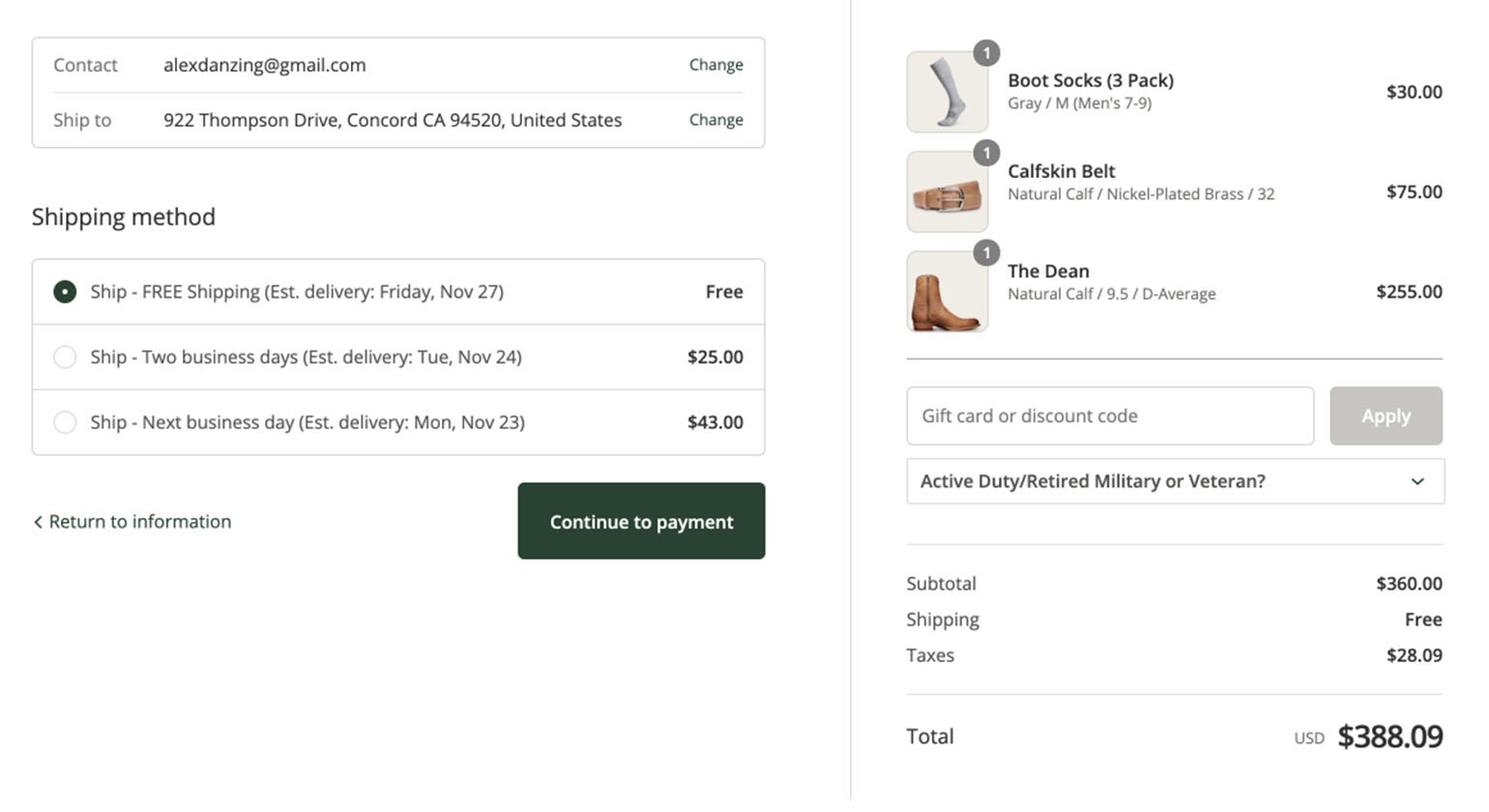 You Can Have It All
Customers expect total delivery transparency from retailers big and small, no matter what they are buying. For the following scenarios, delivery dates are crucial to continuing driving revenue.
Confident Preorders: In many cases, when stock is currently unavailable, customers drop out of checkout due to insecurity around shipping. For preorders, providing delivery methods, costs, and dates will give buyers the confidence to complete their purchase, regardless of lead time.
Un-perished Perishables: For time-sensitive orders like perishable items, showing clear and accurate delivery dates is essential. Keep shipping fresh with delivery dates tailored to the goods you're selling and their expiration time.
On-time Gifting: The last thing your customers want is a Christmas gift arriving on Dec 26th. Let them know exactly when their order will arrive, and keep shipping on time with our comprehensive date logic that accounts for all fulfillment details during gifting's busiest season.
Now is the time to invest in comprehensive delivery date logic. We know that logistics and supply chain issues will now persist for longer than previously anticipated. With ShipperHQ in the checkout, no matter the buying scenario, merchants can empower customers to complete their order, while meeting their expectations for on-time delivery.